This Week in Brisbane
By Kate McCart | Posted in This Week In Brisbane | 11 June 2012 7:01AM
Forever looking for something to do on a Monday evening? We've got it sorted with Mon-date night. With Peasant and Libertine offering some great deals, it's the perfect night to woo your woman (or your man).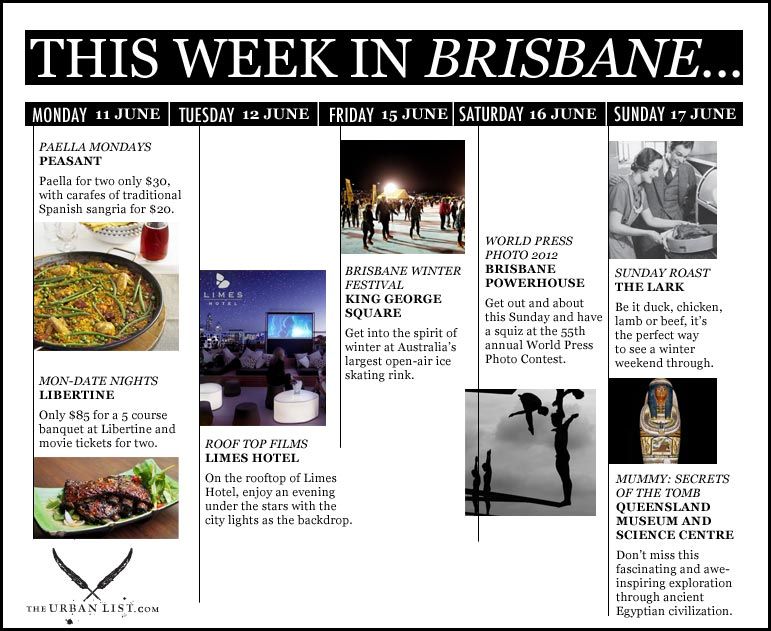 Monday:
Paella Mondays | Peasant
Spice up an otherwise boring Monday night with Paella Mondays at Peasant. Paella for two people is only $30, with carafes of traditional Spanish sangria just $20. Talk about bang for your buck…
Where: Peasant | 61 Petrie Terrace
When: Every Monday night
Cost: $30 for two people
Contact: 07 3367 8066

Mon-Date Nights | Libertine
Only $85 for a five course banquet at Libertine, plus movie tickets for two at Palace Cinemas. Can you think of a better way to woo your woman on a Monday?
Where:
Mon-Date Nights | Libertine is at 51 Petrie Terrace in Brisbane
When:
Every Monday night
Cost:
$85 for two people
Contact:
07 3367 3353
Tuesday:
Roof Top Films | Limes Hotel
Watch Ryan Gosling in all his glory in the crime thriller, Drive. On the rooftop of Limes Hotel, enjoy an evening under the stars with the city lights as the backdrop. Drinks and tapas are available from 5.00pm.
Where: Roof Top Films | Limes Hotel is located at 142 Constance Street in Fortitude Valley
When: 6.30pm Cost: From $15.00
Tickets: Visit moshtix
Friday:
Get into the spirit of winter at Australia's largest open-air ice skating rink. A great family adventure, enjoy gourmet food from over 20 different countries and cosy, indoor wood fires.
Where: Brisbane Winter Festival | King George Square is at 100 Adelaide Street in Brisbane
When: 8th June – 1st July
Saturday:
Get out and about this Sunday and have a squiz at the 55th annual World Press Photo Contest. Universally recognised as the world's leading international competition for photojournalists, 5,247 photographers from 124 countries are participating this year. It's a truly intriguing exhibition.
Where: World Press Photo 2012 | Brisbane Powerhouse is located at 119 Lamington Street in New Farm
When: 2nd – 24th June from 9:00am – 9:00pm
Sunday:
Make tracks to The Lark for a potluck roast lunch. Be it duck, chicken, lamb or beef, it's the perfect way to see a winter weekend through.
Where: Sunday Roast | The Lark is at 264 Given Terrace in Paddington
Contact: 07 3369 1299
Cost: Between $24 and $29
Mummy: Secrets of the Tomb | Queensland Museum and Science Centre
A spectacular exhibition from the British Museum revealing the life and death of Nesperennub, a temple priest who lived almost 3,000 years ago. Don't miss this fascinating and awe-inspiring exploration through ancient Egyptian civilization.
Where: Mummy: Secrets of the Tomb | Queensland Museum and Science Centre is located at the Corner of Grey and Melbourne Street in South Bank
When: Until 19th August
Tickets: www.foxtix.com.au
Cost: $12 - $22