Gather round Listers—today we're launching an awesome-sauce new piece of beauty content we think you'll love as much as we do. 2 Minute Face will give you a monthly squiz into the bathrooms and cosmetic bags of our favourite beauties (real life ladybosses, not just pretty faces), and spill their hottest tips for on-the-go awesomeness. Ain't nobody got an hour in the morning to phaff about, so the focus here is on the fast-track to great-face.
And what better way to kick off than with our number one girl crush, the delectable Zoe Foster Blake. Writer, beauty baroness, wife and mother, she's the owner of that much-coveted crop, Insta-famous cat, and one of the quickest, quirkiest brains in the biz. And don't even get us started on that flawless skin…
You're a super busy mum (congrats!), with a whirlwind schedule; how do you manage to look so purty all the time?
You must be referring to my highly edited Instagram feed; in real life it's trainers, jeans, a jumper, mascara and some CC cream. That said, when I do go out, I definitely put in effort. I can't slob it 24/7, there needs to be some glitz, even if it's just heels and some smudgy black eyeliner.
It's a regular day and you have a full few glorious minutes to do your face. What's your go-to routine?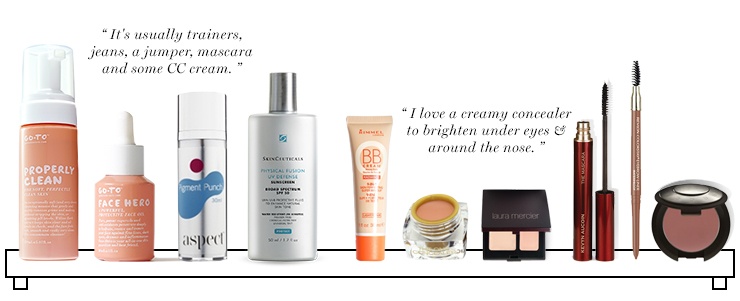 Go-To Properly Clean, Go-To Face Hero, Aspect Pigment Punch, SkinCeuticals Physical Fusion UV Defense SPF 50, Rimmel Radiance CC Cream, Napoleon Perdis The One, Laura Mercier concealer, Kevin Aucoin The Volume Mascara, Revlon Colorstay Brow Pencil, Becca Creme Blush.
And if you have a little longer, what would you add to the mix to look extra spesh?
Some blended Chanel eyeshadows in taupes and plum-browns, and brown eye liner along the top lashline. Full foundation applied with a foundation brush and loose powder to set it. Tom Ford lipstick. Malin + Goetz rum fragrance.
You've been working 9 to 5, now have an evening event to race to. How do you transition your beauty look?
Eyeliner or bright lipstick, and some concealer or foundation to freshen up. Really it's more about making sure my hair is clean and good to go. (I wash every 3-4 days and set with thickening spray/mousse and a curling tong so the style lasts. I add volume powder and dry shampoo daily to style.)
What are your top three never-fail beauty tips for looking good in a hurry?
Creamy concealer – to brighten under eyes and around nose and for blemishes.
Volume hair powder – gives texture, lift and volume. Flip your part for added oomph.
Punchy bright lipstick – your face looks more awake and you look instantly polished.
The biggest beauty fail you ever had?
Overly plucked, over-arched super thin brows is the first that comes to mind.
What's the beauty mistake you see people making that makes you cringe?
See previous answer.
Tell us about your skincare line, and why you started it?
Go-To is the result of being a beauty editor for a decade and knowing which ingredients and products give healthy, happy skin, (and which don't), coupled with extensive feedback from women saying how baffled they are by skin care. So I created a very pure, foolproof and effective edit of skin care essentials that I knew would actually do something, and wouldn't be relegated to the too-hard basket. They are good products that give good skin. Simple.
How has your beauty routine changed since becoming a mum?
It's extremely efficient. I have no time (uh, literally) for products that don't give me what I need, whether that's visually/instantly, or long term.
Who's your beauty spirit animal?
I am rather fond of Emma Stone and Kate Bosworth, and also Lily-Rose Depp despite her basically being a zygote.
Want more beauty reads? Click here!