Ask any Gold Coast local and they'll tell you that Burleigh Heads is where the magic happens.
Its bohemian slash surf culture is infectious making Burleigh the destination of choice for laid-back residents and in-the-know tourists who've discovered there's plenty more to the sunny Gold Coast than Surfers Paradise.
One of the Coast's few beachside precincts with a distinctive hub; with James Street at its heart, a devout café and breakfast culture, fashionable retail and weekend markets, all bordered by forested Burleigh Heads National Park; creating a cool coastal pocket with a sense of community and nonchalant vibe. What's not to love?
So to help you decide how you're going to spend a precious 48 hours away from your busy schedule, we've curated our fave things to do in Burleigh in this handy little guide.
Eat
Commune Café
A place where a good attitude and good vibes are just as important as good food and coffee, chill Commune Café is a local institution. A mish-mash of eclectic furniture fills the space, as do an absolute truckload of people. Commune has definitely earned a rep as one of the best breakfasts in Burleigh and you won't want to go past their legendary Coriander Corn Fritter stack.
Burleigh Social
Acai bowls have become a Gold Coast staple over the past few years, with that tasty bowl of goodness that nobody really knows how to pronounce slowly rising to world domination. Burleigh Social have nailed the art of the acai bowl and will definitely have you going back for more, like their yummo Paleo breakfast with smoked salmon and sweet potato hash. Coupled with a fun vintage backyard BBQ-style setting of communal picnic tables, umbrellas, and astro turf, on a sunny day it's the epitome of everything that's pure and good on the GC.
Canteen Kitchen
Down a bustling backstreet arcade lined with cafes, Canteen Kitchen is one of our absolute faves and a must-visit on a trip to the neighbourbood. Together with its sister café next door, Canteen Coffee, they are serving up some of the finest brews and best breakfasts in Burleigh. Nailing Middle Eastern-inspired eats, we'd go for the cumin scrambled eggs with green harissa, and Meredith goat's feta.
Rick Shores
The newest addition to the best restaurants in Burleigh, Rick Shores opened on January 1 in one of the most prized, absolute beachfront locations on the Coast. Overlooking the magic sands and surf of Burleigh and across to the iconic GC skyline, Rick Shores is next-level Asian fusion with influences from Thailand, Vietnam, a further afield. Pair it with a pre-dinner cocktail or chilled rose on the patio outside, and your GC trip will be made.
The Fish House
Discretely tucked away at the southern end of Burleigh Beach, The Fish House is one of the Gold Coast's most celebrated restaurants. Step your weekend escape up a notch, and treat yourself to a spectacularly long lunch (or dinner) devouring the freshest quality seafood and litres of Riesling. Plus, these two words: Patagonian Toothfish.
Drink
Justin Lane Rooftop Bar
Recently undergoing a stellar makeover including the addition of a rooftop bar and patio, Justin Lane Establishment is the epitome of the Gold Coast good life. Go for Justin's sourdough pizzas and handmade pastas, and stay for the kicking coastal vibes and killer cocktails. Without question one of the best bars on the Gold Coast, this is where the beautiful people head for Sunday sessions in the sunshine.
Ze Pickle
Ze Pickle is infamous around these parts. They'll coax you in with some of the Gold Coast's best burgers (screw health for one day, these guys are all about being outrageously UNhealthy!), and before you realise, you'll be lingering to hang with the effortlessly cool staff, listening to funky beats, and downing frosty craft beers (they've got 12 rotating on tap). These guys have unearthed the recipe for success, recently taking their madness to Brisbane's Fortitude Valley and next to dominate the burger-bar scene in Sydney's Surry Hills.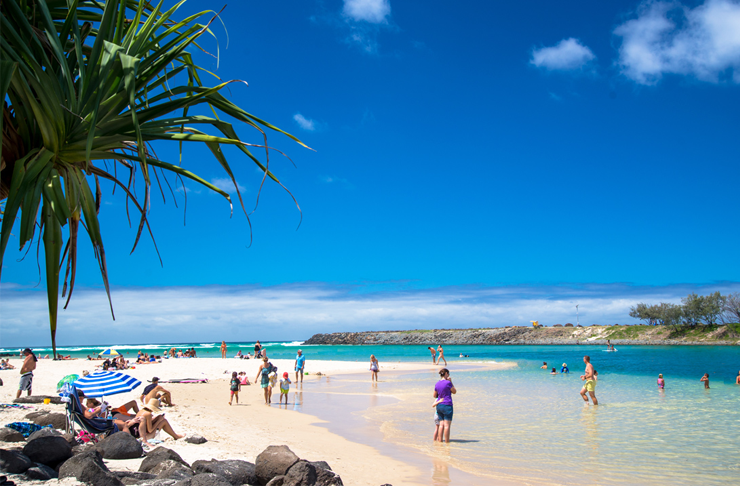 Play
Walk the Burleigh National Park Headland
There's no shortage of awesome things to do in Burleigh, though a quick and easy way to get the heart pumping and to appreciate the gorgeous natural assets the area has been blessed with, is a brisk walk around the rainforest-clad headland and up to Tumgun viewpoint overlooking Palm Beach. At the end of your stroll you'll find yourself lusting over the glittering waters of Tallebudgera Creek. Which brings us to your next activity…
Stand-Up Paddle Boarding on Tallebudgera Creek
Tallebudgera Creek is the southern divide that splits Burleigh from the laid-back precinct of PalmBeach. Gold Coasters are justifiably proud of their sandy inlets from the sea, which provide stunningly calm and sheltered waters which are perfect for families, but equally perfect for stand-up paddle boarding! A short walk south across the bridge is where you'll find ActionOutdoorHire, who'll kit you out with all your SUP'ing needs. Sorted!
Shop 'Till You (ya know) Drop on James Street
At the heart of this little bohemian slash hipster pocket of Burleigh, is James Street. Running back away from the beach, this love-filled thoroughfare is home to a myriad of cafes, and locally-owned fashion and homewares boutiques—our faves include One Hundred Words boutique, Bikini and Me, Emte, and the lust-worthy home décor on display in Village.
Kick-start Sunday Morning at The Village Markets
Every first and third Sunday of the month, Burleigh shines a light on the Gold Coast's creative community at The Village Markets. Since 2008, "TVM" has been silencing skeptics of the Coast's blossoming talent pool with their artfully curated round up of locally-made boutique fashion and lifestyle stalls (Psst: the unique kids wear selections are epic!). Pack a picnic blanket; marvel at emerging designers, creatives, and collectors; listen to live music; and eat delicious food, 'cause this little gem is what life on the GC is all about.
Get Salty with a Surf or Swim
At the southern end of the beach you'll find a reliable right-hand point break off Burleigh headland. If the waves are pumping, and surfing or taking a washing machine ride in the breakers isn't your jam, jaunt over the hill to swimmable Tallebudgera Creek. Trust us, it's way prettier than it sounds… and one of just a handful of off-the-radar beaches you've likely never heard of.
A Burleigh Hill Session
Gold Coasters are fiercely passionate of their beloved Burleigh Hill, though they are happy to share their grassy knoll and views. Grab your travel buddies, pack a throw, a picnic basket brimming with goodies or simply takeout fish 'n chips from Fish Mongers and kick back in the shade of a Pandanus palm or the cool of a dusky evening. 'Cause if you haven't fallen for Burleigh by now, a few lazy hours here will be a deal maker.
Stay
Ambience On Burleigh Beach
Undoubtedly one of the best hotels in Burleigh, Ambience offers up one, two, and three bedroom self-contained units spread across two towers, and ideally positioned within a short stroll of everything we love about Burleigh—beach lounging, surfing, shopping, markets, and dining. With a giant deck, ocean vistas, sunshine, and self-stocked bar at hand, what more could you want?
Bujerum Apartments on Burleigh
With a minimum three-night stay in these boutique two and three-bedroom self-contained apartments, you'll need to extend your stay past 48 hours, but we reckon it's totally worth it. Commanding prime real estate and with salty sea breezes from the front deck, Bujerum's apartments are contemporarily styled and will have you dreaming that you never need to leave.
Burleigh Mediterranean Resort
Have a few kidlets in tow? We got you! Burleigh Mediterranean Resort is a sprawling complex with ample accommodation choices and all within a convenient hop-skip-and-jump of the sand. When you've hit your beach quota for the day, slip into the indoor or outdoor resort-style pools, or chill in the tropical gardens before doing it all over again.
Image credit: Ben Thouard
Editor's Note: This article is proudly sponsored by Tourism Gold Coast and endorsed by The Urban List. Thank you for supporting the sponsors who make The Urban List possible. Click here for more information on our editorial policy.