Is there anything better than lounging poolside on a lush tropical island, cocktail in hand while the stresses of daily life slowly melt away? Absolutely not!
Koh Samui might just be the answer to all your island holiday needs. Sure, it's a little further than Bali but the beaches are all filled to the brim with white sand and there are (at least for now) less tourists. If you're lucky enough to be on the hunt for your next island escape, complete with glorious sunsets, island archipelagos and all the fresh coconuts you could possibly want, we can highly recommend this gorgeous island.
Here's how you should spend 48 hours in Koh Samui.
Friday
4pm: As with any tropical location, you're going to need to ease your way into the humidity so once you have located your driver at the airport head straight to your villa at the multi-award winning Samujana. Return airport transfers are included with your stay and there is no lengthy check-in process at the front desk, so your driver will take you straight up to your villa door where your dedicated team (yes you get a whole team of people to look after you) will greet you with a delicious cocktail. All that's left to do is dive into your glorious infinity pool and take in the spectacular view!
5pm: Tonight is the night for slipping into island time and taking it easy, so order up another drink and peruse the in-house menu and order your first of many pad Thai's while you watch the sun go down.
7pm: If you're not ready for bulk chill time, take yourself down to Fisherman's Village and join in on the action of the walking street markets. Part street party, part farmers market, this is the best of many walking street markets that take place all over Koh Samui from Wednesday to Sunday. The perfect way to tuck into some delicious street food with a Singha beer in hand.
9pm: Take the short walk to the beach and kick on at Coco Tams where the music is cranking and you can get all the cocktails you could possibly want delivered to your very own beach cabana.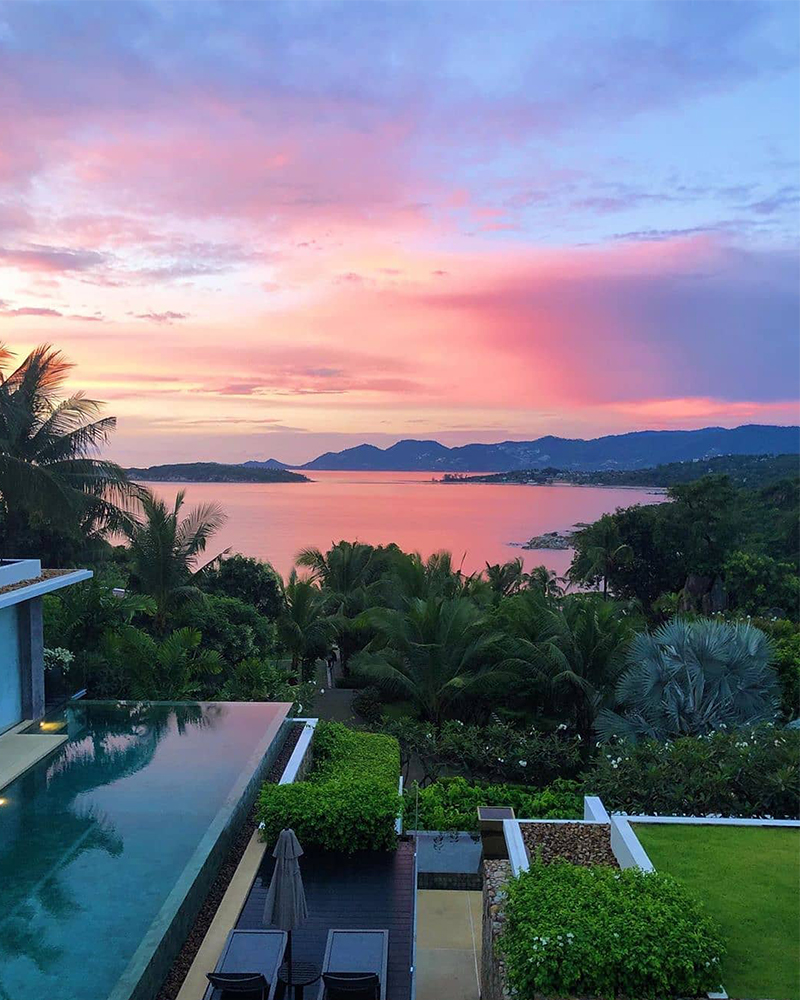 Saturday
7am: If you happen to be awake, this is the best time to go exploring before the sun gets too hot. Stroll along the beach, grab a kayak or stand up paddle board and view the island from the ocean. You'll work up an appetite just in time for breakfast.
9am: Breakfast time! Most villas and hotels have breakfast included so stock up on eggs, pastries and all of that sweet tropical fruit. If you're a coffee snob and simply cannot function without the real deal, then head over to Boy's Organic Coffee (south of the island) or Prego (main tourist area of Chaweng).
11am: You're in Thailand cos you love Thai food right? So what better way to enjoy it than learning the tricks of the trade at the Samui Institute of Thai Culinary Arts cooking class. Get ready to cook up red curry, deep fried fish and papaya salad for around $90, then sit down with the rest of your group and devour your expertly cooked dishes!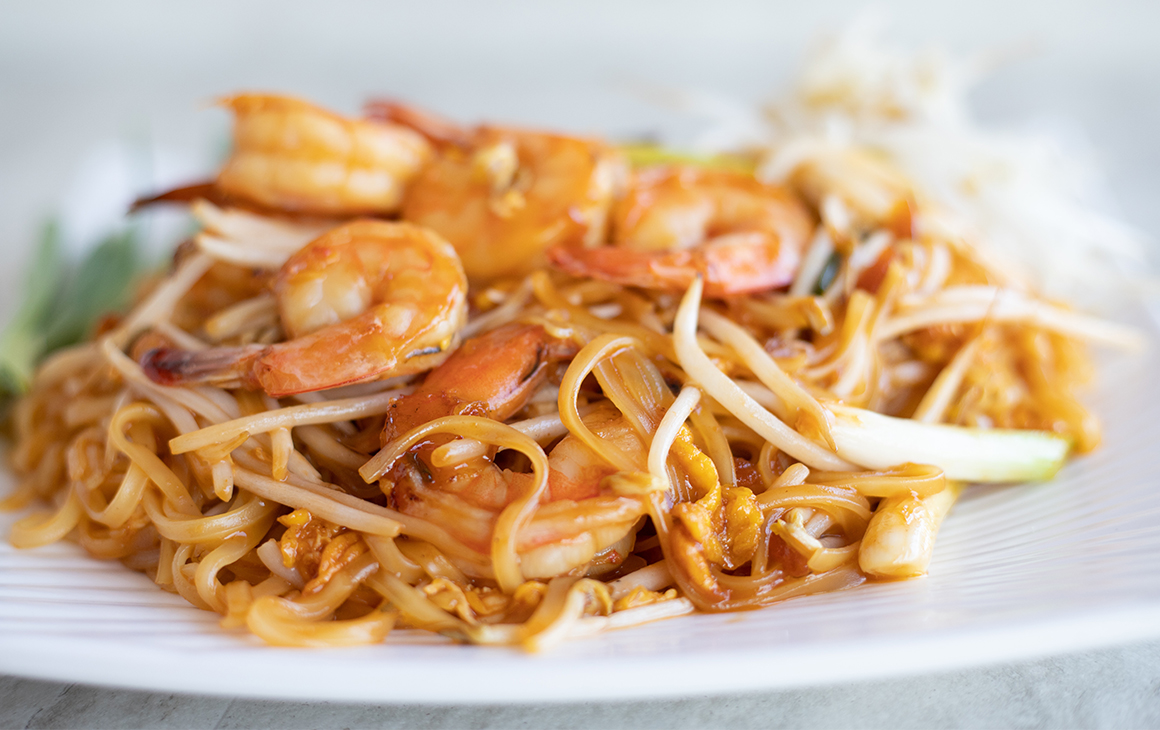 2pm: After all that exhaustive cooking and eating you will be in need of a swim and a drink and luckily, the institute is not far from Chaweng beach which is lined with bars and restaurants aplenty.
4pm: If you're anything like us, you will want to escape the crowds of Samui's most popular beach ASAP so head over to the peaceful beach of Choeng Mon where locals and expats like to hang in the sand at the laid back Honey Cottage Bar.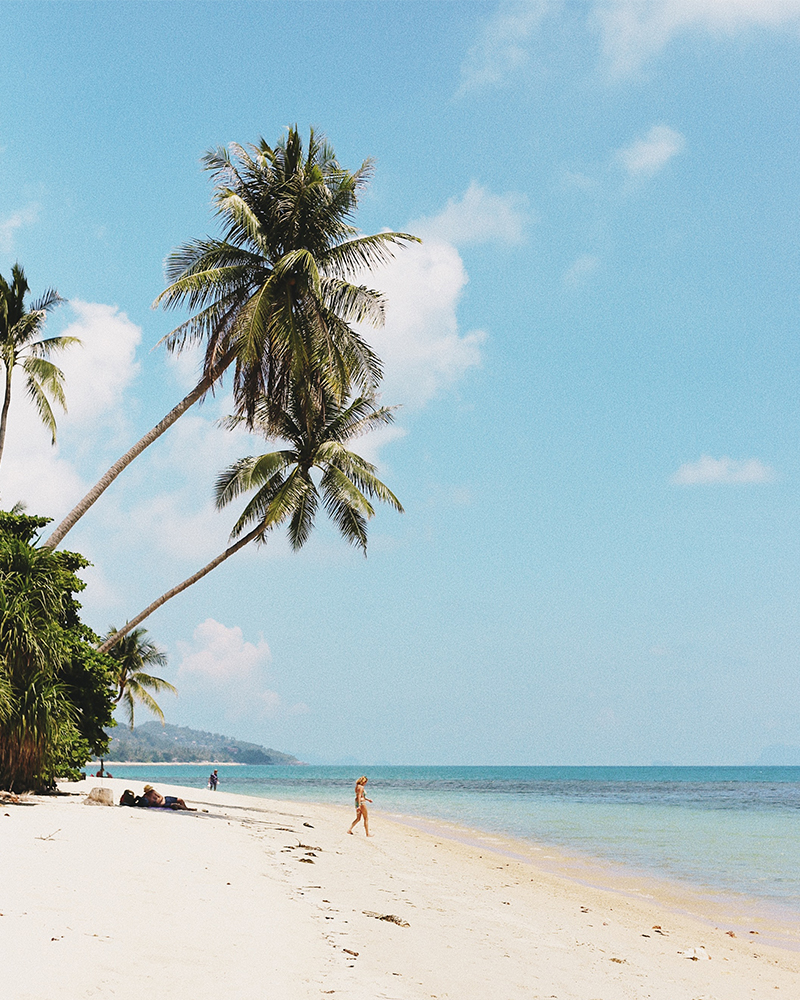 6pm: Head back to your villa for a shower, change and probably another cocktail by the pool.
8pm: Let's continue on the eating train with delicious noms from the award winning Tree Tops Sky Dining Restaurant— just make sure you book well in advance as there are only eight tables and it is extremely popular. Entering via the Anatana Lawana Resort, a wooden path will lead you along a series of raised walkways right into the treetops where individual open-air tree houses overlook the beautiful bay below. It's the ultimate private dining experience.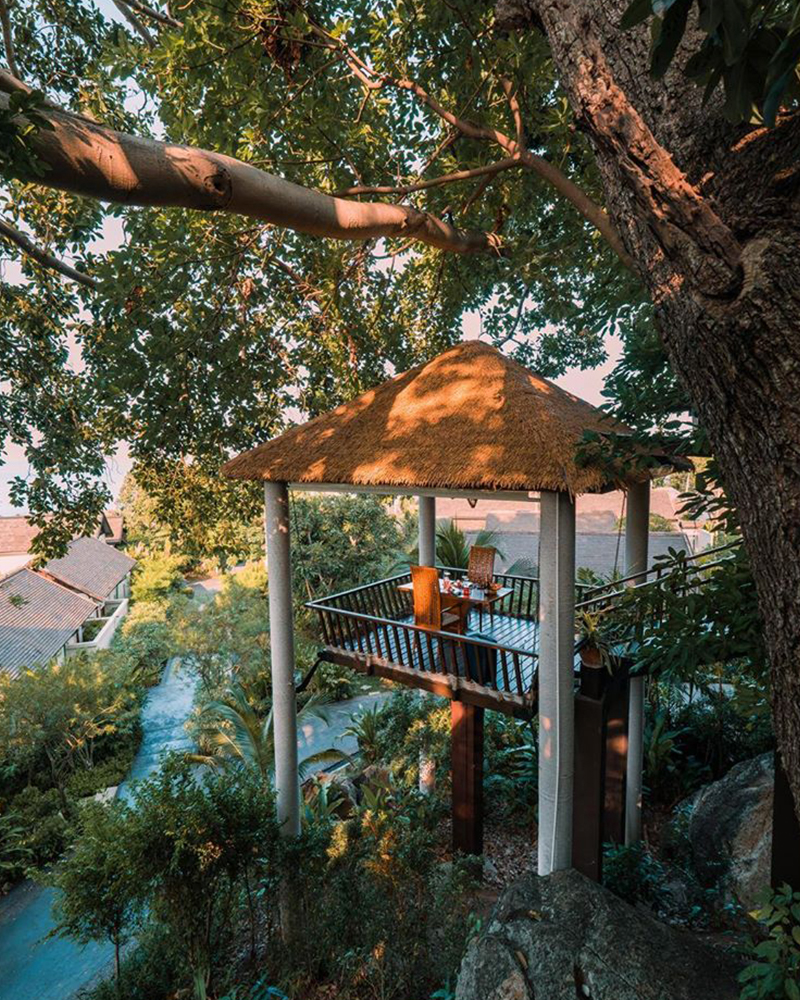 Sunday
8am: Chances are you had a few cocktails last night so go easy on yourself and enjoy a sleep in. Once breakfast is out of the way, make sure you squeeze in a massage (you are on a tropical island after all!) You have the whole scorching day ahead of you so what better way to enjoy it than beach hopping your way around the island. Koh Samui is not a big island (about the size of metro Sydney) and it has one main road called the 'ring road' that hugs the perimeter most of the way around so it's hard to get lost. The most comfortable way to do this is by hiring a car or motorbike for the day or organising a driver (your accommodation will be able to assist with prices and arrangement of both).
10am: Your must-visit beaches are on the southern and western sides as these tend to be quieter and even more picturesque (if that's even possible). Start just south of Chaweng at Crystal Beach (also known as Silver Beach and Thongtakian) which many locals think is Samui's best beach. Think perfect Instagram photos of aqua blue water and palm trees as far as the eye can see, with only a handful of people around. It's the perfect haven to settle in for some quality, swimming, baking and snorkelling time.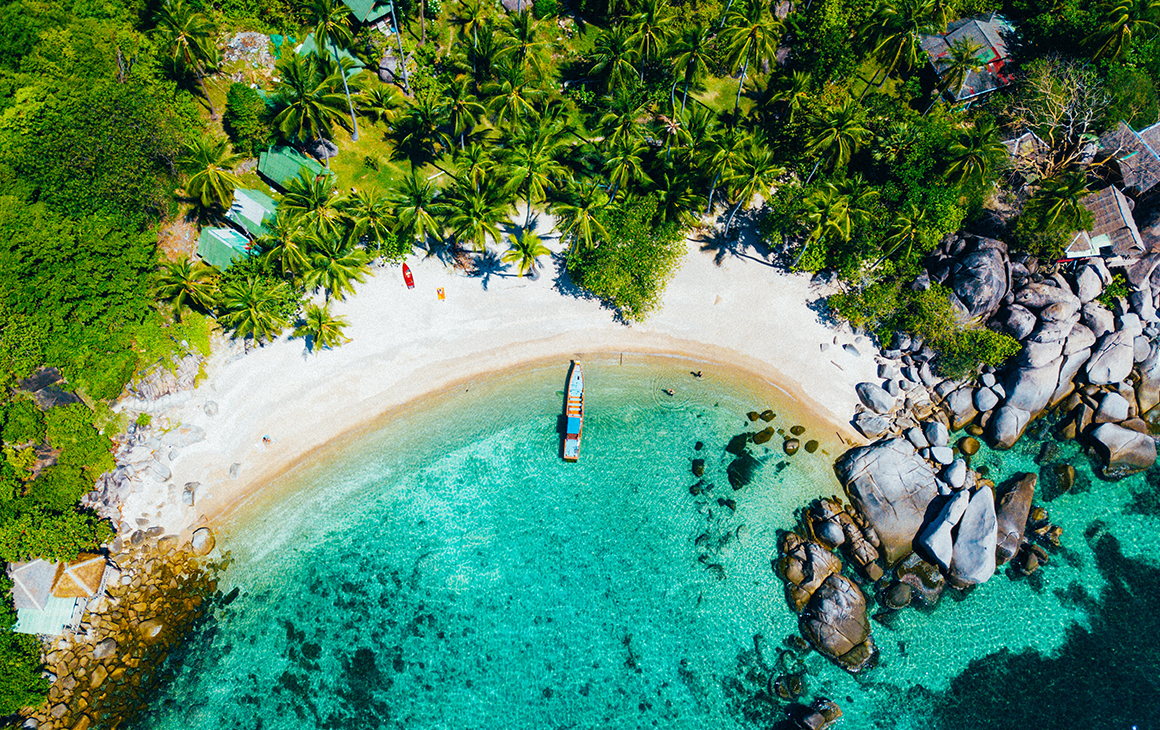 1pm: You won't want to move too far for a bite to eat once you're here so lucky for you, Crystal Bay Yacht Club at the southern end of the beach can take care of your rumbling tummy and you won't lose sight of the water.
3pm: Head on over to the west side to Taling Ngam for an even quieter stretch of beach and finally a little further up to Lipa Noi in time for a much needed cocktail. Sit poolside at Air Bar (The Intercontinental), Nikki Beach or Think & Retro Cafe for something a little more casual and to watch the glorious sunset.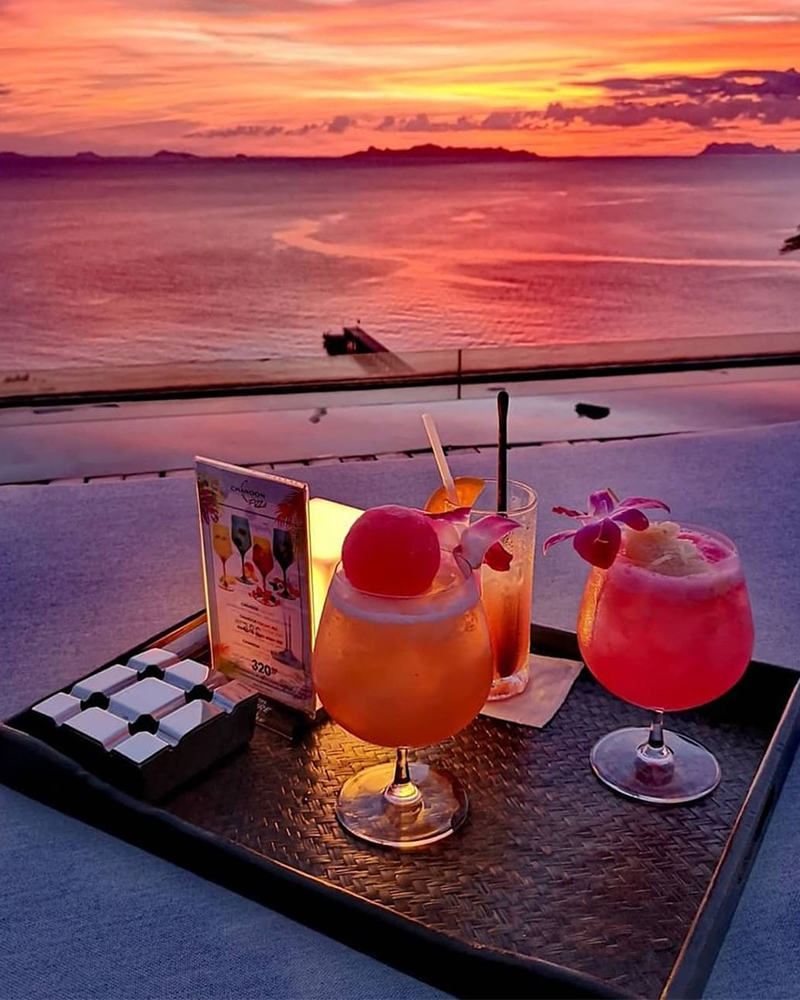 5pm: Don't get too carried away as it's almost time to head back, grab your bags and head to the airport. Sawadee ka, Samui!
Tips & Tricks
Just like in Bali, the tap water isn't safe to drink but ice cubes are totally fine as they are mass produced.
Taxi's are expensive and there are no tuk tuks like in other parts of Thailand. Consider hiring a motorbike for your stay or make use of your accommodation's driver service as much as possible.
Tipping is not required but if you do want to tip at a restaurant, you can discreetly add 10 baht per head.
Watch the sunset from the western side of the island with a cocktail in hand.
Looking for more travel inspo? Head over to Sri Lanka and check out our guide to beautiful Hiriketiya.
Image credit: Alyssa Kowalski, Taylor Smith, Max Böttinger, Tree Tops, The Intercontinental