If eating your body weight in sashimi and skiing down a mountain with fresh pow pow every day sounds like a dream come true, then get yourself to Niseko stat! They don't call it the powder capital of the world for nothing.
Just an hour and a half flight from Tokyo, followed by a stunning two-hour drive through snow covered fields, Japan's largest ski resort (and the fastest growing ski resort in the world) awaits.
Let's get the confusing stuff out of the way first. Niseko United is the name of the combined four ski areas of Hanazono, Hirafu, Niseko Village and Annupuri which are connected at the top of the mountain via the ski lifts. At the base of each ski area is a distinct village, all with their own accommodation, restaurants and bars. Glad we got that straightened out.
2pm
If you're all about seamless door-to-door transfers you will want to stay in Hirafu at The Orchards who will organise everything for you. Their sleek ski chalets, amazing concierge service and uninterrupted views of Mt Yotei and the ski fields of Mt Niseko-Annupuri are just a few of the other reasons you'll want to spend the rest of forever here.
4pm
Drop your bags, get back in the van and head straight to Rhythm to get decked out with all your ski or snowboard gear. The Orchards team will pre-book and organise all these deets for you along with lift passes and even dinner recommendations so you don't have to lift a finger (except to pick your butt up off the side of a mountain).
5pm
Once you have all your gear sorted, head back to your chalet for a hot shower and some chill time to take in those mountain views. But not too much chill time! Being the organised traveller that you are, you have scheduled a pickup and reserved a table at A Bu Cha 2 for the first of many epic dining experiences. You'll want to lock in at least a few dinner reservations before you arrive as the good spots tend to book up quickly, especially during peak season.
​

7pm
There will be much yelling, cheering and a generally cool vibe from the minute you walk into A Bu Cha 2. Put in an order of beers all round and peruse the mouth-watering menu. Or simply order the scallops, yakitori and a hot-pot and be done with it (cos I told you so).
Stomachs full of delicious brothy, meaty goodness, it's time for an early night to prepare yourself for all the shredding you will be doing the following day (or in my case, epic stacks all the way down the mountain).

8am
For those that simply cannot go without a good Australian coffee, you will be happy to hear there are a couple of great cafes in Hirafu to choose from. Monty's is an excellent option, mainly because of the bacon and egg muffins (McMonty's) and melty cheesy croc monsieurs. Calories don't count on holiday.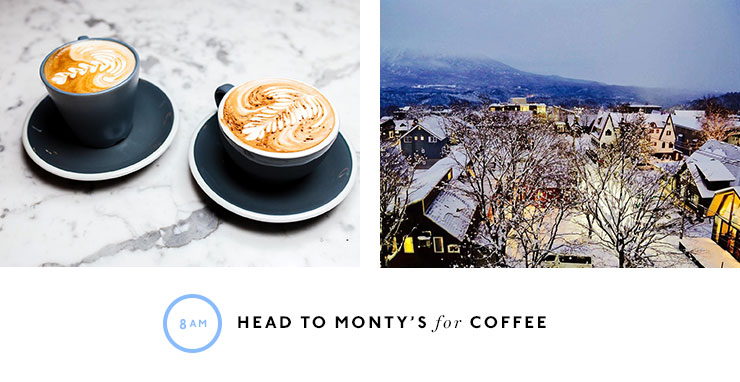 10am
If you're a first-timer or just need a bit of help, The Orchards will book you in for lessons through Go Snow at the base of Grand Hirafu. You can opt for half day or full day lessons in a group or one-on-one if you need some extra attention.
For those that are pro ski bunnies, Grand Hirafu offers 30 courses, including wide ski trails and parks which are all far less crowded than you would expect. Or you can venture to one of the many other slopes like Annupuri or Hanazono for off piste skiing.
1pm
You've basically done three pump classes in a row by now so it is time to defrost the toes and head for some authentic Japanese nosh. A good ramen from Enishi is the perfect quick bite between sessions on the slopes.
3pm
You have reached après-ski time! The top picks (keeping in mind you will likely be coming straight from the slopes so you need somewhere that is ski boot friendly) would have to be Big Foot or Tamashii but there are loads! Once you start walking around the streets of Hirafu you will realise just how small it is but how many awesome options there are.
4pm
There's nothing more relaxing than sitting in a pool of hot water with your mates after a hard day on the mountain... completely naked. Communal bathing is part of the Japanese culture and I highly recommend it for a unique cultural experience, to relax your muscles and have a good stretch out. There are strict Onsen rules which are displayed before you go in, and yes you will need to bathe before you bathe!
5pm
After a couple of hot sakes and a 40 degree bath, you will need to line your stomach so jump in the complimentary shuttle back to The Orchards to shower and change. Stock up on drinks from the gourmet grocery store Hirafu 188 and have a couple of plum wines and a snack at home to get you through until dinner (FYI plum wine is delicious and super cheap).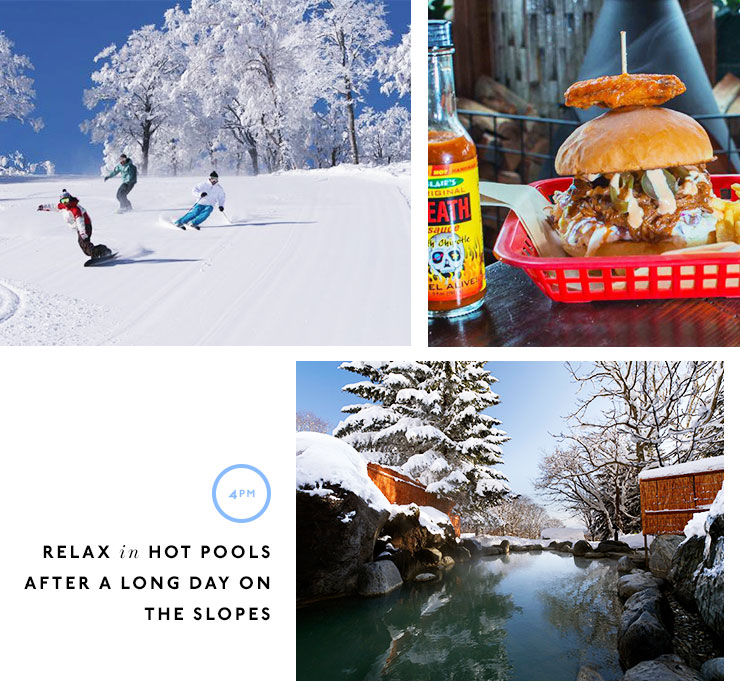 7pm
Tonight's dinner is at the tiny Nagomi Izakaya in lower Hirafu for a mountain of sashimi, gyoza, yakitori, karaage and assorted tempura. It's amazing what a full day skiing can do to your appetite! If you're not in a Japanese food kind of mood I recommend you head to The Barn (in fact, head here for a drink at least cos it is so darn cool) for a hearty French feed and very cute waiters. For a more casual vibe Big Foot does some pretty tasty burgers, mac n cheese and mysterious 'red cup punch' (still not sure what was in it but I went back for more!)
Whisky lovers will be in heaven when they see that Yamazaki and Hibiki are only about $7 (AUD) per glass! To compare, over here you will pay around $25 for a glass!
10pm
Bellies full, you can mosey on up the road to Bar Gyu (AKA The Fridge Door), a hard to find and hugely popular small bar literally behind a fridge door. Duck down through the door into a waiting area to give the friendly waiter your group numbers and then hang out in front of the heater while she finds you a spot. Cosy vibes, stunning forest outlook, hand-picked Japanese whisky and very very good cocktails come at me.
Order some late-night nibbles here before stumbling out into the street and heading straight to the Seicomart for more snacks and drinks.
Seicomart deserves a special mention. It's more like a 7-Eleven with booze and it is where you will bump into people you met on the mountain, friends staying down the road and pretty much every other Australian in the village. You will probably be in there for at least 20 minutes by the time you have perused the shelves and had drunken banter with half the customers. We became quite fond of the surprise sushi (you can't tell what's wrapped up inside) as a late night snack and would often wake up the next day realising we had spent $80 on Pringles, plum wine and snickers. It really is a special place.

8am
Hangovers are not a thing on holidays so it's up early for another fun filled day of epic stacks, breathtaking views, midday beers and all the delicious food.
I recommend venturing to one of the other slopes to mix things up. The more experienced snow bunnies should head right up to the summit of Grand Hirafu which involves a fair bit of walking/ lugging your snowboard but is apparently so worth it. Apparently.

12pm
To cram in as much powder time as possible, it is a quick lunch on the mountain today. Head to Boyoso on Grand Hirafu at the top of the gondola for their Japanese curry and pork katsu.
4pm
You have just enough time for a couple more runs before heading back to Rhythm to drop off all your hire gear, grab a drink and head back to The Orchards to pack, drink the rest of the plum wine and wait for your transfer back to Sapporo airport.
48 hours is not nearly enough time to enjoy all the incredible food, nightlife and amazing skiing this tiny village has to offer but it's a start and it will be the most jam-packed fun 48 hours you will ever have.

December to February is peak season in Niseko but we never felt like it was too busy (although prices tend to be higher). The conditions are excellent with lots of dry powder and temps ranging from -2°C and - 11°C in the village and -15°C and -25°C at the peak. Niseko had 181cm of snow in December and 138cm in January this year #japow
There are lights on Grand Hirafu so you can ski all day and well into the evening (prepare to freeze your butt off though).


Be ready with your puffer jacket the minute you get off the plane!
Layers are your friend. You will be freezing one minute then sweating the next.
Apres boots are a MUST! Remember the Seicomart? Also the perfect place to watch people fall on their butt and struggle to get up off the slippery ice. Plus, you have not worn warm comfy shoes until you have worn apre's boots.
Take some really good moisturiser and lip balm cos the cold really dries your skin out.
Bathers in the onsen is just not done. People will stare more if you're NOT naked.
Although there are Aussies everywhere, you are still in Japan so be respectful of their culture.
Ermmm hit the slopes and ski your little heart out obv.
Visit an onsen after a long day to relax and give those muscles a rest.
Try snowmobiling.
Try sake or Shochu (a Japanese liquor made from grains or vegetables like potato), whisky hi-balls or the many variations of plum wine.
Watch the Anthony Bourdain 2011 No Reservations episode and eat everything he did.
Enjoy some down time in your amazing accommodation and take in the views of the mountain.
Catch the gondola up Grand Hirafu (even if you don't ski back down) and enjoy the views and the buzzing vibe.
Take a tour through the back country to get some incredible photos and traipse through waist high snow.

The thing I love about the snow is that you basically wear the same outerwear every day and you can get away with wearing athleisure any time of the day (yes even out to dinner).
Heading to Japan? Check out everything you need to see in Tokyo!
Image credit: The Orchards, Charlie Wood, Big Foot, Summer Japan, Japan Powder, The Green Leaf Hotel
Design credit: Gabby Stjernqvist