Tokyo is an incredible city that's jam-packed with things to see and do, most of which you'll never find on this side of the globe. From cat cafes to hidden absinthe bars, world-class ramen to cutting-edge art, it's a whirlwind that's going to steal your heart, stuff it full of sashimi, douse it in top-shelf whisky, and then take it to a karaoke bar where it'll sing Cranberries covers all night long… or maybe that's just me.
We're not going to lie: trying to get around Tokyo in 48-ish hours is damn near impossible, but this guide gives you a slice of our own personal favourite bits of Japan's big smoke.
Friday
4pm
Check into the Shibuya Granbell Hotel. It might be in the centre of one of the busiest junctions in the world, but you'll want to be riiiight in the middle of the action in a city that's as colourful as Tokyo. Literally dump your bags then hot-foot it out the door!
6pm
Shibuya is a melting pot of Japanese culture, so the best thing to do to work up your appetite is cruise around its streets, dabbling in retail therapy. Take a walk through its busy cross streets, then follow the Fukutoshin line to Jingumae, where you'll find some epic shops. Laforet Harajuku is the perfect place to dive head-first into Tokyo pop culture, and accidentally buy an $800 pair of sneakers.
8pm
After some retail therapy, loop back around to Shibuya and head to Genki Sushi for some tablet-ordered, chute-delivered sushi. It's the best you can buy in this area for a bargain price—you'll be wanting to save some yen so you can blow it all at…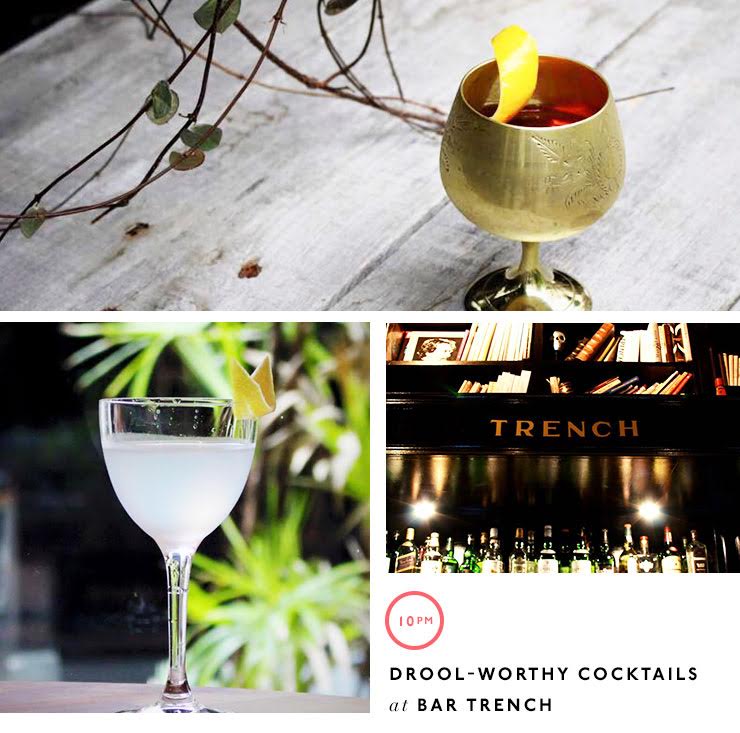 10pm
Bar Trench! A stone's throw from Ebisu station lies one of Tokyo's most incredible cocktail bars, where you can expect only the best in cutting-edge drinks, albeit with an olde-worlde European twist (no, we don't know why either). You'll want to get there no later than around 10pm to snag a seat, and make sure you try at least two concoctions made from some of the rarest bottlings in the city.
12 midnight
If you're keen to check out the mega-club scene in Tokyo, Womb is where it's at. Expect big-name DJs, incredible light shows and a very, very sore head the next morning.
Saturday
9am
What, you didn't go to Womb?! If you're up with the birds, grab a cold drip from About Lifecoffee Brewers, or head to the top floor of Tokyu Hands, one of the most comprehensive 'they have everything' stores we've ever been in (Hardware! Cosmetics! Handbags for smartphones!), then jump on a train and get yourself to Roppongi for some culture.

10am
The Mori Art Museum, situated on the 53rd floor of Roppongi Hills, is one of the best galleries in the world, and comes complete with skyline views thanks to the Sky Deck, situated a few floors above it. Check out fascinating local and international artworks, in particular the Mori Building Borderless Digital Art Museum, brought to you by teamLab. Like something out of a futuristic movie, the art is completely borderless, allowing the 'Gram-worthy light installations to flow freely around the huge 10,000 square meter space.
If art is your thing, head from here to 21_21 Design Sight, a gallery co-founded by Japanese fashion designer Issey Miyake, for more art in a smaller, perfectly formed space.
1pm
Ready for some more sushi? Jump on a train and get yourself to Akihabara, the 'geek' area of Tokyo, for a speedy feed at Nadeshiko Sushi—an entirely female-run sushi bar. Finish your bento box and make sure you get some coins in your change for your next pit-stop.
2pm
Whether you're a gamer or not, you can't walk past Akihabara's Super Potato, one of the most famous retro gaming venues in the world. These guys sell 20¢ candies, reconditioned Nintendos, all the Pokemon merch you could ever dream of, AND have a fully functioning arcade. We dare you not to have fun!
4pm
If you're feeling tired out, what you REALLY need is some quality time with a harem of cats, right? Calico Cat Café in Shinjuku is one of the most central cat cafes in the city, and the staff are friendly even though the language barrier can be a little tricky. Check your shoes and coat at the door, buy a bowl of kitty treats, and get ready for some feline cuddles.
There are heaps of insane themed cafes in Shinjuku, so if cats aren't your thing, you're bound to find an alternative. Like the Gothic cathedral café, Christon Café?
6pm
There are a million things to see and do in Shinjuku, including the Isetan department store, a heap of second-hand clothes stores, and some cute cafes (4/4 Seasons is our favourite!), but an absolute must-not-miss is Golden Gai, a tiny laneway network of bars. You'll be charged door tax upon entering, which covers some snacks and on occasions, your first drink. There's everything from country music bars to rock'n'roll bars to Cremaster, a reeeeeeaally intense art bar.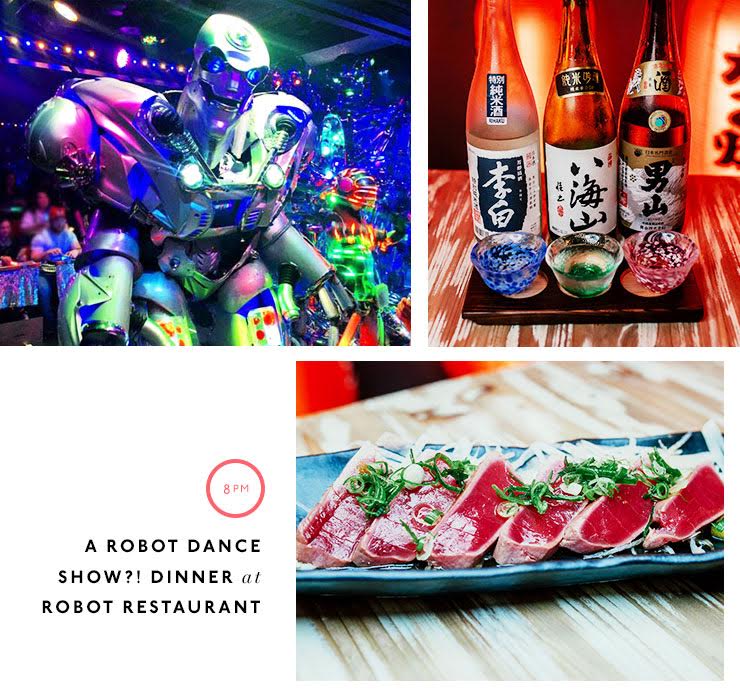 8pm
Okay, so Robot Restaurant—a restaurant that incorporates choreographed dances by larger-than-life Transformer-esque robots—might be a bit out-of-this-world, but if you've only got 48 hours, you have to do it. Book in advance, and bring your camera!
11pm
Hidden bars are where it's at, and Ben Fiddich, the best absinthe and gin bar in Tokyo, is definitely that. Situated on the 9th floor of the Yamatoya Building, Shinjuku, it's a bugger to find but the hand-blended botanicals that go into every drink make it 100% worth it.
Sunday
10am
Omotesando district's Bunbougu Cafe is yet another themed gem. Selling only the cutest stationery in the country (hint: buy all your souvenirs here), you buy your writing goods on the way in, then enjoy a traditional Japanese breakfast while doodling away. Bliss.
12noon
Michelin star ramen venue Tsuta in Sugamo is a little train ride out from the park, but their bowls of goodness are 100 per cent worth it. We know you've only just had breakfast, but you need to get to this one early to ensure you get a bowlful of world-class noodles. And, if you're a ramen fan, check out Ramen Adventures for ramen recommendations all over the city!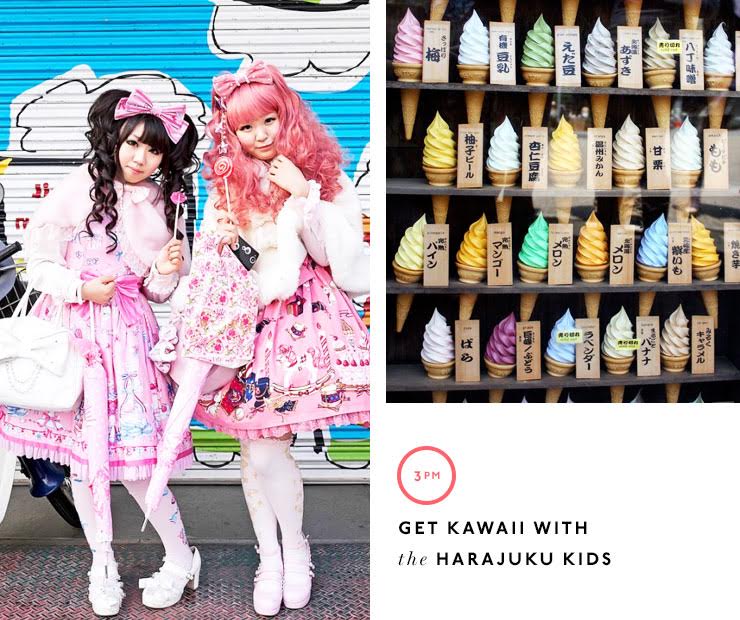 3pm
Mixing up the old with the new, Harajuku comes to life on Sunday afternoons when goth lolitas, super kawaii fans and, um, people who just really, really love dressing up their dogs come out to play. Take a stroll around the district and its neighbouring Yoyogi park—it's people-watching heaven.
6pm
Rokkasen restaurant in Shinjuku is not cheap, but the beef and various hotpots here are the best in the city, so if you're going to break the bank on something that isn't sushi, this should be your dining spot of choice.
9pm
Get to Shinjuku train station early (so early, in fact, that your flight is the next morning…), and sneak in a whisky at Zoetrope. There's no way to sum up this bar: Imagine a whisky dive run by a film buff who's a cross between The Big Lebowski's 'The Dude' and Fear and Loathing's Raoul Duke, and you're partway there.
12 midnight
It's karaoke time. Shidax is the epitome of Tokyo karaoke bars—epic views from floor-to-ceiling windows, all you can drink specials, and every pop classic from the past 50 years. This is your moment.
Monday
5am
Stumble out of Shidax and jump on the train to the airport at Shinjuku station (it's directly opposite the karaoke bar) and catch that flight, having saved on a night's accommodation. Hey, when in Tokyo…
Tips And Tricks
Pick up a Pasmo or Suica travel card as soon as you get there—it will get you onto pretty much every train in the city.
Make sure your hotel or Airbnb provides a portable wifi device, so you can connect to wifi while on the go! If not, score your own portable wifi at the airport when you land.
Sort your airport transfers ahead of time to minimise life admin and maximise experiencing the city. We recommend jumping on the Tokyo Skyliner Express which will get you downtown in a jiffy, or opt for a personal Narita Airport transfer that will drop you on the doorstep of your hotel.
Get used to everyone calling out, 'Irrashaimase!' when you walk into a venue, and 'Sumimasen!' when you leave—a traditional 'Welcome!' and 'Thank you!'
Say your pleases and thank-you's: 'Onegaishimasu' and 'Arigatou'.
Always pay for cash items using the cash tray—put your money in the tray, and pick up your change out of the tray, rather than handing anything directly to the cashier.
Editor's note: Urban List editors independently select and write about stuff we love and think you'll like too. Urban List has affiliate partnerships, so we get revenue from your purchase.
Image credit: Cool Photo Japan, Saints On A Plane, Kaitlin Yap, Robot Restaurant, Bar Trench, Clare Acheson