Be prepared to feel extremely old. It's been over 11 years since Mean Girls hit our screens. Can you believe it?! The incredibly clever and sassy comedy that feels like it was released just yesterday won our hearts and influenced our entire wardrobe throughout the early 2000's. Ten years on, we can still quote our favourite lines verbatim.
Over the past decade, we like to think our style has evolved from mini skirts, fitted Ralph Lauren knits, Juicy Couture tracksuits and wearing pink on Wednesdays, but it's undeniable that there were some serious style lessons to be learnt from Mean Girls. Let us break them down for you…
#1 Army pants and flip-flops were never a winning combination AKA don't blindly follow every fleeting fashion trend
Okay, army pants and flip-flops… Seriously?! How was that ever a thing?! While we are all for a fashion trend (jumpsuits, yes please!)—the lesson to be learnt here? Beware of outfit envy and fleeting fashion trends. Know your style and stick to it. Some trends aren't made for everyone.
#2 When it comes to outfit advice—only trust your real friends
"OH MY GOD! I love your bracelet!" Lo and behold, that infamous (backhanded) outfit complement. Whether malicious or simply to break the ice, I am certain every one of us has dished out a 'faux' complement more than a couple of times. When it comes to style advice, only trust your very best friends, the ones that will be completely honest with you. Hey, sometimes the truth hurts, but it's better in the long run.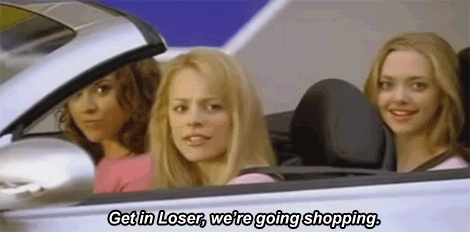 #3 Some fashion "rules" are meant to be broken
From wearing pink on Wednesdays to only wearing your hair in a ponytail once a week, The Plastics had some serious fashion rules. Be confident in your own style and break any fashion rule you wish. Want to wear red with pink? Navy with black? Mix prints? Pink on (gasp) Thursdays?! Go for it! But keep in the back of your mind, there are still some fashion rules are worth adhering to i.e. pants in public.
… But sometimes it's worth setting yourself some wardrobe rules
Find that you're consistently wearing black seven days of the week? Wear your hair in a braid no matter the occasion? Perhaps it's worth setting yourself a little wardrobe challenge to get yourself out of a style rut. For example, wear colour at least one day of the week or, if that's too hard, add a splash of colour with a bright bag or accessory.
#4 Get creative with your Halloween costumes
"I'm a mouse, duh!" Halloween is just over a month away and we bet that some of you have already started planning your Halloween get-up. While Cady's "ex-wife" outfit may have been a little too scary, I love the effort and creativity involved with the whole get up. My suggestion this year? Be organised, avoid pre-packaged Halloween costumes (sorry, "sexy mouse") and do something a little different.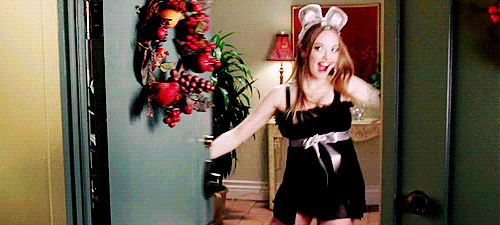 #5 If it doesn't fit, don't buy it!
Remember Regina and her diet to fit into her Prom dress? "Is butter a carb?" If an item of clothing doesn't fit you, do not buy it! Whether it's on sale or if you think you'll fit into it come your special event… Refrain, and look for something that you feel amazing in.
Image credit: Mean Girls