Oh London, you've captured our hearts with the likes of the Spice Girls, Royal Babies and your undying love for a lager. But there's so much more to this city than you could possibly expect—with tasty food, loads of booze, things to do and sights to see, a jam-packed London adventure awaits.
As one of the hottest destinations on Emirates' global route network – London is just one stop away from Australia with a convenient stopover in Dubai. And with daily flights to Dubai and onwards to London from Sydney, Melbourne, Perth, Brisbane, and Adelaide, it's never been easier to make your way over to this ever-changing city. Here are our top 50s things to eat, do and see in the Queen's backyard.
Give your credit card a work out at Carnaby Street. With shops like The Great Frog, Monki, Cheap Monday, and Liberty, you'll be sure to leave with something.
Try the ceviche at this Peruvian restaurant in Soho with the same name. Be sure to order a pisco cocktail when you're there.
Jump on a train from London St Pancras and head to the beach (yes, the beach!) at Camber Sands.
It's a home run for the pizzas at Homeslice in Covent Garden and Fitzrovia.
Fall into a wonderful cheese coma with the British farm cheeses from Neal's Yard Dairy.
On Saturdays, pay a visit to Maltby Street Market for amazing street eats.
You want cocktails? Go get 'em at Opium in Chinatown. Grab a few dim sum while you're there.
Learn something on your travels and book into a butchery masterclass at Jamie Oliver's Barbecoa.
Buy yourself an ice cream and head to Hyde Park (if you're lucky you'll get some sun).
Get your burger on at BRGR.CO. You'll be craving these burgers for weeks to come.
Head to iconic Windsor Castle, which is only a short train ride from Paddington.
Lardo is an Italian restaurant that's basically serving up all your Italian dreams on a plate.
Glorious steak could be yours with a visit to MASH (Modern American Steak House).
Serpentine Galleries will probably be one of the coolest modern art museums you'll visit.
What's not to like about steamed pork buns and fried chicken? Get them at Bao.
Get your arty science nerd on at the media space at the Science Museum.
You'll never struggle to find a loo on this quirky tour in London.
There's nothing complicated about the menu at Chick n Sours. Literally fried chicken and sour cocktails.
Take a boat out on the lake in the beautiful Regent's Park between April and September.
Try not to leave without an armful of flowers at Columbia Road Flower Market.
Thirsty? Settle in at Night Jar for mind-blowing cocktails.
Try a sky high yoga class at The Shard.
You can't get more British than with a high tea at The Ritz.
Start the day with a rave followed by a free massage and an organic coffee at Morning Gloryville.
When in the UK, you must go to a pub at least once. We suggest Pub On The Park for a classic pub experience.
Lyle's does a very reasonably priced five-course set tasting menu which changes daily, so all your travel weary brain needs to do is turn up and eat. Easy, right?
Go vintage shopping in Brick Lane.
Immerse yourself in a bit of culture at V&A Museum (the world's greatest museum of art and design)
Celestine Eleven stocks interesting fashion, accessories, and even has a little apothecary in store.
Just one look at the burgers at Patty & Bun will have you salivating.
Get lost in a secret garden at Chelsea Physic Gardens.
If it's antiques you want, it's antiques you'll find at Portobello Road.
Rock'n'roll and bowling—together at last at Brooklyn Bowl.
Get up close and personal to some wildlife at London Zoo.
If you're feeling peckish, Venetian restaurant Polpo will sort you out with simple Italian food and beautiful wines.
Broadway Market is a delicious way to spend any Saturday.
What's going to the UK without going to a castle? Head out of town to Hever Castle. Our tip? Pack a picnic and enjoy it on the lawns.
The Hemingway is a local gastropub serving top quality meals with many ingredients locally sourced.
Warm yourself up with a bowl of ramen at Bone Daddies.
Pick up enough reading material for the next six years at Southbank Book Market.
Lose yourself in the artworks at The National Gallery.
It's friiiiied chicken and it's good at Clutch in Hoxton.
If you've got the extra cash, go on a helicopter flight over London—it's breathtaking.
Head to The Richmond in Hackney for their raw bar (yes, they've got excellent oysters).
In keeping with the seafood theme, Lobster Bar is well known for their luscious lobster rolls.
Pick up almost anything you need (and many things you don't) at Old Spitalfields Markets.
Catch a show at Hampstead Theatre—they're all original and very unique.
Eat your weight in Vietnamese deliciousness at House of Ho. On Saturdays their brunch involves unlimited bubble. You know what to do.
Keep your fitness up by running the Princess Diana Memorial Run that takes in four iconic London parks. Sightseeing and getting fit? You know it.
Missing Australia? Head to Caravan for a comforting avocado on sourdough.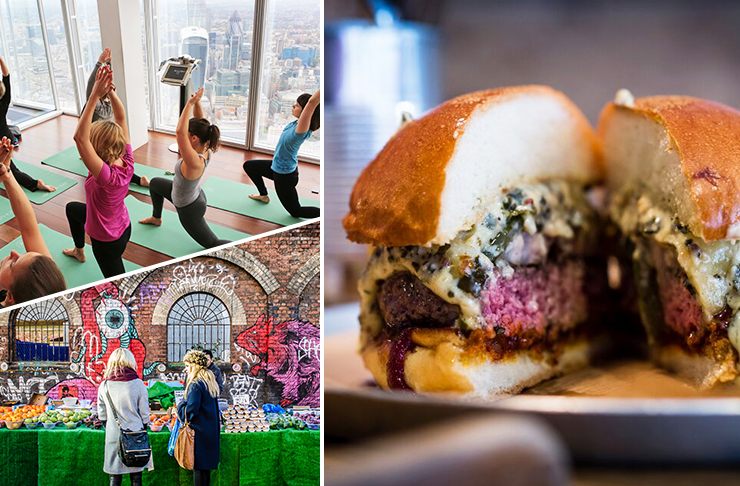 ---
Here at The Urban List, we're forever dreaming about, and planning, our next holiday destination, which is why we're excited to join forces with Emirates to inspire you for your next amazing trip. Emirates' expansive global network, with 149 destinations in 80 countries to choose from, the world really is your oyster. Stay tuned for the ultimate guides to the world's best destinations - handpicked, must-do experiences that will take your next holiday to another level. Or to book a trip give Emirates a call on 1300 303 777, visit your local travel agent [GC1] or go to www.emirates.com/au.
Image credit: Alexander Baxevanis, Jerome Yewdall, Garry Knight, Miles Sabin, George Rex