Italians: renowned for their love of food and fiery passion for basically everything. From pizza to pasta, architecture and art, seasides and shopping, there isn't a nook nor cranny of this beautiful country that doesn't make you want to pack up your things and make La Dolce Vita en Italia.
With delicious destinations across the country, Emirates is helping bring Aussies even closer to the authentic gastronomical delights of Italy through the recent addition of the home of Bolognese itself, Bologna, to its network of Italian destinations alongside Rome, Venice and Milan. Delizioso!
Whether you're looking to sun, shop, or scoff, jump on the back of a Vespa a la Ms Hepburn in a Roman Holiday, and tick our top 50 things to do in Italy off your bucket list.
Rome
1. Take in architectural masterpieces such as the Colosseum, the Pantheon, Trevi Fountain, Spanish Steps, Piazza Navona, Castel Sant'Angelo, The Vatican… We could go on for days.
2. A trip to Rome is no time to calorie count; make a beeline for one of Rome's oldest gelato shops, Giolitti Gelateria. The lines are long, but fast moving; so don't be put off. It will be the best ice cream of your life.
3. Nothing beats a glass of Italian red after a day's sightseeing. Order a carafe at bistro come winebar, Barzilai.
4. Stay up late drinking cocktails at Jerry Thomas Speakeasy. A password is required upon entry to this exclusive bar, so check their social media before arriving.
5. Lose the crowds and get the best view of Rome walking through the orange trees of the Giardino degli Aranci.
6. Drop your jaw at the Sistine Chapel.
7. Eat the Spaghetti alle Vongole Verachi at Il Sanlorenzo.
8. Pick up killer antiques and other curios at Rome's oldest flea market, Campo de' Fiori.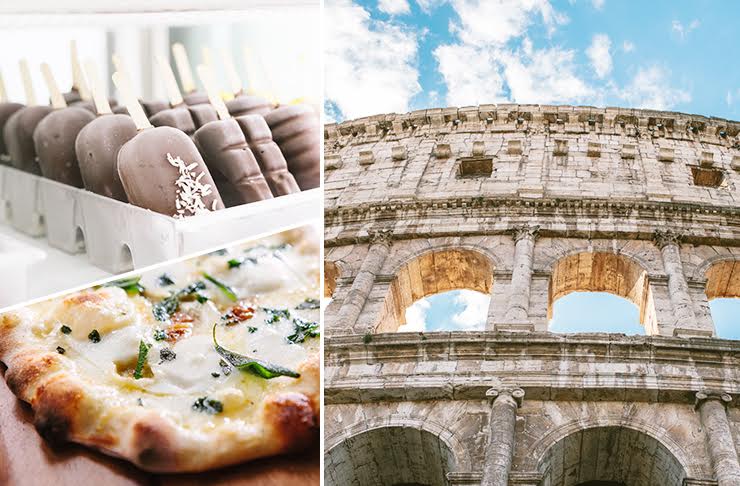 BOLOGNA
9. Bologna is the home of bolognese, so you'd better get you some while you're in town! Tiny, secret restaurant, All'Osteria Bottega has a humble street frontage that belies the deliciousness within, serving up simple, traditional Bologna cuisine that's worth hunting for.
10. Hike your way out of that carb coma with a sojourn to the top of San Luca under the longest portico in the world. The beautiful Basilica of San Luca is there to reward you at the top of the hill.
11. Channel your inner geek at the beautiful Archiginnasio; the oldest university in the western world.
12. Lose yourself in the narrow street and find yourself at Pastificio Paolo Atti & Figli—a traditional Bologna deli and grocer. Stock up the regions famous tortellini (or 'Navel of Venus' as it's known), or a simple armful of bread and cheese. Bliss.
Milan
13. Shop 'til you drop at the Galleria Vittorio Emanuele (basically the birth place of Prada—eek!).
14. A stop off at Fioraio Bianchi, Milan's loveliest florist/cafe, is a must.
15. Saddle up to locals with a plate of homemade pasta at Latteria San Marco.
16. Don't forget to stock up local Milanese cheeses, meats and other too-delicious-to-leave-behind treats at Taglio—an essential thing to do in Italy for any foodie.
17. Drop your hard earned cash on crazy-good food at Michelin starred restaurant, Al Pont de Ferr.
18. Watch Inter Milan play a home game.
19. See The Last Supper by Leonardo da Vinci. But only if you actually manage to swindle tickets, of course.
20. Don your finery and blend in with the fashion crowd at HClub—the place to see and be seen.
Modena
21. Book at table at Osteria Francescana. Seeing as it's the second best restaurant in the world (official, folks), you'd only be doing yourself the injustice if you don't. Hot tip: book way in advance.
22. Go on a cheese tour around the region of Modena, one of the only parts of the country that makes Parmigiano Reggiano!
Florence
23. Sip espressos while watching the world go by in the Piazza della Signoria.
24. Take in the iconic statue of Michelangelo's David at the Accademia di Belle Arti di Firenze.
25. Embrace your inner adventurer and do Florence to Rome by bicycle #fitnessgoals.
26. Don't leave without visiting the Duomo—breathtaking!
Manarola
27. Gorge on the squid ink pasta at Trattoria Dal Billy.
28. Take a walk around the small rainbow-coloured town, which is possibly the most Insta-worthy place, ever?
Amalfi Coast
29. Don your finery and dine alfresco at the luxurious Le Sirenuse in Positano.
30. Jump in a kayak and take in the incredible coastal scenery.
31. A trip to Positano has to include a stop at Emporio Le Sirenuse, widely known for their unique collection of homewares, clothing and beachwear.
32. Celebrity spotting aside, indulge in a long (boozy) lunch at Don Alfonso.
33. Pack your swimmers and take the ferry over to Capri to in the iconic Grotta Azzura.
Naples
34. Get in line for the freshest sfogliatella (flaky shell-shaped pastry filled with ricotta and candied citrus—we die!) in town at Scaturchio Pastiera, one of Naples oldest Pasticcieri shops.
35. It's hard to get bad pizza in Naples—it's where pizza was invented—try the classic Margherita at Pizzeria Port'Alba (it's believed to be the oldest pizzeria in the world. Crazy!).
36. Soak up the latest contemporary art exhibitions at Madre.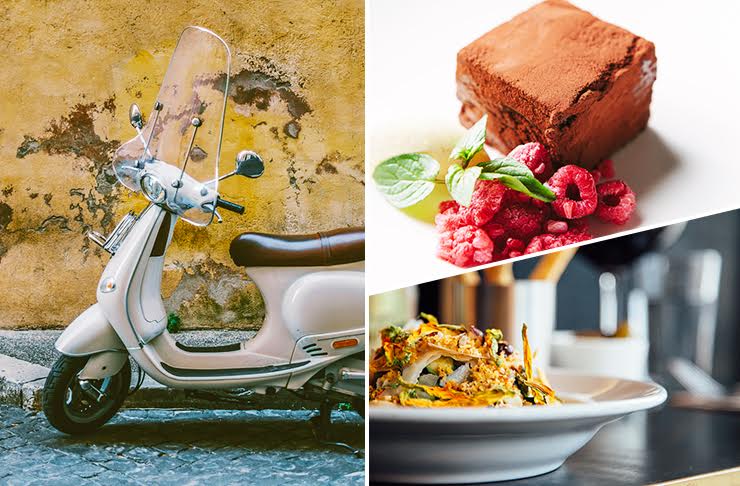 Venice
37. Do as locals do (and have done since the 15th Century) and order a selection of cichetti (Italian tapas-style dishes) with a glass of wine.
38. Hop in a gondola and punt down the Grand Canal. Stripy tops and serenading optional…
39. Check out a show, better yet an opera, at Venice's most famous theatre, Teatro La Fenice.
Lecce
40. Cross the Grotta Palazzese—the infamous restaurant carved into the cliffs—off your bucket list. Order the calamari!
41. Get all your edible souvenirs from cute-as-a-button deli, Valentina.
42. Cool off with Lecce speciality, caffé in ghiaccio con latte di mandorla (espresso with ice and almond milk), at Caffé Alvino, overlooking the Piazzo Sant'Oronzo.
43. Get some retail therapy in at Society, where you can pick up locally made designer threads.
Sicily
44. Freak yourself out with a visit to the Catacombe dei Cappuccini, known for its memento mori, the mummification and arrangement of the dead. Creepy.
45. Climb (well, cable car, actually) up Mount Etna, one of Italy's most active volcanoes.
46. Eat all the Arancini at Antica Focacceria S. Francesco.
Sardinia
47. Try the Parmigiano pizza at Pizzeria Il Fantasma. Do not share.
48. Work on those tan lines at Poetto Beach. Then look out for the flock of Pink Flamingos that live on the island. True story.
49. Walk up to the rooftop terrace for a late-night Aperol Spritz atop the Bastione di Saint Remy—one of the best things to do in Italy, by far.
50. Buy up a sugary storm at Durke, the quaintest family-run sweet shop in Cagliari.
---
Here at The Urban List, we're forever dreaming about, and planning, our next holiday destination, which is why we're excited to join forces with Emirates to inspire you for your next amazing trip. Emirates' expansive global network, with 149 destinations in 80 countries to choose from, the world really is your oyster. Stay tuned for the ultimate guides to the world's best destinations - handpicked, must-do experiences that will take your next holiday to another level. Or to book a trip give Emirates a call on 1300 3013 7777 visit your local travel agent [GC1] or go to www.emirates.com/au.
Image credit: Ariana Gillrie, Daniel Maddock