Hola, Spain! You had us at too-good tapas, endless sangria, fiestas (followed by the requisite siestas), stunning architecture, inspiring landscapes and la buena vida. So many amazing things to do jam-packed into one little country.
Throwing yourself into a Spanish daydream is as easy as uno, dos, tres with Emirates offering Aussie travellers the best connections to its most popular cities, Barcelona and Madrid, via a quick stop in Dubai—you'd be loco not to make Spain your next holiday destination.
From coastal Catalan-cool in party town Barcelona, to the museums and majesty of Madrid, then down to southern Andalusian capital Seville—with its flamenco and sun-drenched charisma—before skipping back to Valencia, home of paella and Spain's most liveable city, there's plenty to see and do.
Andale amigos, because there's more than tapas to this Latin lover, and you'll need plenty of time to work your way through this list of the 50 best things to do, see and taste in Spain.
MADRID
1. Get lei-d with creative and exotic cocktails at the tiki-themed Bar Hawaino.
2. Sweet tooth? Try the cotton-candy with citrus dessert at Yaki-Toro Madrid, a Japanese-inspired tavern dishing up creative fusion tapas.
3. Tick everything of your tapas bucket list at Mercado de San Miguel, Madrid's home of the modern tapa and aperitivo on tap.
4. Eat all of the S10 croquetas at S10 Bar down Calle Guzman el Bueno.
5. Gorge on the baby squid at Restaurante Sacha.
6. More fusion fun at La Gabinoteca where the Cuban Rice Dimsum is a must try.
7. Get adventurous with the Spanish/Chinese fusion vegan buffet at Shi-Shang.
8. Have a bookish art attack at the publishing house slash art exhibition space, Ivory Press Gallery, which specialises in art books about photography, architecture and contemporary art.
9. Take your sunset tipple on top of a ruined church at Gau & Café.
10. Visit the top terrace at Circulo de Bellas Artes for the view, before taking in a live show or exhibition.
11. Marvel at the architecture and statues at Madrid's City Hall (Palacio de Comunicaciones) and Cibeles Fountain in the heart of the city.
12. Try drinks and Real Madrid footballer spotting at Gula-Gula for a great night out.
BARCELONA
13. Sink your teeth into a juicy, perfectly cooked Argentine steak at La Chacha near Arc de Triomf.
14. Head to Bar Celta Pulperia whose pulpo de gallego (octopus in oil and paprika) will ruin you forever for fresh-cooked octopus.
*Travel tip: Unlike most other Spanish cities, in Catalunya you pay for your tapa even when buying drinks; it's very rare that bars give them free with a drink.
15. Get off the touristy Las Ramblas to explore the many plazas and autentico bar and café scene. Hit the hip locals' fave barrios (or neighbourhoods) a few streets to the left and right; Raval, Poble Sec, Gracia, San Antoni, El Gothico and El Borne to name a few.
16. Grab a beer from the street vendors for about 1 Euro, then sit in Barcelona's most famous plaza Placa del Sol to soak up the atmosphere and a spot of people watching.
17. Find (and drink) mojito magic at Raim Bar in Gracia.
18. Before making your way to Bodega Bonavista for an off-the-beaten-track vino and cheese platter in the courtyard.
19. Do not go past the empanadas at ELDISET.
20. The wait will be worth the tapas pay off at La Bodegueta Rambla de Catalunya.
21. Jump on a train and head to the seaside for a day trip to Sitges.
22. Take the funicular to Montjuic Mountain for the outdoor theatre on the side of the castle in summer, and amazing views any time of the year.
23. On Sunday, head to Parc Ciutadella for some local-style chill time with music in the park and having a beer with new friends.
24. Escape the hustle and bustle by heading to Gracia and checking out the small galleries and doing a spot of boutique browsing on Calle Verdi.
25. Get a dose of gallery goodness at MacBa art gallery—check out the skaters as they go by—before getting acquainted with the underground art scene at untitled BCN. Don't forget to check out Cosmo Café and Eat Meat, too.
26. Hunt for a new, but old, treasure in one of the city's many op shops down Carrer Tallers, Carrer de la Riera Baixa in Raval or The Holala Centre.
27. Make like Picasso and head to the non-descript and unchanged for 70 years, Bar Marsella for some artistic vibes and broody cocktails.
28. Go on the Gaudi trail; the famed Spanish architect's touches are all over the city from the perennially unfinished Sagrada Famillia, to Parc Guell—the beautiful and other-worldly designs are both striking and inspirational.
29. Indulge in some fine Spanish cuisine at Mano Rota in Poble Sec.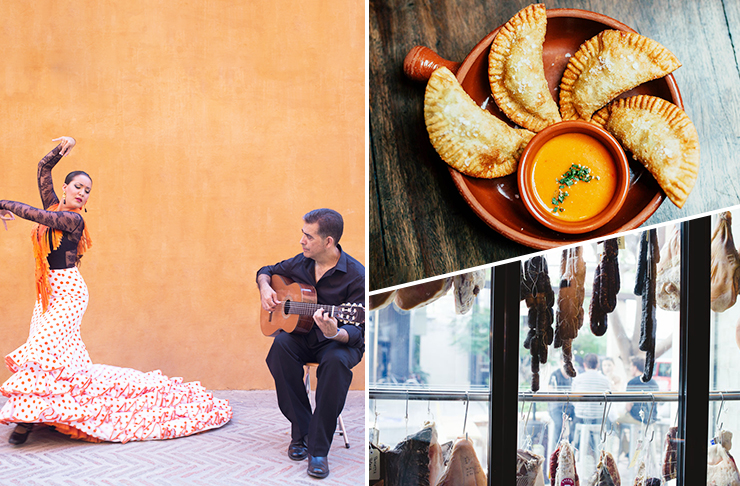 SEVILLE
30. Explore Barrio de Triana while wandering down the Calle Betis.
31. Check out the typical Sevillian tiles (and the Arabic and Moorish influence) down Calle Alfareria, home to all the pottery shops.
32. For authentic tapas head to Bar Manolo and try the grilled mushrooms with salsa verde.
33. Cruise through Alameda de Hercules, a lively neighbourhood with a collection of cool bars and garden terraces, perfect for summer evenings.
34. While you're there, grab a late breakfast at La Cacharreria, check out the art pieces and books at Un Gato en Bicicleta, grab some charcutrie and vino at Quilombo, before heading skyward to the roof of Casa Romana for a sundowner of the Spanish variety.
35. Appreciate Seville's knack for architecture at Setas de Seville, an open-air plaza and mall with a giant wooden structure sitting above it known as the Mushrooms of the Incarnation.
36. Share an assorted tapas menu, complete with wine, at Tabernas Sol y Sombre.
37. Head to Calle dos Mayo for lunch or dinner. Try Bodegas Dos Mayo for humble and authentic tapas in a cheerful atmosphere.
38. Cut the bull at Meson Serranito, where the tapas menu features bulls tail, and the walls showcase the last few minutes of said bull's life. Not for the faint-hearted, but the serranito—toasted bread topped with pork fillet, roasted peppers, jamon and garlic—is more than enough to pull you through the door.
39. Be impressed by the Cordoban might of old at UNESCO heritage site, and set of Dorne from Game of Thrones, Alcazar Castle. Explore the immaculate gardens and impressive architecture, while checking out the multitude of patios designed for summer relaxing.
40. Nosh on great tapas and cerveza (beer) at La Estrella Bar, near the cathedral.
41. Take a languid stroll in Parque de Maria Luisa, Seville's lush oasis.
42. Flamenco is Seville's jam; see the real thing at Lo Nuestro and Casa Anselma.
43. Feel the love at romantic nooks Plaza del Postigo and Barrio Santa Cruz.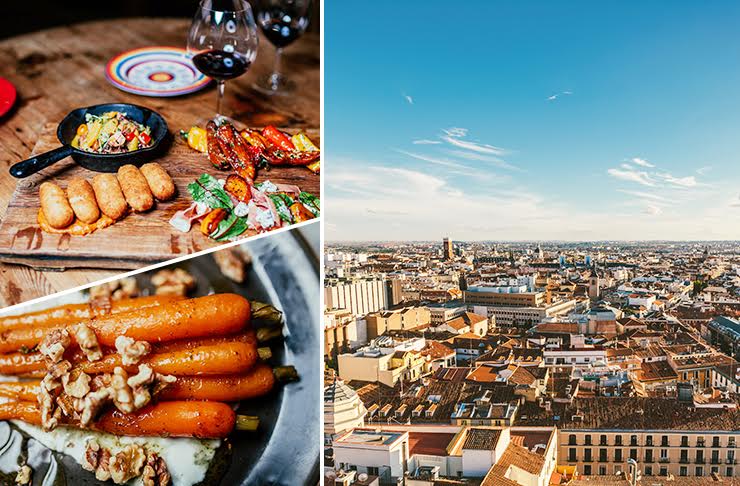 VALENCIA
44. Sip on an agua de Valencia as the sun goes down at Café Tocada in Valencia's Razafa district.
45. The Mercado Central is a legit' local shopping destination. Pick up some fresh produce or gourmet foodstuffs from around the region.
46. Hit the d-floor at one of Valencia's best nightclubs, Fox Congo.
47. Explore the futuristic and awe-inspiring buildings that make up Valencia's City of Arts and Sciences: Palau de les Arts Reina Sofia, Umbracle, the Príncipe Felipe Science Museum, and the Oceanográfico—the largest aquarium in Europe with over 500 marine species.
48. Pack a picnic and relax in the Antiguo Cuace del Rio Turia, before biking your way through this old river bed cum park.
49. Take part in a time-honoured Valencian tradition of paella at the beach. El Puig is just 20 minutes away by train, and has an old monastery to explore if you happen to get bored at the beach (as if!).
50. Max out your credit card at the boutiques on Calle Colón and surrounding streets.
---
Here at The Urban List, we're forever dreaming about, and planning, our next holiday destination, which is why we're excited to join forces with Emirates to inspire you for your next amazing trip. Emirates' expansive global network, with 149 destinations in 80 countries to choose from, the world really is your oyster. Stay tuned for the ultimate guides to the world's best destinations - handpicked, must-do experiences that will take your next holiday to another level. Or to book a trip give Emirates a call on 1300 3013 7777 visit your local travel agent [GC1] or go to www.emirates.com/au.
Image credit: Ariana Gillrie, Daniel Maddock