The leather jacket is the piece of outerwear that's managed to overcome its rebellious connotations and become a bona fide — and downright lady-like — wardrobe staple in its own right. It goes with (almost) everything, it gets better with age, and these days you can find one in just about every cut and colour you could dream of.
But, like any of our wardrobe favourites, it's easy to get stuck in a rut when donning your leather jacket (boots, scarf and jeans are hard to beat, right?). So we've done what we always do in times of sartorial apathy, and sought some leather-jacket styling inspiration from our favourite style bloggers and outerwear-savvy celebrities. Turns out you're no longer bound to skinnies and a tee when styling your leather jacket. Read on for six of our favourite new ways to style your leather jacket.
Get Shorty
Don't keep you leather confined to the coldest seasons. It might be a high fashion equivalent of thongs and a jumper, but teaming a lightweight leather jacket with shorts will take you into winter like a winner.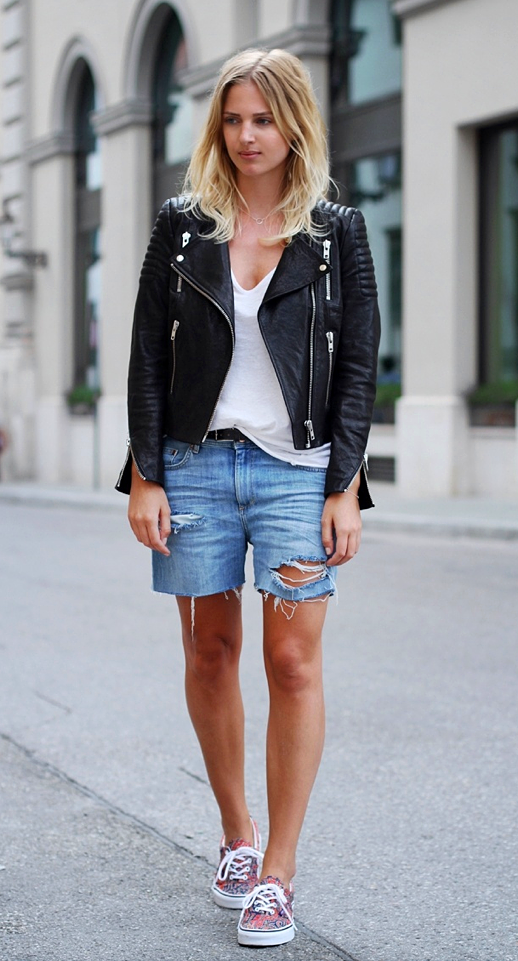 Shady Lady
These days you are not limited to just black, black and more black when it comes to moto-inspired outerwear. Pretty up your leather look in a pastel hued biker jacket and you can take this staple anywhere, or swap your old-black-reliable for a dark green or navy number for an easy upgrade.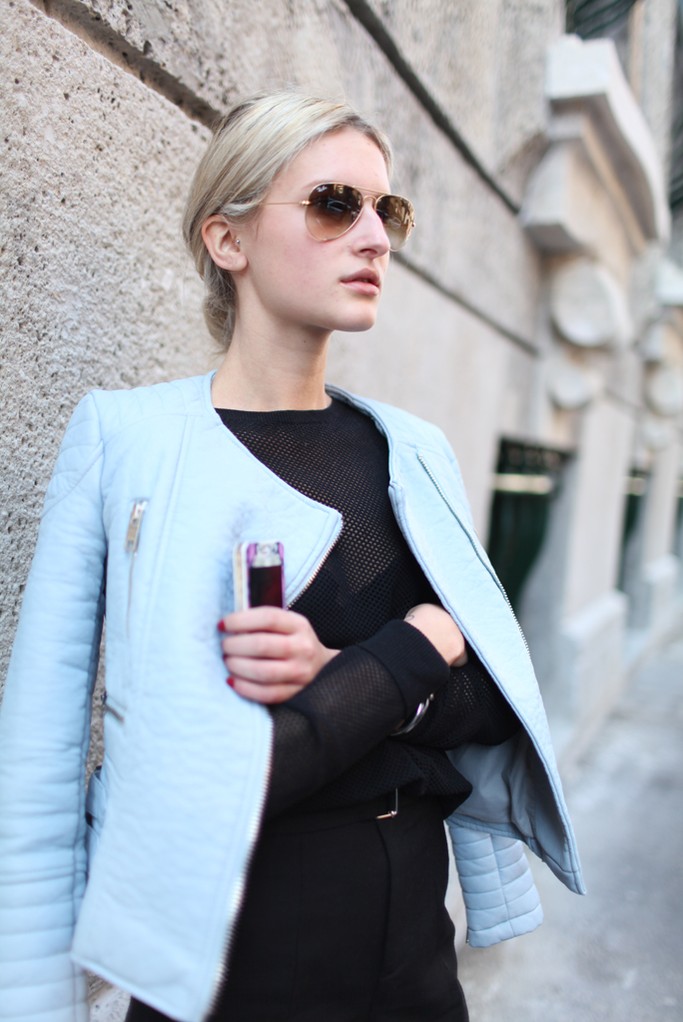 Party Perfect
Jenna Lyons' take on jacket styling — swapping the traditional sweater-over-a-button-down look for a leather jacket, and teaming the whole thing with party pants — might not be revolutionary, but it's a brave new take on formal wear (Jenna worked her leather jacket at CFDA Vogue Fashion Fund Awards — a fairly formal do), and we're feeling it.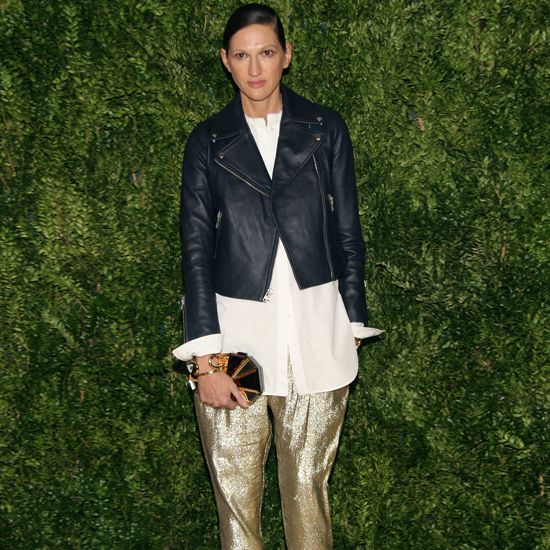 Downtown Meets Uptown
While her pins might be out of the reach of us mortals, you can get Joan Smalls' downtown-meets-uptown look, by pairing a bright mini dress with hobo-chic accessories like beanies and ankle boots. It's the whole pretty-without-being-too-pretty thing that Smalls nails every time.
Go For Gold
Get on board the metallics bandwagon in a blingin' gold moto jacket. To keep this look from going too J-Lo team it with demure separates (we're loving the contrast with the crisp white).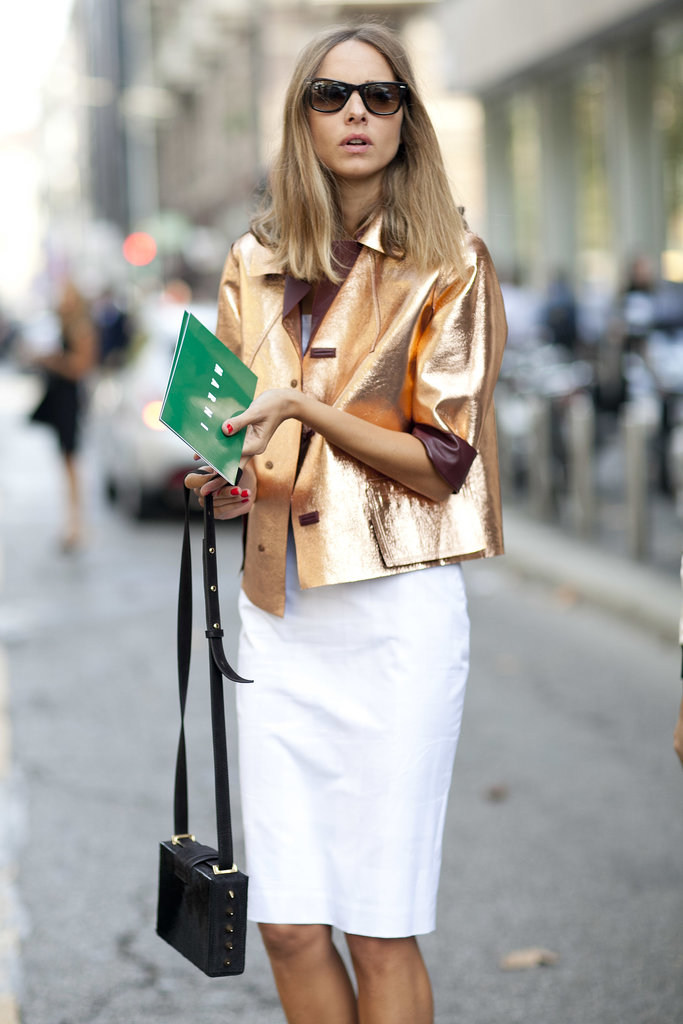 The New Hem
Teaming your leather jacket with the new lady-like skirt length is a sure fire way to keeping your winter look fresh. This look works particularly well with a brightly hued jacket — it's the new ladies-who-lunch uniform.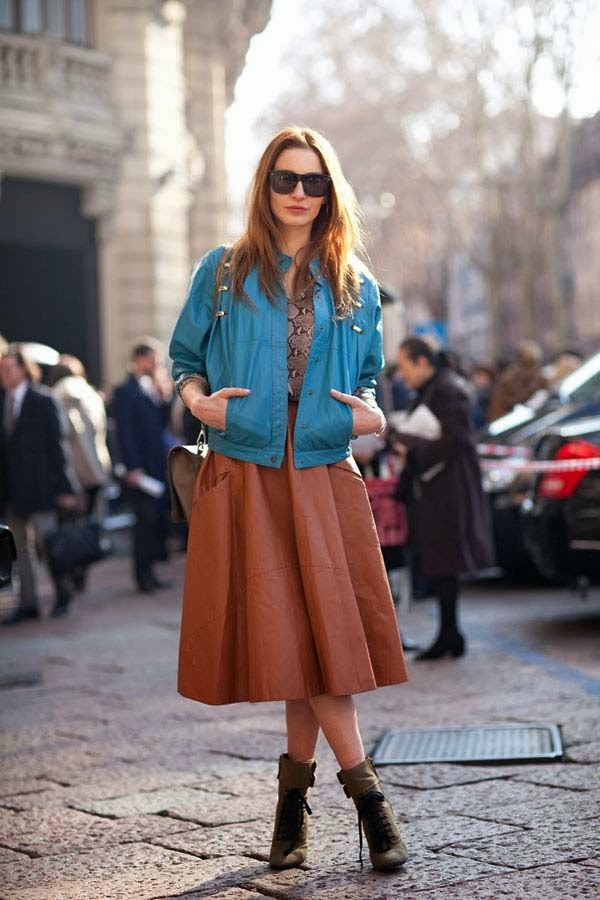 Image credits: Fab Sugar, Desdeel Front Row, The Fashion Supernova, On Sugar, Le Fashion, It's Anna