For many, Summer holds some of the best times of the whole year but it can also be a tricky time for our physical and mental health. Thanks to the processed kilojoules and gin and tonics we indulged in over the Christmas break (and carried over into January), you might have put a pause on your health journey—or thrown in the towel altogether.
It can be easy to fall into a funk, which is why we've partnered with Queensland Health to put together a list of things (aka New Year's resolutions you'll actually keep) to help you end your unhealthy relationships, live your best life in 2019 and keep the good times rolling all year long.
#1 It's Time To Chill
Self-care apps were the most downloaded in 2018 for a reason. While the trend may sound synonymous with face masks and bath bombs (because who doesn't love a DIY spa day), there are a myriad of no-frills rituals you can implement to rest and rejuvenate.
Fire up your favourite flick (here are some of our favourites), crack open the pages of that book that's been gathering dust on your nightstand (or check out our suggestions for the best page turners), go for a stroll and listen to podcast, or take your pup for a walk (your furry friend will love these Sunshine Coast walks, Gold Coast dog-friendly activities, and these Brisbane food trails). Whatever it is, if it makes you feel good, take at least 15 minutes a day to immerse yourself in it and actually enjoy the break.
#2 Throw On Your Bucket Hat And Get Outdoors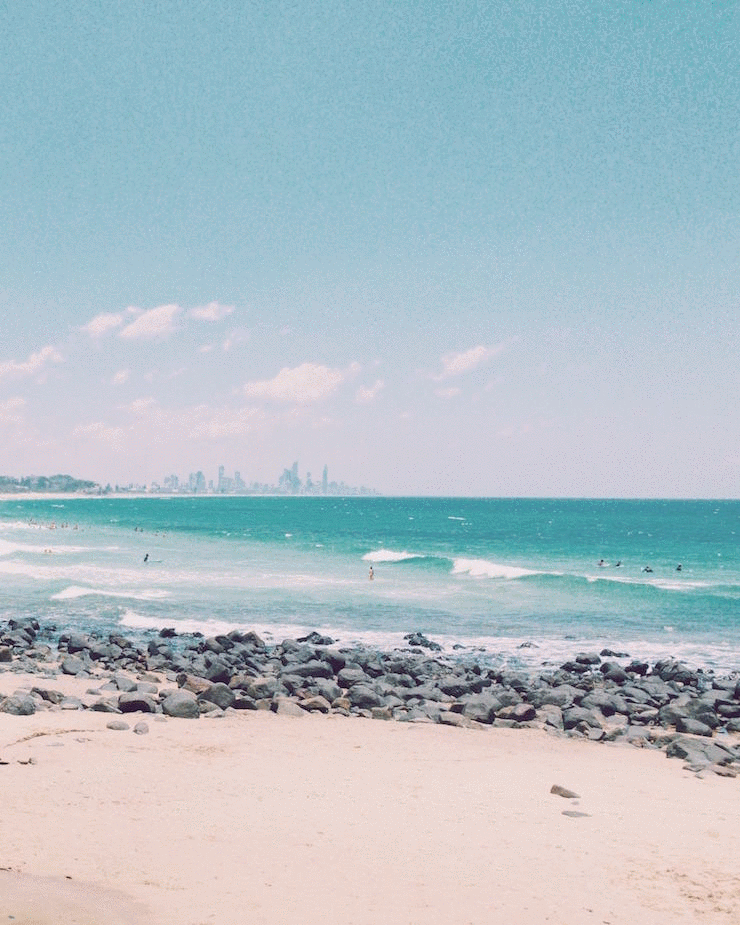 Put down the fries, slap on your hat and slop on the sunscreen because hint: a day outdoors is good for the soul and being active isn't all squats and barbells. Spend the morning at the markets sipping smoothies, swaying to live music and hunting for eclectic gifts.
Get your heart racing and face glowing exploring Queensland's gorgeous national parks. For those on the Gold Coast wanting a low-key stroll, the Burleigh Headland is a well-worn route littered with lush greenery and vistas of the ocean. If you're game for something more intense, hike up Mount Warning because the sweat (and tears) are totally worth it. Sunshine Coast locals can snap a 'gram-worthy pic at the peak of Mount Coolum, and Brisbanites are blessed with the option to drive up or down the coast for their pick of either, or stay close to home and do the City Loop instead. Lastly, cool off between the flags anywhere along our 72 kilometre slice of pristine coastline and challenge yourself with a swim.
#3 Take A Digital Detox
Like any relationship, sometimes you need a break from your beloved digital devices. Phones now track details like how much time you spend using it and how many times you pick it up during the day—the results can be frightening (for us anyway). If spending time on your phone is making you less productive, try a digital detox. Pop your phone away during meals and use the trusty do not disturb function and feel the negativity melt away. Even leaving your phone at home or in a locker at the gym counts. You won't be distracted by the constant pings so you can be present and re-set your mind.
Next, create tech-free zones so you have an oasis to completely detach from the digital world. The best place to start is your bedroom and you should invest in an old-school alarm clock so there's zero excuses. Without your phone you won't be tempted to scroll Instagram mindlessly before bed, ensuring a restful sleep. If you need to detach at a slower pace, check how long you spend on your device—on average it's 3-4 hours a day—and set a target of 15% less a day. But it doesn't end there. Replace that time with an activity like exercising, reading, drawing, or cooking (you'll feel so accomplished prepping lunch for the entire week, plus you'll save heaps of cash).
#4 Get Together With Your Mates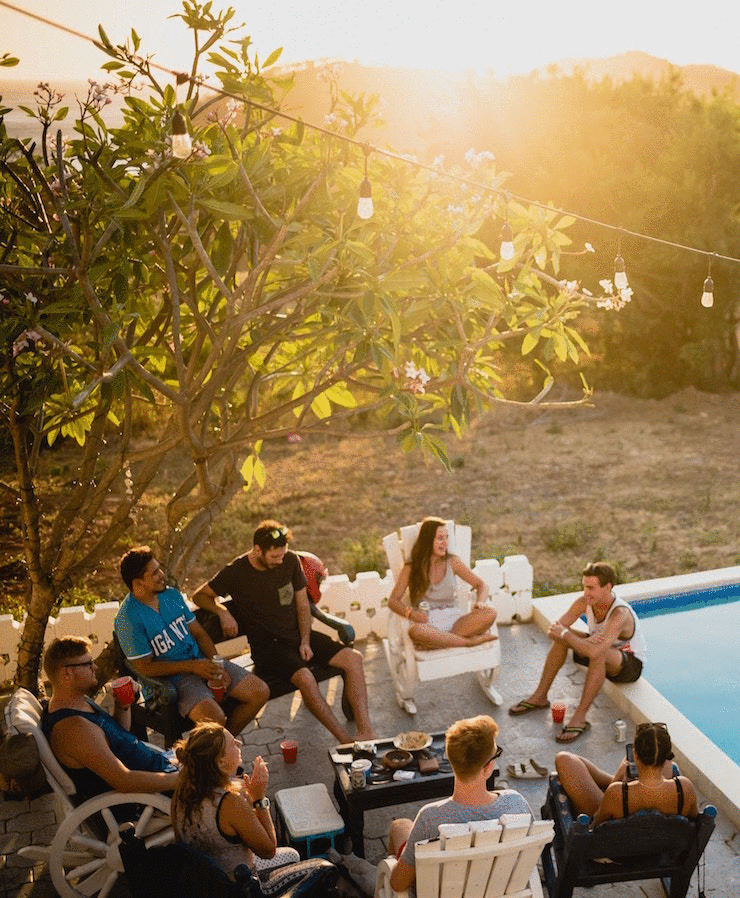 Summer is for picnics, alfresco-dining and music festivals with your friends so fire up the group text and organise your next mate date, stat. There's no greater joy in life than throwing down the picnic rug and whipping out a drool-worthy cheese board with fresh, healthy salads to devour with your closest mates (Burleigh Headland is perfect for anyone on the Gold Coast, Noosa National Park on the Sunshine Coast, and New Farm Park in Brisbane). Just don't forget a killer playlist, your hat, sunscreen, sunglasses, frisbee and footy.
If you're a night owl, hit up a local live music night or go one better and put on a show for your mates at a karaoke bar. Make a reservation at that new restaurant you've been dying to try, check out the latest gallery exhibition, go shopping (you'll be blown away by how many extra steps you rack up), or sign up the squad to a cooking class (because you can only do eggs so many ways). No matter what you're doing, if you're with your mates you're guaranteed good times.
#5 Sleep Easy
We've all fantasised about a full night's sleep and the increased productivity that would result. Some tried and true ways to let your body know it's time for bed is to light a candle, burn some lavender oil, sip camomile tea, and log off from your phone at least half an hour before you hop into bed (the blue light from our phone totally plays with your body clock). Follow a nightly routine like this and your body will learn exactly when it needs to reboot each day.
Can't switch off? Exercising reduces stress and anxiety, and if early mornings are too much, move your workout to the evening to help you sleep better. We know it can be hard to give it your all after a full day at work, so if you're not up to doing your regular spin class, opt for pilates or yoga instead. Set yourself up for success throughout the day and avoid sugary drinks and food, and cut caffeine in the afternoon (or earlier if possible). If you can't give up the caffeine, try switching your skinny flat white for chilled water with fruit or green tea as it has a lesser dose of caffeine and is packed with antioxidants. Your body will thank you for it and you'll get to sleep faster.
#6 It's Not A Diet, It's A Lifestyle
Just like we spring clean our wardrobes, do the same to your diet. Clean out your fridge and cupboard and donate anything that doesn't align with your healthy lifestyle (yes, the chocolate and ice cream has to go). From here on out, write a grocery list before you hit the shops so you stick to it and there's no chance of making unhealthy choices as you explore the aisles. Next, set yourself up for success and meal prep over the weekend. This way you've always got a healthy option ready to go in your fridge. Be sure to always make healthy sized portions (we're so guilty of having eyes too big for our stomach) and find healthy alternatives to naughty foods you love. Switch sugary soft drinks or juices for water or herbal tea. Ramp up your vegetable and fruit intake by adding banana and berries to your porridge and replacing chips for veggie sticks and homemade dip.
When dining out, preparation is key for making healthy choices. Check the menu online beforehand and plan exactly what you're going to order. Plus most restaurants are super accommodating and happy to provide alternatives for ingredients.
A shiny new year promises a shiny new you. Repeat after us; healthy choices, consistency and persistence. Now let's make it happen.
Editor's note: This article is sponsored by Queensland Health and proudly endorsed by The Urban List. Thank you for supporting the sponsors who make The Urban List possible. Click here for more information on our editorial policy.