Call us lazy, but we're firm believers in the jeans-with-everything approach to getting dressed, and black denim is the easy closet classic we fall back on season after season.
Far from boring, we love that you can make the darkest wash work for you no matter were you're headed—on a date, out to brunch…heck, we'll rock a pair in the office if you give us half a chance. There's no wrong way to wear them, and you can never have too many pairs.
To help us with our desire to wear denim every day of the week and get away with it, we're looking to the experts of denim - Nobody Denim (and we've taken some sartorial cues from our favourite fashion muses) to bring you seven powerful black denim looks from their new Power Blk range for every day, and every occasion. Thanks to Nobody, you'll never have 7am-wardrobe-freak-out again.
Black denim goes office approps with the addition of power accessories. Keep it clean and chic like everyone's favourite first lady of style in a timeless pair of Nobody's Geo Skinny Power Blk jeans and the perfect peroxide blonde (because a Kennedy always has her roots done).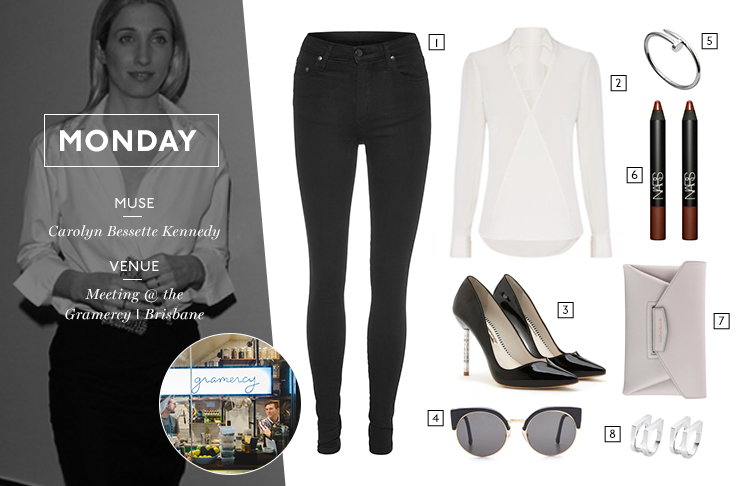 1. Nobody Geo Skinny in Power Blk, $189 from Nobody Denim. 2. Aje 'Faithful' Shirt, $320 from Aje. 3. Sophia Webster Patent 'Killer' Pumps, $645 from Maryon's. 4. SUPER 'Ilaria Gold' Sunglasses, $329 from Onepointsevenfour. 5. Cartier 'Juste en Clou' Bracelet, $8,750 from Cartier. 6. NARS Velvet Matte Lip Pencil, $34 from Mecca Cosmetica. 7. Givenchy Envelope Clutch, $1240. 8. Georg Jensen ARIA Ring in sterling silver, $295 from Georg Jensen.
Tuesday | Brunch at bills Bondi, Sydney
Haven't you heard? The '70s are back, baby, so make like Farrah and keep it fresh at brunch with oversized frames, long chains, and your Nobody Siren Skinny Power Blk jeans.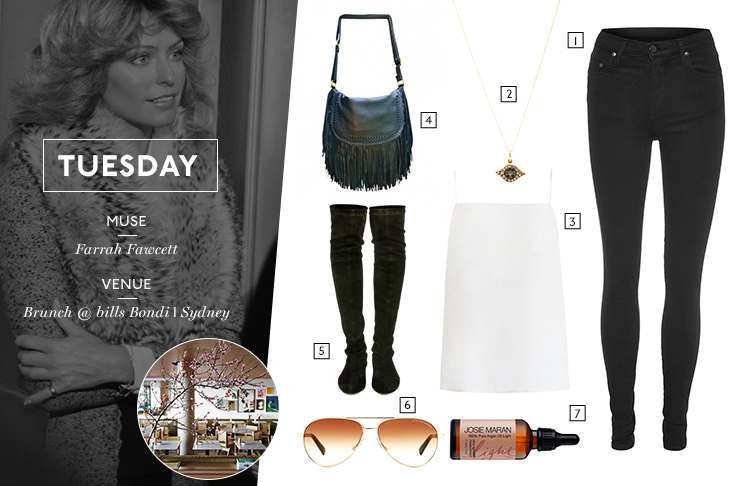 1. Nobody Siren Skinny in Power Blk, $189 from Nobody Denim. 2. Ileana Markri Eye Pendant, $2,230 from Green With Envy. 3. Zimmermann Silk Cami, $220 from Zimmermann. 4. Kivari Cascade Bag, $297 from Kivari. 5. Robert Clergerie Over The Knee Stretch Suede Boots, $995 from Maryon's. 6. Dita 'Ambassador' Sunglasses in Gold, $689. 7. Josie Maran Cosmetics 100% Pure Argan Oil, $58 from Mecca Cosmetica.
Wednesday | Culture injection at Heide Museum, Melbourne
You beguiling little minx, you. Channel your inner culture savant while prowling the gallery floor in minimal makeup, equestrian inspired booties, and a nonchalant panama. BYO je ne sais quoi.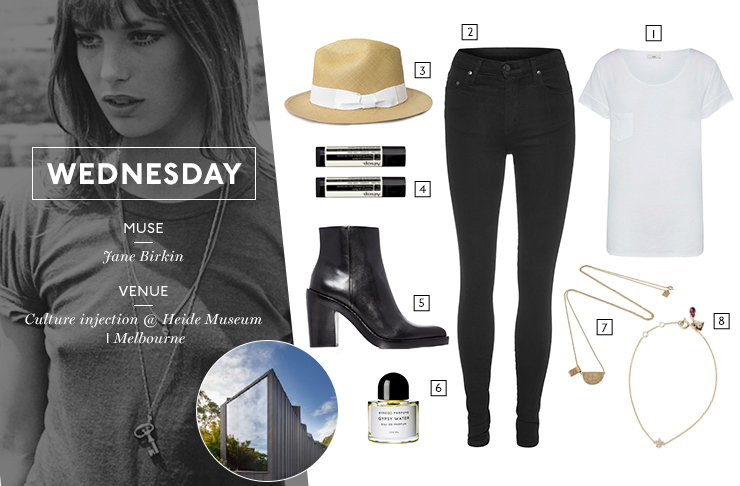 1. Aje The Simple White Tee, $90 from Aje. 2. Nobody Cult Skinny in Power Blk, $189 from Nobody Denim. 3. Sensi Studio Panama Hat, $125 from Sensi Studio. 4. Aesop Protective Lip Balm, $19 from Aesop. 5. Alexander Wang Kelli Black Equestrian Boots, $895 from Green With Envy. 6. Byredo Parfums, $229 from Mecca Cosmetica. 7. By Charlotte Gold Lotus and Little Buddha Necklace, $155 from By Charlotte. 8. By Charlotte lotus Gold Diamonds In The Sky Necklace, $699 from Me and Moo.
Thursday | Dinner date at Coppa Spuntino, Brisbane
If you think you can't do denim on a date you've obviously never donned a pair of Nobody Cult Skinny Power Blk jeans. Adding just the right level of cool-girl, understated sexy to your date ensemble, keep it balanced with a plunging neckline, rock-and-roll approved jacket, and heeled ankle booties. We'll stop wearing black on dates when they invent another colour.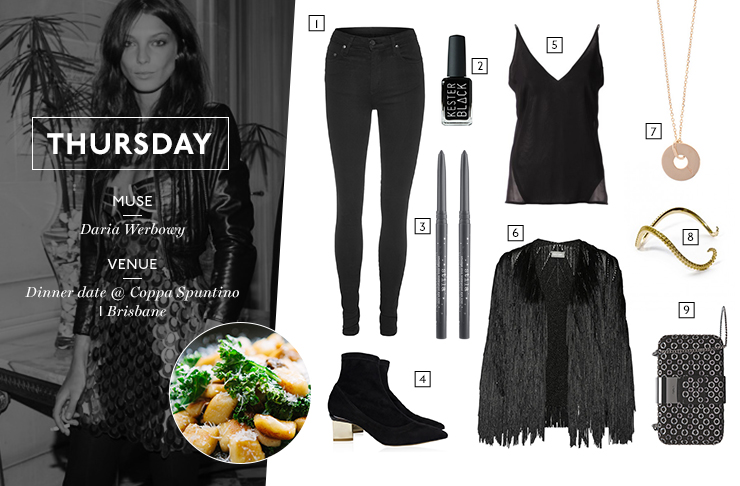 1. Nobody Cult Skinny in Power Blk, $189 from Nobody Denim. 2. Kester Black Nail Polish in Black Rose, $20 from Kester Black. 3. Stila Smudge Stick Waterproof Eyeliner, $26 from Mecca Cosmetica. 4. Nicholas Kirkwood Suede Ankle Boots, $1,160 at Maryon's. 5. J Brand 'Lucy' Camisole, $189 at Denim Co. 6. Finds + Tim Ryan Fringe Knitted Jacket, $2738. 7. Sarah and Sebastian 'Tiny Disc Necklace', $295 from Camargue. 8. Percival Luto Spinosus Cuff in Gold, $280.01 from Fallow. 9. Furla Opera S Clutch Rigida, $369.
Friday | Night on the town at Rice Queen, Melbourne
Make like Mossy when out on the town and shake up all-black with a look-at-me coat and lip colour. You're going to turn heads, which is what it's all about, right?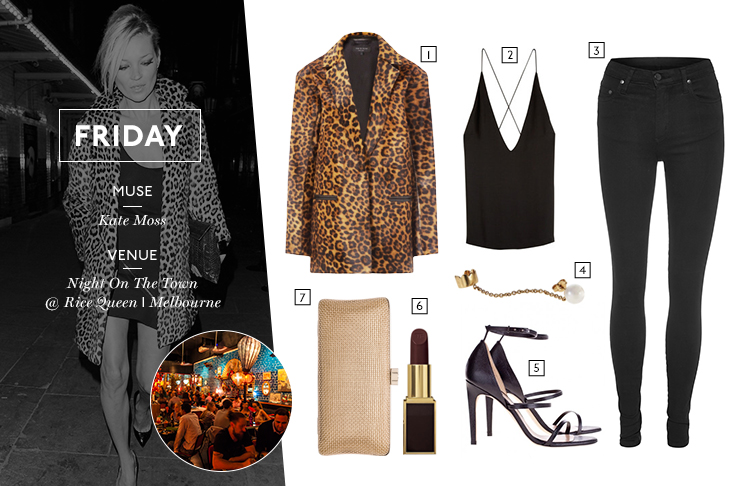 1. Rag & Bone Sigrid Coat, $850 from Rag & Bone. 2. Dion Lee Line 2 Fine Line Cami, from Dion Lee. 3. Nobody Siren Skinny, $189 from Nobody Denim. 4. Lucy Folk Cream Tart Cuff Earring in Gold, $220 from Lucy Folk. 5. The Mode Collective, Triple Strap Sandals, $269 from The Mode Collective. 6. Tom Ford 'Black Orchid' Lipstick, $68 from David Jones. 7. Oroton Freize Clutch in Gold, $245 from Oroton.
Saturday | Dinner at Cho Cho San, Sydney
Man-style doesn't mean manly. An easy night out at Cho Cho San calls for an equally effortless look, and French 'it' girl Caroline de Maigret has the so-relaxed-it-hurts vibe down. Loafers and a man-shirt are your dinner go-tos.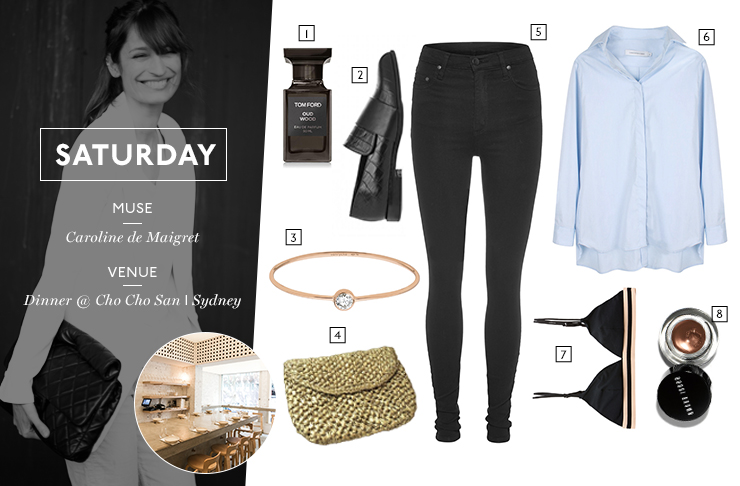 1. Tom Ford Unisex eau de Parfum, $395 from David Jones. 2. Camilla and Marc Honour Loafers, $460 from Camilla and Marc. 3. Vanrycke Diamond Solitare Ring in Rose Gold, $481 from My Chameleon. 4. 'The Rhythme' Raffia Clutch in Gold, $79 from Molten Store. 5. Nobody Siren Skinny, $189 from Nobody Denim. 6. Christopher Esber Owen Combo Shirt, $350 from My Chameleon. 7. Love Stories Mon Amour Crop Bra, $69 from Me and Moo. 8. Bobbi Brown Longwear Gel Eyeliner, $35 from Mecca Cosmetica.
Sunday | Casual BBQ with friends
It might be the day of rest, but your Nobody's aren't getting a break. Be your own muse on Sunday and bring a touch of normcore to a low-key barbecue—an oversized sweater and so-kitsch-they're-cool accessories are a must.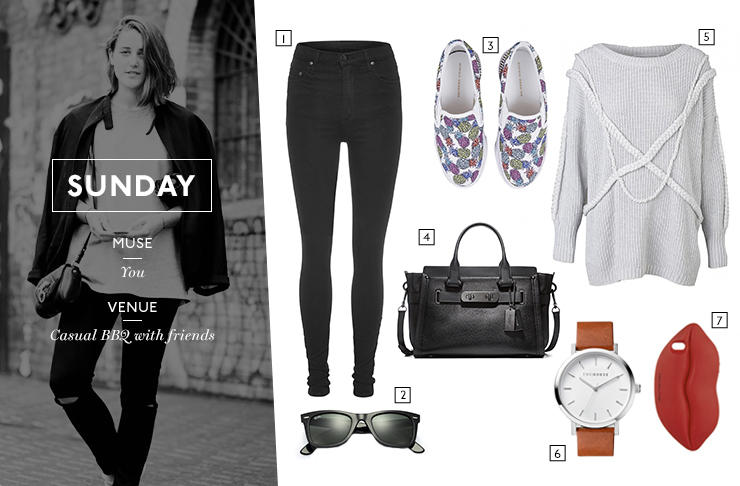 1. Nobody Siren Skinny, $189 from Nobody Denim. 2. Ray Ban Wayfarers, $229.95 from General Pants Co. 3. Sophia Webster Adele Pineapple Sneaker, $268 from Grace Melbourne. 4. Coach Pebbled Leather Coach Swagger Carryall, $1080 from Coach. 5. Viktoria & Woods 'Charming' Chrome Plait Sweater, $279 from Designer Forum. 6. The Horse Polished Steel Watch, $129 from The Horse. 7. Stella McCartney Lips iPhone 5 Case, $60.
Image Credit: Nobody Denim
TUL Note: This article is proudly sponsored by Nobody Denim and endorsed by The Urban List. Thank you for supporting the sponsors who make The Urban List possible. Click here for more information on our editorial policy.