Warmer months are practically a license to get your booze on. And since we've all got a liiiittle more time on our hands over the Christmas break, it's the perfect occasion to try your hand at a few delicious cocktails.
Keep it simple with a damn good Margarita, or go all out with a coffee negroni. There really is no bad choice here.
May the, er, drinks be with you.
Roaring Tempest
Courtesy of Oscar Eastman from Eau De Vie
Um, have you ever heard of pairing cheese and cocktails? Nope? Better get started now. This one, by Eau De Vie's Oscar Eastman, is designed to match a delicious blue cheese. "I really do think that cheese and cocktails are a match made in heaven, and pairing cheese and cocktails is definitely a food trend to watch this season."
Ingredients
40ml Calvados
20ml Lemon Juice
10ml Egg white
10ml Honey
5ml Poirre Williams
One small chunk of King Island Dairy Roaring Forties Blue
Method:
Build, and top with soda
Garnish:
Della Pringle
Courtesy of Della Hyde, Sydney
What is summer without a few hundred cheeks of mango? Not much. Make it even more delicious by throwing some gin in the mix. You. Are. Welcome.
Ingredients:
45ml Gin
15ml Cocchi Rosa Vermouth
30ml Lemon juice
15ml Agave
Half a cheek of Mango (sliced)
3 Basil leaves
2 dashes of Angostura bitters
Topped with Soda
Method:
Muddle mango, add remaining ingredients (except soda) and shake with ice. Double strain into ice filled highball and top with soda.
Garnish:
Basil sprig and a dehydrated lemon wheel.
Coffee Negroni
Oh. Hell. Yes. It's hot, you're a little sleepy, but very keen to get your drink on. Enter the coffee negroni. Thank us later.
Ingredients:
20ml Mr Black Espresso Liqueur
20ml Gin
15ml Campari
10ml Sweet vermouth
Method:
Stir with ice and strain over fresh ice.
Garmish: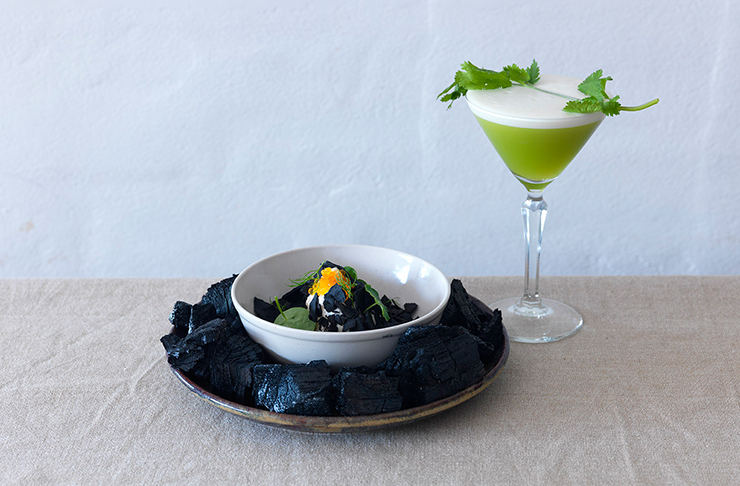 The Coriandrum Cocktail
Courtesy of The Barber Shop, Sydney
Gone are the days of the juice-and-booze cocktail, and we're moving full steam ahead into actually tasting our delicious spirits. This one brings out the natural botanicals in Bombay Sapphire with a hint of celery and coriander.
Ingredients:
45ml Bombay Sapphire
15ml Rich sugar syrup
30ml Fresh lemon juice
2 Coriander stalks
2 Inches celery
15ml Egg white
Method:
Muddle celery and coriander into a cocktail shaker, add fresh lemon, sugar syrup, egg white and Bombay Sapphire gin to shake hard and fine strain into a well chilled cocktail glass
Garnish:
Blood Orange Margarita
Love a good Marg but find them a bit too sweet at times? This blood orange variation is the answer to your poolside prayers.
Ingredients:
60ml Tequila (like Espolón Tequila Blanco)
30ml Triple Sec
100ml Fresh blood orange juice
Juice of two limes
Method:
Add all ingredients to shaker, add ice, and shake vigorously. Strain into salt-rimmed glasses with fresh ice.
Garnish:
Rum Punch
Sharing is caring, dontchaknow? This badass rum punch is an excellent crowd pleaser and ridiculously easy to make. Put your hand up to bring it to your next function, then laugh at the others' effort.
Ingredients:
250ml Freshly squeezed lime juice
250g Caster sugar
375ml Dark rum such as Appleton Estate V/X
75g Bitters
Pinch of grated nutmeg
Method:
Add all ingredients to a punch bowl, stir like you've never stirred before, top with heaps of ice and keep stirring.
Garnish:
Slices citrus fruit and a sprinkle of nutmeg.

Chivas 18 Ultimate Cask Collection Smash
This is one for those who have just been travelling and scored themselves a special Chivas 18 Ultimate Cask Duty Free. This bad boy takes inspiration from a classic American cocktail and is perfect for sipping on warm summer evenings.
Ingredients:
50ml Chivas 18 Ultimate Cask Collection First Fill American Oak
10ml Vanilla Sugar syrup
Eight Mint Leaves
Crushed ice
Old Fashioned Glass
Note: This recipe can be made inside the glass and does not require any additional tools apart from a spoon.
Method:
Place the mint leaves in the base of the glass and add the Vanilla Sugar syrup.
Stir (without breaking the leaves to allow the mint to infuse into the sugar) for 20 seconds then add the Chivas.
Half fill the glass with crushed ice and using a spoon fold the mint from the base and stir slowly allowing the ingredients to mix thoroughly at the same time chilling and diluting the drink. C
ontinue to do this until the ice has become slushy and then fill the glass with more crushed ice. Now the liquid should be almost at the top.
Take a large fresh sprig of fresh mint and slap it against the dry palm of your hand to release the oil and freshen up the aroma. Place this into the glass at the top alongside a thin straw. When you sip the drink the fresh aroma should enhance the taste.
When we're not sipping on cocktails, we're making smoothies. Check out our recipes here.
---
Image credit: Della Hyde, Bombay Sapphire, Chivas Regal