Winter can seriously take its toll on our hair, between the frizz inducing morning fog and wind chill that dries you out worse than a sultana in the time it takes to get from your house to your car. But that's no reason to let your hair's health go down the drain, so we've put together a list of products that you need in your life this winter aaaand some bonus tips to cure your damaged hair. You're welcome.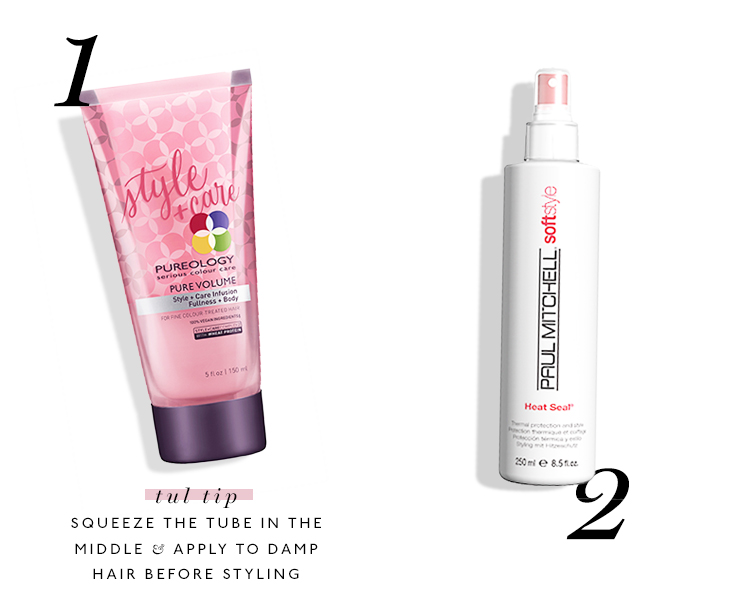 1. Pure Volume Style + Care Infusion
PUREOLOGY
Fullness and body are two of our favourite words when it comes to our hair and those two things are exactly what this product promises. Suitable for all hair types, the 72-hour frizz control will look after the fine-haired ladies while the intra-cyclane will strengthen colour-damaged hair and wheat protein will build all of the volume. The packaging is also pretty awesome, with a double tube containing the style and care products separately. To get the best out of both, squeeze the tube in the middle and apply to damp hair before styling. This range is stocked in selected salons and you can find your closest stockist here.
2. Heat Seal Thermal Protection and Style Spray
Paul Mitchell
Winter is notorious for drying out your hair, or your skin, or your lips (I think you get the picture) so the last thing you need is heat damage as well. That's why heat protector spray is an absolute must and Paul Mitchell's is paraben free, vegan and colour safe. Simply spray a small amount onto damp hair and style as normal to dodge the heat damage.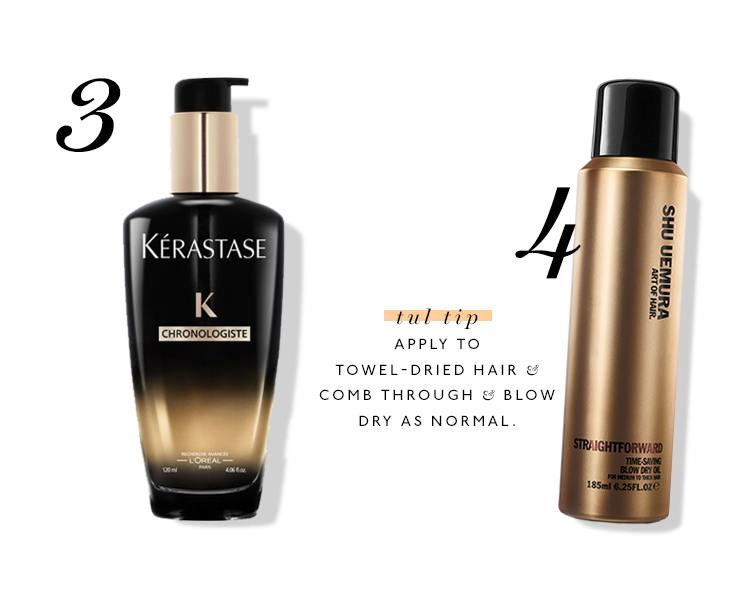 3. Chronologiste Le Parfum En Huile
Kérastase
The perfect finishing touch to your daily 'do, this oil fragrance is a blend of tea roe, light woods and musk that will leave your tresses subtly perfumed as well as silky and smooth. For best results, work one or two pumps through the lengths of your hair and style as normal (no rinsing needed).
4. Straightforward Time-Saving Blow Dry Oil Spray
Shu Uemura
We are all for products that will get us out the door faster or, more accurately, allow us a few extra minutes under the doona. That's why we love the Straightforward Time-Saving Blow Dry Oil Spray by Shu Uemura, which promises a 2x faster blow dry. Basically, the magic is in the formula, which uses the same gliding agents found in foundation to invisibly coat each strand and give you sleek and shiny hair. Simply apply to towel-dried hair and comb through before sectioning hair and blow drying as normal.

5. Care Line Satin Oil Intensive Treatment
Keune
Designed with dull, dry hair in mind, the essential minerals in Keune's Care Line Satin Oil Intensive Treatment are combined with a rich oil blend to nourish your hair from the inside out. The blend is monoï, sweet almond, maracuja oil and papaya seed oil and will work together to make your hair shiny and super soft. For best results, massage gently into towel-dried hair and leave in for three minutes, before rinsing thoroughly.
6. Ultra Gentle Shampoo
Oribe
Oribe is basically the Rolls Royce of hair products, so it's hardly surprising that the Ultra Gentle Shampoo more than satisfies your poor winter hair's thirst for soft and shiny hair. This one is crazy smoothing and has enlisted a whole host of premium ingredients like the Oribe Signature Complex to defend hair from oxidative stress, photo aging and deterioration and amber extract to deliver antioxidant, conditioning and hair-strengthening properties (among others). It also protects your hair from harmful UV rays long after the last rinse.

7. Shampure Composition
Aveda
Kill three birds with one stone and buy the Shampure Composition by Aveda for your bath, body and scalp. It is an aromatic nourishing oil with 25 flower and plant essences including certified organic lavender, ylang-ylang and petit grain to name only a few. Apply a few drops to damp skin after showering and up to 25 drops into running bath water (just try not to fall asleep, for safety reasons) or enlist a friend to give a calming scalp massage. Yes, please!
8. Cleansing Purifying Scrub With Sea Salt
Christophe Robin
Three products in one, the cleansing purifying scrub does exactly as the name suggests; cleanses, purifies and scrubs. It's a gritty white paste with a citrus scent and is ideal as a detox treatment to rebalance sensitive or oily scalps with the magic of sea salt, which is a natural exfoliant and eliminates impurities at the same time. It is designed to use as a shampoo, so apply a small amount to wet hair and delicately massage the whole scalp, concentrating on the nape before rinsing thoroughly.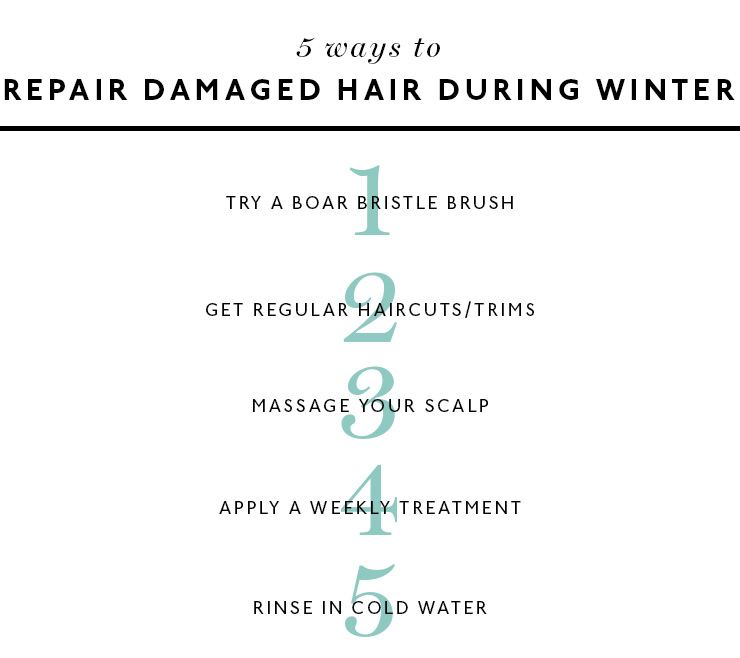 We asked Keune's Creative Director Roberto Tarla to share his top tips to help you keep your hair looking on point during the colder winter months.
Try a boar bristle brush, as they are gentle on hair and create a polished look as they lift away dirt while spreading the hair's natural oils from root to tip.
Get regular haircuts/trims as this prevents the hair cuticle from splitting. Once the hair becomes split at the end there is no way to mend it, haircuts help to avoid this issue.
Massage your scalp as this promotes hair growth and helps to distribute the hair's natural oils from root to tip.
Apply a weekly treatment like Keune's Care Line Satin Oil Intensive Treatment, treatments help to restore dry, damaged hair which can prevent split ends and breakages. They also allow your hair to regain its shine and keep your hair looking healthy and beautiful.
Rinse in cold water as this assists the hair to lock in conditioning agents that leave your hair feeling soft and hydrated.
---
Image credit: Douglas Robichaud