To wrap up Urban List's epic month of all things style, we're bringing to light 14 under the radar labels that are pushing the dial in the world of fashion right now.
If you're wondering who will be the next Virgil Abloh and if there'll be another label as prolific as Off-White or as meaningful and important as Nike—take a look at some of the new kids on the block. If you want to know who's inspiring all the major fashion maisons as they continue to dip their toes into the ocean of sneakers and streetwear, Fenty aside, the following eight are just a few players challenging the status quo in style. It's fashion for a time when high fashion has become slightly irrelevant, but statements, subcultures, streetwear and standing out are everything.
Here are all the under the radar labels worth knowing about now.
Aries
Kicked off by Italian-born, London based designer Sofia Prantera back in 2010—Aries is a streetwear label that has very little (read: nothing) to do with your horoscope. The brand's signature motif is a trilithon, so the reference is more archaeological than it is astrological.
Aries created streetwear for women at a time when streetwear was dead. These days, they're dishing out men's and women's tie-dye denim, slogan tees slashed with impervious London-style humour, sheepskin belt bags, ski pants and corduroy printed with thorny roses. It's a label that speaks the language of understated cool quite unlike any other out there in 2019, and it's one of our favourites.
Online Ceramics
Championing the psychedelic, almost Wiccan and voodoo vibes that are bouncing around right now is LA-based label Online Ceramics. What started out as a joke between mates (no actual ceramics are involved), quickly became a cult label—made up of bright tees, jumpers and hoodies covered in chaotic designs. Skeletons, impending doom and climate change are a strong theme channelled on each tee.
Permanent Vacation
Hailing from our very own Melbourne, Permanent Vacation is an Aussie label to add to your hit list. Dreamt up by Claire Louise Smith, the vibe is Sunday picnic meets weekends in Brooklyn. Permanent Vacation tick all the sustainable boxes too: collections are made to meet demand only, they're made in factories near to Smith's Collingwood studio, and made using natural fabrics or deadstock Smith unearths on her personal travels. The cuts are cool, flattering and fun too.
Cactus Plant Flea Market
Kanye and Chance have been sporting super exclusive, sort of mysterious Cactus Plant Flea Market (CPFM) jumpers since 2015. It wasn't until this year, however, that the label shot up out of obscurity for its part in one of the most hyped sneaker collabs to drop in 2019: the CPFM x Nike VaporMax 2019. The designer behind it all is Cynthia Lu, who worked for years as Pharrell Williams' assistant.
Marine Serre
Easily the most coveted cult label of the year—Marine Serre's now iconic half-moon motif has been sported by the likes of Kendall Jenner at Coachella, Beyonce at an NBA playoffs game in Houston and most recently by Chloe Sevigny on the red carpet at Cannes.
The French designer showed her post-apocalyptic Fall 2019 collection "Radiation" in an old wine cellar on the outskirts of Paris; models wore catsuits with glow in the dark details, sculptural parkas in psychedelic hues. Serre has just dropped a collab with Nike too, on a 2019 FIFA Women's World Cup jersey made from recycled materials for the U.S women's national team.
Danielle Karlikoff
Sydney-based jewellery designer Danielle Karlikoff makes wearable art—the ethereal, celestial sort we're sure has been plucked from a planet in a galaxy far, far away. Her latest collection, "Hydromania" features earrings, pendants, rings and more in silver and gold, peppered with chunks of semi-precious stones.
Fantabody
Described as a "capsule collection of bodysuits with a sporty fit and an erotic touch", Fantabody is an Italian label making leotards and dancewear cool. It feels right, off the back of the rise and rise of all things activewear, and we're all in for the acid yellow ruffles, cut-out jumpsuits and shimmering knee-high socks. Pin this one for your next festival.
Jungles Jungles
Based on clashing concepts like urban escapism, aggressive relaxation and leisure design—Jungles Jungles is "too punk to be a hippy, too hippy for punk". It's the creation of Melbourne-based designer Jack Ferguson. Graphic tees and accessories follow a subversive sort of bent; Daria Morgendorffer-style slogans like "They said I could be anything, so I became a disappointment" are dressed in retro fonts and bright holiday colours.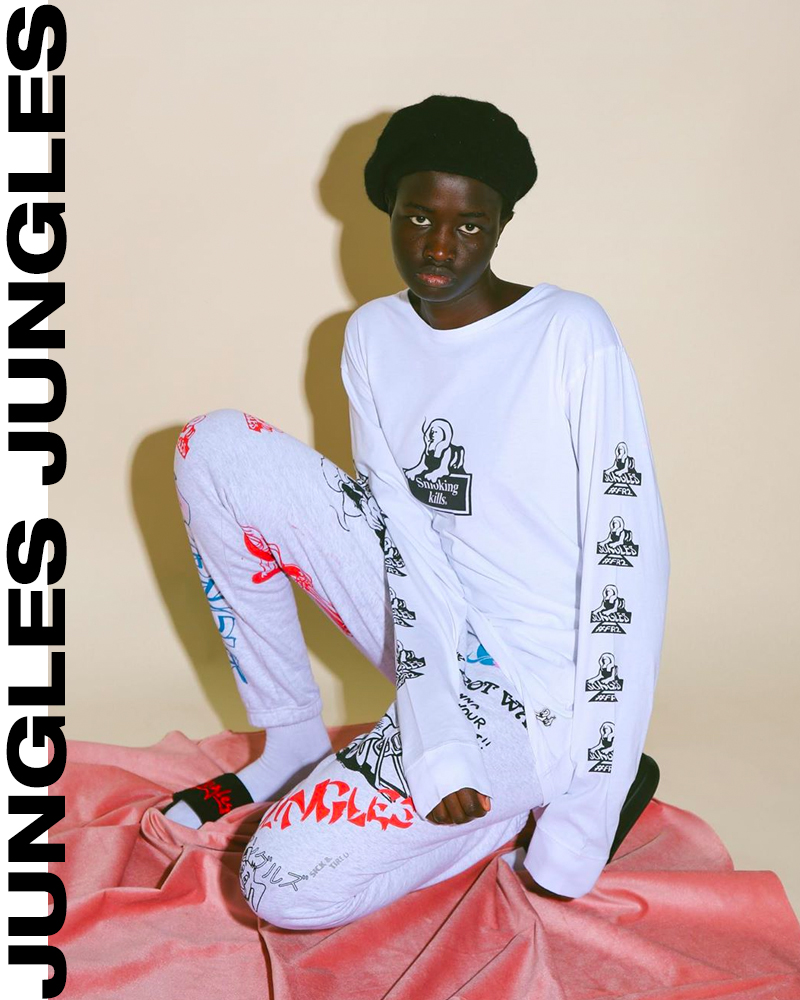 Shopping? Head over here to get in on everything trending in fashion right now.
Design credit: Sarah Law.