A fireman by trade, Russell Ord's journey into photography started 15 years ago when he injured his knee surfing. Instead of sitting on the couch for three months, he picked up a camera and spent his days shooting friends in the waves. Fast forward 15 years and Russell is now known internationally for his beautiful and bewitching photography, has a huge global social media following, a raft of magazine covers and a bunch of incredible international awards.
A big advocate of giving back to the ocean, we had a chat with Russell about staying creative, what he loves most about living in Margaret River and most importantly, where his caffeine loyalties lie.
YOUR PHOTOGRAPHY MAY HAVE STARTED OUT AS A HOBBY, BUT WHEN DID YOU REALISE IT WAS GOING TO GET BIG?
To be honest, I am not sure I would class it as big! However, once I left my full time fire fighter job to pursue my photography dream and spend more time with the family, this was the first time I classed myself as a 'professional photographer'. That was two years ago.
MARGARET RIVER HAS GOT TO BE ONE OF THE MOST PHOTOGRAPHED AREAS IN AUSTRALIA. HOW DO YOU CONTINUE STAYING CREATIVE AFTER SO MANY YEARS OF SHOOTING?
Staying creative business wise has been key, as well as staying creative with my photography. Consistently coming up with new ideas for marketing and innovative collaborations is a focus, as well as diversifying the photographic offering. Most importantly building inspirational talented teams keeps the creativity flowing.
WHAT DO YOU LOVE MOST ABOUT LIVING IN MARGARET RIVER?
The people, hands down. I am normally one of the early bird surfers in the morning at Main Break, and the classic conversations going down between the locals are certainly highlights.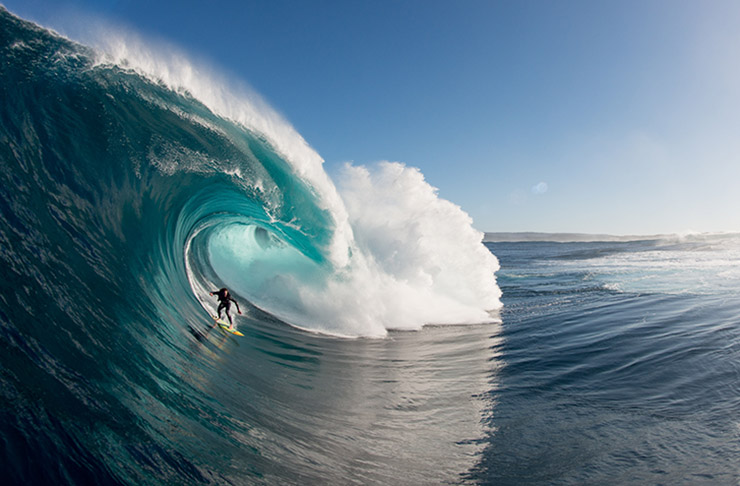 WHAT DOES A TYPICAL DAY IN MARGARET RIVER LOOK LIKE?
On a working day, I will meet the surfers before sunrise for a surf check. It's nice to photograph in the early morning light, swim out to the break and hopefully get some great shots. Then I grab a coffee before heading into the office for editing and catching up on the business side of things. Early afternoon is a good time when the pool is empty to focus on apnea (breath hold) training—when I'm shooting in big waves it's good to know I can hold my breath for an extended period of time if I'm held under by a wave. Then the kids get home from school, and that's when anything can happen depending on the kids' activities and requirements.
DESCRIBE MARGARET RIVER IN THREE WORDS
Peaceful, surf-rich (let's make that a word!) and artistic.
WHAT'S YOUR GO-TO CAFE IN MARGARET RIVER?
If it's after an early morning surf it's Combi Coffee, or if I'm going straight to the office it's Brew Shack. I am a very early riser and apart from doing great coffee, both these guys open really early.
AND FAVOURITE LUNCH SPOT?
Home for sure, I live in the bush and having that serenity during the day is nice. It also gives me a chance to catch up on the business side of things with my wife and business manager Catherine.
WHERE WOULD YOU GO FOR A CELEBRATORY DRINK AFTER GETTING A PARTICULARLY AMAZING SHOT, AND WHAT WOULD IT BE?
A pint of Creatures Pale Ale at Settlers Tavern with Californian Tacos.
IF SOMEONE WERE LUCKY ENOUGH TO BE EXPLORING THE SOUTH WEST WITH YOU, WHAT HIDDEN GEM WOULD YOU TAKE THEM TO?
I would love to take them out on the jetski, up close and personal with some of the most powerful waves on the planet—it's certainly a different perspective and experience from the shore line view.
WHEN YOU'RE LOOKING TO IMPRESS, WHERE WOULD GO FOR DINNER?
I am starting to think I should get out more and not be so much of a homebody! Swings in Margaret River has a really great vibe and puts on an amazing meal.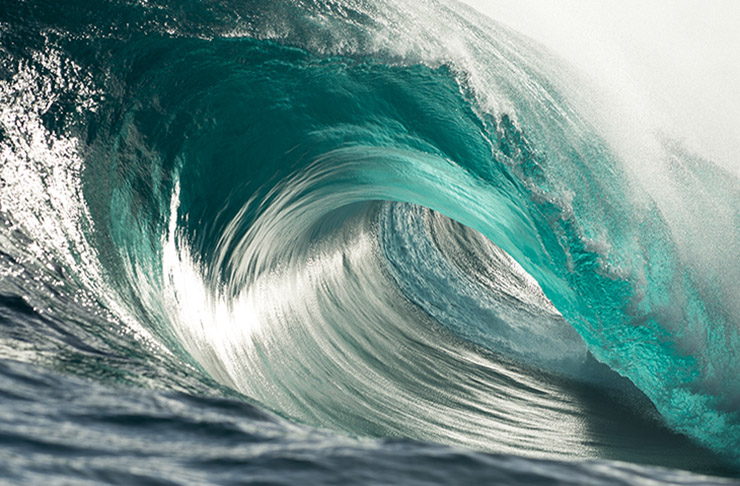 WHERE DO YOU GO TO UNWIND?
Watching the sunset over Margaret River with the family with a beer or local red in hand is definitely hard to beat.
TELL US ABOUT YOUR INVOLVEMENT WITH SURF AID?
I get so much pleasure and inspiration from the water and waves that I like to give back to the ocean. SurfAid is an amazing organisation that works to improve the lives of people living in isolated coastal regions connected to us through surfing. When called upon I donate time and images to SurfAid to support their profile, campaigns and events. It's a real privilege to be involved with a group that has changed so many lives for the better.
FINALLY, WHAT'S ON THE HORIZON FOR YOU?
I'm currently working on a 50 minute documentary called One Shot with Darren McCagh from Farmhouse Films, due for release in 2016. The documentary is about my life as a surf photographer in Western Australia, and how I've embarked on a mission to capture 'one shot' that defines who I am. It's a journey about taking chances, following your dreams and living a life without restrictions. You only get one shot at life…you have to live it as best you can.

Next year will see the start of a big new adventure. I'll be moving the family onto an ex-Navy frigate to explore the Pacific. We'll be making the vessel available to small groups and not-for-profits interested in ocean preservation.

I'm training to become an instructor of apnea (breath hold) and ocean survival with Joe Knight from One Ocean International.

I'm developing the Elements Margaret River business with talented partners Mark Boskell and Paris Hawken. It offers a wider scope of photographic work which gets me away from the surf industry, and into the everyday lives of the characters from the Margaret River and the South West region.

I have an ongoing goal of becoming a better dad to my three beautiful kids!
Margaret River coffee is awesome but are you looking for the best Perth coffee? Search Coffee in The Directory!
Image credit: Russell Ord