A lot of people travel to Nepal alone. It's probably got something to do with Finding Yourself. Finding Yourself tends to be a solo activity, and Nepal offers single travellers the ultimate combination; reasonably safe streets, cheap dumplings and an excuse to shop at North Face. More importantly, it has that vaguely spiritual, Eat Pray Love-ish vibe, without which it's not a proper journey of self-discovery at all, just self-indulgent travel therapy.
The point is, if you're flying into Kathmandu on your lonesome, you won't be the only one. Solo travel in Kathmandu is pretty easy. The dollar buys about 50 rupees right now (to put that in perspective a small bottle of water is about 23 rupees), the streets are safe enough, with a little common sense, and you can even trek solo. What's not to like?
Here's our ultimate guide to solo travel in Kathmandu.
Set Up Camp In Thamel
Thamel (pronounced 'Tammel') is the default tourist neighbourhood in Kathmandu. Gear shops, internet cafes and hostels crowd next to each other and under each other and over each other. You don't have to stay here, but it is convenient, and the crowds on the streets make it safer than other neighbourhoods (just watch out for the odd pickpocket). As a solo traveller, you can usually get a private hostel room for around $15 per night, even cheaper for a dorm. Places like Thamel Hostel are a good place to start. If you want a more local experience, head south across the river to Patan (aka Lalitpur). The food's amazing, and you'll get a totally different feel.
Get The Right Gear
Okay, there are two schools of thought when it comes to trekking gear in Nepal; buy beforehand and fly everything over, or wait and shop for what you need in Kathmandu. Both options are totally viable, but if you're going to shop for gear in Nepal, try and find reputable gear shops. If you're getting a 90% discount on that fancy new sleeping bag, it's probably not a very good sleeping bag. This isn't like shopping for watches in Thailand; Everest Basecamp is no place to look for bargains. Most of the best gear shops are on Tridevi Sadak, Thamel's main road, or the more fancy Durbar Marg area. Sherpa, Red Fox, Black Yak and North Face are all good bets.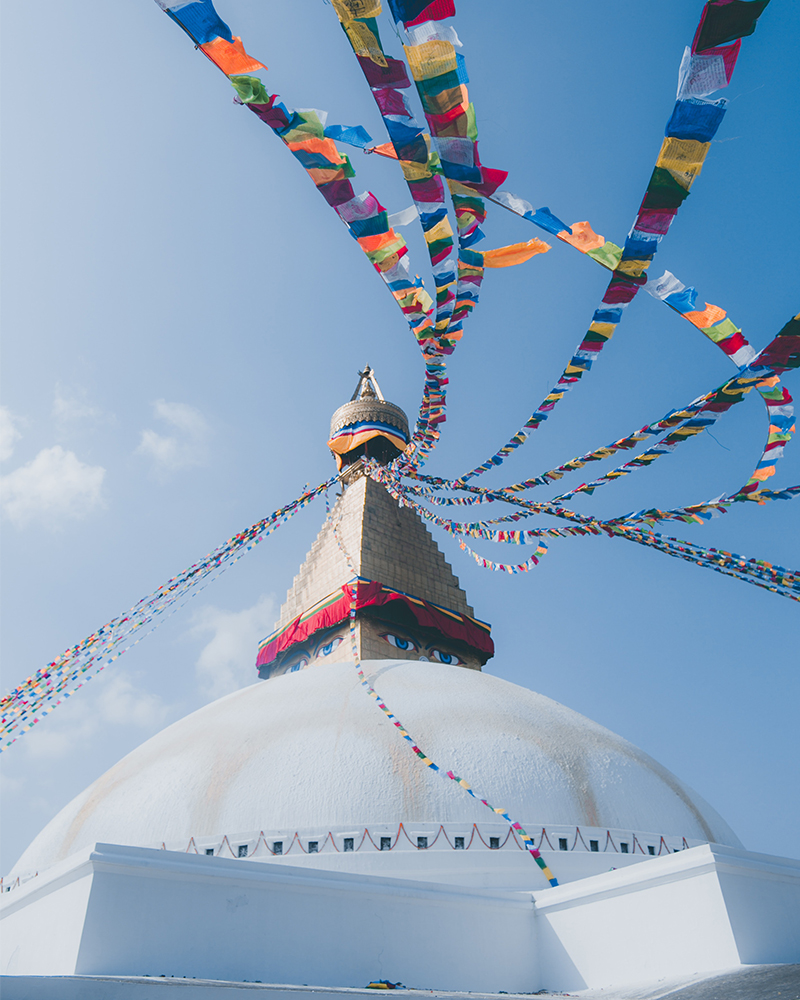 To Tour Or Not To Tour?
Again, there are a couple of ways you can go with trekking as a solo traveller. Some people reckon a small group tour is the best way to see Nepal; you get an experienced guide, there's less chance you'll be eaten by a snow leopard, and all the logistics are taken care of. On the other hand, most trails (especially popular ones like Annapurna Circuit and Everest Basecamp) encourage solo trekkers. There are teahouses along the way, gear shops in Lukla and Namche Bazaar, and it's impossible to get lost (just follow the yaks). Just keep in mind, hardcore treks like the Upper Mustang and Manaslu require both guides and permits. As for group tour companies, you can't go wrong with Intrepid Travel.
Stuff Your Face With Momos
First-time travellers are often surprised by Nepali food. Being sandwiched between India (to the south) and China (to the north), Nepal has borrowed the best from both cultures, fusing them into a sort of curry-dumpling hybrid cuisine. It's not unusual to see chow mein and dal bhat on the same menu. But the food you really want here is momos; Nepal's contribution to the international dumpling scene. Pan-fried kothey momos are the best, stuffed with pork, goat or paneer cheese and served with tomato achar sauce. Everyone returns from Nepal promising to never eat another dumpling. Newa Momo in Thamel is our top pick.
Rent A Motorcycle
Depending on your personal appetite for risk (and the quality of your travel insurance), renting a moped in Kathmandu is a great way to get around. 350 rupees will usually get you a beaten-up 125cc bike for the day (try and find a reputable crew, like City Motorbike). Kathmandu has bus and tram lines, but they're not very reliable, so zooming around on your own bike lets you hit all the cultural sites as a solo traveller; Pashupatinath Temple, Swayambhunath stupa, Bhaktapur and the National Botanical Gardens are good places to start. Bring a photocopy of your passport, and make sure you inspect the bike beforehand. Last tip: don't be a hero and ride from Kathmandu to Pokhara, that road is known to be super dicey.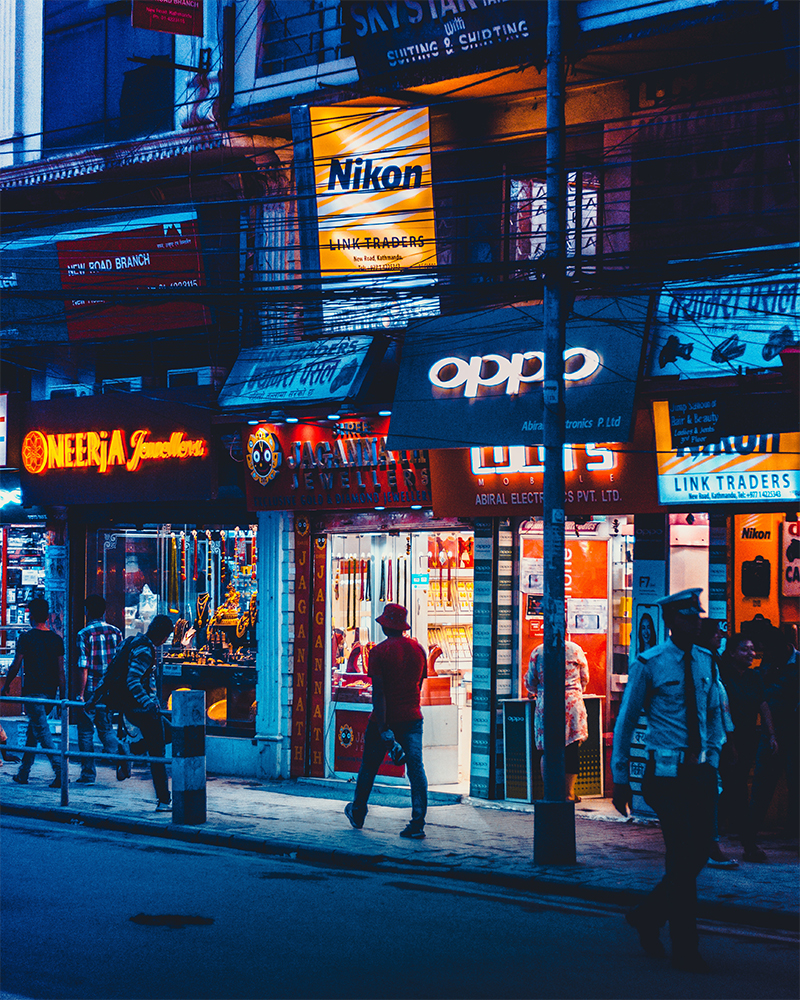 Get Your Downward Dog On
Some travellers come to Nepal for the yoga and barely even see a mountain (remember, Kathmandu isn't exactly yeti country, they grow bananas down here. It's pretty much tropical). Since you're rolling solo, yoga classes are a good way to meet fellow travellers and get back to Finding Yourself. You can even join a full-blown retreat like Nepal Yoga Academy or Nepal Yoga Home (we highly, highly recommend this place). For casual yogis, there are a bunch of classes in central Kathmandu, including Pranamaya and Charak Yoga. Honestly, if you walk around Thamel for 30 minutes you'll probably spot half a dozen local studios.
Use Your Common Sense
Kathmandu, and Nepal in general, is known to be fairly safe for solo travellers. Tourism is the backbone of the local economy, so authorities take things like petty crime seriously. Like most cities, it just pays to use your common sense. Thamel after dark is pretty lively, and walking the streets isn't a big deal, but you probably shouldn't be roaming anywhere else at night by yourself. If in doubt, just catch a taxi back to your hotel. Pickpockets in the tourist areas can be annoying, but you're generally fine if you keep your wits about you. Lonely Planet has a handy guide to city safety in Kathmandu, read up.
Want to check out our other solo guides? We've got your Big Apple itinerary right here.
Image credit: Samrat Khadka, Prijun Koirala and Safal Karki