You could have forgiven Olympic swimmer Eamon Sullivan for wanting to take it easy when he retired from professional swimming two years ago, but turns out he is way too talented and competitive for that! Now at the helm of three of Perth's most popular eateries—Louis Baxters, Bib & Tucker and May Street Larder—the self-confessed foodie is also planning his upcoming wedding, as well as keeping an ever watchful eye on his two adorable French bulldogs, Duke and Baxter.
We followed Eamon around on a busy weekend in Perth to see why dumplings aren't just for hangovers, who serves up the best sushi in Perth and how he's 'shredding for the wedding'. Here goes…
Friday, 15th January
My eating habits have changed in the last little while. I have my wedding coming up in June and am currently in the middle of a 'shredding for the wedding' competition with some of my groomsmen so that is affecting my choice of restaurants for now! Funnily enough I started my Friday off with a swim. I always thought when I retired from swimming, it would be the last thing I'd do but I've since found out (secretly I think I always knew) that I suck at running! These days I swim with a bunch of mates that I used to train with. We are fatter and slower, but have just as much fun as we used to. The main reason for our social swimming club however is going out to breakfast afterwards! Our cafe of choice is Sayers Sister in Northbridge—they have the biggest portion of scrambled eggs you could ask for. I wash it down with something that most men would whisper if ordering…a "CocoLatte" which is a double shot of coffee, coconut water, cacao and rice milk. Girly name, serious drink!
I then drove to my office to get some work done and attend to an inbox full of emails. Lunch is quite simple at the office at the moment—tuna, brown rice and veggies. From there I headed to May Street Larder for my weekend meeting with the front of house managers. Usually I tuck into one of the freshly made bakery items on offer, but because of the wedding, I have been consciously making better decisions! OK, maybe just a little serve of CocoWhip then…
Since it was Friday night, my fiancée and I decided to catch up in the Perth CBD for an early bite to eat. We visited BamBamBoo at 140 for some dumplings—usually something I save for hangovers, but when you're in the mood, you're in the mood!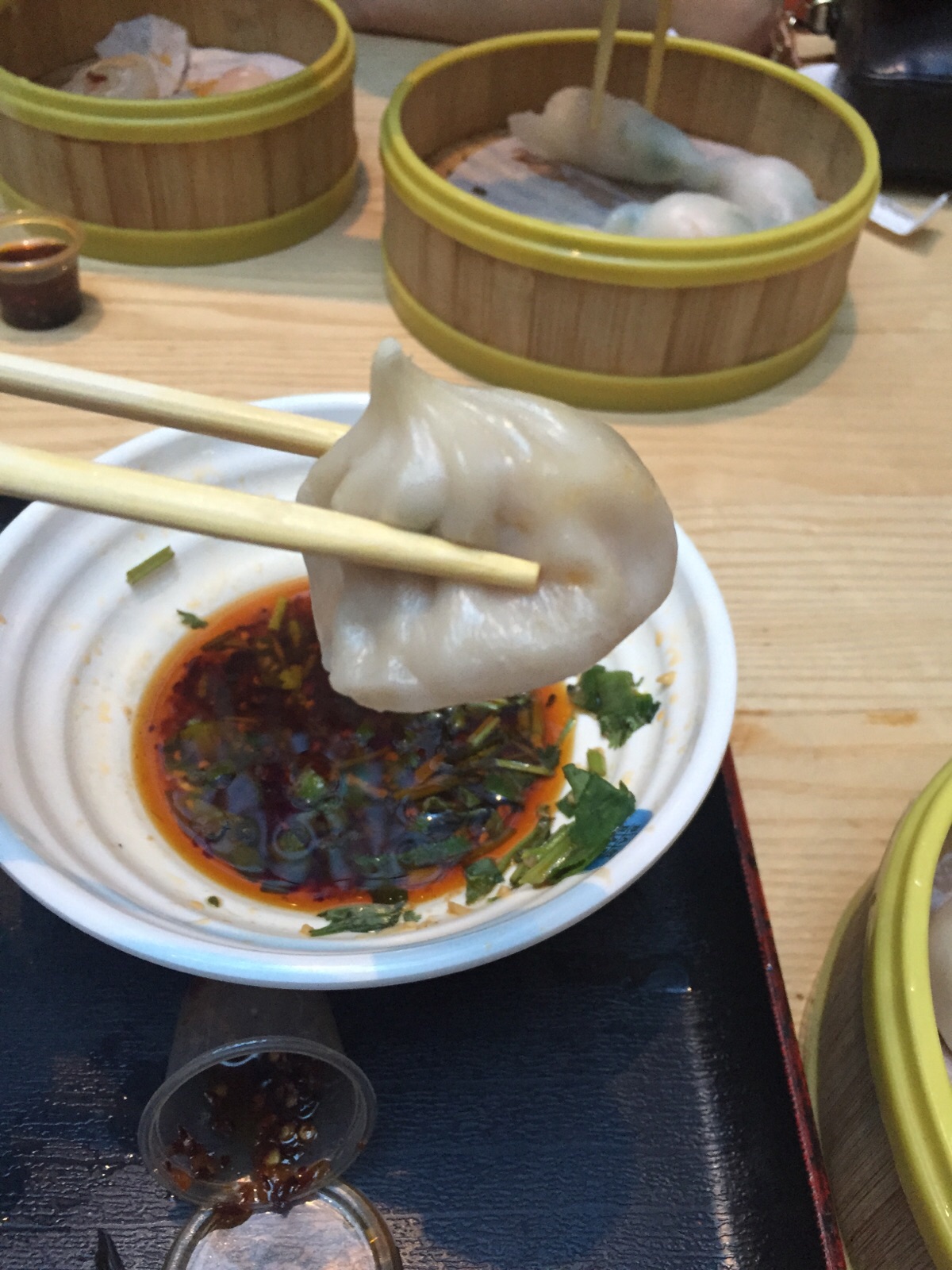 Saturday, 16th January
I got up and had a banana, cacao and protein smoothie. I don't know why, but I hate eating breakfast at home these days. It just doesn't taste as good when you poach the eggs yourself. I think I was spoilt for choice when I lived in Surry Hills in Sydney for four years, eating breakfast out every day of the year while I lived there.
Once I finished my smoothie, I headed off to my Subiaco cafe, Louis Baxters, to catch up on some work. On the way home I picked up some sushi from Nippon Fare in Subiaco. These guys have been open for so long and there is a reason for it— they have always had the best sushi in town. I wouldn't go anywhere else…Well that's a lie, because I do, but it's just not as good!
For dinner, I made up a low FODMAP Mexican spice rub (my fiancée follows a low FODMAP diet), which tasted as good as it could without any onion or garlic (the sacrifices I make for her!) and combined this with a bit of oil, marinating some chicken tenderloins in the finished product for an hour or so. After cooking them and nearly coughing myself to death as the cayenne pepper entered my lungs through the smoke, we ate these with some crispy potatoes and a healthy kale salad.
Sunday, 17th January
We got up early and walked the dogs around the block, grabbing a coffee on the way from Milk and Paper. We then went to one of our favourite cafes, Piccolo's Corner, in West Leederville for a late breakfast. Piccolo's is always buzzing with people and has a great smashed pumpkin breakfast dish.
After breakfast we got some supplies from the supermarket, as I wanted to make some Caribbean hot sauce. I was given a Trinidad Scorpion chilli tree for Christmas and it has been fruiting like crazy! My new year's resolution was to do more cooking from my garden, so this was the perfect opportunity. These suckers are so hot—I think they are the second hottest chilli in the world—so if you do get a bottle from me, take care both before and after!
From there I did a quick nine holes with some mates—I still have a massive competitive streak and need to be doing something that I can either win at, or get obsessed with until I get better at it.
After golf we had a late lunch which turned into dinner at Scott Bridger's house, who is the executive chef of May Street Larder and Bib & Tucker. He fired up his pizza oven and cooked up a big slab of beef and some pork belly. We sat for a few hours eating way too much protein and a few too many wines. Scott woke up with a drawing on his face in permanent marker…I swear it wasn't me!
Find out what a week in the stomach of Jimmy's Burgers looks like here!
Piccolo's Corner | Image credit: Louise Coghill