Imagine untouched wilderness, rugged terrain, tranquil waters and your wildest adventure yet, all waiting for you just a short flight away.
From caving to climbing, fly fishing to biking, we've partnered with Tasmania to bring you the ultimate adrenaline activities to tick off on your next adventure down south. It's time to let your wild spirit run free.
Pedal Adrenaline
Featuring epic mountain biking trails through lush rainforest and down rugged terrain, Tasmania is a thrill-seeker's dream. Boasting 125km of purpose built mountain bike trails with options for all skill levels, head to Blue Derby in Tasmania's north east for some of the best trails in Australia. The absolute must-dos? The new Air-Ya-Garn trail and Blue Tier trail. On Tasmania's west coast, grind through the 35 kilometre Climies Track that takes you from Trial Harbour to Granville Harbour. For experienced riders, head to the small village of Maydena and discover more than 62 world-class biking trails.
Hike Rugged Coastlines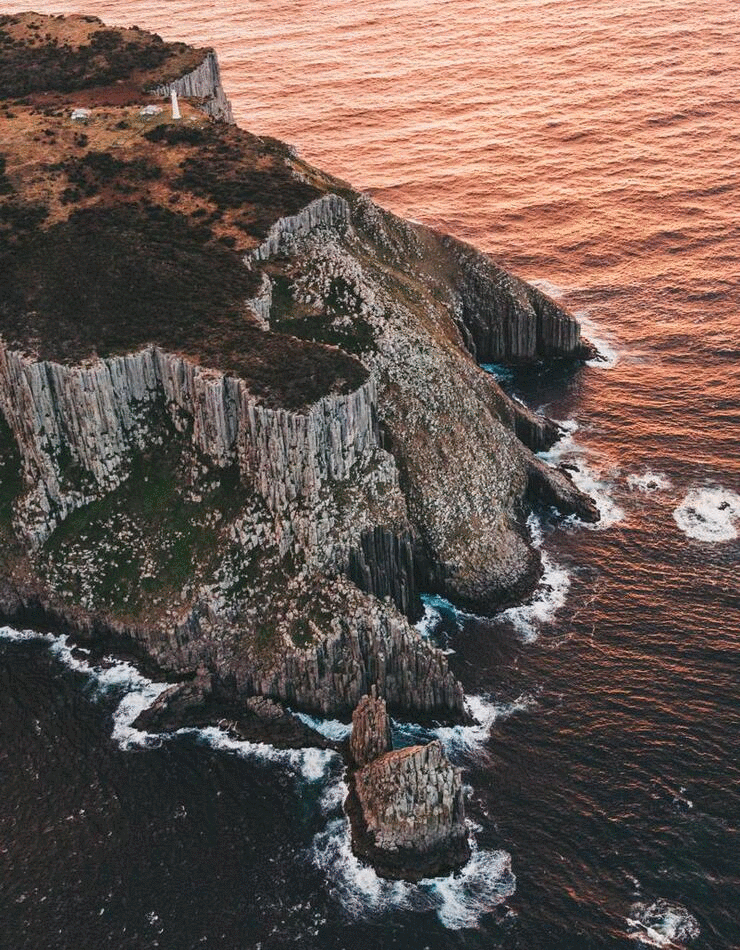 This breathtaking four-day, 48 kilometre coastal-hugging hike should be on every adventure-seeker's hit list. The Three Capes Track is open year-round and can be done DIY, staying at public eco-huts, or on a guided walk staying at private lodges. The trek begins at Port Arthur where you'll be taken by boat to Denmans Cove. From there, it's a four kilometre hike to the first night's hut. The next three days will be gruelling and totally worth it. Standing on nature's edge overlooking the Tasman sea, take a second to pause knowing there's no experience like this anywhere else in the world.
Pumphouse Point
Nestled within the Central Highlands, in the Tasmanian Wilderness World Heritage Area, lies the idyllic Pumphouse Point. Here, thrill-seekers will revel in the sublime scenery and adrenaline pumping activities matched with luxury comforts. Spend your days biking across terrain blanketed in snow, fly fishing in still, moody waters and exploring hiking trails with no one else in sight. Each night, pull up a chair, sip fine Tasmanian wine and gaze out over the glacial lake.
Peak To Peak
Deep within Cradle Mountain-Lake St Clair National Park lies a challenging and incredibly rewarding five kilometre trek through pristine wilderness to Crater Lake. Along the trail, you'll pass Lake Lilla and Wombat Lake before entering dense rainforest that clears to the stunning lake. Its rich, deep blue colour is a product of the surrounding tea trees, lending to a moody, glassy surface and perfect reflection of the clouds and mountain peaks soaring above. Slightly further south is another trail boasting dramatic scenery and 'grammable opportunities aplenty. The iconic Overland Track is a six-day guided tour across the national park and through rare, untouched beauty, before reaching Lake St Clair, Australia's deepest freshwater lake.
Chase Waterfalls
A one-hour drive from Hobart, deep within Mt Field National Park of the Central Highlands region, lies two majestic must-see waterfalls. The Tall Trees trail will lead you through lush rainforest for one kilometre before reaching a fork in the road. Go north to the striking Horseshoe Falls before backtracking and moving downstream to Russell Falls, a tiered cascade and perfect photo opportunity. Next, tick off the three-hour and eight kilometre hike to the beautiful Liffey Falls located 50-minutes outside Launceston. Tucked away deep within a winding valley, you'll be guided beneath towering eucalyptus trees and ferns to this four-tiered cascade that will surely take your breath away.
Remote Road Trips
The Great Eastern Drive lives up to its name as one of the most treasured and scenic drives in Australia. Start from St Helens at the northern end, or Orford at the southern end and follow the cliff-hugging Great Eastern Drive through wine country, secret beaches, picturesque coastal towns and lush rainforest. This 176 kilometre stretch of paradise is dotted with coastal stays like Piermont Retreat and Hamptons On The Bay to rest your head. You'll experience all the world-famous must-dos like Bay of Fires and Wineglass Bay, and stumble on lesser-known, untouched gems. Take anywhere from a weekend to a few days, a week or longer. Just remember to slow down and savour every magical moment.
Wild Walks
The Western Wilds of Tasmania are littered with trails leading to stunning, must-see waterfalls. Top of the list is Montezuma Falls located near the idyllic town of Rosebery. You can choose to walk or bike to Tasmania's highest waterfall boasting an impressive 104 metre drop, but not before snapping a photo on the suspension bridge. The trail will get your adrenaline pumping and takes about three-hours return when walking. Further south just outside Queenstown is another noteworthy 1.6 kilometre track around jagged cliffs to majestic Horsetail Falls. There's raw beauty at every turn and it's truly breathtaking.
Been bitten hard by the travel bug? Get ready to experience the ultimate thrill-seekers adventure to Tasmania and let your wild spirit run free.
Image credits: Tourism Tasmania, Flow Mountain Bike, Jess Bonde, Jason Charles Hill, Emilie Ristevski, Jarrad Seng.
Editor's note: This article is sponsored by Tasmania and proudly endorsed by Urban List. Thank you for supporting the sponsors who make Urban List possible. Click here for more information on our editorial policy.