Every time we think the crowded zombie genre has been done to death (pardon the pun), we're surprised by new and intriguing ways it's being brought back to life (okay, we're done now). In 2020, that comes in the form of South Korean horror film, #Alive.
When a mysterious virus breaks out, stay-at-home gamer, Oh Joon-Woo, finds himself trapped inside his parent's apartment. As his food, water, and access to technology diminish, he must find a way to survive at all costs.

#Alive doesn't concern itself with setting up the plot or providing a great deal of exposition. All we know is that a virus is infecting people, making them bleed from the eyes, and causing them to become extremely aggressive and cannibalistic. Oh, and they arrive three minutes into the film.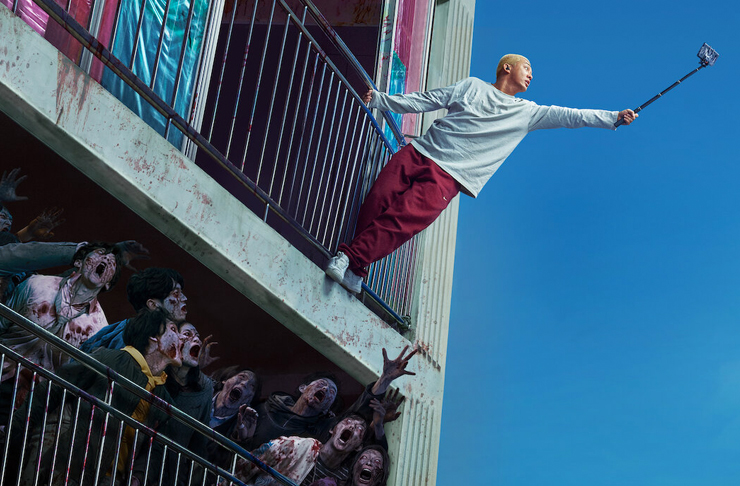 Despite several tense and finger-biting sequences, the story finds room for humour and unexpected humanity. Thanks, in large part to exceptional performances from Yoo Ah-in as Joon-woo and Park Shin-hye as Kim Yoo-bin, the sole living girl hiding in the opposite apartment building.
The movie's obvious themes of isolation, lockdown and technology dependence are all very timely within the craziness of 2020. But its success on international Netflix libraries (currently sitting at No. 2 in global Netflix movie rankings) might mean that South Korean cinema's global moment, expected by many after Parasite's 2019 Oscar success, is well and truly here. The meteoric rise of Bong Joon-Ho's social satire last year, as well as established zombie masterworks like 2016's exhilarating Train to Busan, look to have given international audiences a reason to trust South Korean exports.
Link

Overall, it's a bloody enjoyable and frightening experience. Like any good horror, you'll have plenty of "what would I do?" moments, as well as a healthy dose of "what the hell are you doing!?" outbursts. Filming an entire virus outbreak from the confines of one apartment building is a fresh and welcomed take on the zombie flick. But it's the film's focus on the humanity and loneliness of its character's survival which makes it stand out as one of this year's best releases.
You can watch it here.
To keep the good times rolling, check out the best movies on Netflix AU and NZ.
Image credit: Netflix