Sometimes, it's just necessary to take yourself out of the nine to five hustle and treat yourself to some wide-open plains filled with a bunch of beady alpaca eyes.
Alpacas are the best, period. And if you've clicked on this article, you no doubt think so too. From their cobbly, little knees and big cloud-like bellies (hypoallergenic, by the way) to their shaggy side-burns and pointy ears—these creatures are a delight in every way. Unfortunately, they're not easy to come by in the big smoke but on the upside, there exists a few heaven-like alpaca farms across Australia that you should definitely take the time to visit at least once in your life.
And these aren't just any alpaca farms, these are the kind that let you brunch with alpacas, picnic with alpacas, stroll with alpacas, eat pizza with alpacas and even watch the sunrise with alpacas.
Here are the best alpaca farms in Australia.
Alpaca Magic
NSW
Much like its name suggests, Alpaca Magic is quite literally—just that. Absolute "alpaca magic". You'll find this guy in the middle of Sutton and about 20 minutes away from Canberra. The farm itself is home to around 200 camelids (alpacas and llamas) which, in other words, is basically heaven on earth.
The whole farm is made-up of 250-acres of prime rural land, rolling hills and paddocks. As for the main attraction, you're in for an actual breakfast set up with the resident alpacas (and llamas for that matter), a lunchtime BBQ with the furry beauties or regular workshop sessions where you can meet and interact with the alpacas in a more intimate setting (there's a max number of nine people for these).
If you're more of an early riser, you can also hit Alpaca Magic on a morning to watch the mist rise above the paddocks and dozens of alpacas and llamas peacefully grazing. On a super cold morning, these furry guys get frost on their whiskers (we're not crying, you are). If that wasn't enough, you'll be equipped with finely sliced carrot treats to feed them while you down some coffee and toast at your own picnic breakfast.
The legends who own this rural haven of absolute cuteness are all about looking after these animals in the best way possible (they're experienced breeders and full-time farmers) so you can definitely tick these guys off in terms of treating the animals well.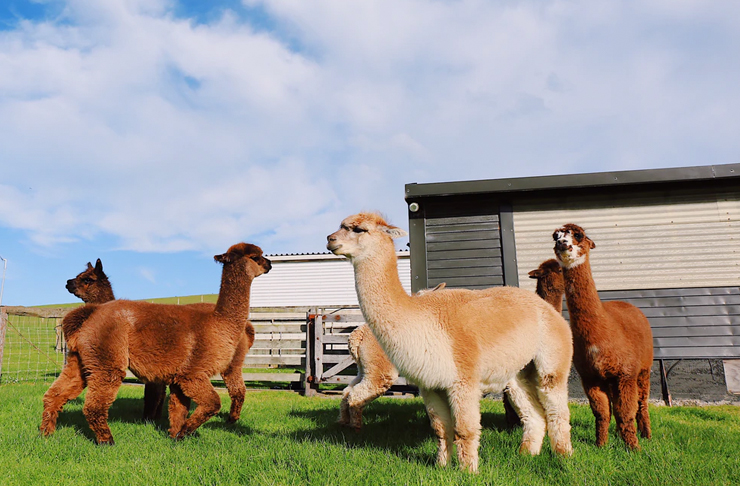 Little Valley Farm
NSW
Three words for you — alpaca farm stay. Little Valley Farm is about a 90-minute drive from Sydney, located in Laguna. The farm is totally off-grid and although the alpacas here are no doubt the main attraction (of the Huacaya and Suri) kind, you'll also find a whole heap of garlic and tomatoes grown here as well.
The owners at this farm are registered alpaca breeders with the Australian Alpaca Association (so your conscience can rest easy) and you can quite literally go for gold with the alpaca antics while glamping or staying for a few nights in the farm's vintage train cabin and shepherds hut. Plus, the best part is that this farm stay is all about minimising your environmental footprint which means a whole lot of relaxing, wine-drinking, exploring and stargazing.
It's been dubbed by those that have stayed there to be a complete "alpaca oasis" with alpacas grazing in front of your stay all day long, hammocks, a fire pit, an outdoor bathtub for prime alpaca views (plus, the owners spoil you with fresh eggs and tomatoes straight off the vine).
Mountview Alpaca Farm
QLD
If an alpaca farm inside a vineyard doesn't scream your name, we don't know what will. Mountview Alpaca Farm is situated in Canungra and it's been operating for around 25 years. But this farm is a whole lot more than just a place to visit to see the cute things, Mountview is also leading a new program in Queensland by training its alpacas as therapy animals to visit hospitals and aged care facilities (just casually the first in Australia).
There's a whole lot of alpaca shenanigans to get up to around these parts including a "Pizza and Alpacas" session which lets you hang out with two alpacas for half an hour (two feedings bags included) and a 12-inch pizza to share in the vineyard. You can also opt to picnic with the alpacas any day of the week on any part of the 10-acre property which also includes a gourmet picnic basket packed with all the snacks for two people.
And just for your viewing pleasure, check all the alpacas on the farm (at the moment, Feral Beryl is our favourite).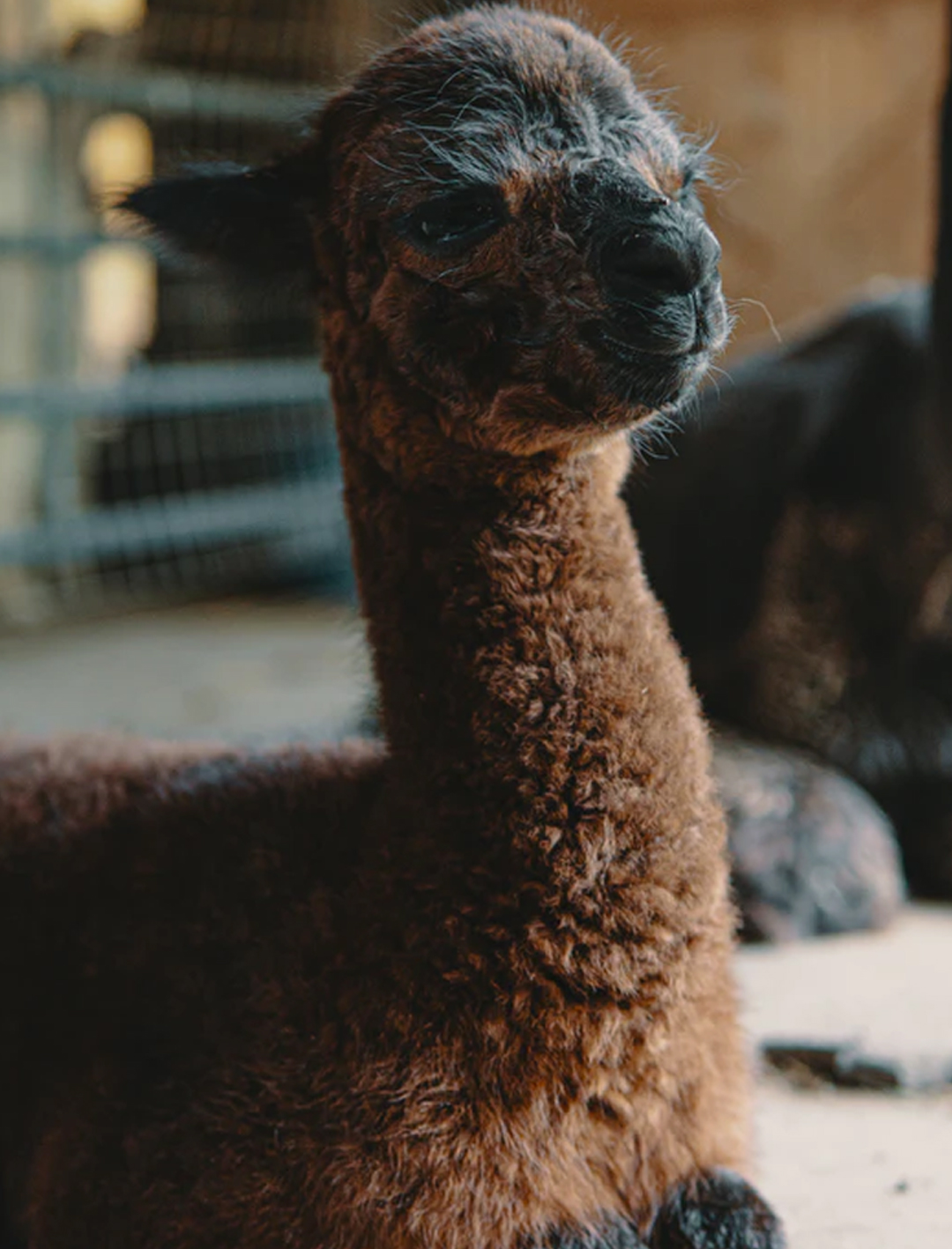 Alternative View Alpacas
Victoria
This 69-acre property is one hell of a charming farm stay and alpaca haven. You'll find Alternative View Alpacas within the rolling hills of South Gippsland and there's everything from a self-contained cottage to a teepee (which can also be hired out for yoga and meditation sessions) and tiny home-esque caravan stay which will bring you max alpaca antics. On this farm, you can also book-in to walk the alpacas around the farm and surrounding forest (while also learning every dang thing about them, like how they refuse to walk alone). If it's your first time handling these pretty docile creatures, you can rest assured because you'll simultaneously get the full rundown on how to walk them properly.
Madison's Mountain Retreat
NSW
Madison's Mountain Retreat is a bit of a special one because this absolutely stunning property borders a couple of beautiful national parks. The alpaca farm stay is in Kurrajong Heights between Wollemi and Blue Mountains National Park and your accommodation here looks like charming cottages (for bigger groups) and two refurbished train carriages.
If you're unable to stay for a weekend, you can visit the alpaca farm at 2:45pm for feeding time (every damn day). There are 60 alpacas at Madison's which includes a number of newborns at any one time (swoon).
And here are the best farm stays in Australia.
Image credit: Derick McKinney, Jaddy Liu, Alec Favale