Famous for her luxury bags and quirky accessories, iconic Brit designer Anya Hindmarch has been responsible for many an 'it' bag in her day.
But, in a huge plot twist as part of her AW18 collection, Hindmarch has released a limited-edition range of candles, aptly named 'Anya Smells'.
Candles, how bland, you think.
But these are not just any old room scents, guys, these are the kind of candles you plonk smack bang in the middle of a room and show off to all your mates. The kind you collect simply because they look so. Freaking. Gorgeous.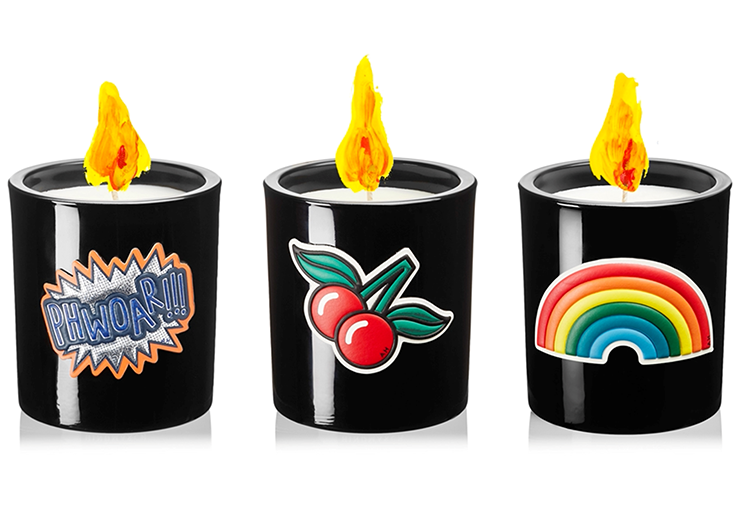 Available in 12 different scents that evoke happy memories for the designer—think sun lotion, toothpaste, lip balm and coffee—these gorgeous hand-poured candles come encased in black glass adorned with stickers straight from Hindmarch's 2017 accessories collection.
Unsurprisingly, these beauties aren't exactly cheap, either (because designer candles). Available in two sizes, prices start at an eye-watering $99—so you better be damn sure you like the smell of lip balm…
And, while we know you're probably thinking, 'WTF do I want my home to smell like something as blah as sun lotion?' (we'll admit we were equally dubious), said scent is a divine blend of Italian bergamot, Tunisian orange flower, angelica seed, cedar wood and vanilla. In a nut shell, if all sun lotion smelt this good then we'd be slip, slop, slapping a heck of a lot more…
We never thought we'd be lusting so hard for a candle, but here we are. It's a new world…
Get your hands on these beauties in Aus, here, and NZ, here.
Image credit: Anya Hindmarch