Australia's home to some fairly iconic attractions; we've got that big building in Sydney made up of several white sails, a couple of revered galleries and those laneways in Melbourne that people harp on about. But they're not the only things that make this country so unique, head off the beaten track and you'll find a mixed bag of oddities, wondrous phenomena and several objectively strange annual events.
Plan out some dates for your next Aussie adventure and check out some of the great southern land's strangest attractions.
Mayday Hills Asylum
BEECHWORTH, VIC
The 128-year history of the Beechworth Asylum is rife with harrowing tales from the psychiatric hospital's shrouded history, and you can now tour the halls and cells of this heritage-listed building that was decommissioned in 1993. Notable apparitions include those of bushranger Ned Kelly's uncle, James Kelly, and nurse Matron Sharpe, who was known for her compassion toward the troubled patients. Book in a tour here.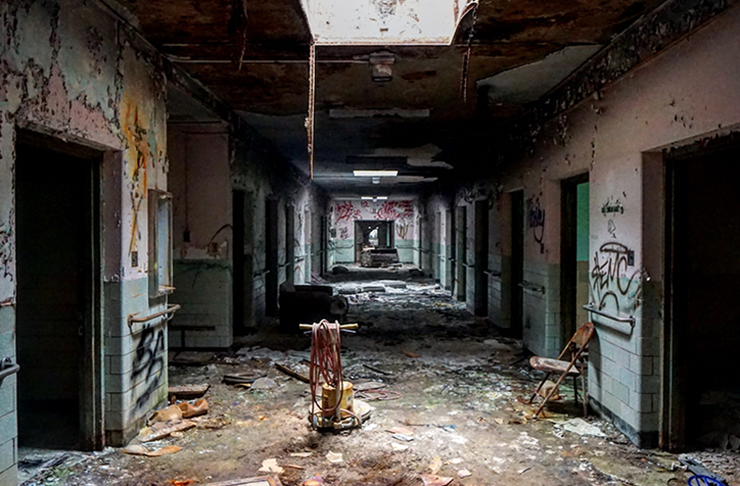 The Mad Max 2 Museum
Silverton, NSW
Make your way up the border separating New South Wales and South Australia, and you'll eventually hit Silverton, which is home to just 40 people and a museum dedicated to the film Mad Max 2. Not to be confused with the original Mad Max or Mad Max: Fury Road, the museum focuses on the second film in the franchise with original props, costumes, photography and even vehicles.
It's owned and operated by a bloke called Adrian who moved all the way from Bradford, England back in 1982 to open the joint in the same town the flick was shot in. It's fandom at its finest, and if you're passing through Silverton—or if you fancy yourself a diehard fan of Mad Max 2—stopping by the Mad Max 2 Museum is a must-do.
Alice Springs Camel Cup
ALICE SPRINGS, NT
It shares similarities with the Melbourne Cup, except there are camels instead of horses and probably less high heels. The Alice Springs Camel Cup usually takes place toward the end of May, so you'll have to wait until 2021 to frock up and take a punt on Australia's speediest dromedaries. As with any racing carnival, you can expect a gala ball, a best-dressed competition and a reptile show—wild.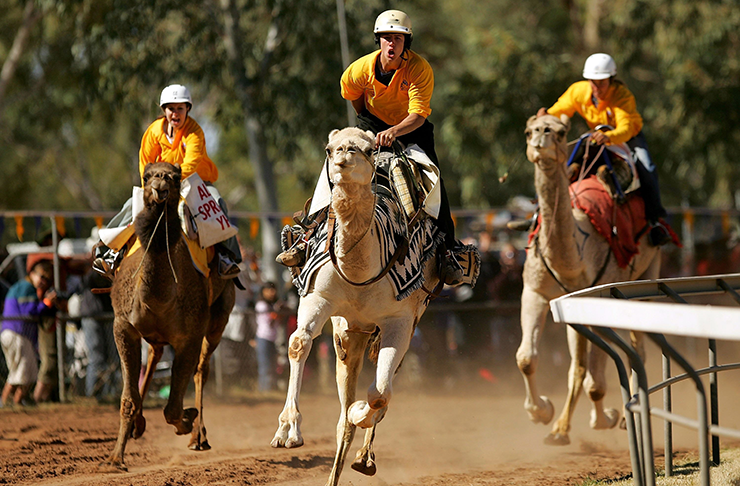 Cane Toad Races
Port Douglas, QLD
Did you know Australia introduced the cane toad to control the cane beetle? Problem is, these beetles live at the top of sugar cane where the toad can't reach—a face-palm moment at an international level. It's estimated we're now home to over 200 million of the hefty amphibians, and if you head up to Port Douglas, you can race ol' hopper while you're knocking back a frothy at Iron Bar. Should your toad take out top-spot, the handler might even offer you a smooch with the (not-quite) frog prince.
Australia's Most Remote Traffic Lights
Daly Waters, NT
From Adelaide, through Alice Springs and right up to Darwin, the Stuart Highway runs straight up the guts of the red centre, and somewhere towards the top end lies the Daly Waters traffic lights. Head any direction and you won't find another set for at least 500km.
Daly Waters is home to around 23 residents and one of Northern Territory's oldest pubs, The Daly Waters Historic Pub. The outback watering hole is full of memorabilia and paraphernalia celebrating the famed traffic light, and there's also an impressive wall of thongs (yep, the rubbery numbers you wear on your feet) that will certainly catch your eye after a few hundred km's of nothingness along the Stuart Highway.
Umpherston Sinkhole
Mount Gambier, SA
The Umpherston Sinkhole was once a limestone cave which eroded to the point where its ceiling fell in the late 1800s. The natural crater is a sizable 20 meters deep and 50 meters across, and plays host to a pristine garden which was originally built just after its collapse. At dusk, the colony of brushtail possums appear by the droves—keep your travel snacks close unless you're willing to share, as these furry friends have become accustomed to visitors since the garden was built almost 150 years ago.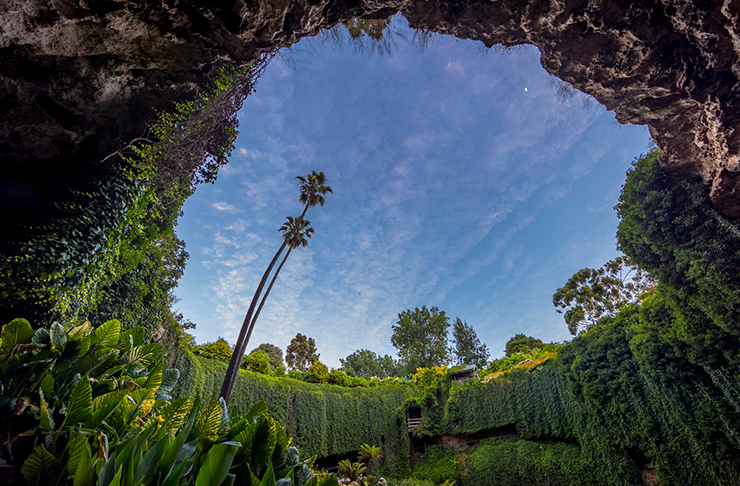 Parkes Elvis Festival
Parkes, NSW
Parkes has made two significant contributions to modern society. The first is its CSIRO telescope, which has played integral parts to various space voyages including the Apollo 13 mission. The second is the Parkes Elvis Festival.
The correlation between Elvis and Parkes comes from mega-fans Bob and Anne Steele, who in 1993, had the idea of throwing The King a birthday party at their Gracelands Restaurant in Parkes. Now, over 25 years later, the five-day celebration brings in around 27,000 people. The next Parkes Elvis Festival is happening from Wednesday 6 June to Sunday 10 June 2021.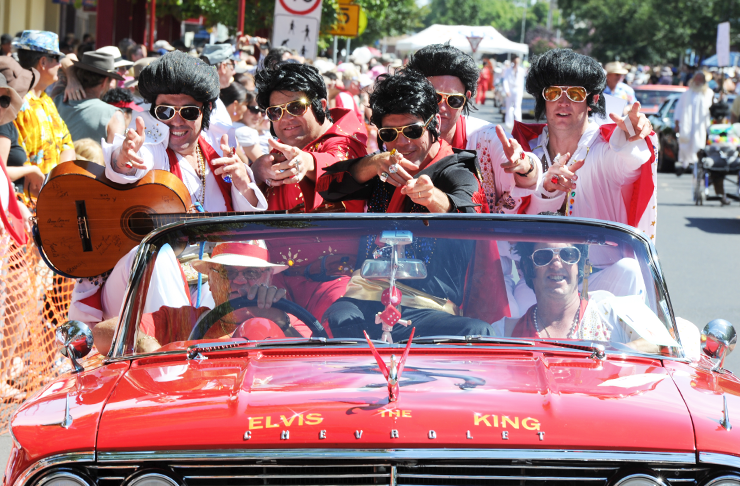 It gets weirder. Take a tour of Australia's eeriest ghost towns here.
Image credit: Casey Boticello, Ezra Shaw, Michael Ellem and James D. Morgan