Start saving, because we're about to hit you with an expensive dose of wanderlust (and because we're spending all of our time indoors right now, that shouldn't be too hard).
Enter: ten of the most incredible places to stay around the world. From underwater suites and treehouses amid an African reserve to hotels made of ice and resorts celebrating the best that mother nature has to offer, your bucket list is about to get longer.
Whether you're doing it for the 'Gram or looking to unplug in the most incredible surrounds, you won't regret spending your hard-earned dosh at these lodgings.
Anantara Golden Triangle Elephant Camp & Resort
Thailand
You'll have to book a stay at the Anantara Golden Triangle Elephant Resort to unlock a Jungle Bubble experience, but it will be well worth it. It doesn't hurt that the hotel is absolutely stunning as well. You'll sleep with unobstructed views of this northern Thailand jungle and its stars above before waking to the sight of elephants enjoying breakfast right outside your bubble. Complete with plush king beds, private en-suites, air conditioning, bathrobes, slippers and luxury amenities, your stay comes complete with 24-hour in-room dining.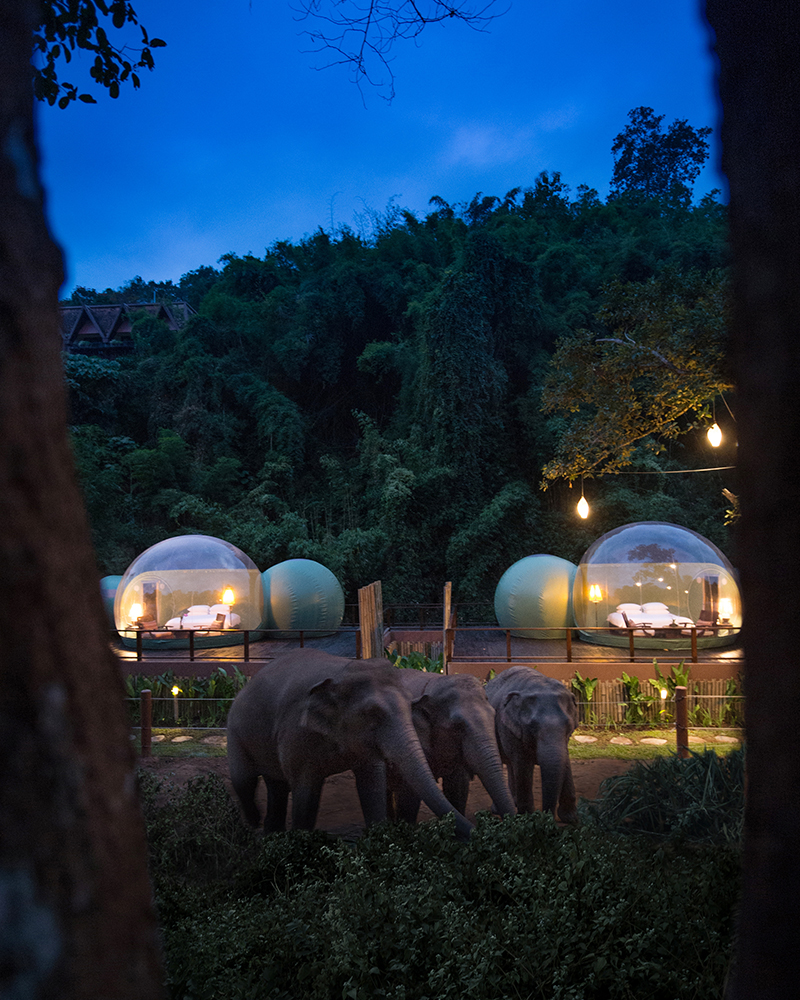 The Ngala Treehouse
South Africa
Set on a game reserve in South Africa's Kruger National Park, The Ngala Treehouse makes your childhood cubby look like a hovel. Surrounded by bushland, the four-level treehouse features floor to ceiling windows, natural wood finishes and cosy spaces to kick back in. There's an ultra-comfy king-size bed on the third floor and an outdoor sleeper on the top storey when you're craving a night under the stars. With all the vibes of luxury camping, you won't be slumming it thanks to hot showers, flushing toilets and snacks welcoming you home after days exploring the wilderness.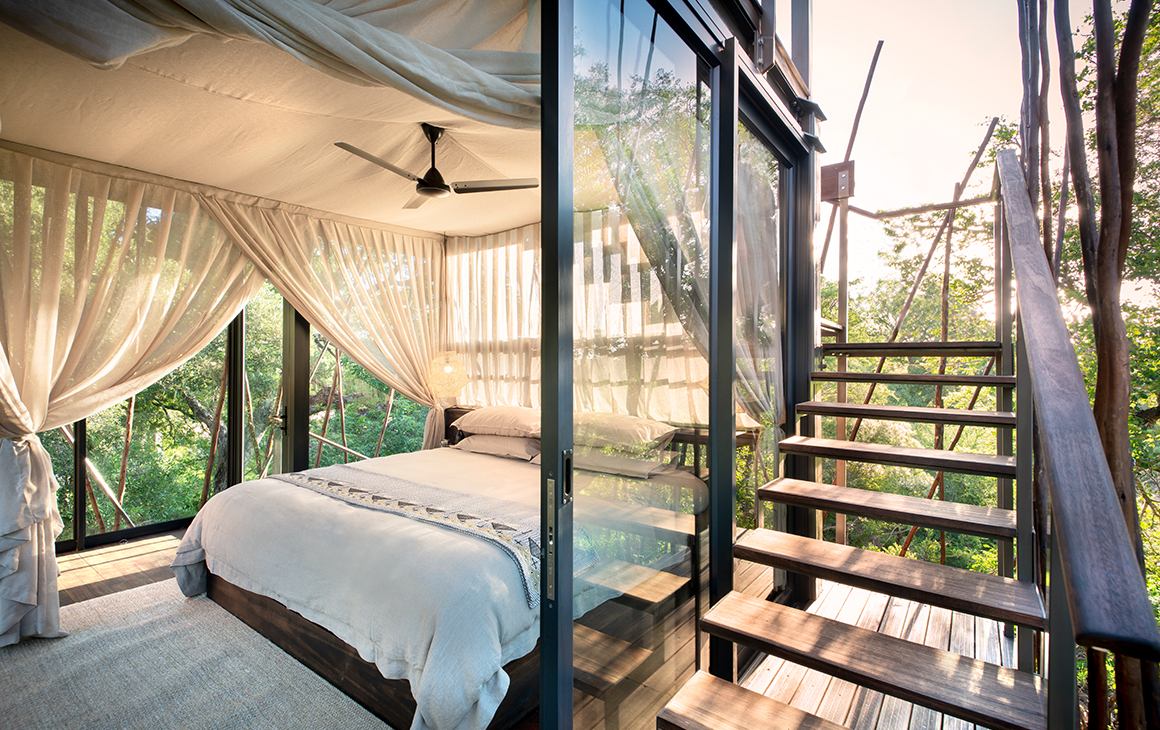 Icehotel
Sweden
Every experience at Sweden's Icehotel is unique, given the melting nature of its construction. Crafted every winter out of natural ice from the nearby Torne River, the part hotel part art exhibition is ready for guests in around November or December each year, weather dependant, and remains open for five months until its suites melt back into the river come spring. With 20 ice rooms and 15 art suites, even the beds are made of ice. Breakfast is included, you can warm up in the sauna if you get too cold, there's even free WIFI and cosy chalets nearby that you can book into for the rest of your stay.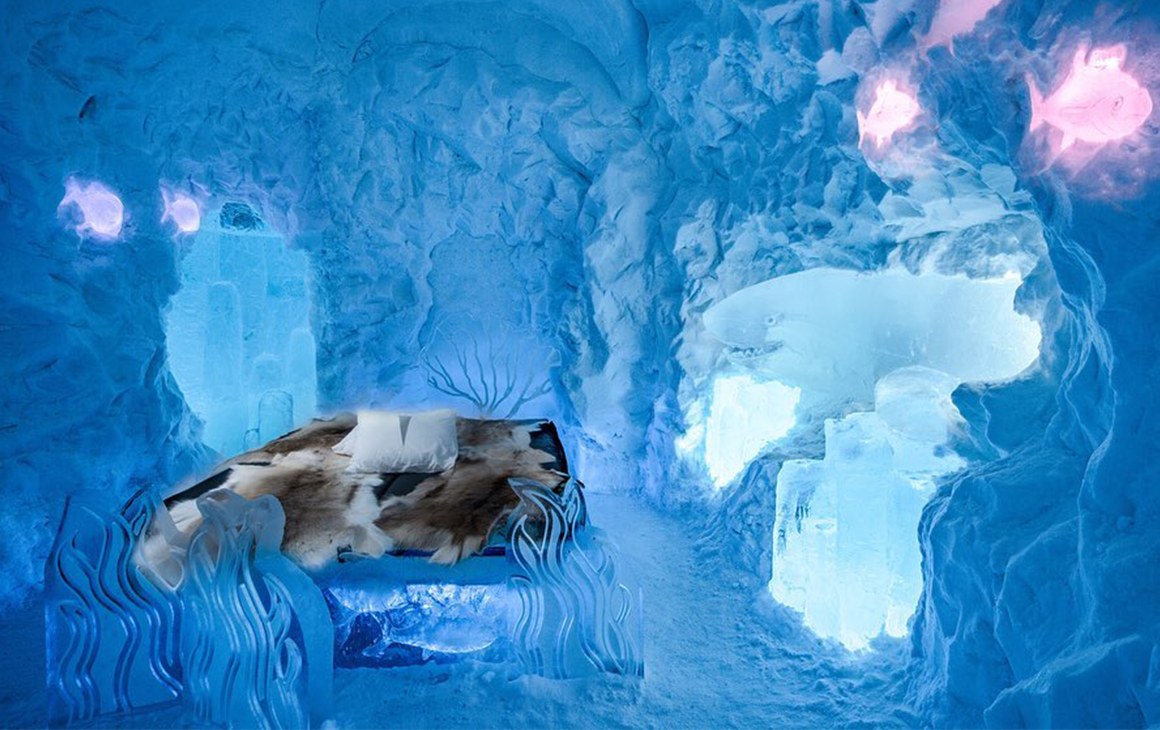 The Muraka
Maldives
We used to get giddy at the thought of sleeping on an overwater bungalow, but The Muraka in the Maldives has changed all of that. In the Undersea Suite you'll be kept safe and dry thanks to a hardy acrylic dome structure, allowing you to marvel at 180-degree views of the ocean and its inhabitants. With a king bedroom, living area, bathroom and a spiral staircase leading to an above ocean living room, the suite is a first of its kind. And in case all that luxury isn't enough, the residence has an outdoor sunrise deck, infinity pool, gym and butler.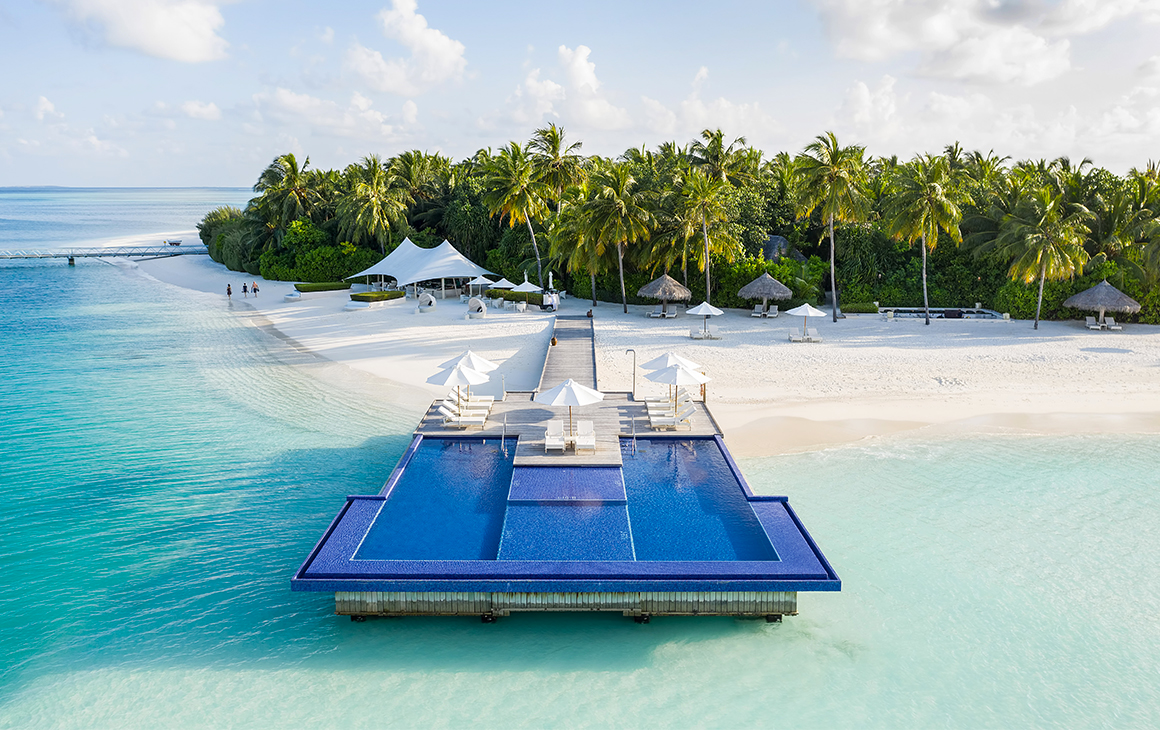 Giraffe Manor
Kenya
It's no surprise to us that many of the most incredible places to stay in this world seamlessly blend into the natural world, this Earth is a beauty. Part of The Safari Collection, Giraffe Manor is home among 140 acres of indigenous forest in Nairobi. With a history stretching back to the 1930s, guests get to share the manor with a herd of giraffes which stop by to say hey every morning, poking their heads into the dining hall in hopes of sharing your pancakes with you (just kidding, they actually just want some dried grass pellets). As for the rooms, expect art deco charm and antique furniture combined with elegant touches.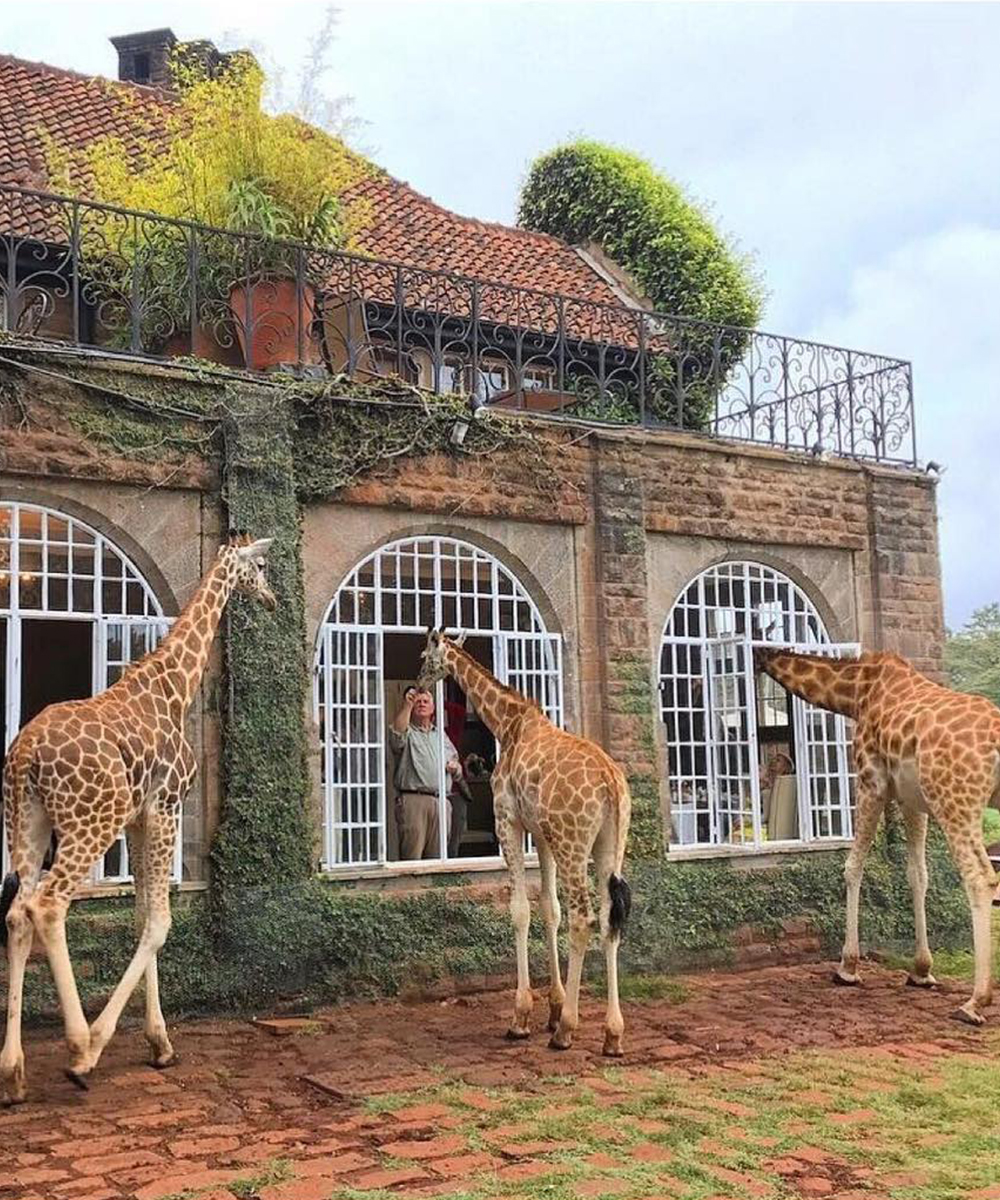 Jade Mountain Resort
Saint Lucia
Jade Mountain Resort celebrates the natural beauty of Saint Lucia with its organically designed premises perched on a mountainside. Comprised of 24 sanctuaries with high ceilings and impressive infinity pools looking out across the Caribbean Sea to the Pitons, the abodes make for a relaxing escape perfect for nature bathing. Choose between the galaxy, sun, moon and star sanctuaries and expect to want to stay forever as you sip cocktails in your infinity pool or chromatherapy whirlpool tubs. A visit to the on-site Chocolate Laboratory for a sensory tasting is a must.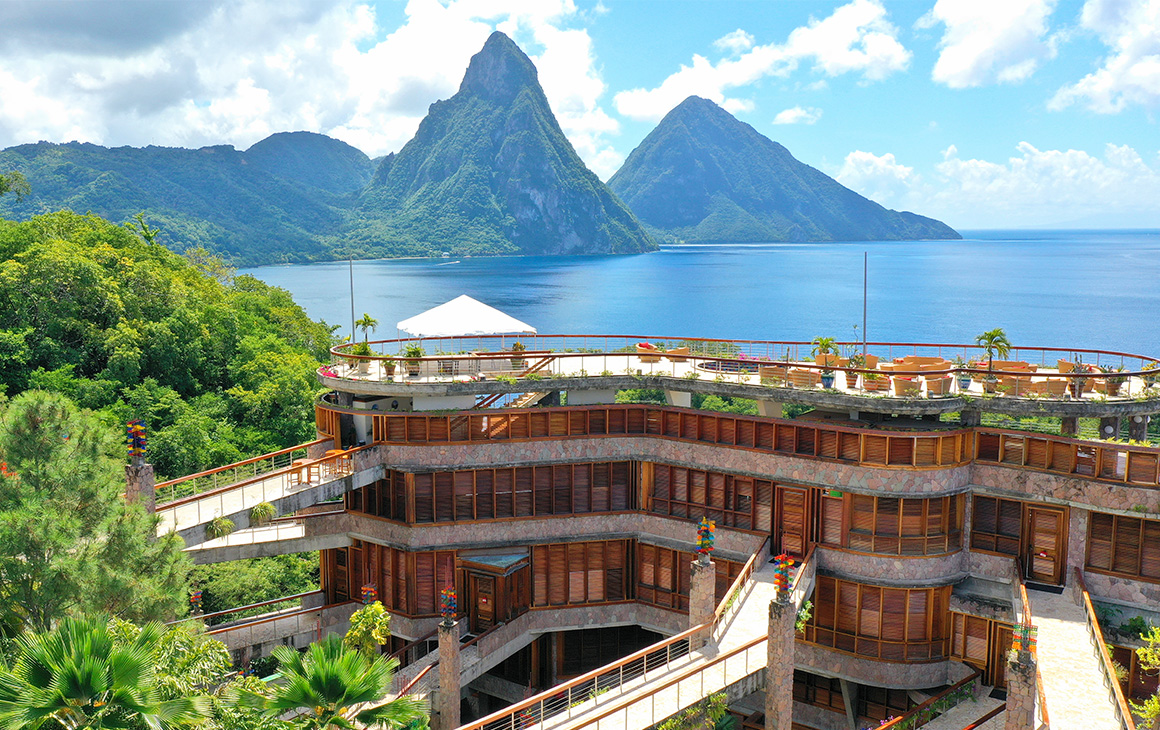 Canaves Oia Luxury Suites
Greece
If you've always dreamed of visiting Greece, the Canaves Oia Luxury Suites are most likely what your imagination conjures up. Clinging to a cliffside in Santorini, the building exhibits the best of Greek architecture; bright white with curves for days and azure blue pools that complement the Aegean Sea below. With a bunch of suites to choose from, offering everything from plunge pools to cave pools, our pick goes to the Infinity Pool Suite. With panoramic views, a king bed, rain shower and open-air dining area, you will no doubt capture Instagram gold as you kick back in your plush white terry cloth bathrobe.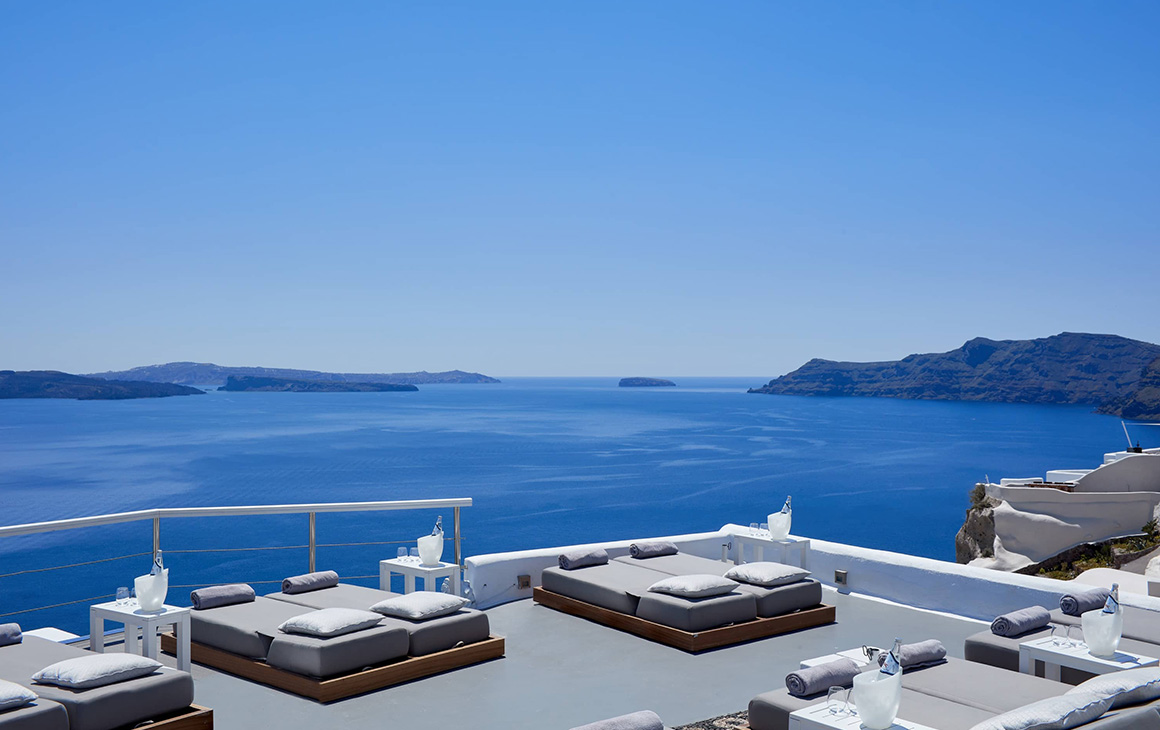 Amangiri
United States
Situated in one of the US's most beautiful states, Utah, Amangiri sinks into the landscape of Canyon Point with effortless minimalism. With nothing but desert, dunes and plateaus on the horizon, it'll be easy to relax into The Amangiri Suite with its sky deck apt for stargazing, private swimming pool, sun deck, a fire pit to keep you warm on chilly nights and organic furnishings. Resist the urge to connect to the WIFI and soak up the view in all its glory.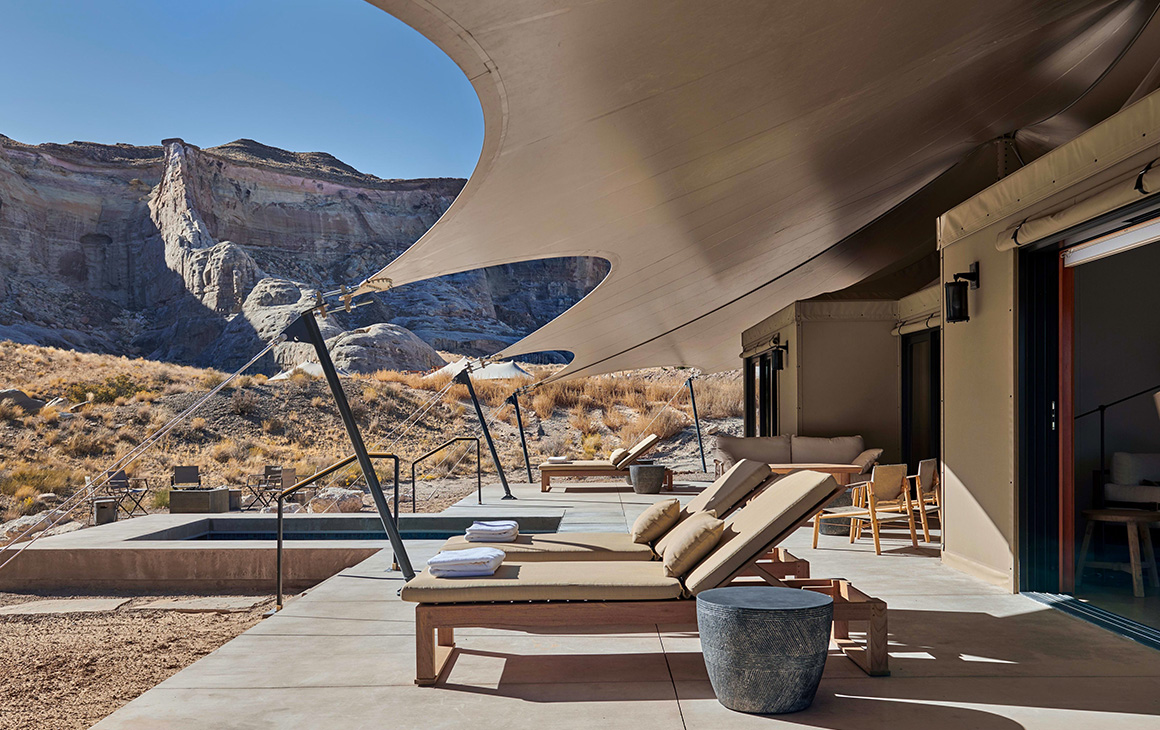 Longitude 131°
Australia
Glamping at its absolute finest, the desert basecamp of Longitude 131° is one to add to your bucket list. Hands down the most lavish way to witness the majesty of Uluru, the luxury tents at Longitude are fitted with bespoke furniture crafted by Australian designers, local Indigenous artwork, balconies with fireplaces and daybeds, plus all the little creature comforts that you often go without in the desert. If you're keen to step things up even more, the Dune Pavilion rewards you with views of Uluru and Kata Tjuta. Don't miss a visit to Spa Kinara for a pamper session that celebrates native products and remedies.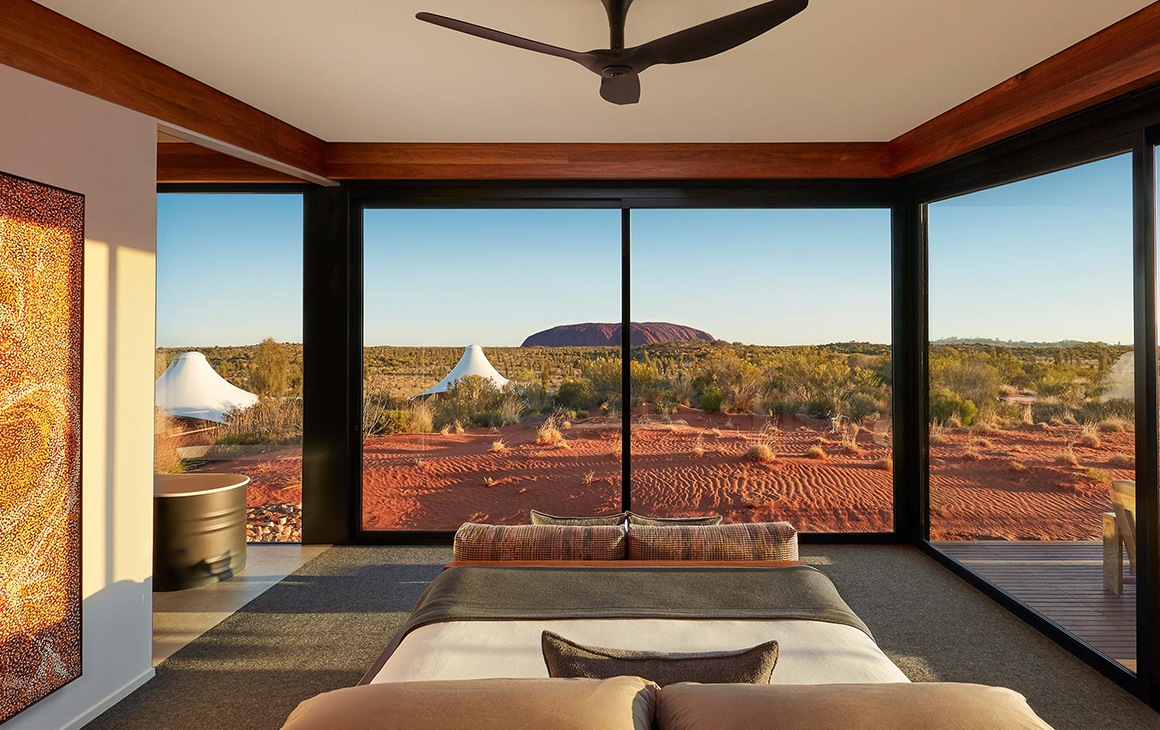 The Oberoi Amarvilas
INDIA
When you can't stay in the stunning Taj Mahal, you stay in the next best thing which happens to be The Oberoi Amarvilas in Agra. An exquisite blend of nature and history, the Amarvilas offer unobstructed views of the Taj Mahal just 600 metres away. The sand-coloured, domed, intricately designed resort is bordered by manicured lawns and lush trees, and even the luxurious spa offers up views of the Taj. Stay in the 275 square metre Kohinoor Suite and enjoy soaking up the view from your private balcony in the most opulent confines you can imagine.
Looking to explore closer to home? Discover your backyard with these nine beautiful spots in Australia to check out after lockdown.
Image Credit: Ngala Treehouse, Anantara Golden Triangle Elephant Camp & Resort, Icehotel, Justin Nicholas, Giraffe Manor, Jade Mountain Resort, Amangiri, Longitude 131°