Beauty editing is one of those privileged gigs that sounds like the kind of thing a makeup-obsessed tween made up, but isn't actually a real job: you get sent beauty products on the regular to test, try and write about (hair, skincare, makeup, perfume—all of it), and you get to see them months before they even launch.
But it is in fact a real job, and one that has helped many a person navigate through a terrible tan experience, a first-time brow shape and every aisle of Priceline. And because beauty editors also get access to all the experts (think: dermatologists, famous makeup artists, product creators) they also know their stuff—and what really works. Naturally, because of this, they also become the 24-hour beauty line for every single one of their friends/family/random Instagram followers.
And this is exactly why two ex-Marie Claire beauty directors, Sarah Tarca and Sherine Youssef, teamed up to create gloss etc, a weekly beauty newsletter of personal recommendations, expert advice and tips from some of the industry's best experts, all delivered to your inbox.
"It's basically an extension of what already goes on in our WhatsApp groups, which is us being asked a million questions from our friends about all things beauty. From 'what's the best mascara I can buy at Priceline' to 'where do I use oil in my routine?', these are the questions we're fielding daily, so we thought we'd put it in a weekly newsletter format, and share with everyone the kinds of recommendations we give our friends," says Sarah.
Here the duo (who have each been beauty editors for over 10 years) share the products they not only use, but actually spend their own money on time and time again.
Sherine
SkinCeuticals CE Ferulic Serum
Serums are the powerhouse of any skincare regimen, delivering highly concentrated ingredients that target specific problems. If you're just getting started on serums, The Ordinary has a good range of options at really affordable prices (most are under $30). But if you really want to up your game, try this SkinCeuticals product. Pricey, yes. Worth it? For sure. Let me put it this way: I cried, actual tears, when I accidentally dropped and shattered a bottle of this, equally sad about both the money I'd just wasted and the skin-loving liquid that was disappearing down the drain.
La Roche-Posay Anthelios Invisible Fluid Facial Sunscreen SPF 50+
Practically every dermatologist, beauty editor and skincare aficionado agrees that wearing sunscreen every single day is the best thing you can do for your skin. I was already a fan of the original La Roche-Posay Anthelios, and have purchased it multiple times, so imagine my delight when the formula was recently updated to make it even more lightweight. It layers beautifully under makeup, too.
CoverGirl Lashblast Clump Crusher Mascara
They regularly appear on runways, but clumpy lashes are not easy to pull off in real life. Trust me, I've tried. As the name suggests, this does away with clumps and only leaves behind long and lush lashes, no matter how many coats you apply (again, trust me, I've tried).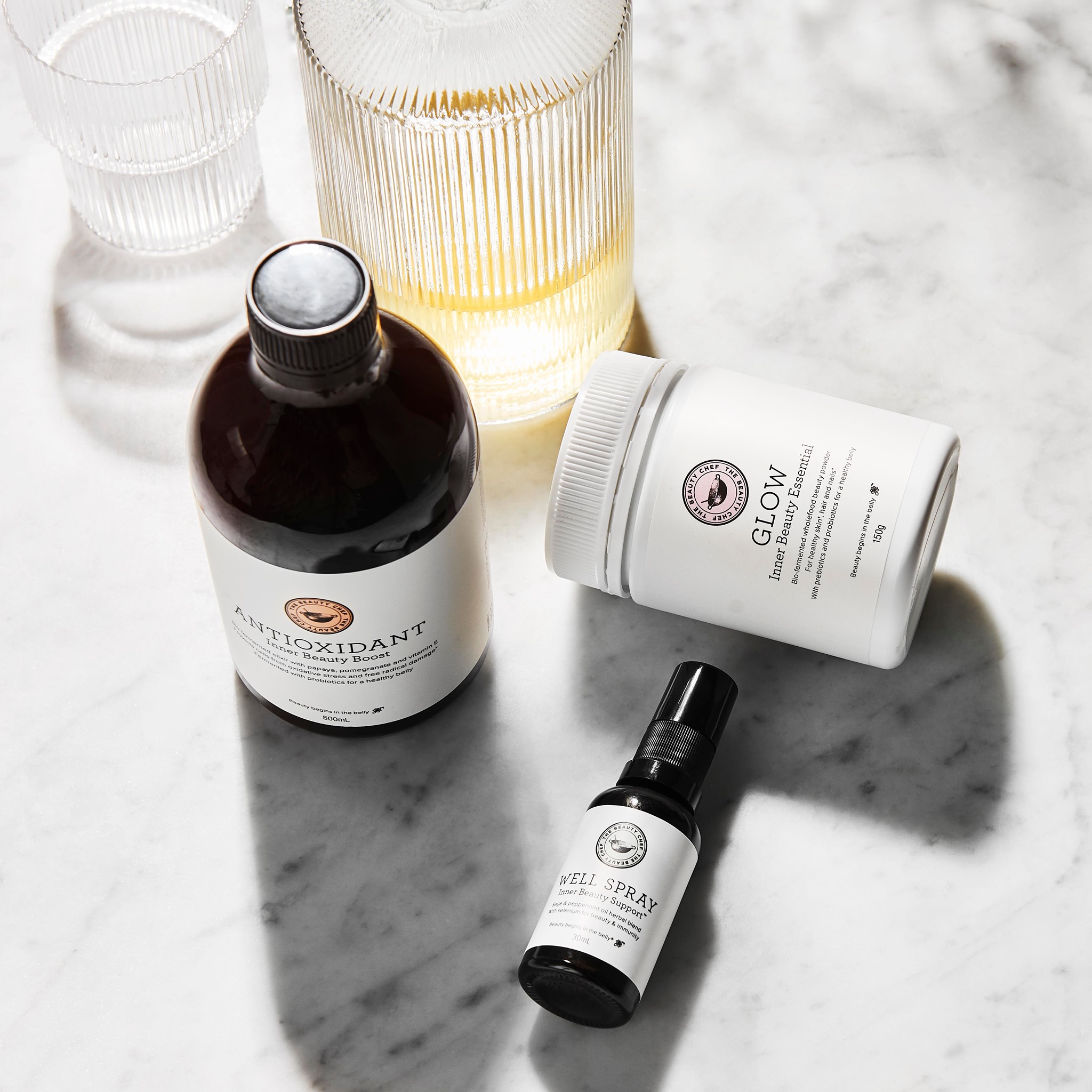 Sarah
The Beauty Chef Glow Inner Beauty Essential
Carla Oates not only created this product, she created the entire ingestible beauty category with her philosophy that skin conditions (and skin health) could be treated from the inside out—specifically, the gut. The recently updated formula now includes an ingestible form of niacinamide (the ingredient favoured by every dermatologist and formulator alike) and vitamin A, alongside a whole host of lacto-fermented superfoods that support both skin and gut health. The name of this product doesn't lie: it literally makes your skin glow in an indescribable way (I think they call it "health"). Probably my most recommended product of all time.
Alpha-H Liquid Gold
This is one cult product that lives up to the hype. A chemical exfoliant with 5% glycolic acid that is gentle enough to use every other day. This exfoliant action helps to speed up the skin cell renewal process (ideal if you're heading into anti-ageing territory) but also brightens, evens, and reduces congestion. Just don't be a rookie like me and leave the cap unclipped when you travel—the many ugly tears I cried over that could've refilled the bottle.
It Cosmetics Bye Bye Under Eye Full Coverage Anti-Aging Waterproof Concealer
You've probably heard of the iconic It Cosmetics CC cream (and its never-ending waitlist) so it's no surprise they've created an equally magnificent concealer. Things I like about it include: it doesn't crease or crack (but isn't dry), it won't budge, it covers pretty much anything you need it to, and you only need the tiniest (like, a speck) amount, warmed between your fingers to cover an entire under-eye area.
Want more excellent beauty recommendations like this? Subscribe to the gloss etc newsletter or follow them on instagram.
Sarah Tarca and Sherine Youssef first met as assistants at ACP back in the early 2000s, where they worked on some of Australia's best-known magazines, like Cosmopolitan and Harper's Bazaar. Sarah went on to edit Girlfriend, and Sherine moved to madison, before they crossed paths again in the marie claire beauty department. In addition to gloss etc they freelance for a variety of print and digital titles, including Vogue Brides, body+soul, Primer and Gritty Pretty, and work as copywriters for leading beauty experts and brands. Follow gloss etc on Instagram and sign up for the newsletter here.
Image credit: Jess @ Harper Sundays, The Beauty Chef