Perth-born entrepreneur Iris Smit is certainly one to watch. The not even mid-20s beauty tycoon is already a multimillionaire, and her stocks are set to rise with her latest invention.
First it was The Quick Flick—a revolutionary makeup product for winged eyeliner aficionados—and now it's the Beauty Fridge that's set rock the worlds of the skincare obsessed all over the planet.
At first glance the practical among us might scoff at the Beauty Fridge; is refrigerating beauty products really necessary? How hard can it be to walk over to the kitchen fridge? But, this invention might actually be the beauty tool you never knew you needed.
With the shift towards natural ingredients and less preservatives in skincare, it turns out we really could be storing more from our beauty cabinets at cooler temperatures. Add to this increased product longevity and the therapeutic benefits of cold stuff on your face, and the Beauty Fridge might just be another recipe for success for Smit.
"With beauty aficionados leaning towards products with fewer preservatives and a shorter shelf life, and even DIY-ing face masks and other skincare products, refrigerating products can help extend the shelf life of a product, and reduce bacteria growth," says Smit.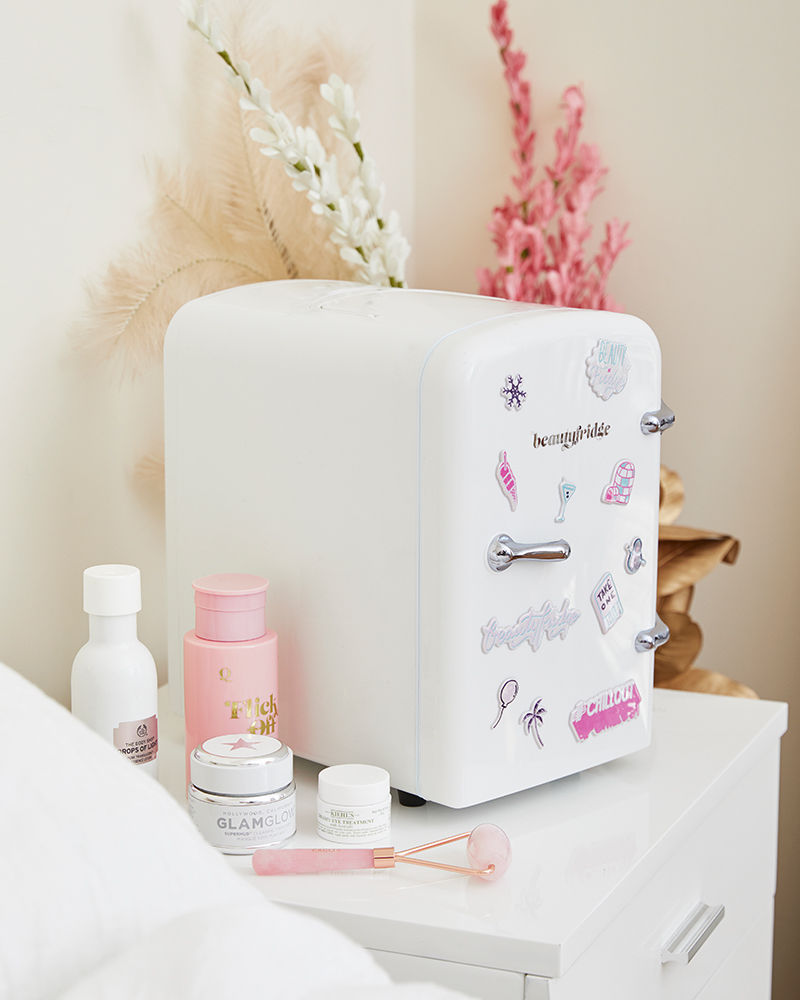 Back to the benefits for your skin. Mira Clinic's Senior Cosmetic Nurse Tracey Tuckey says cold beauty products can reduce puffiness, redness and pore size. "Eye creams are one of the best products to store in a Beauty Fridge as the coldness from the cream causes vasoconstriction which in turn reduces puffiness," Tuckey says.
But cooling your beauty products is not all that this decidedly cute mini fridge can do; it also boasts a heating function. So whether you decide to set the temperature to a chilly four degrees for your jade roller and eye cream or a balmy 40 degrees for hot towels (hello DIY facial), the Beauty Fridge has you covered.
Available in baby pink, light blue and white, the Beauty Fridge retails at $129.99 and you can add on a hand illustrated sticker pack for an extra $5 in case it's not already cute enough for you. Get yours here.
Did you hear about Lady Gaga's new makeup range? Read all about it here.
Image credit: Beauty Fridge