We are constantly being bombarded with beauty and skincare products to achieve everything from banishing acne and fine lines to boosting hydration. But slapping serum after serum on your skin is kind of like treating the symptoms rather than the cause. Really, we should be starting our beauty routines from the inside—and that's just what new beauty and wellness guide and recipe book The Alchemy Of Beauty is all about.
Written by Katrina Ellis, a world renowned naturopath, iridologist, herbalist and author with her own natural health centre on the Gold Coast, the book is essentially a guide to enhancing your beauty and wellness from within. The first half is full of everything you should be doing—and avoiding—to boost your own body's ability to stay youthful. Ellis lists youth-promoting antioxidants (no surprise, we should be eating plenty of kale and oily fish) and beauty thieves—culprits like sugar, bad fats and even stress and radiation. Turns out, exercise, sleep, our digestive system and even our levels of happiness can all have a huge impact on our skin, hair and nails.
We're not going to give everything away—you'll need to nab a copy of the book to find out all the secrets to natural beauty—but we do have some recipes from the second half of the book to share. The recipes cover juices, smoothies, breakfasts, bowls, salads, mains and sweet treats, all of them packed with ingredients to assist with digestion and promote beauty from within. These four smoothies are perfect for summer—you can thank us for your glowing skin later.
Skin Candy
Makes 2 cups
Ingredients
1 pomegranate (cut in half and hit on the back to get seeds out)

½ cup of raspberries

1 cup of spinach leaves

1 cup of Romaine or mixed lettuce

A handful of mint

1 frozen banana

2 cups of alkaline or purified water or 1 cup of coconut water
Method
Cut the pomegranates in half and bang them on the back with a large knife. All of the seeds will fall out. Place them in the blender along with the other ingredients and blend until smooth.
Superfood Powers
Antioxidants, polyphenols and minerals will get your skin looking fresh and clear, while vitamin K, gingerols, silica and bromelain will promote strong and healthy hair and nails.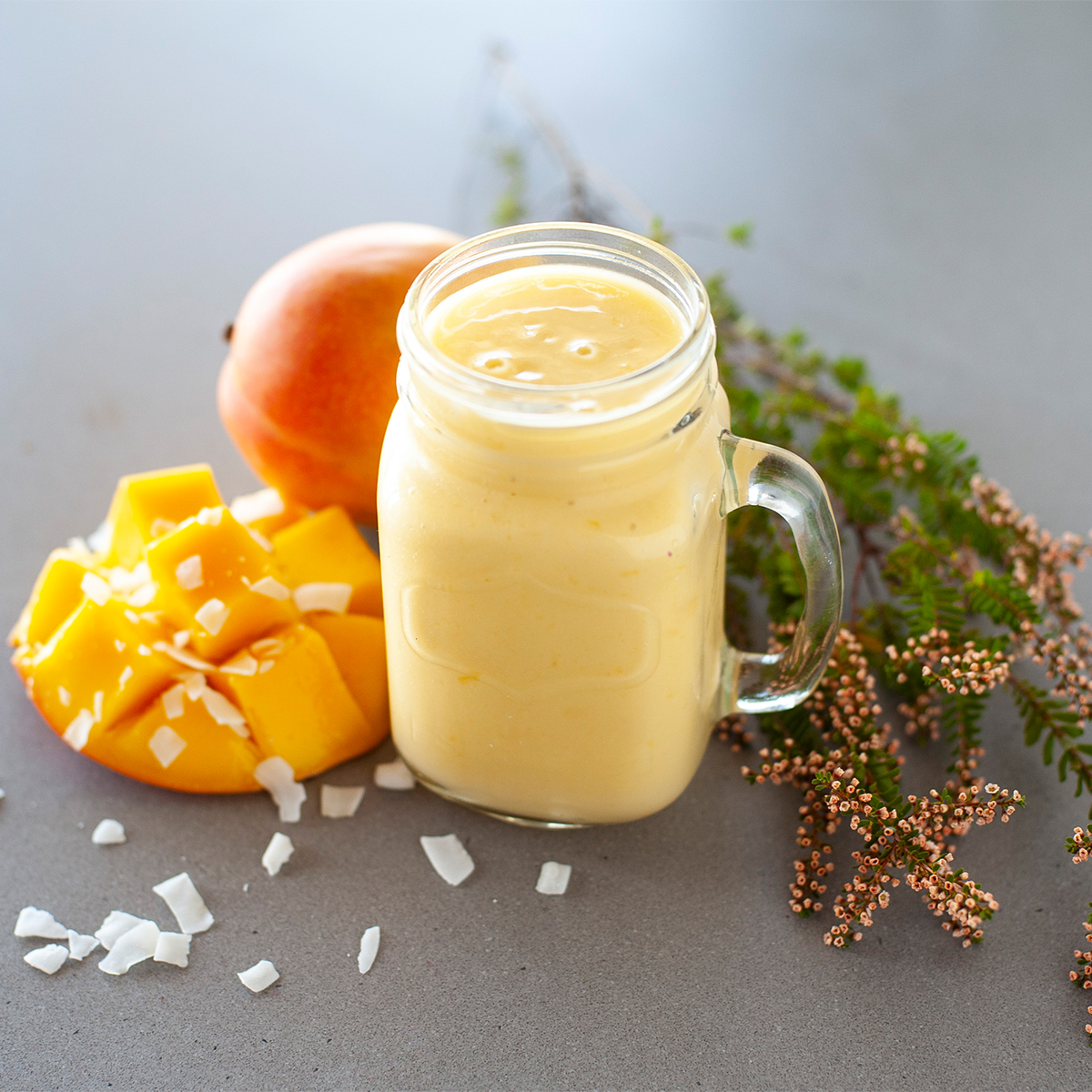 Fresh Complexion
Makes 2 cups
Ingredients
1 cup of coconut, almond or hemp milk or coconut water

½ chopped mango, chilled

½ cup of raspberries

½ cup of organic Greek yoghurt (another option is sheep or coconut yoghurt)

1 tablespoon of organic wheat germ

1 tablespoon of flaxseed meal

1 cup of purified or alkaline water
Method
Blend all of the ingredients until smooth, adding more water to get the perfect texture.
Superfood Powers
This smoothie is full of powerful antioxidants, polyphenols and minerals which will add a rosy glow to your cheeks. It contains Vitamin K, gingerols, silica and bromelain which help to strengthen the hair and nails too.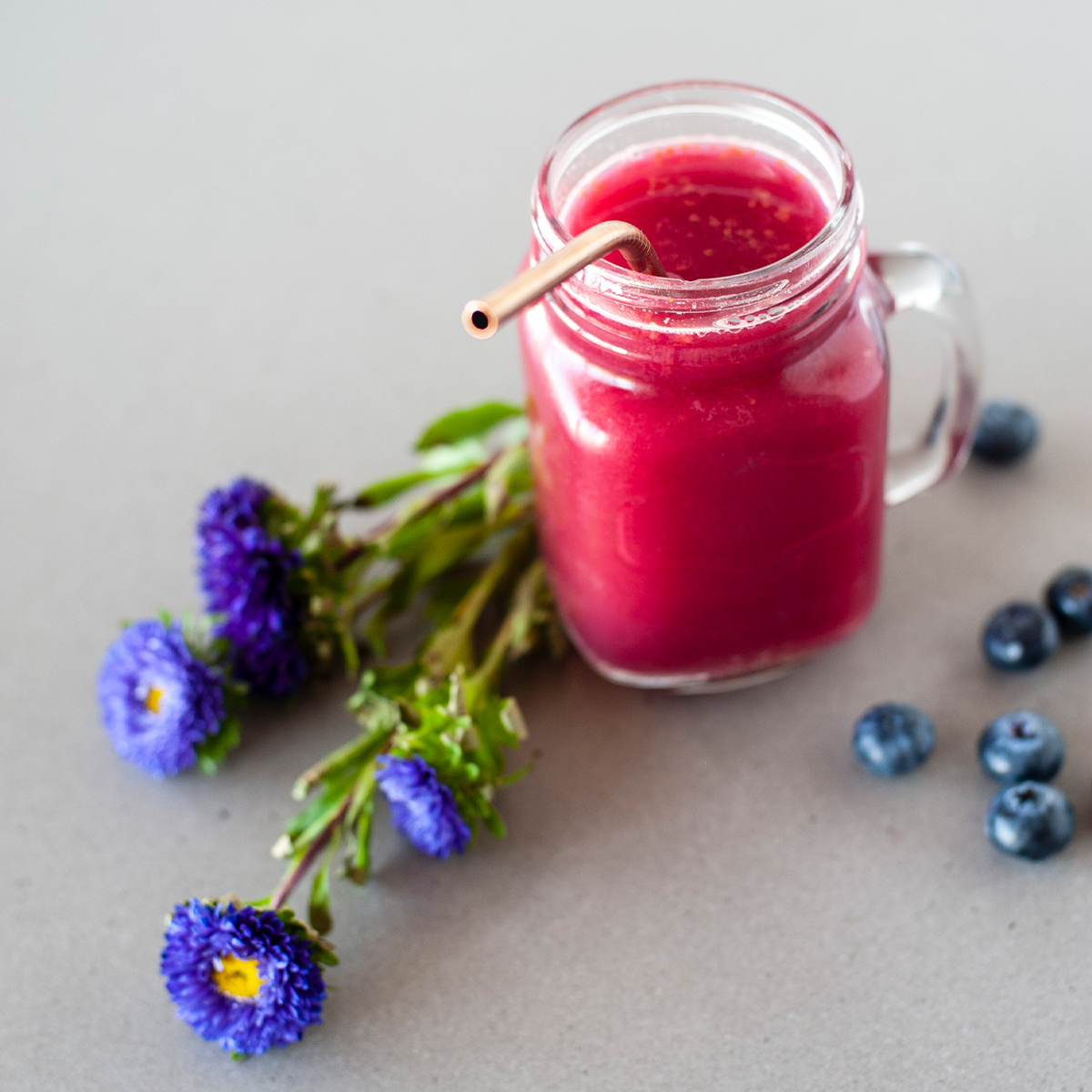 Beauty in a Bottle
Makes 2 cups
Ingredients
¼ cup of blueberries

¼ cucumber with skin on

¼ purple cabbage, diced

3 to 4 carrots

A handful of spinach leaves

2 organic oranges, skinned

2cm chunk of ginger
Method
Juice all of the fruits and vegetables together in a cold pressed juicer. Add a little alkaline water if you need to dilute this.
Superfood Powers
This juice is basically a liquid vitamin pill, containing every nutrient you need for pure health. The berries are rich in vitamin C and flavonoids, the pineapple is a powerful anti-inflammatory that reverses skin damage and cucumber and cabbage are packed full of vitamin A, C, folate and B vitamins to regenerate dying skin cells. No wonder it's called Beauty In A Bottle.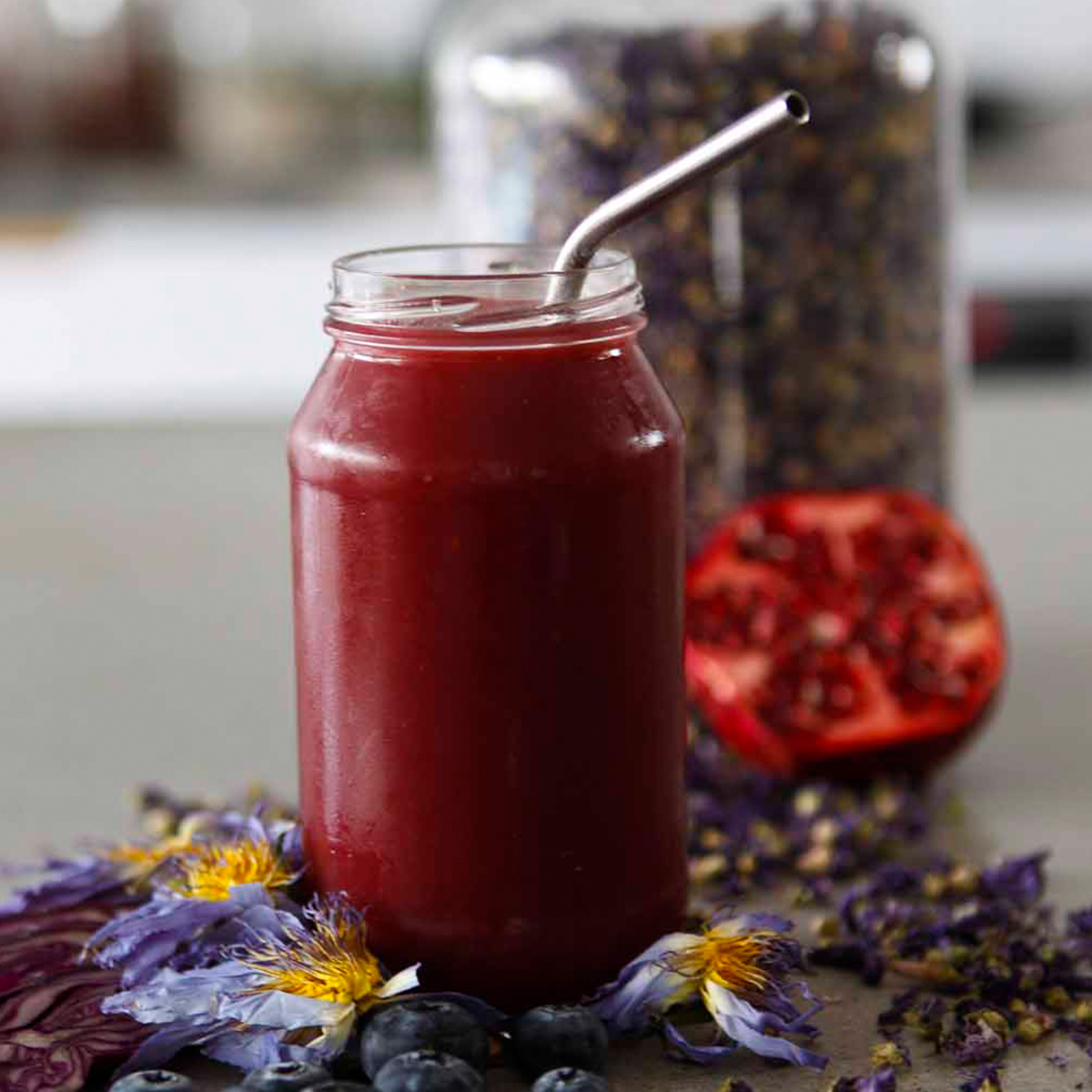 Ageless Angel Juice
Makes 2 cups
Ingredients
½ cup of strawberries

½ cup of blueberries

½ whole beetroot, diced

2 cm chunk of fresh turmeric (use ginger if you do not have this)

2 green apples ½ lemon (use a little skin)

A small handful of mint

1 to 2 cups of alkaline water
Method
Put beetroot, apple, lemon, mint, turmeric and berries through a cold pressed juicer. Add alkaline water to dilute the juice.
Superfood Powers
These red and blue superfoods are packed full of vitamin A, C, folate, manganese and flavonoids to encourage the removal of dead skin cells and the regeneration of new ones. When you combine the healing properties of berries and turmeric, you have a heaven-sent Angel Juice.
Meanwhile, these indoor plants will clear the air and help you sleep.
Image credit: Natalie McComas