We've all had that moment where we complain about a crick in our neck or a tension headache after a long day and an 'adult' responds with "It's because of all that time you spend in front of a screen." Well, it turns out that your parents may have been right when they told you to put your phone away occasionally, because research suggests that blue light is having a negative impact on our bodies in more ways than one.
High Energy Visibly (HEV) light, aka Blue Light, is now coming for our skin. Emitted from laptops, TVs, smartphones and other devices we spend countless hours glued to, as well as the sun, HEV can hinder our natural responses to inflammation, partially prohibiting our skin's ability to repair the skin barrier. Other studies show it could increase signs of aging and dark under-eye circles, resulting from reduced release of melatonin, which is basically the chemical you need to get your beauty sleep.
According to Terri Vinson, leading skin scientist, cosmetic chemist, educator and microbiologist from Synergie Skin, while the HEV light emitted our devices is only a fraction of the intensity emitted by the sun, it really adds up. 10 hours in front of a screen is equal to about 15 minutes of direct sunlight and if you're an average millennial, you probably spend at least that with a screen in front of you every day—by the end of the week, that's a few hours of extra exposure.
"My recommendation as a scientist is to minimise your total daily exposure to HEV, particularly the natural blue light from solar radiation. If you are constantly looking at screens every day, it can't hurt to add some blue light protection to your skincare routine, but if you spend time outdoors, you definitely need to protect from the four damaging wavelengths: UVA, UVB, HEV and infrared (IR)," says Vinson.
But don't panic because there is a solution (and it doesn't involve cancelling Netflix). If you don't want to wear sunscreen all day every day, we have five fantastic blue light blocking skincare products to protect your skin, which will keep you looking and feeling fresh, well-rested and free to stare at your screens for hours on end.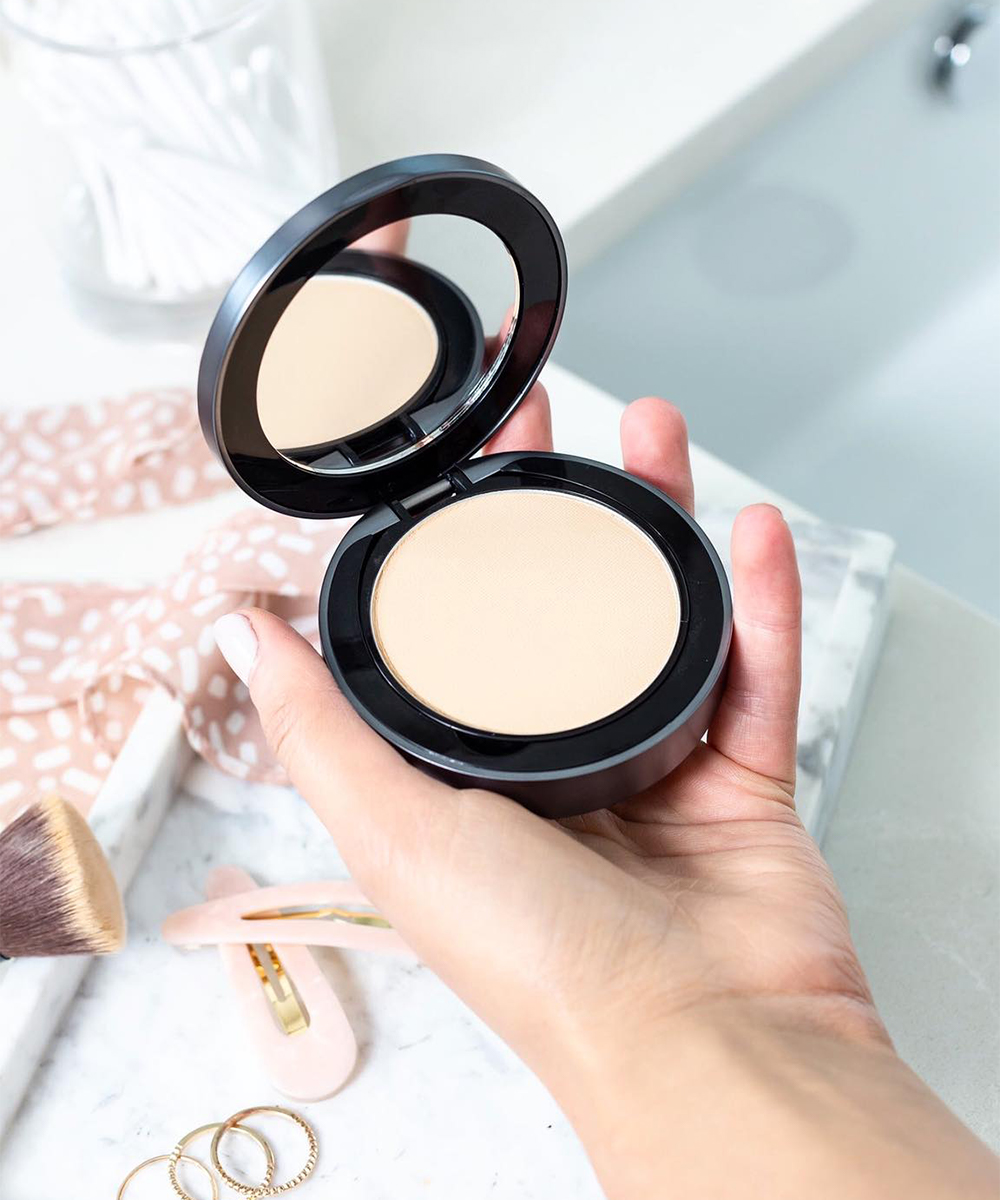 Synergie Skin Skinpressive Pressed Powder Foundation
Protect your skin from the damaging effects of UVA, UVB, HEV and infrared wavelengths with Synergie Skin's Skinpressive Pressed Powder Foundation. The foundation is composed of zinc oxide, titanium oxide and iron oxides, which collectively provide complete solar protection. Meanwhile, other nourishing ingredients keep your complexion hydrated and radiant, meaning Skinpressive Pressed Powder Foundation will keep you looking and feeling beautiful.
Endota Spa Blue Light Defence HydroMist
Endota's Blue Light Defence HydroMist may be a weightless facial mist, but don't mistake that weightlessness on your face for lack of strength. This potent active formula not only provides a barrier against blue light waves and environmental stress, but it also provides 72 hours of continuous hydration. Blue Light Defence HydroMist will have your skin glowing, so multiscreen away.
NIOD: Survival
NIOD is ahead of the game bringing to you not one, but four networked protection systems against environmental and lifestyle related assaults. The Survival range consists of Survival 10, Survival 20, Survival 30 and Survival 0. The range targets the negative effects of blue light, infrared, UVA, UVB, stress and more. NIOD has also ensured the Survival range has a product for protection during the day and at night. So, whether you need to get a good night's rest after a long night of work, need to stay protected throughout a long day of staring at your screen or both, Survival has you covered.
Ultra Violette Queen Screen SPF 50+ Luminising Sun Serum
If you're worried about your sensitive skin reacting to oily products, this skin-loving serum packed with Aussie antioxidants is oil free. Ultra Violette Queen screen SPF 50+ Luminising Sun Serum protects your skin from the sun and free radicals, and will have you feeling royally pampered with glowing skin.
Alpha-H Hyaluronic 8 Super Serum with PrimalHyal Ultrafiller
The Alpha-H Hyaluronic 8 Super Serum with PrimalHyal Ultrafiller may be a mouthful to say out loud but that's because this product is the whole package. The serum covers the basics—protection against pollution and blue light and the reduction fine lines and wrinkles. However, in addition to this, the Alpha-H Hyaluronic 8 Super Serum with PrimalHyal Ultrafiller restores radiance and elasticity, builds a sustainable moisture reservoir in the skin and primes your skin for flawless makeup application. So, say sayonara to your fears of blue light damage and all other lifestyle-related negative impacts on your skin when you make this purchase.
And here's why you should get around probiotic skincare.
Image credit: Chris Nguyen, Synergie Skin