There's nothing quite like the freedom of running your own business unless of course that freedom is constantly squashed by your mum and dad walking through what is supposed to be your office.
So, team, it's time to move away from using the kitchen table as a desk, and don't even think about spending 9-5 at your local cafe, they're not that keen on having you there. Branch out and check out all the best coworking spaces your city has to offer.
Here are Australia's best coworking spaces.
Melbourne
WorkSmith
In a nutshell, these guys are all about empowering the talent behind our Aussie food and bev industry. Whether you're a restaurant owner, a restaurant operator, a chef requiring a commercial space, a hospitality-driven technologist (whatever the hell that is) or a food journo, this is defs the coworking space for you. WorkSmith is set up with several rooms, including a bar that can hold 80 standing people, plus a dedicated podcasting room with all equipment provided.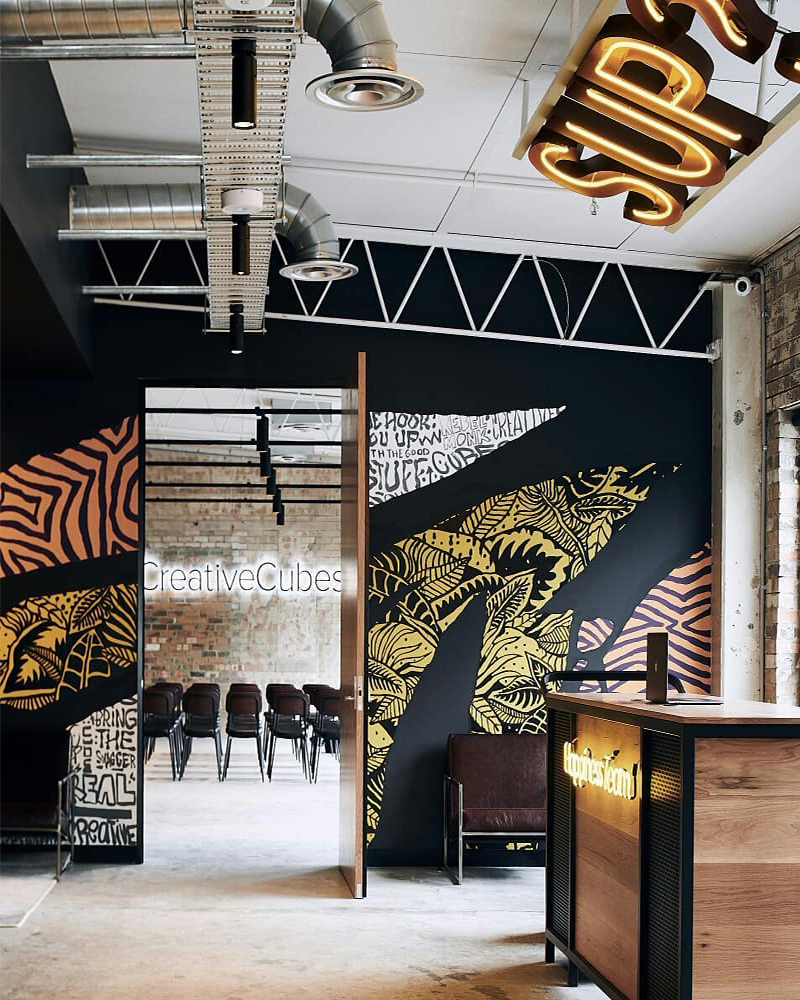 Creative Cubes
When Creative Cubes opened up in Melbourne's Richmond, they went from 0% to 100% capacity in seven months, so it's no surprise that they now have two locations, with their second coworking space in Hawthorn. Start with the important stuff: yes they have table tennis. They also have private conference rooms, extra fast wifi, a full kitchen, fresh fruit, concierge services, access to exclusive events and lots of coffee.
Sydney
The Commons
If you're looking to hang with the cool kids, The Commons is the workplace equivalent of the coveted back seat of the school bus. On top of modern desk spaces and offices, it features an in-house photography studio, a podcast studio, and a collaborative "Makerspace". But the ultimate addition to this co-working haven would have to be the outdoor basketball court, where you can literally bounce your ideas off the backboard.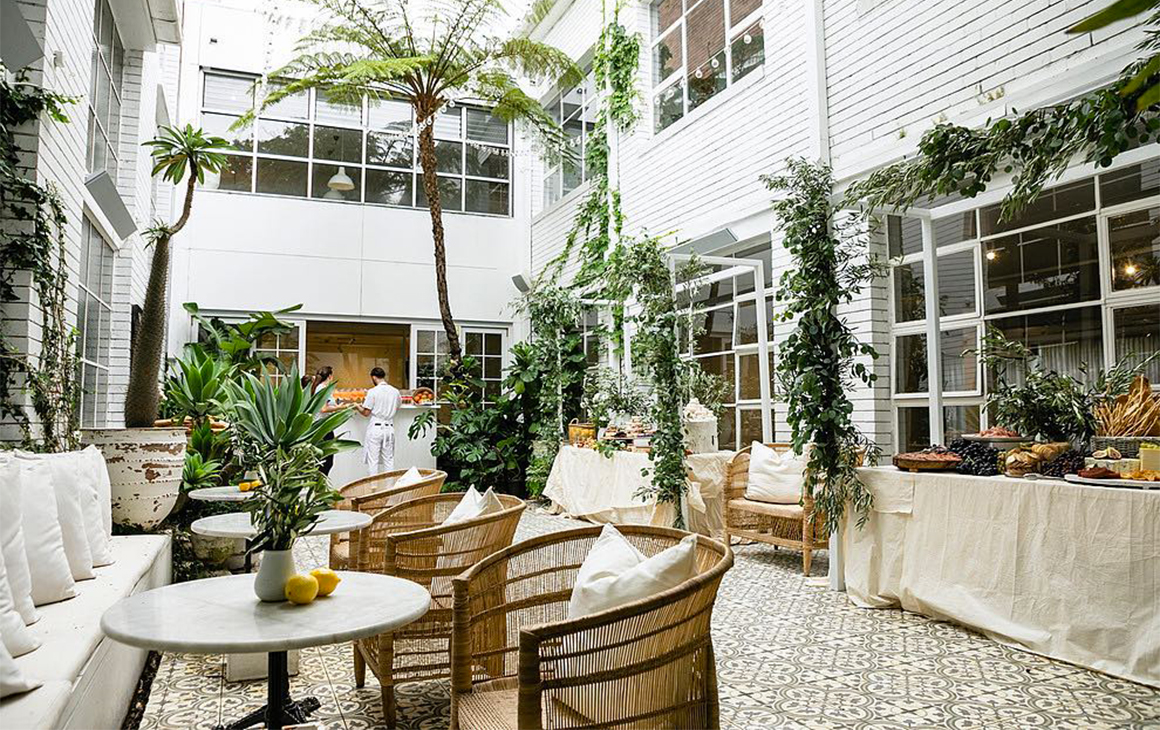 La Porte
Aside from boasting 30 serene private offices and a first-class co-working facility, La Porte also has event spaces, a photography studio, a cafe, a luxury concept retail space called La Porte Marché, and a wellness centre complete with a Pilates studio, sauna and Rationale clinic. From the moment you walk up the stairs, you'll feel like an extra in an Elle Décor shoot, and the fashion-forward clientele adds to the glossy feel of the place.
Brisbane
Lightspace
Leaps and bounds from its bustling warehouse origin, Lightspace is a sanctum of vaulted eight-metre-high ceilings and natural light. While the venue reps some serious wedding and function space cred, the entire upstairs has been outfitted as an open plan co-working space. Settle in with an espresso, sweeping city views and reveries of the private tiki bar on the deck: your lightbulb moment won't be far away.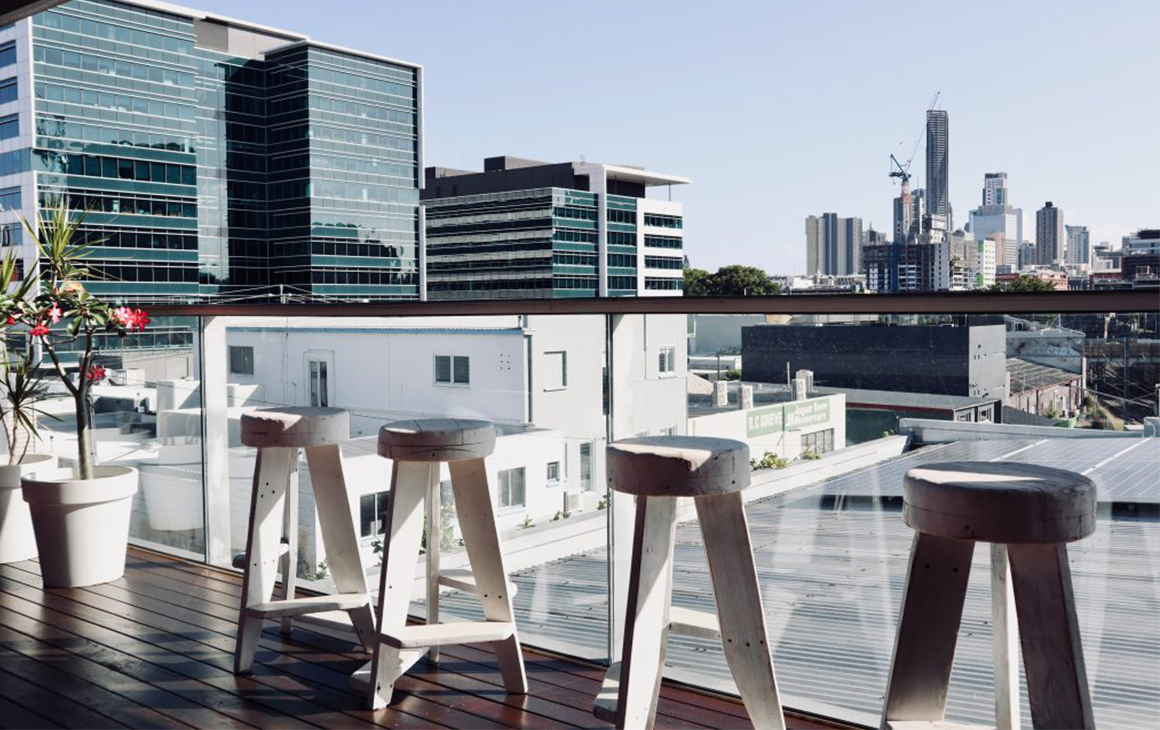 The Cove
Dressed to the nines in Nordic-inspired décor, The Cove has breathed new life into the Brisbane co-working scene. Expect a business concierge, underground parking, on-site IT technicians, custom furniture and use of the space's Volkswagen Golf—The Cove's got it all, and then some.
Perth
Brand Freak
Housed in a retro-style warehouse, the peachy pink interiors at Brand Freak will make you swoon. You can rent a hot desk or hire their super cute lounge (featuring pink shell couches) or the studio for events, workshops or photoshoots. There's also a fully equipped kitchen (because who doesn't need snacks), incredible lighting, and a sweet disco ball.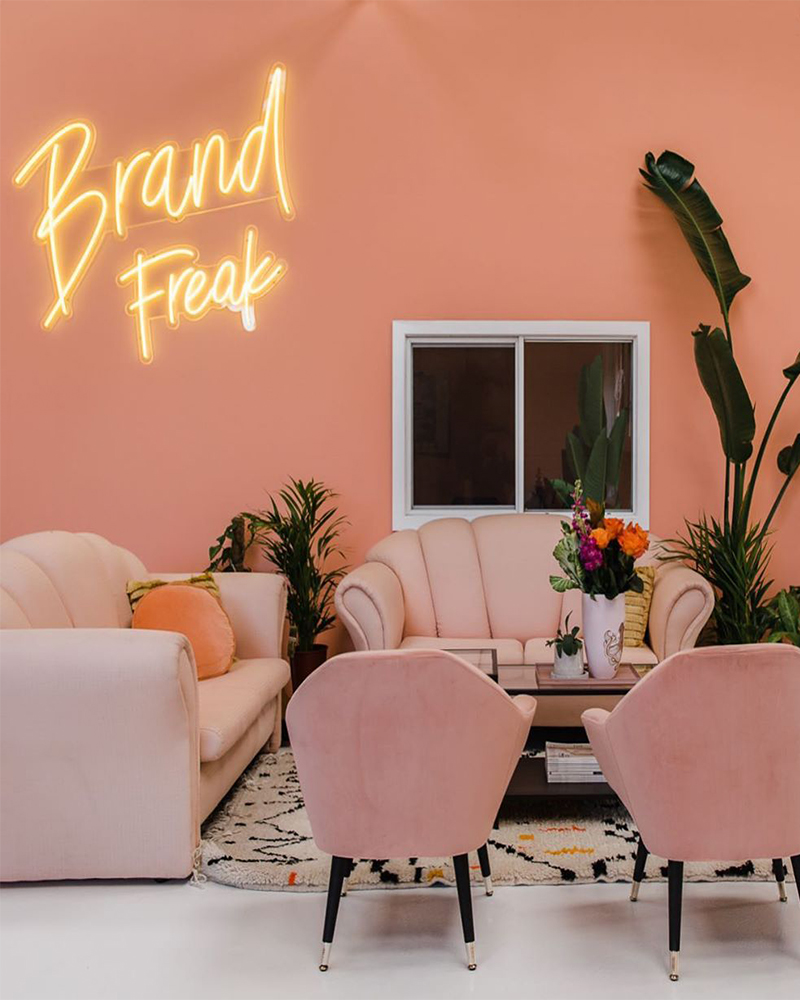 Claisebrook Design Community
This space is a designers dream. With a modern interior and plenty of room, you can tailor the space to all kinds of creative projects. They've also got the basics covered with conventional offices and boardrooms, plus an event space you can hire for screenings, workshops, launches and whatever else you can think of. And the all-important lunch break is sorted with its very own cafe (plus discounted coffee).
Gold Coast
Hotel Miami
Looking to attract like-minded designers, artists, photographers, videographers and more, retro-style Hotel Miami also offers a fully operational photography, video and podcast studio equipped with all the mod cons and lighting you'd need. Collaboration is at the heart of what Hotel Miami is doing so expect group yoga sessions, art shows, post-work bevvies and lots of good chats. There's even a drum set in the middle of the studio should you need to trash out some beats.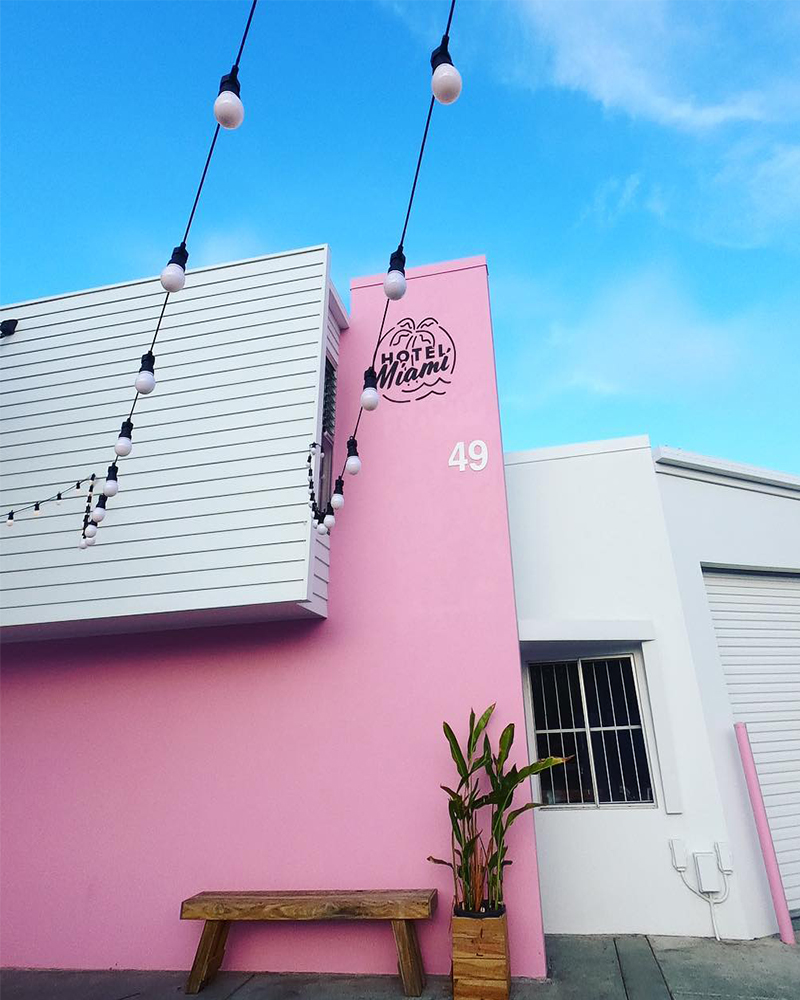 Karma Collab Hub
You'll never want to leave this light-filled converted warehouse. Hot desk from the comfy couch, communal table or even converted 50s jaguar (yes, really!) There's also private phone booths and a podcast studio, plus doggos are more than welcome. Not to mention other little perks like free pizza Fridays, free printing, free snacks and on site showers (to use after that lunchtime ocean dip).
Sunshine Coast
Inbox
There'll be no home office remorse once you slot into a space at Maroochydore co-working hub, Inbox Workspace with its hip and forward-thinking design. The Inbox team have thought of everything, from putting greens, treadmill desks, massage chairs and even an electric car for member's use. It's out of control and with round-the-clock access for your daily tasks, presentations, board meetings and events, this is one office you'll gladly chain yourself to; you may even volunteer to work late now and then.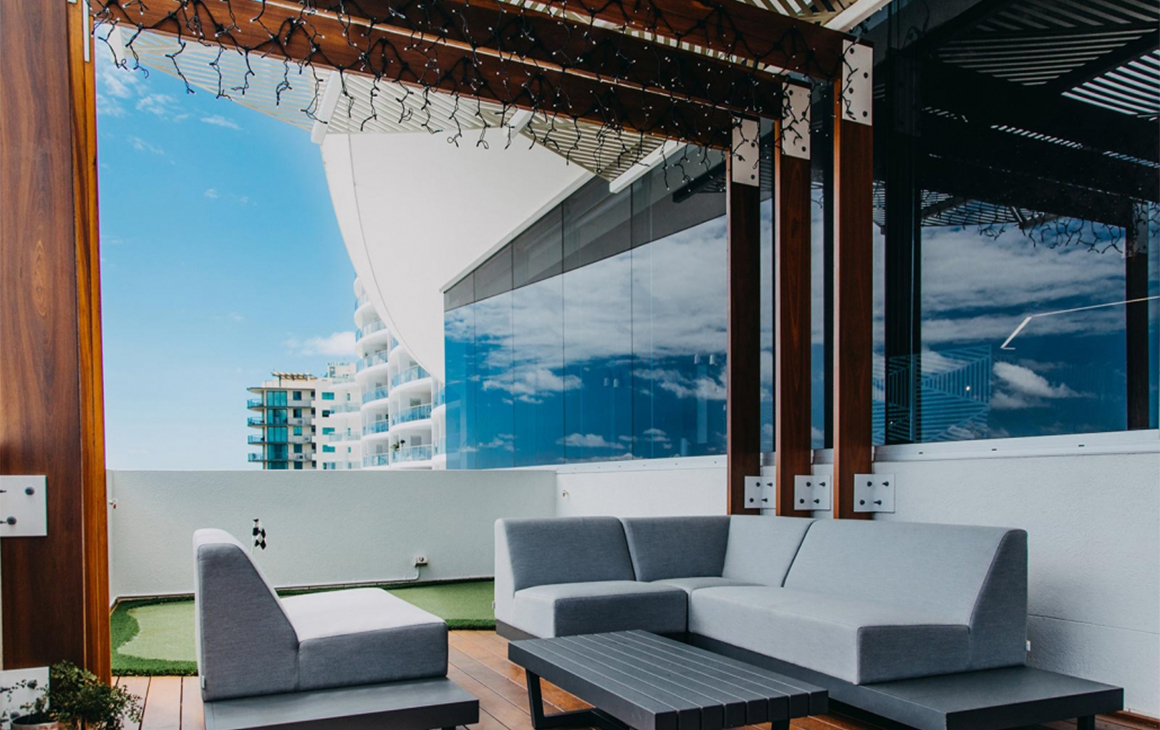 WOTSO
The Sunshine Coast WOTSO location is Queensland's very first container concept co-working environment, where members can expect their meetings, phone calls and general day-to-day work life to take place in up-cycled shipping containers, so there's nothing ordinary about knuckling down here. Among 24/7 access, super-fast wifi and a fully stocked kitchen, there's also exclusive events like live talks, panel discussions and their famous Lunch 'N' Learns.
Charge up your career with these epic business podcasts and books.
Image credit: Hotel Miami, La Porte, Inbox, Lightspace, Brand Freak, The Commons