Last week, things were all upside down in The Urban List office… Gone was the constant stream of jumbo lattes. Noticeably absent were the 3pm tea and Tim Tam breaks. Inboxes were full of declined offers to sample delicious burgers and quaff creative cocktails.

That's right folks, last week team TUL embarked on the GREAT DETOX CHALLENGE, putting our tastebuds and waistlines on the line to give you our verdict on the best detoxes and cleanses.

On trial: Pressed Juices, Urban Remedy, Eat Fit Food and Schkinny Maninny. Read on, health nuts…

URBAN REMEDY BASIC ONE DAY CLEANSE (Ali)
In a nutshell
Urban Remedy Cleanse is a nutritional juice-cleansing program designed to detox and renew your body. It involves replacing all solid foods with a series of six super nutritious cold-pressed juices and smoothies. The idea is to reduce the level of toxins in your body and kick start a healthy lifestyle, aid weight loss, boost your energy and make you feel and look better.

The cleansing program comes in three different levels, so you can choose the program which is most suited to your goals, lifestyle and diet. You can also choose between one, three and five day cleanses.
My experience
Pre cleanse: Having committed to the one day cleanse without any thought of what I was getting myself into, I was daunted by my welcome email from Urban Remedy advising me to cut down on things the cleanse doesn't work well with. So that means no coffee, alcohol, sugar and yeast, and they also recommended reducing the intake of red meat, dairy and gluten pre-cleanse. This was literally everything I had consumed in the past three days!

My six juices were delivered to my door the day before the cleanse started, in a cooler with an ice pack and straws (so considerate to send straws!). After eyeballing the delicious-looking juices, I felt more at ease and ready to start.

Urban Remedy suggested one juice every two hours with a glass of water in between to keep hungers pangs at bay. I started the day with the Energising Smoothie, containing banana, mango, spinach, chia, goji and water. The smoothie was tasty and extremely filling. So far...so good!

Two hours later, I was ready for my next juice, the 'Metabolism Booster'. Packed with lemon, cayenne, stevia and water, it was really just like sipping flavoured water. Throughout the day, keeping busy and working definitely helped me think less about food.

Lunchtime was a sweet drink, the 'Fat Buster' – with pineapple, apple and mint. Needless to say, it was delicious. After having only three juices by 2pm, I felt energised and not hungry at all. Win!

I sipped on the 'Digestion Enhancer' – lemon, lime, ginger, stevia and water at about 3:30pm. I really felt I had conquered this cleansing business and the rest would be easy. However, an hour later I started to feel light headed and a bit nauseous.

I had some water, which helped, but I started dreaming of burgers and ice cream like I hadn't eaten in days. To pick me up, I had the 'Zingy Up Lifter', which really did the trick!

To end the day at 7:30pm, I had my final drink – the 'Calming Smoothie', a blend of banana, almonds, cacao, chia and water. It satisfied all needs, was filling and had a nice dessert taste to it. I was ready for bed after what felt like an extremely long day and slept like a baby.
Verdict
I have to say with complete honesty that this was the best juice cleanse I have done. Usually on a cleanse, I feel sick by the end of a juice, but the juices were delicious. Without wanting to do a juice cleanse every week (I love food way too much!), I wish there was a store where I could go buy a juice from Urban Remedy daily. Urban Remedy were extremely organised and supportive throughout the cleanse, with emails of encouragement.

All in all, the one day cleanse is a great way to help break bad habits and set you on the path to a healthier lifestyle.
Tips
Cut out coffee and sugar a few days prior to the cleanse, to avoid headaches & nausea
Keep busy throughout the day to avoid thinking about food
Mediate and relax at night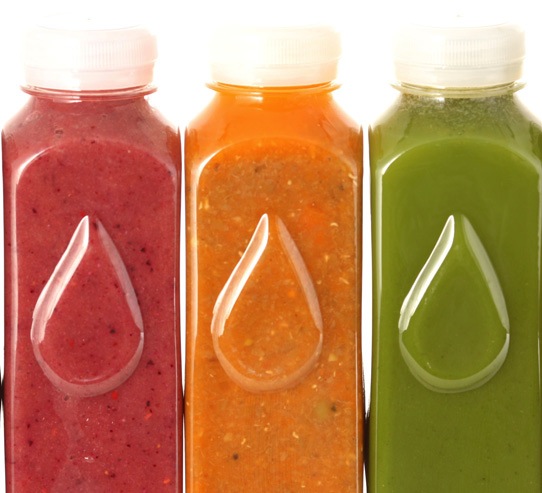 PRESSED JUICES ADVANCED THREE DAY CLEANSE (Iro)
In a nutshell
Responsible for the cold pressed juice craze (they have over 30 varieties of juice!), Melbourne-based Pressed Juices is also behind the growing popularity of the juice cleanse. There are three levels of cleanses on offer – Basic, Advanced, and Master – which are all geared towards detoxing the body and mind, strengthening the immune system, and increasing energy stores, amongst a host of other benefits. The higher the level, the more green juice is involved, so if you're new to cleansing, or just don't like the taste of green juice all that much, try the Basic.

I opted* for the Advanced three day cleanse which involved drinking six smoothies and juices over the course of roughly 12 hours, along with one bottle of chlorophyll water and one bottle of aloe vera water to aid the detoxing process and stay hydrated (SO important during this process!).

The juices are designed to be consumed in a particular order each day, in order to feed the body the vitamins it needs, exactly when it needs them. For Advanced, the day began with a green smoothie or juice followed by an earth juice (root vegetable based), a second green juice, a zest or zing juice (citrus based), and then a third green juice, before finishing off with a smoothie or an almond milk.

*That's a lie. I'm new to cleansing and meant to order the Basic but absentmindedly clicked on the Advanced. Fool.
My Experience
To give you a bit of background, I'm the type of person who generally eats healthily during the week (I love my salads and lean meats), and indulges come dessert time and the weekend. I won't lie, though, I enjoy the act of breaking bread with friends, love my coffee in the mornings (strong flat white with no sugar please), and don't mind a glass of red with dinner. I had always thought about doing a detox (more out of curiosity than anything else), so this story was the perfect opportunity to do so.

In the weeks leading up to the cleanse, I was a little nervous about how I would react during the process. When I told people what I was planning to do, I was greeted with all sorts of responses ranging from 'Are you crazy?!' and 'There's no way I could do that!', to 'What do you mean, NO food for three days??' and 'But you don't need to lose weight!' (FYI – although you may experience some, the PJ cleanses are not purposely designed for weight loss – instead they're focused on cleaning out your insides and keeping your mind and body happy).

About a week out (and desperate to avoid the caffeine withdrawal headaches I had heard so much about), I stopped drinking coffee and started weaning myself off sugar, processed foods, and dairy. I would've also cut out alcohol but I happened to be in Thailand and fell victim to the cheap-as-chips Singhas. Foodwise, I stuck to stir-fries and rice dishes, which kept me full but meant my body didn't have to work super hard digesting food in the lead up to no food at all (stressed body during a cleanse means hell for all!).

Day One, Juice One was a 'Smooth Energy' green smoothie, which was actually delicious. I'm not a huge fan of green juices (alas the taste of grass doesn't appeal to me), however the smoothie included avocado, banana and coconut water, so it was a little sweeter – perfect! (When ordering, I made sure the juices all had either had an element of tartness or sweetness, so that I wasn't overwhelmed and defeated by green juice).

Over the course of the day, I kept waiting to feel hungry, irritated, bored even, but I didn't feel it at all. I put this down to each juice being a pretty decent serving size, along with sheer volume of water I was drinking between juices. That, and the fact I was busy with work throughout the day, meant my body haven't time to feel hungry and my brain wasn't calling out 'Time for a snacky-snack-snackkk'.

Day Two came and went without issue as well (except I got a little sick of peeing 3946348 times a day), however, towards the end of the day, I felt super sleepy. Note to self: don't overdo it while you're cleansing. If you feel yourself starting to sag, take it easy. Luckily, a good night's sleep fixed me and, come Day Three, I was feeling good again.

Speaking of Day Three, it was as if I had gotten in a car set on 'cruise control'. By the final day, you're used to the cleansing process and in my case, I felt excited that I was almost there. Also, let's be honest – the thought of breakfast the following morning was definitely something I was looking forward to.
Verdict
After the cleanse, I realised I had been long been ignoring one of the most simple and important things in life – water. Daily hydration is key! I was one of those people who thought I drank enough water but I was wrong…the way I felt before and after proved that. I also have an even stronger appreciation of good, healthy, nutritious food and its benefits, and am definitely keener to keep indulgences to a minimum.
Tips
My first and foremost piece of advice is to drink water constantly. Cut the caffeine (trust me, it helps) and make sure you're getting plenty of sleep – your body needs to rest!
It's super important to ease in and out of the cleanse, so keep sugar, processed food, meat, and dairy to a bare minimum in the days before AND after…I promise you, your body will hate you if you hoe into a massive burger the day after finishing.
If you're scared about feeling hungry, opt for a smoothie as the first and last drink of the day, as they're much more filling. If you're like me and don't have full membership to the green juice fan club, choose a blend that has apple, ginger and lemon added – these ingredients help to disguise the 'grassy' taste.
Finally, don't forget it's mind over matter – you CAN get through a couple of days of cleansing and feel awesome afterwards. I sure did!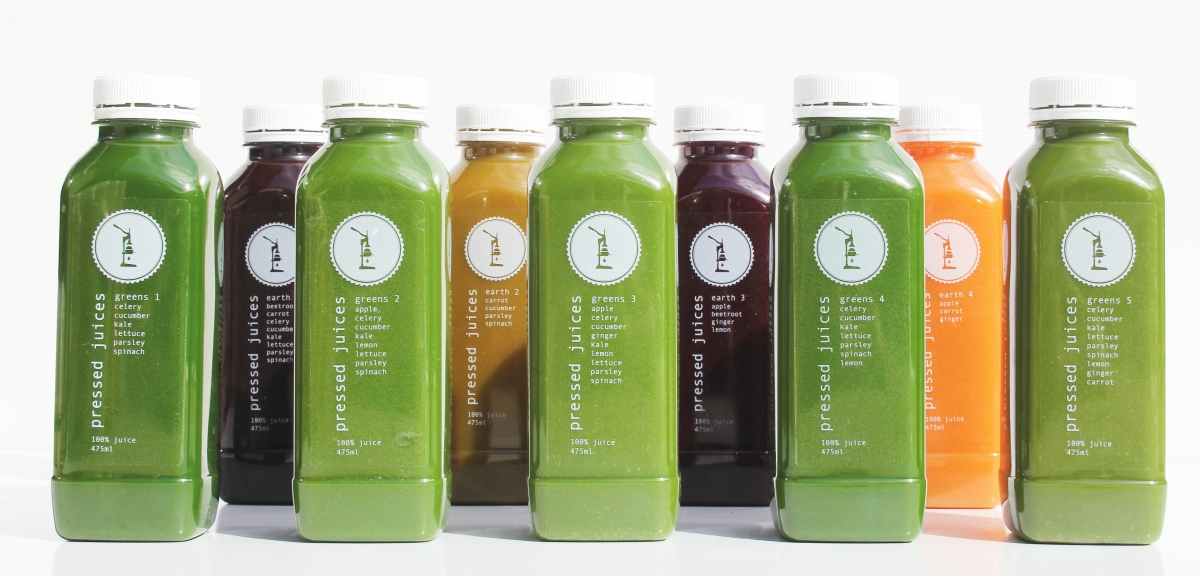 SCHKINNY MANINNY GREEN+FOOD 5 DAY CLEANSE (Jess)
In a nutshell
This is one of the more relaxed options available through Schkinny Manniny. Recommended for people who shudder at the thought of a liquid only diet, or have a busy lifestyle and are looking for a healthy and nutrient rich daily intake of juice and food.

Schkinny Manniny uses all natural ingredients; all juices and smoothies are cold pressed, have no preservatives or additives, and are made fresh every morning – delivered to your doorstep!

The Green+Food cleanse combines four green juices per day (made up of a mix of spinach, apple, kiwi, celery, lemon and watermelon), with a delicious raw vegan salad for dinner.

The benefits listed are:
* Feeling clean, light and healthy
* Lose 2-3 kilograms over a 5 day cleanse
* Brighten your skin and mood
* Higher energy levels
* Cleanse the body of toxins
My experience
I'm not going to lie; as a loyal, devoted and long-time lover of all things food related (apart from caviar, I don't like caviar), I found this really tough.

When my Day One juices and dinner arrived at work on Monday morning, I was spritely, energised and excited for the week ahead. Upon my first few sips of juice number one I was also pleasantly surprised that it was delicious! But by 3pm, my energy was waning somewhat! Less so than feeling physically 'hungry', I just missed the act of eating.

Days One and Two were undoubtedly the hardest for me, and I suffered headaches caused by a pretty severe caffeine addiction being cut off so swiftly! But this downside was easily counterbalanced by the fact that I have never slept better in my life.

By Day Three, I was already feeling some positive effects, noticing an improvement in my skin, and feeling less and less overwhelmed by not eating. What I probably most started to note around this point was that I actually wasn't hungry, which I think is a good reminder of what food really should be for us – a fuel to nourish our body, rather than solely something to 'enjoy' or indulge in.

Days Four and Five, whilst not a walk in the park (it was damn hard heading home on Friday night without even a cheeky 4pm knock off beverage), were relatively easy. I was sleeping fabulously, back to normal energy levels, and feeling light and bright as a feather.

And more than anything was feeling proud as punch that I had succeeded in my goal. It was such a great feeling to wake up on Saturday morning, not only feeling physically fab, but knowing that I had the willpower to see it through to the end.
Verdict
This cleanse is self-described by Schkinny Manniny as being a 'deliciously colourful Spring time cleanse that inspires images of lounging in soft green grass, butterflies and bunny rabbits hopping through fluffy ferns', and to be honest, I would have to agree.

Whilst not something I would do regularly (due to aforementioned obsession with food, glorious food), it is definitely well worth it for anyone looking for a quick pick-me-up, or a way to feel lighter and brighter.

The juices are super tasty (although the taste does start to wear a little thin towards the end), the vegan salads for dinner are delicious every single night, and the convenience and ease of having your entire day delivered directly to you is awesome. All in all, I would highly recommend.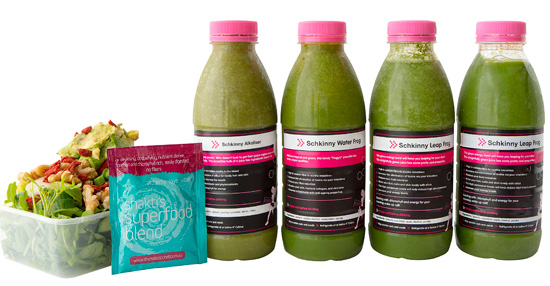 EAT FIT FOOD 5 DAY CLEANSE (Pip)
In a nutshell
I'm not going to lie. When hooking up the cleanses, I made sure to bag myself the 'easy' option. Having done a 5 day juice cleanse before and STRUGGLING, I went straight to the food option. I love my solids way too much.

Eat Fit Food's 5 Day Cleanse is definitely a more flexible, 'softer' cleansing option, gently detoxing and rejuvenating your body, while aiding weight loss.

For five days, ALL your meals and snacks are provided, making it a truly convenient option, whether you are wanting to shift a few pounds, break 'bad' eating habits, or just can't find the time to cook, or shop for that matter!

All meals are free of dairy, wheat, gluten, unhealthy fats, refined sugars, chemicals and preservatives. Naturally, there's no red meat, but fish and chicken are on offer for the meat eaters. Basically, it's clean eating at its best!
My experience
I was incredibly excited to get my cleanse under way, and jumped out of my seat to greet the delivery guy on day one. I had been sent the weekly menu in advance (it rotates), and had cruelly waved it under the noses of my desk mates. Umm, hello delicious!

On Day One, it was a bit of a bumpy ride. Despite being a big girl and knowing better from past cleansing experiences, I simply couldn't resist the siren call of caffeine, chocolate and vino over the weekend. Cue epic headache.

Day two, the headache has subsided somewhat, and I could really enjoy the five star food on offer. All meals were a decent size and I couldn't even finish some of them!

Day Three and… success! Headache gone. I was really starting to feel great, especially as I'd been sleeping like a baby since Monday night. While the food was truly yummy, I was starting to feel like a bit of a hermit, refusing evening outings as, well, I already had my food and couldn't indulge in wine.

Days Four and Five were much the same. I felt great from extra sleep, had increased energy, enjoyed every meal and felt less bloated.

Friday night was a bit on the dull side, without a celebratory knock off drink or two, but I persisted and was rewarded with a clear head come Saturday morning.
Verdict
The Eat Fit Food Cleanse was great! It was so nice to take a break from food shopping and cooking (there's no more than a bit of heating and super speedy stir frying involved), and the meals were restaurant quality.

The delivery process (every second day, with two day's worth of food) was seamless, and I received regular emails and words of encouragement from the Eat Fit Food team.

I slept well (did I mention that?) and, although I don't own scales, my tummy felt flatter and my jeans a little looser. Plus, I was NEVER hungry – there is so much food.

Top meals included: free range scrambled eggs with a potato rosti, baby spinach and tomato jam; chilli, ginger and lemongrass chicken with broccoli, brown rice, green beans, squash and lemon; Honey, lemon and ginger chicken stirfry with cashews. And the pre-breakfast juices were delish!
Tips
This is a great way to get your eating habits back on track and to kick your caffeine, dairy and sugar addictions. It's not really that difficult, but no try to ease of sugar, caffeine and booze the week prior.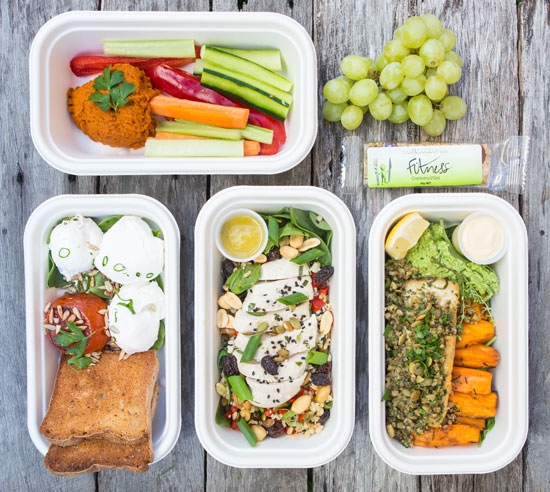 TUL Note: Thanks to the companies mentioned for providing us with our detox programs! All businesses listed deliver within Sydney and Melbourne.***

Main Image Credit: Rosalie's Recipes