Sometimes the wholesome dream of harvesting fresh produce straight from your sun-drenched windowsill can be just that because guess what, gardening is damn hard. When COVID hit, I immediately jumped on the gardening bandwagon and decided it would become my hobby. I couldn't sit around bingeing Netflix forever (though I still did a lot of that too), I needed to get productive and find something that would get me off the couch and into the fresh air. And let's be clear, I've owned a few house plants in my time, which I've not only kept alive, but seen thrive. So naturally, I thought I'd be able to grow my own produce at home. Spoiler: I was wrong. I was able to harvest a handful of tomatoes and spinach leaves to create the saddest of salads right before my plant babies wilted away.
Unable to accept defeat, I was elated to discover the ultimate gardening hack: a Brisbane startup called airgarden. This invention is a vertical garden that uses seriously cool aeroponic technology developed by NASA that allows you to grow up to 30 plants in less than one square metre with no soil, pesticides, constant watering, or green thumb required. The best part? You can score $50 off your own airgarden when using the code ULAG50. But be quick, it's only valid until August 31, 2020!
So if you, like me, are ready to live that farm-to-table life at home, this gardening hack might just change your life. It has for me. Here's every step you can take to grow your own food at home.
The Set-Up
The best part about airgarden is that it's vertical, so you don't need a large backyard. Whether you've got a tiny courtyard, apartment balcony, or rooftop, as long as you have sunshine and access to electricity, you're all good. Your urban garden will be delivered to your doorstep in a box and set-up is super easy—you just stack the circular sections on top of each other. The team also advises that you set your airgarden up on a dolly to keep the reservoir off the ground (to ensure the liquid nutrients don't get too hot or cold) but I used an old yoga mat instead.
Growing Your Plant Babies
Next, I prepped my plant babies. The airgarden contains a seedling starter kit with a curation of classic staple seeds like lettuce, kale, tomatoes, cucumbers, rocket, and cos lettuce to get you started. My seedlings only needed 10 days until they were ready to be transplanted into my airgarden (according to the manual it takes anywhere from 7-14 days). Then all I had to do was fill the reservoir with fresh water and a special nutrient-rich solution and I was ready to start the transplanting process.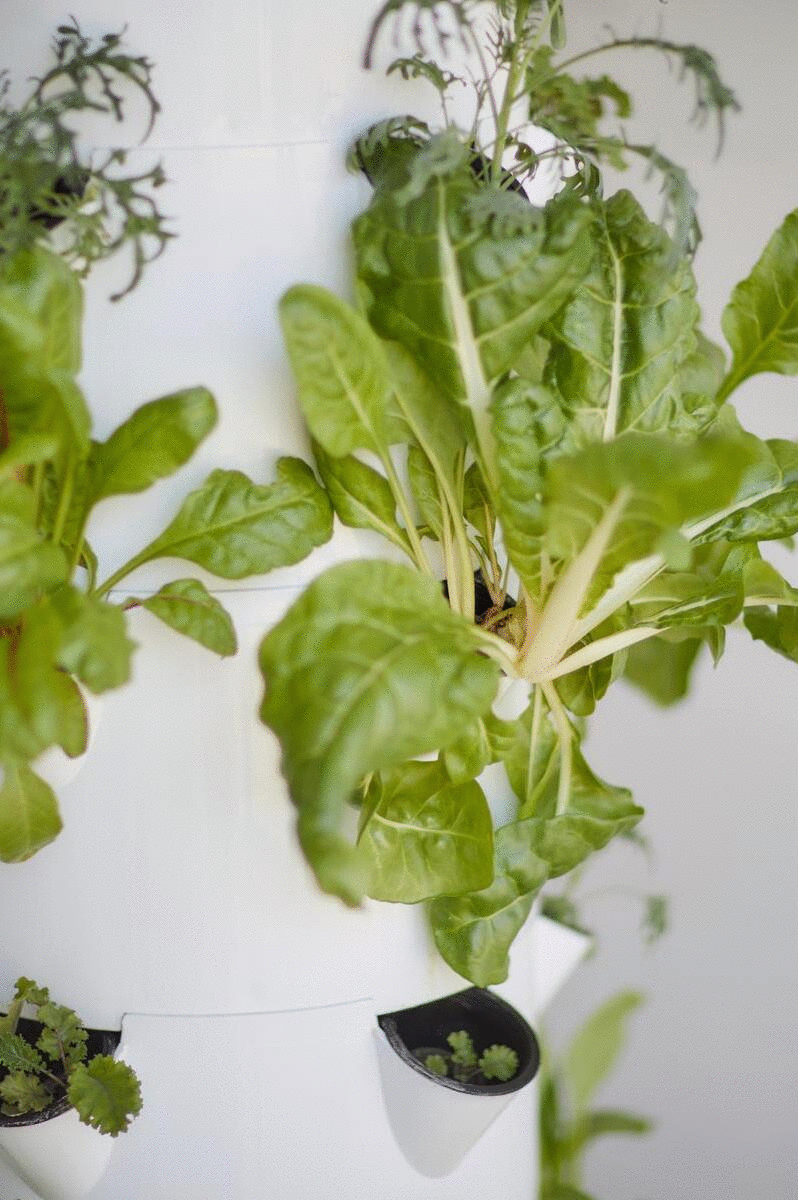 Transplanting Your Seedlings
My seedlings were looking super healthy so I put each of the grow cups into one of the 30 spots on my airgarden. And once my seedlings were cosy in their new homes, I plugged the pump into the timer and set it to 15-minute increments. This automated the cycle that delivers the exact amount of water and nutrients to the plants which fast-tracks their growth. If watering schedules are a mystery to you or your fear of overwatering is very real (me too), the good news is you don't need to worry about any of that since this system does it all for you. But best of all, this is a totally sustainable option since airgarden uses 95 per cent less water compared to traditional gardening. Winning.
Maintaining Your Urban Garden
I only have to commit five minutes a day to look after my plants. Since I live in Brisbane, I only check the water level every three days, but if you live in hotter climates it's recommended that you check a bit more frequently. Aside from that, I just keep an eye on any leaves that are wilting, discoloured or signs of pest damage, and trim them off. I keep a net over my airgarden to keep pests away but there's a bunch of organic pest sprays if you need.
Harvesting Your Produce
Now for the best part. My leafy greens like spinach and kale were ready for harvest within as little as 14-21 days so I was dropping them into my smoothies in no time at all. Depending on the time of year and weather conditions, plants like cucumbers and tomatoes bear small fruits around the 60-day mark, and my tomatoes stuck to this timeline since I started my urban garden journey towards the end of autumn.
Not only is gardening now my favourite hobby, but it also means I save big on my grocery bill. Airgarden is a total investment but since I spend an average of $15 a week on fresh produce, I know my airgarden will pay for itself within 12 months. Plus, they offer up the option to grow now and pay later. Winning.
Ready to step up your gardening game? You can get your hands on your very own airgarden right here and use the code ULAG50 to score $50 off!
For more tips on how to grow your own food at home, you can head over here.
Image credit: Elaine Casap, Sam Theiss