With regular travel off the cards for now, many of us are looking to our own backyard for our next adventure—and fortunately, it's absolutely gorgeous. But instead of swanky hotels, we're longing to go off the grid and unplug.
And while being at one with nature is lovely, we still like a bit a luxury which is why glamping has shot to the top of our travel bucket list. Australia is packed with epic spots that boast not only stunning surrounds but cosy beds, stacked mini bars and all the creature comforts you could want for a five-star holiday.
Melding the wonders of nature with some wicked luxuries, here's our list of glamping spots in Australia that are totally worth the splurge.
Nightfall Wilderness Camp
Lamington National Park, Qld
Nightfall Wilderness Camp has nailed glamping with the perfect combination of secluded wilderness and wholesome luxuries. In summer, you can open your canvas walls (don't worry, there's still mesh for the bugs) to relish in the surrounding rainforests. While in winter you can keep it intimately closed, spending your eves relaxing in the free-standing bath or curling up around the fireplace. There's also hand-carved stone basins, smooth wire-brushed timber floors, and lush organic bedding. If you want to go next-level luxury glamping, you can even opt for complete organic catering which basically means more time to enjoy the private natural spa-pools, lazy hammocks, explorations into the tangled forest, or—wait for it—an outdoor massage by the creek. Pure bliss.
Paperbark Camp
Jervis Bay, NSW
Surrounded by three national parks and a multitude of natural wonders, Paperbark Camp is the ultimate bush hideaway. Each of the 12 safari-style tents sit amongst soaring eucalypts and (you guessed it) paperbark trees, perfectly elevated to catch the breeze coming in from the bay. Opting for sustainability you won't find air conditioning, TVs or power points in your tent but—with wrap-around verandahs, an open-air ensuite, and (if you book the deluxe or king) an uber luxurious free-standing bathtub—you won't need them. Don't worry, if you suffer smartphone separation anxiety, you can recharge (and simultaneously nab yourself a divine meal) at the epic on-site treetop restaurant, The Gunyah Restaurant.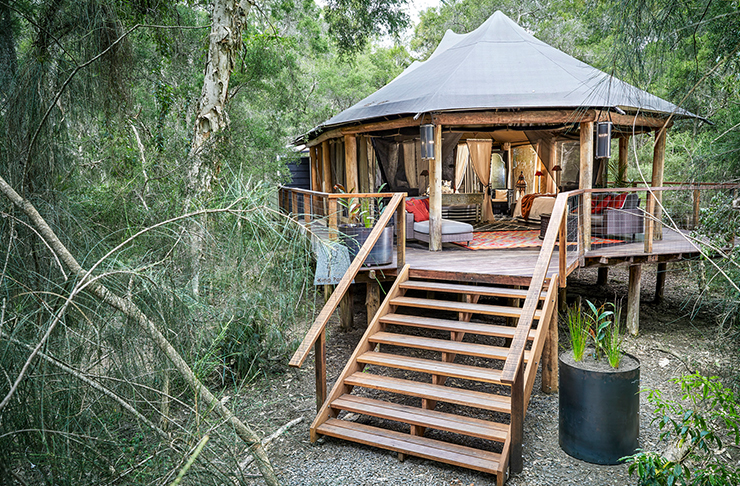 Bamurru Plains
Kakadu, NT
Immerse yourself in an incredible bush experience on the coastal floodplains of Australia's Top End at Bamurru Plains. The safari lodge boasts ten rustic bungalows with exclusive access to 300 km² of floodplains and savanna woodland on the Mary River, on the edge of Kakadu National Park. The solar-powered camp was built with a minimal impact on the environment meaning you can sip wines in the infinity-edge pool, scan the shallows for big saltwater crocodiles as you skim across floodplains by airboat or slowly cruise the Sampan River knowing your carbon footprint here is minimal.
Hideaway
Cabarita, NSW
Located in NSW's magical Cabarita Beach lies this ultimate glamping retreat. Think uber gram-worthy boho canvas tents scattered around a beachside site to create a gorgeous village. You'll sleep in stunning bell tents complete with plush beds, featuring pillowy soft Koala mattresses, floor rugs, charging sockets and tripod fans for those hot summer nights. The luxury versions even have their own air-conditioning unit, bar fridge, king-sized bed and lounge chair—it's practically a hotel room. As well as the stunning tents, the compact resort features shipping containers upcycled to create a chill out zone, communal kitchen and cooking area, complete with BBQs and inviting picnic tables, plus a fire pit for impromptu sing-a-longs.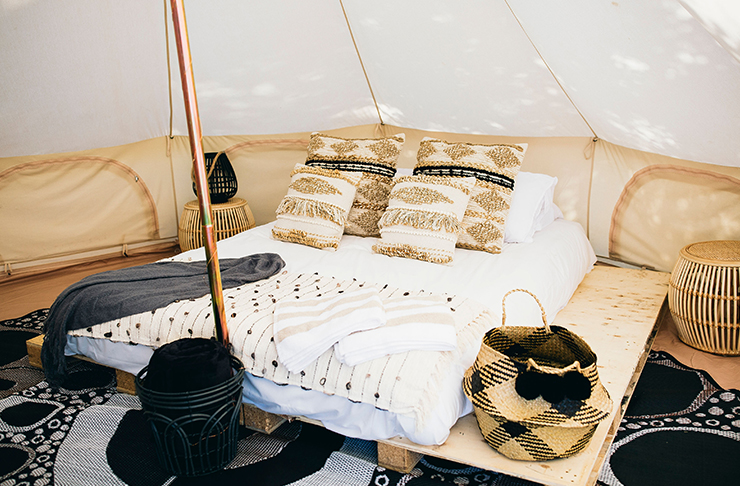 Sal Salis
Ningaloo Reef, WA
Fancy swimming with a Whale Shark or Humpback on your next glamping adventure? Ningaloo Reef is Australia's largest fringing coral reef spanning 260km. It's 1,200km from Perth, which makes it basically in the middle of nowhere, but it's well worth the hike. For a less adrenaline-pumping experience, there's also incredible snorkelling, kayaking, and loads of walks. As for the glamping bit, Sal Salis's huge wilderness tents are designed to blend with the environment. They're carefully placed on raised platforms in the sand dunes and have something super special very few others can boast about… epic ocean views. With a vino in hand, hop in the beachfront hammock and you'll never want to leave.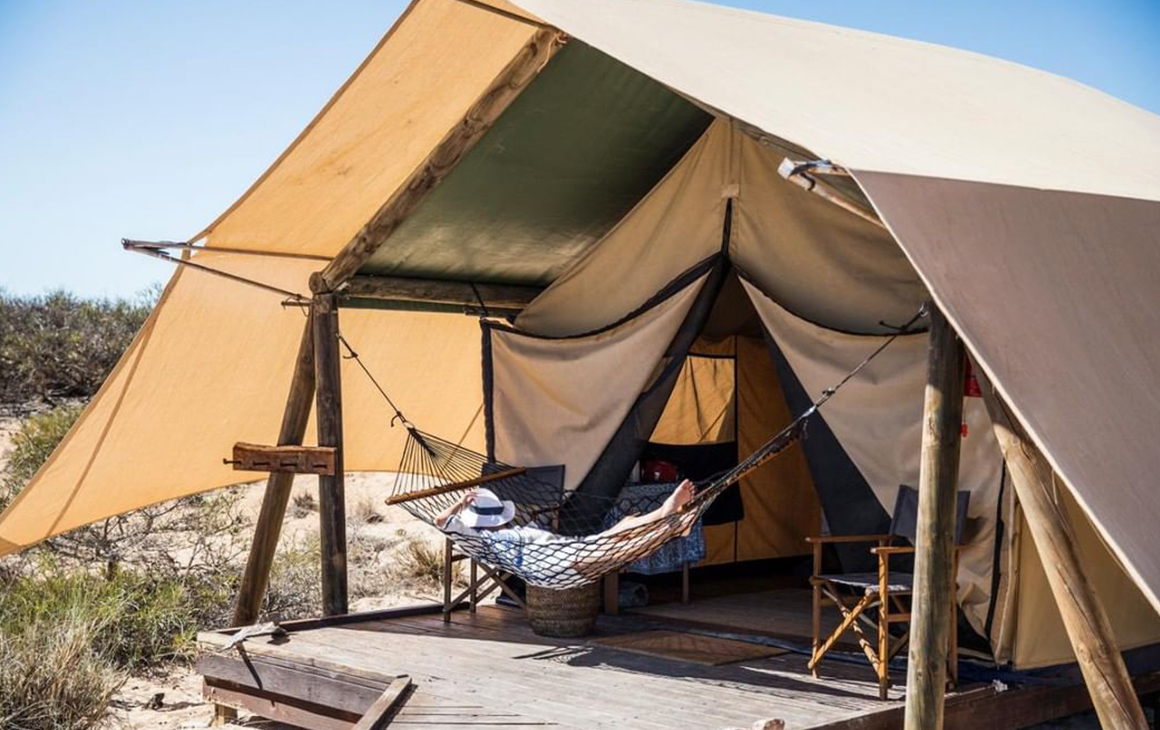 Cosy Tents
Daylesford, Vic
It's all about the little things that make your stay, well, cosy, with Cosy Tents. Their fully-furnished European canvas tents have extras like bluetooth speaker systems, bottled water, BBQ cooking facilities, charging stations, and (most importantly) hot showers. They're located just minutes from Daylesford, which could easily be dubbed one of Victoria's cutest towns and is in fact home to Australia's largest concentration of mineral springs. With art galleries, delicious food, quaint architecture, and an abundance of natural spas, you'll be able to glamp by night and pamp by day at this stunning spot.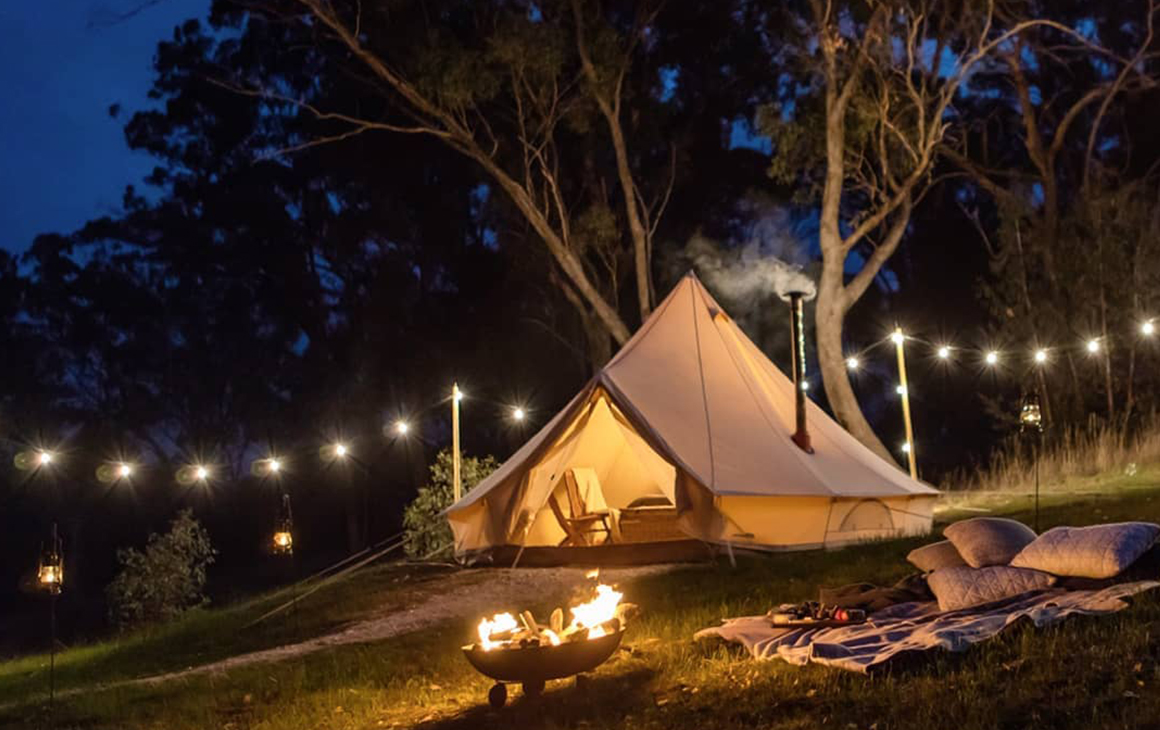 Ketchup's Bank Glamping
Boonah, Qld
Located on the secluded (and stunning) Boonah Scenic Rim, Ketchup's Bank Glamping is bush glamping at its best. Choose between the Ironbark tent (positioned on top of a ridge with spectacular views of Knapps Peak and the Border Ranges) or Knapps eco tent (positioned on top of a ridge with spectacular views of Knapps Peak and the Border Ranges). As well as boasting plush beds, you also score your own rudimentary private bush kitchen and campfire complete with a billy and cast iron campfire oven. And when you're not getting your outback on, there are loads of walks and wildlife to take in.
Banubanu Beach Retreat
East Arnhem Land, NT
If you're looking for something that is equal parts tranquil and sustainable then Banubanu is it. The glamping retreat is located on Bremer Island, just a 15-minute flight from Gove Airport in the pristine waters off Nhulunbuy. The eco-sensitive beach retreat was built in partnership with the Yolgnu people to ensure guests experience and appreciate the natural wonders and the culture of East Arnhem Land. There's five pristine beachfront "rooms" to choose from including an exclusive elevated penthouse. All rooms come with ensuites and beachfront decks and the retreat has a drool-worthy restaurant, bar and pool with magnificent views overlooking the Arafura Sea.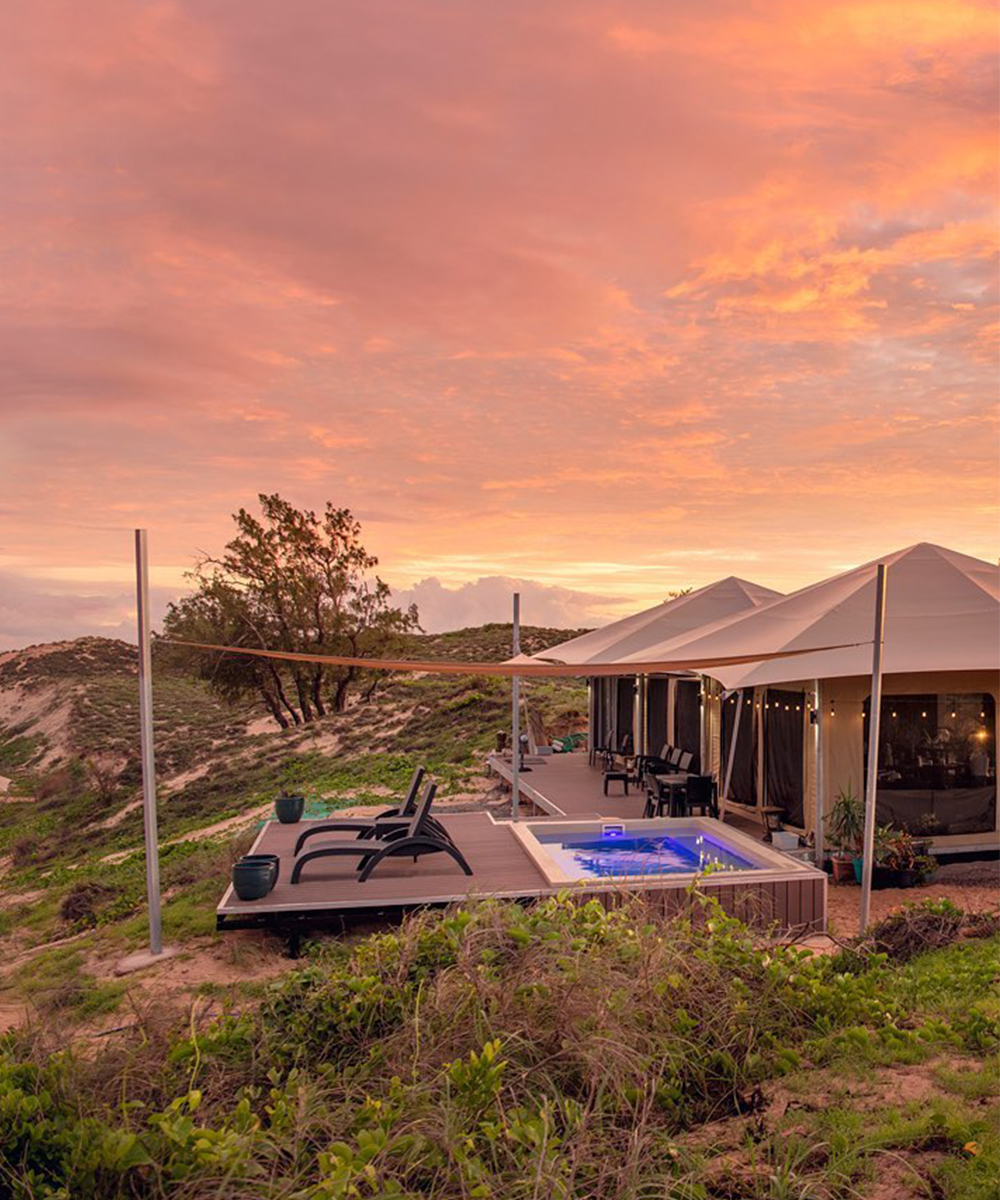 Haggerstone Island Resort
North Qld
Haggerstone Island Resort the crème de la crème of glamping. You literally need a private charter from Cairns to get to this secluded little gem of an island. The beach hut may not be a tent, but with very few walls, and literally made from driftwood, we decided it's close enough. Your hut is your own private tropical oasis right on the beach, surrounded by palm trees and hammocks. Once you're there, you'll want and need for nada. Absolutely all meals and adventures (like snorkelling, jet-boating, and fishing) are included. The only optional extra is a helicopter joy flight to check out some of the waterfalls on the island. This is casual, barefoot beach-hut style glamping at its very best.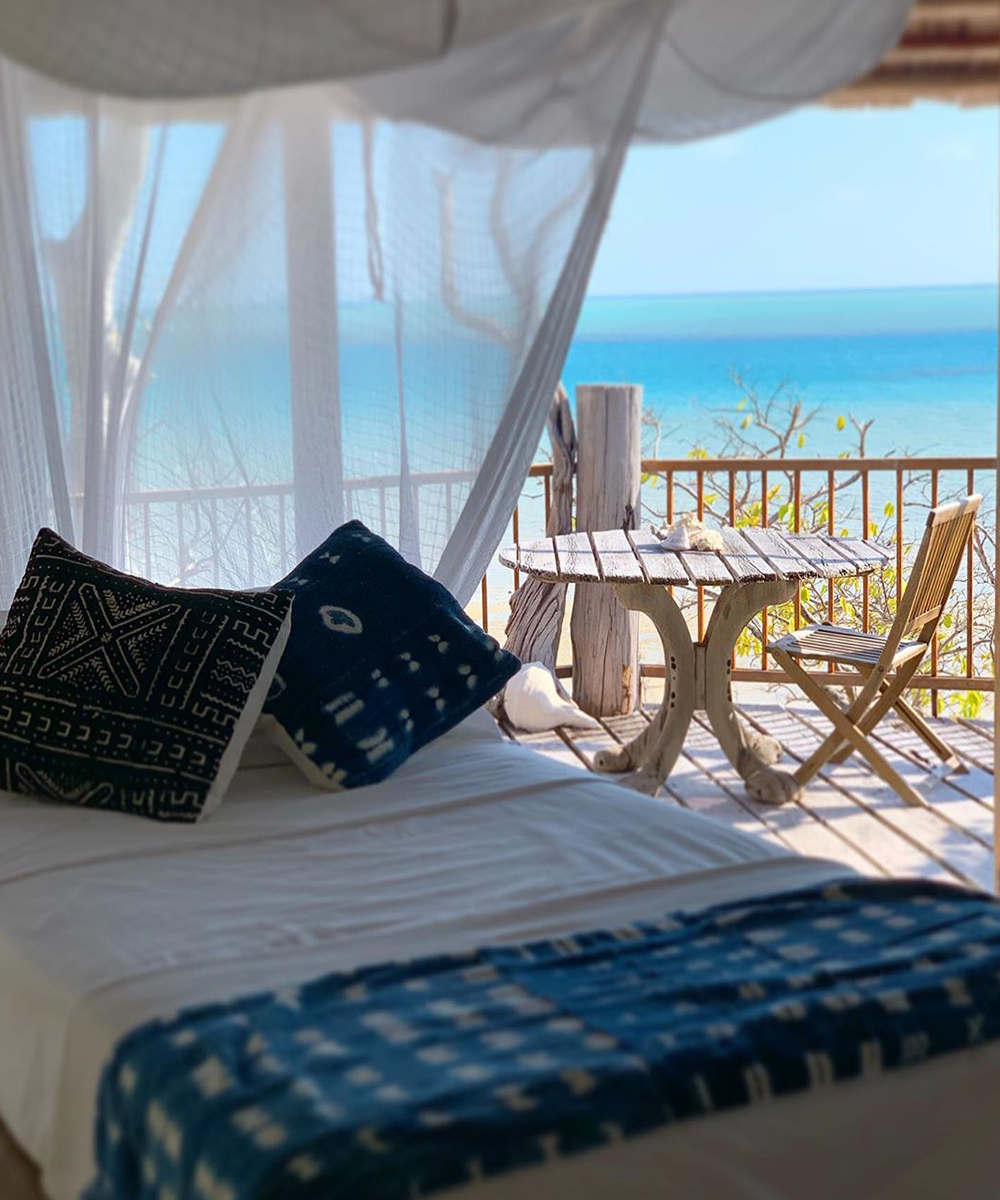 Pitch Luxury Camping
Noosa, Qld
Based in Noosa, Pitch Luxury Camping can set up your dream glamping holiday at just about any campsite or private property on the Sunshine Coast. Do you need… Dog-friendly? Beachfront? Remote? The ability to party into the night? You tell them what you're after from your campsite and they'll give you their recommendations. Then they'll get about setting up your luxurious five-metre tent and plush it out with all the creature comforts you'd like. They've also got a long list of optional extras like firewood, private toilets and showers, separate pop-up kitchen and dining tents, and… if you want to go all out… even a private chef or butler service! Hot damn, this can get as fancy as you wish.
Image Credit: Paperbark Camp, Sal Salis, Banubanu Beach Retreat, Haggerstone Island Resort, Cosy Tents, Hideaway, Nightfall Wilderness Camp