If you've been housed beneath a rock the past year, sacrificing home-lifestyle for that brunch, you may have missed the influx of men's grooming salons popping up across the nation. Well, rock dwellers, do we have news for you. Male grooming is booming. And hypothetically, if you've reached the point where your mates are pondering if you've been on tour with a rock band for the last six months, keep reading.

Or maybe you're just one dapper dude who digs a well-manicured face and bod, and gets all of Tom Ford's references throwing claims at grooming being the modern gentlemen's method of presenting the best version of themselves to the world, we're not gonna get in the way of the cause. In fact, we're so aligned with the cause that we've sifted the country to deliver you Australia's best male grooming salons. This is the moment your overgrown hair follicles have been waiting for.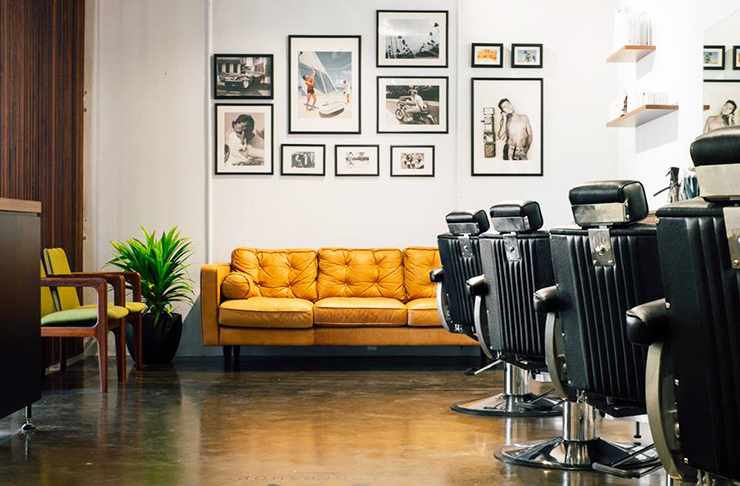 Twin Palms Barbershop
Fortitude Valley, Brisbane
You've gotta love a fresh batch of barbers doin' it right, especially when they're based upon James Street soil. A prime slice of men's grooming real estate backed with a traditionally trained team throwing energy into shaves, trims, snips and treatments with the modern gent in mind. When you're chasing the slickest skin fade in town, we'll find you beneath the palms sippin' on a tinnie from one of your favourite local breweries; we're lookin' at you, Green Beacon. And what's their must have product for perfect hair? EVO salty dog salt spray for those perfectly manicured locks is where it's at.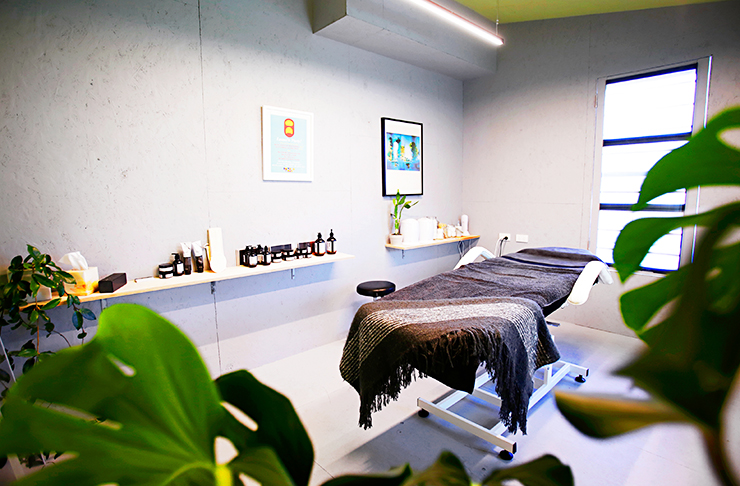 Young Turks
Mosman Park, Perth
Want the low-down when taking care of the hair down thurrrr? Below the belt manscaping has always edged on the side of mystery, but with Young Turks in Perth, consider the mystery solved as they approach the task with a level of confidence, skill and care that makes a Full Monty bearable. Trust us, when that emergency Tinder date strikes, it's Young Turks you're gonna wanna have on speed dial. If you wanna know what their absolute must use product is, look no further than the The Groomed Man Co's Activated Charcoal and Bamboo Body Scrub. According to these guys it's, "So good, so scratchy, so black, so cool".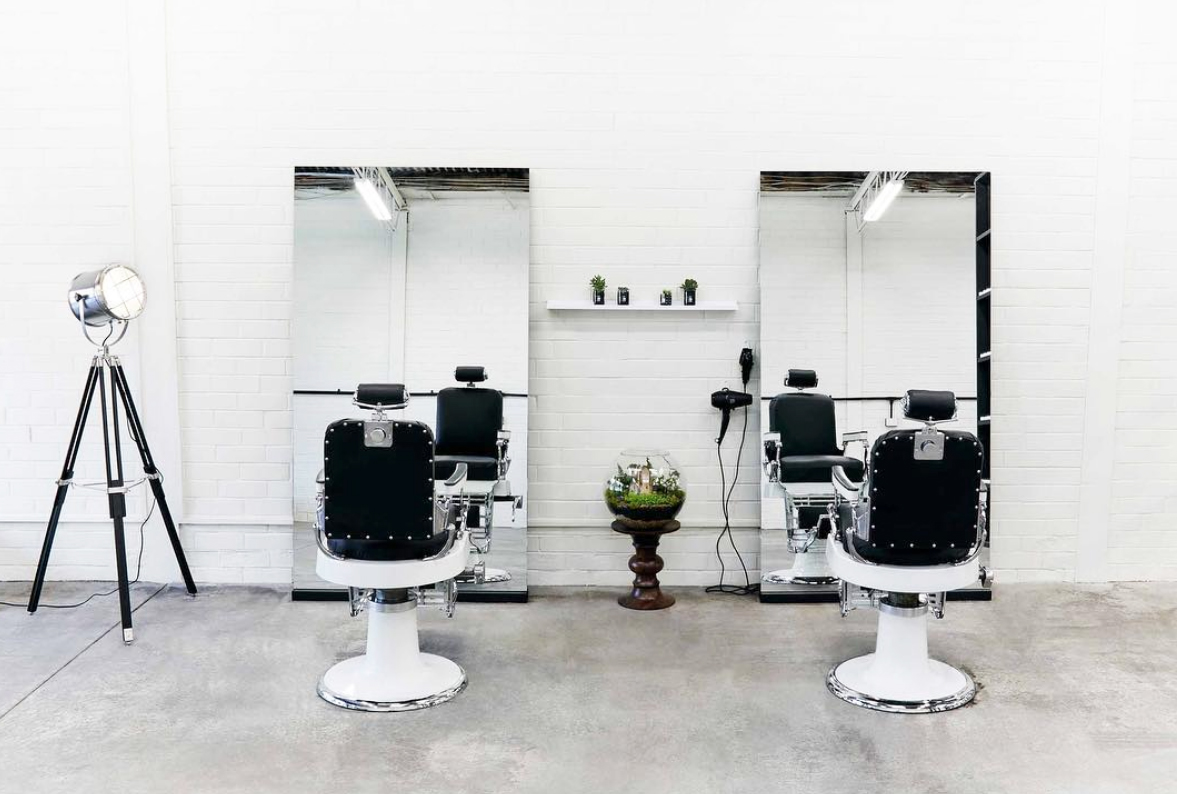 Morris Motley
Collingwood, Melbourne
No stranger to a pair of scissors, rumour says the founder, Rob Mason, was styling hair prior to pencilling his first word. Okay, ignore the rumour (we may have made that up), but absolutely believe the hype that surrounds Melbourne men's salon, Morris Motley. Prepped with 14 years' experience, Rob not only owns one of the most luxe salons in town, but, drum roll please… in collaboration with a team of innovative chemists, he also formulates the exclusive line of products used onsite. One of their best sellers is the clay cleanser. It's the perfect product to prepare your hair for styling, not only removing toxins but also conditioning too.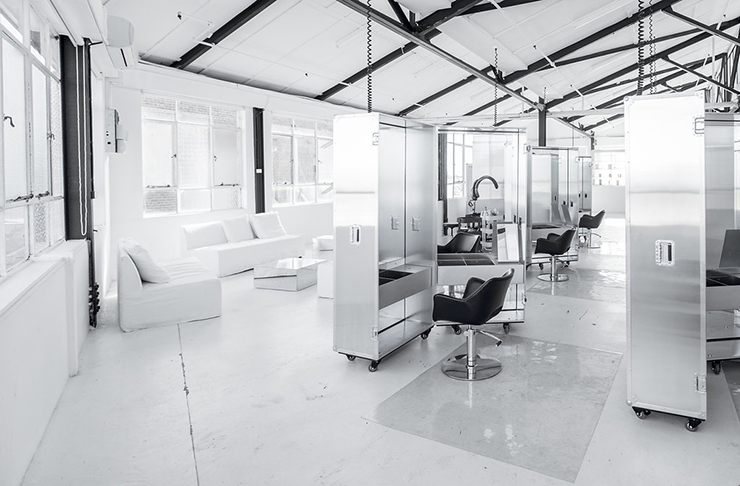 Usfin Atelier
St Peters, Sydney
Led by an award-winning stylist and backed by a globally plucked team of talent, Usfin Atelier is the place to go when the typical barber repertoire just doesn't make the cut (literally). They've hit fast-forward on the aesthetics to a futuristic white monochrome design, and guys that's just the interior, wait until they've given your hair a moment of their time. When your imagination flares beyond the pomp, quiff or fade, it's Usfin Atelier's bespoke styling you'll wanna have on standby. One of their favourite products is the HYDRATE-ME.MASQUE delivering hydration and moisture to dry hair, or hair that's been exposed to harsh, dry climates. We're sold.
Evolution Barbershop
Newstead, Brisbane
When it comes to grooming, there ain't nothing wrong with a man wanting to take care of another man, and once you've stepped foot inside Evolution Barbershop of Newstead, you'll know exactly how that feels. With a loyal following feat. some of Brisbane's finest, the Evolution boys nail the craft of making gents look good in a manner of old-school decadence. Young to old, hipster to corporate, it doesn't matter where on the spectrum you sit, the $60 cut and works maintenance will be one of your best regular investments. If you're wanting to keep your locks held tightly, they love American Crew Fiber. It also helps to thicken, texturize and increase fullness to hair while providing a matte finish. End scene.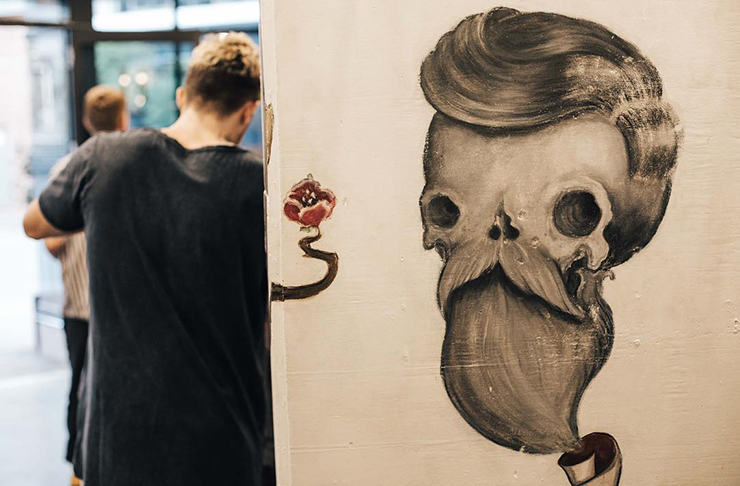 His Lid
Subiaco, Perth
Never, and we mean, ever, underestimate the power of a good haircut, for we all know the multitude of wrongdoings a freshly groomed man can heal. Forgot to take the rubbish out? No problem. Simply rock up on the doorstep with a brand-spanking new do, and just like that, harmony will once again be restored. We know what you're thinking; where are you gonna get this groom sesh of a lifetime? Well, Perth-side barbershop, His Lid, is a neat place to start. Busting out haircuts, clipper shaves, blade shaves, beard sculpts, camouflages and well, you name it, these guys will have you back into your partner's good books in a flash. What do they recommend for your skin? The Groomed Man Co miracle product the Face Fuel cleanser. This beauty uses activated charcoal to deeply cleanse the skin while green tea and marshmallow root extract target inflammation and prevent the skin drying out. We're so keen.
SpaQ
CBD, Sydney
If karma's thrown you a lucky ball in the shape of a QT hotel stay, we're counting on you to vouch for the level of cool of which its reputation is staked. Delving into the art of unwinding, the luxed-out décor of SpaQ invites men to an indulgent menu of facials, massages, and body wraps, but we're gonna draw your attention to our pick of the bunch, The Godfather. Whoa-ho-ho, this Skeyndor skincare facial designed to hydrate, energise and balance masculine skin will have you nailing every facial interaction post-treatment (read: hello lay-deez). They highly recommend their clients use Skeyndor's Redness Preventing After Shave Balm. This miracle product is ultra-refreshing and reduces irritation after shaving. Ahh, SpaQ, kudos for making Aussie men's skin great again.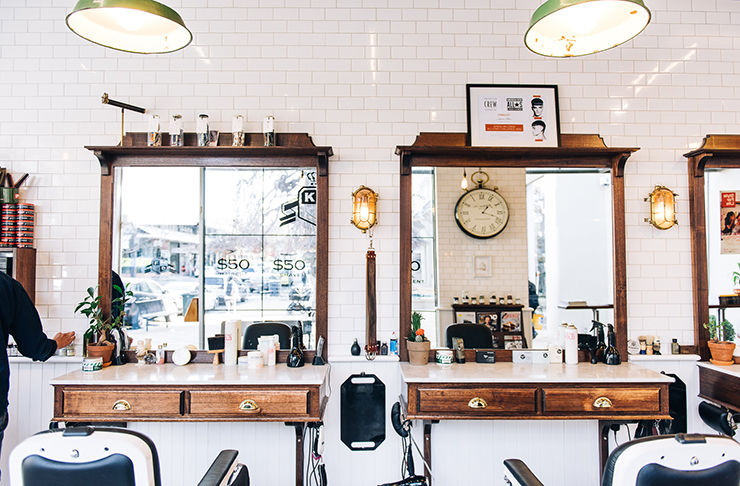 King's Domain
South Yarra, Melbourne
We're all for equality, but there's no denying when it comes to taming the mane, our female friends are claiming more of the industry than is truly fair. Sure, an equality riot beckoning 'more salons than 7/11 stores' wouldn't go astray, but since King's Domain burst into the scene with their six-store strong empire scattered throughout Melbs, we're pretty sure the playing field has been levelled. Providing gents with the royal treatment in hair styling, cutting, shaving and trimming, do yourselves a favour and make your next date with a King's Domain throne. Until then they recommend their clients use Morris Motley Treatment Styling Balm. It's the ideal matte styling product and it's even vegan too.
The Barbershop
CBD, Sydney
When a gin-centric speakeasy merges with a barbershop, we wouldn't blame you for questioning your acceptance into Heaven, but folks, get your feet back on the ground because this kinda Heaven exists IRL. Located within the York Street nook of Sydney's CBD, it's a sophisticated bar by night, and by day it's a parlour-styled barber hinting at a time gone by. Full gin and groom menus on offer, and if you want our word of advice (believe us, you do); the time-honoured straight blade hot towel shave infused with essential oils is the #1 treatment to beat. And what's their go-to product? Enright's Original Gin Shave Oil, that's what. It's cooling, calming and contains gin. What more could you possibly need?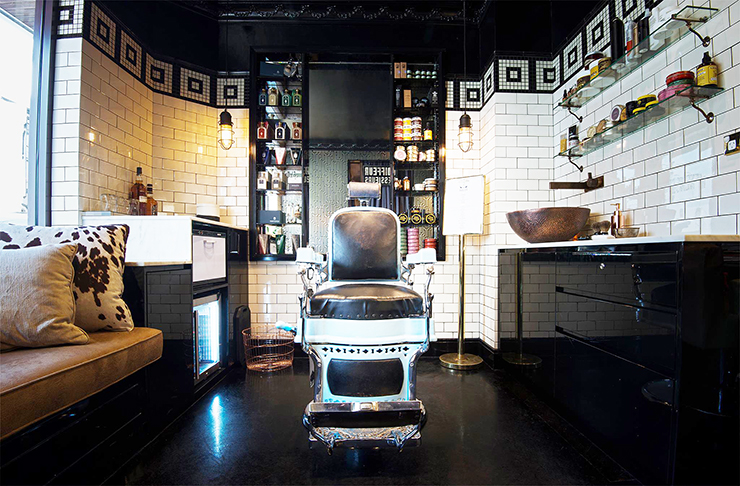 The Men's Grooming Room
Paddington, Sydney
How would you love to perch your butt upon a classic 1950s American barber chair within the ultimate man-cave of a salon in one Sydney's coolest 'burbs? Ah, guys, your attention, please, because this situation is SO REAL when you check yo'self into The Men's Grooming Room of Paddington where they're filling the slot for fellas seeking a no-fuss cut, shave, trim, or tidy-up inside a space that effortlessly blends modern perks with nostalgic charm. You need to jump at this opportunity. It's everything that's right in the grooming world right now. And if you're wanting to keep your moustache on point, they love Truefitt & Hill's Gentlemens Moustache Wax. It not only softens but also conditions the whiskers.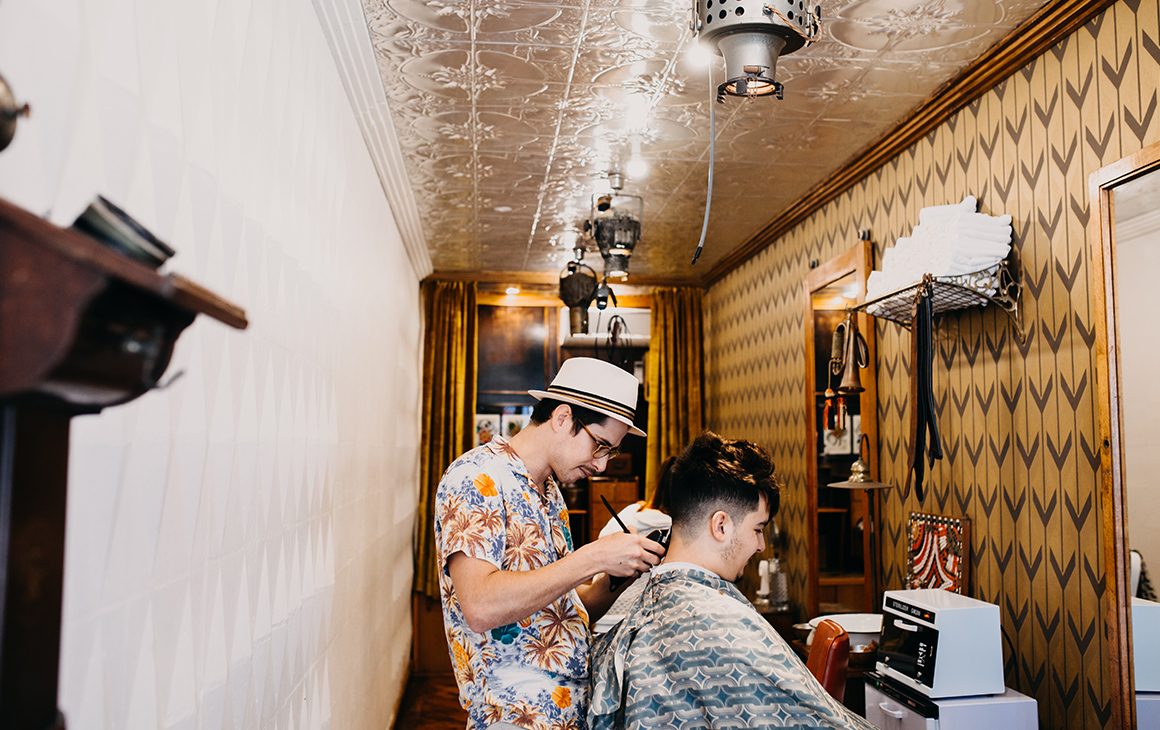 Zeppelin Barbers
Miami, Gold Coast
Jase Alpen knows his way around a barber shop, having snipped and shaved his way across the Gold Coast. For those dedicated clients wondering where he'd snuck off to, in 2015 Jase opened Zeppelin Barbers, a two-seat man cave within Miami salon cum gallery, The Front Yard. Expect friendly banter, slick cuts, and rock 'n' roll theming and tunes. By appointment only.
Want more? We tried the GoT manzyme facial. Check it out here. It's a cross between Freddie Kruger, an avocado's shell and a relief map of the Andes.
Image credit: Yaseera Moosa; Elle Borgwood; Simon Shiff for The Urban List