If you've been to a museum or two in your life, then you know it's sometimes hard to pass up a good coffee-and-pastry session at the museum's dedicated cafe. Sadly, not all museum cafes are created equal—some are great, some are decent and most are downright disappointing.
So in the spirit of Urban List Art Month, we've scoured Australia for the best museum cafes for you, so that next time you're in the mood for some gazing and grazing, you can make sure both your eyes and your stomach are equally satisfied. Here are some of the best museum cafes in Australia.
The Museum Cafe | National Museum Of Australia
Canberra, ACT
If you haven't visited our nation's capital in a while, then this might be a good excuse to do so. The Museum Cafe at NMA offers impressive architecture and spectacular views over glittering Lake Burley Griffin. Broadbean Catering is the Museum's exclusive caterer, serving up some pretty gourmet options—we're talking double smoked leg ham toasties with Gruyere, bush-dukkah crumbed Barramundi burger and heaps more. With plenty of vegetarian, gluten-free and even dairy-free options, it's the perfect spot for a quick post-art bite.
MCA Cafe | Museum Of Contemporary Art
Sydney, NSW
Boasting a rooftop spot with a great view, the MCA Cafe is not one to miss if you find yourself in the New South Wales capital. Serving up pastries, sandwiches, salads and plenty of finger-licking mains, MCA Cafe caters to whatever stage of hunger you're in after having just soaked up all that great contemporary art. You can take a look at their menu here.
Kittelty's | Art Gallery of Ballarat
Ballarat, VIC
Kittelty's is a small family run café in historic Lydiard Street, just inside The Art Gallery of Ballarat. Their warm and comfortable café offers food that is handmade daily, made with ingredients sourced predominantly from Ballarat and surrounds. This museum cafe serves up some pretty delicious soups (Senegalese Peanut Soup, anyone?), loaded sandwiches, and mouthwatering cakes and pastries. Definitely worth the trip.
Food Lore | MOD
Adelaide, SA
MOD. is Australia's leading future-focused museum, provoking new ideas at the intersection of science, art and innovation. So it's no surprise that the MOD. museum cafe is pretty epic. Food Lore is a cafe, function space, and catering service all wrapped into one. Keep an eye out for their ever-rotating specials (seafood laksa, anyone?) or dig into classics like creamy risotto, fresh salads, curries, and much much more.
Café Martin | Scottsdale Art Gallery
Scottsdale, TAS
Operating since 2005, the Scottsdale Art Gallery exclusively features Tasmanian artists who use all kinds of media, including hung artwork, fine pottery, wood, glass, jewellery and more. They also have an amazing gallery cafe that serves up lunches, cakes or treats, and allegedly the best coffee in the North East. And unlike typical museum galleries, you can enjoy your treats surrounded by the art. Sounds pretty ideal.
Picabar | PICA
Perth, WA
All-day breakfast, scrumptious mains and some pretty great drink options: welcome to Picabar. Housed at the eastern end of the historic PICA building, PICA Bar is a local favourite and it's easy to see why: great food, great drinks, and great surroundings. You can get cosy indoors or enjoy the fresh air and greenery in the spacious alfresco area before or after your PICA visit. Add it to your museum cafe list.
QAG Cafe | QAGOMA
Brisbane, QLD
If you're looking for a picturesque snack or meal in South Bank, QAGOMA has got you covered. You can have lunch under the trees in the secluded Sculpture Courtyard by the water while soaking up the rays of that sweet, sweet Queensland sunshine. Dig into mallow lamb braised in red wine, cured salmon gravlax baguette, or other heavenly options. Wash it all down with a little wine or maybe a sparkling—we're not judging.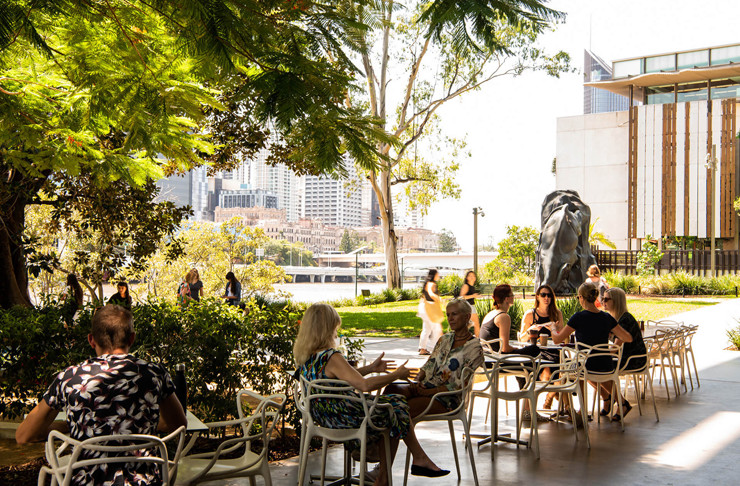 Burnett House Cafe | Burnett House
Darwin, NT
Burnett House is a historic building that forms part of the Myilly Point Precinct in Darwin and it's the only remaining two storey house designed by architect Beni Burnett. While it's not your average stare-at-paintings kind of museum, it still counts. And what's even more important is that Burnett House serves afternoon teas on the third Sunday of every month from 3 pm to 5 pm. Scones, cream, cakes, tea, and coffee. Enough said.
MONA Cafe | MONA
Hobart, TAS
It would be a crime to leave the MONA Cafe out of this round-up, so here it is. Sip some hot coffee and nibble on tasty treats overlooking the magnificent jetty. You can choose between an array of fresh salads, pastries, and sandwiches all while admiring the landscape and pondering all the cool art you've just seen.
ACMI Cafe & Bar | ACMI
Melbourne, VIC
While ACMI is closed for redevelopment at the moment, the ACMI Cafe & Bar usually slings some pretty good stuff—think pulled beef taquitos, Optic Wagyu burgers, roasted cauliflower, Roquefort arancini and tons more. So if you're in the area, ACMI Cafe & Bar will definitely hit the spot.
Want to drink up more culture juice? Dive into all things Art Month in our Art & Design section.
Image credit: MONA | Jacquie Manning | Food Lore | QAG Cafe