It might have been the year of home-delivered booze and bottled cocktails sipped in sweats and socks—but in spite of it all, a resilient hospitality industry in both Australia and New Zealand brought the goods with some seriously stunning new venues in 2020.
From a soaring sky-high refurb inspired by The Jetsons in Sydney, to an overwater river bar in Brisbane and popping Miami Vice vibes in Perth, if design matters as much as the vino and the view, you'll want to plan your next (border-restriction-free) Aussie or NZ trip around these pretty spots. And we're giving an extra special shout out to Melbourne, who even after months of lockdown, is still wooing us with their hard-to-beat bar scene and not one or two, but three venues worthy of a spot on this list.
Say cheers to 11 of the most stunning new bars in Australia and New Zealand.
Melbourne
Baller's Clubhouse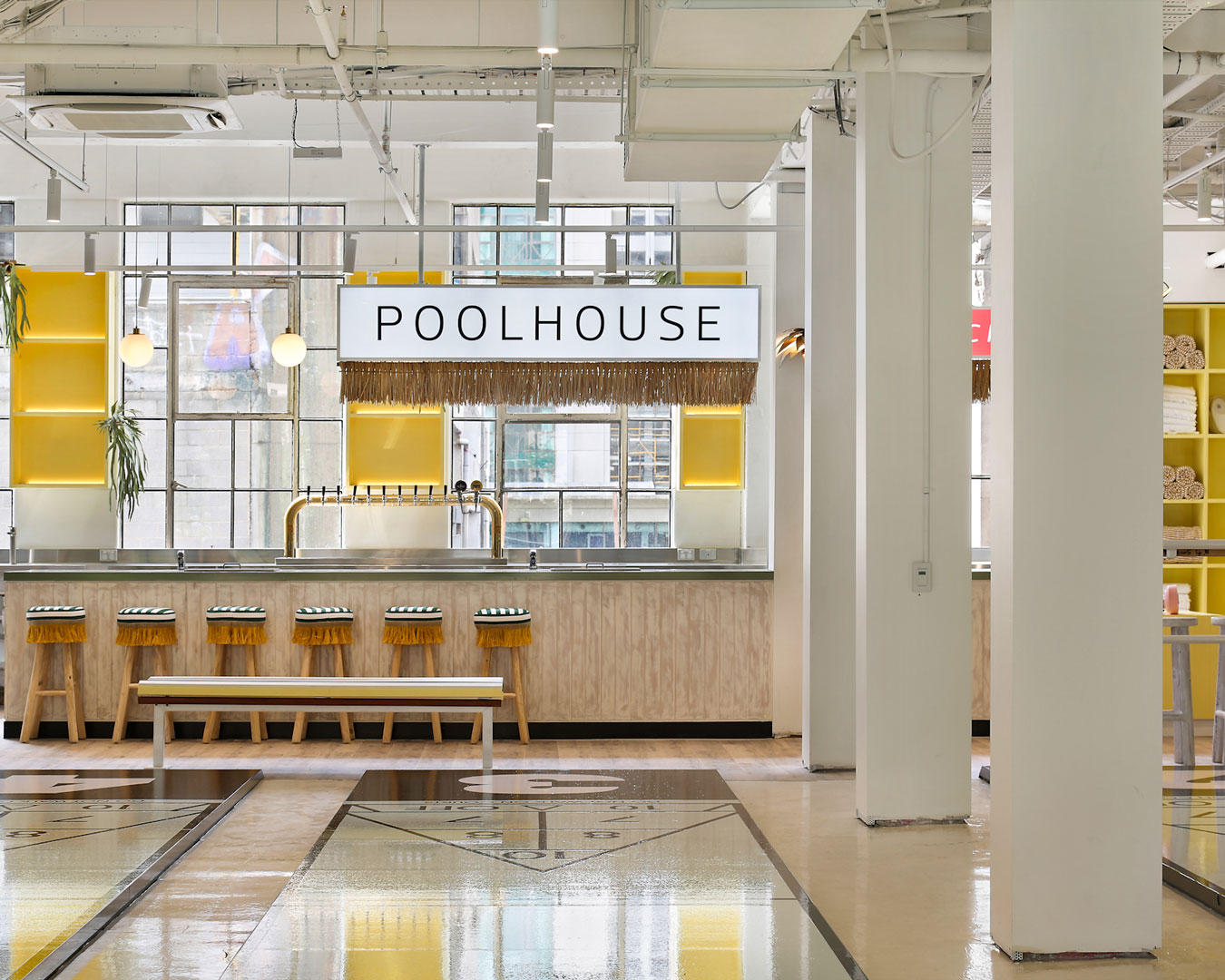 Proving truly nothing can stop this city, Baller's Clubhouse is a brand new "supervenue", set across a hefty 2500sqm. It's the largest licensed venue in the Melbourne CBD, and along with its 75 beer taps, Baller's Clubhouse also features 12 pimped-out ping pong tables, six techy dart booths, shuffleboard courts, and even an immersive VR playhouse. Dreamt up by Elle Critchley Design, it's the perfect fusion of tech, luxury, and fun—and a good-looking reboot of the age-old arcade bar.
Gum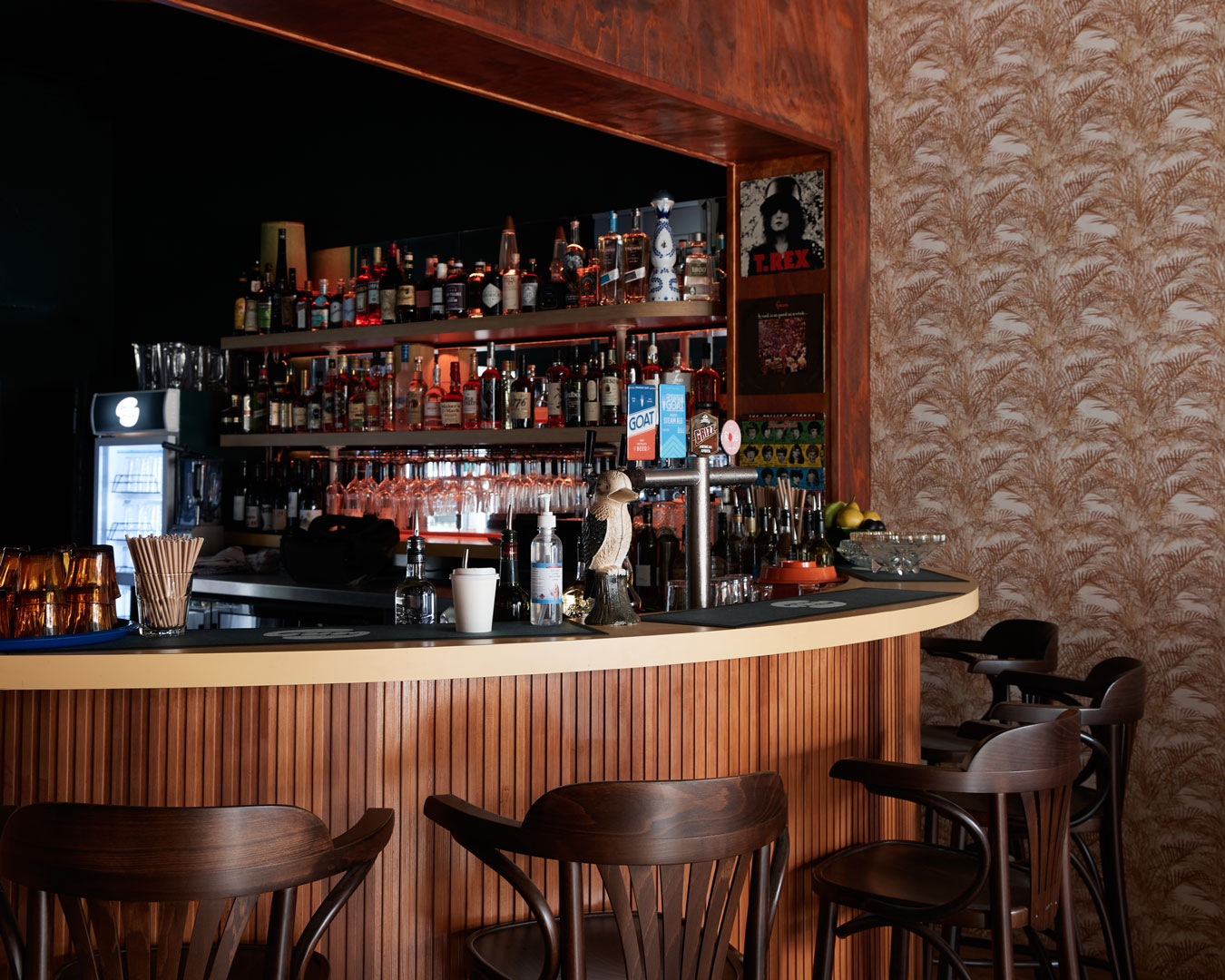 Serving meat pies, vanilla slice, and banana cream daiquiris, Gum is a little trip back to the 70s and we are all about it. Brunswick-based interior designer Bianca Sciuto is responsible for the wood paneling, chocolate wallpaper, retro lamps, and tangerine tabletops—a distinct 70s-era Australiana that's nostalgic and a tiny bit rock and roll all at once. There's also a beer garden, which is exactly what every small bar needs.
Poodle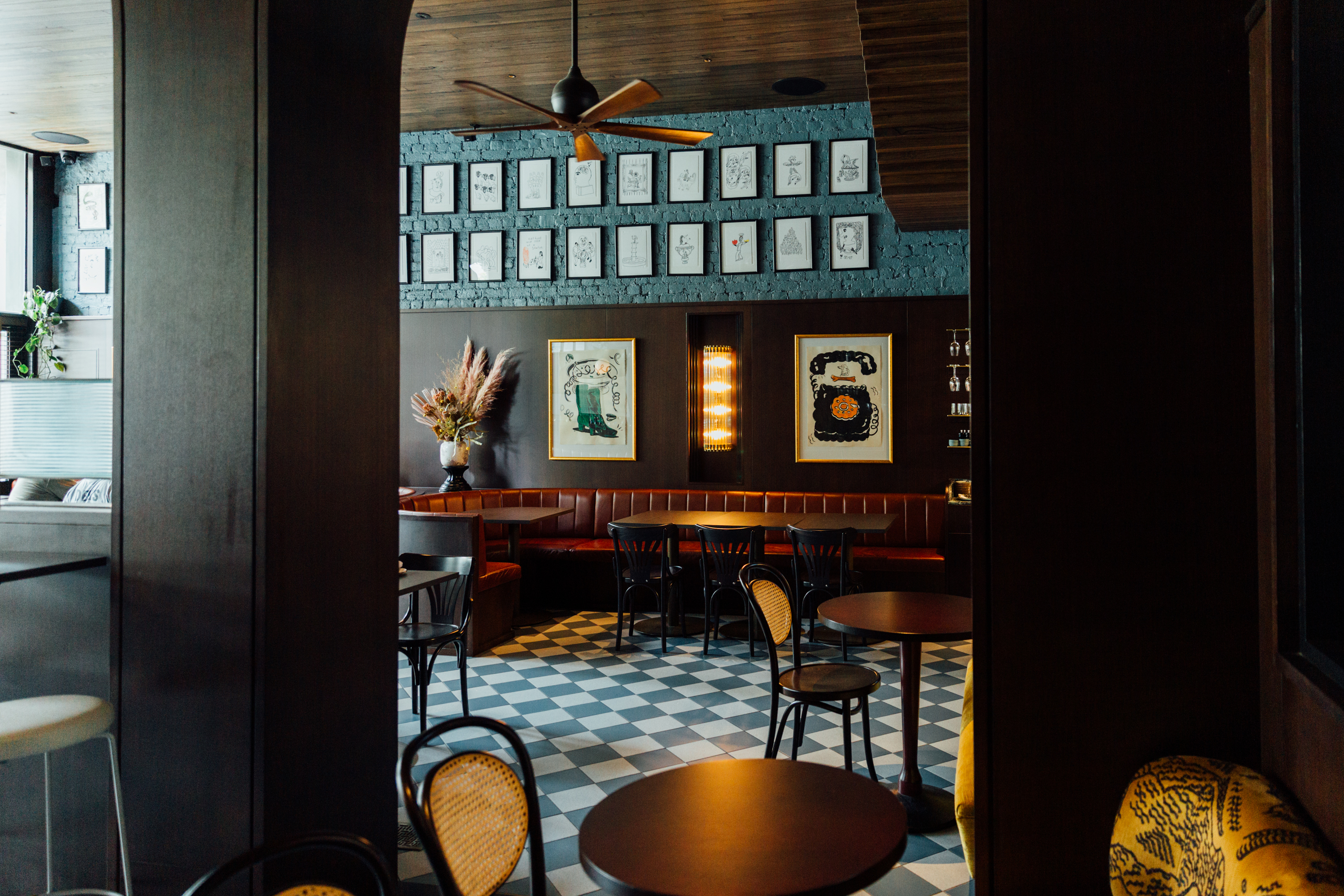 Historically, any foodie trip to Melbourne would have had Cumulus Inc on the itinerary. Now, you'll need to add Poodle to your list too—a lofty split-level fine-diner and bar from chef Josh Fry (who has both Cumulus Inc and Marion on his CV). The design is by Bergman & Co and feels like an old-world European hotel with ruby red leather booths, checkerboard tiles, polished wood, and warm lamplight.
Perth
Neon Palms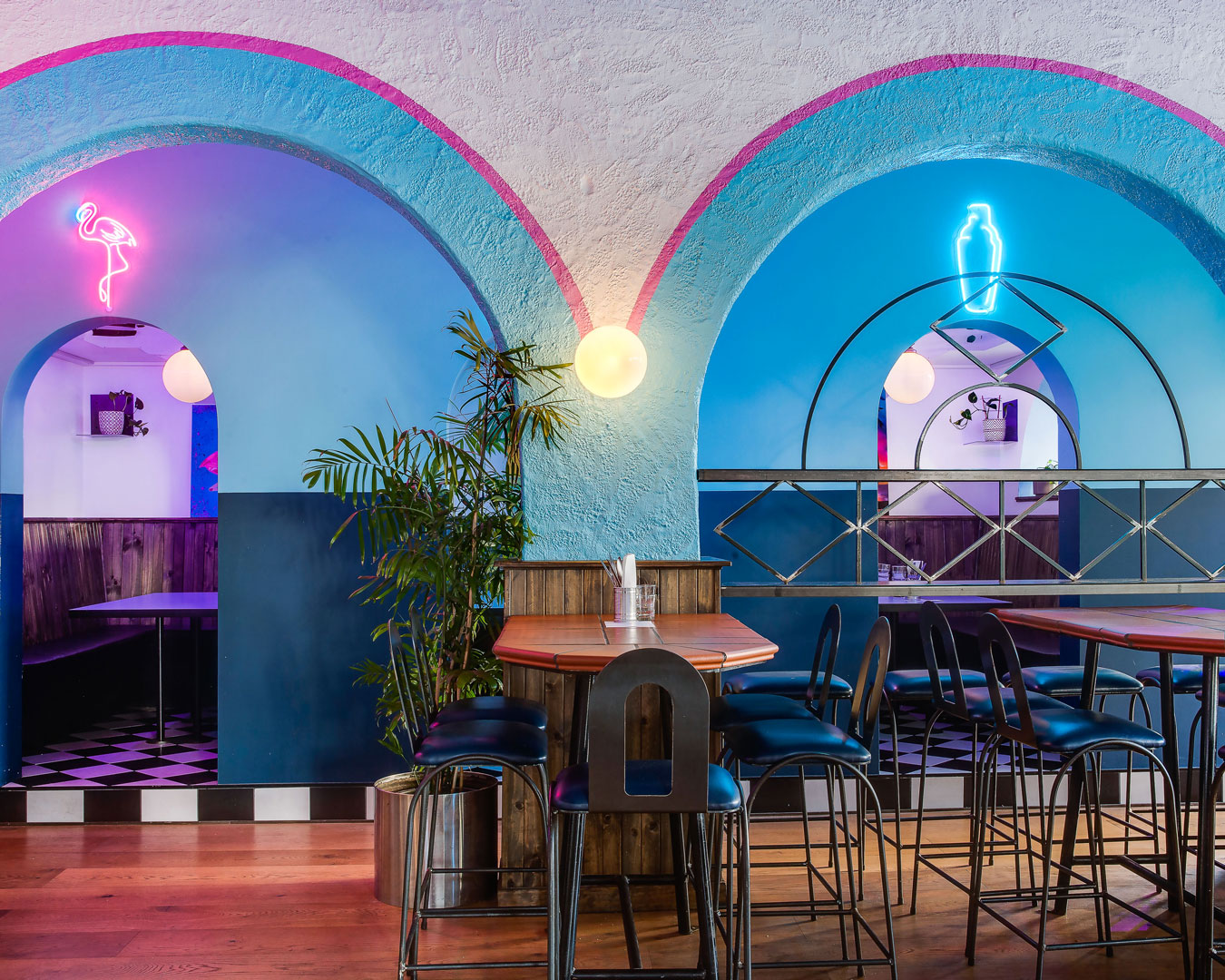 You can't really go wrong with a Miami Vice theme, pina coladas, and a tasty South American-inspired menu. Such is the vibe at Neon Palms, a new spot in Perth's Northbirdge. Crux Creative helped set the mood with that playful neon logo and pink and violet colour palette, while Overtime Design infused the bar with a playful 80s edge that well and truly fits the name. When you walk in, bright "Welcome to Miami" lettering greets you at the door, before palm tree silhouettes, brightly coloured archways and pops of neon light pull you deeper into the bar.
SKØL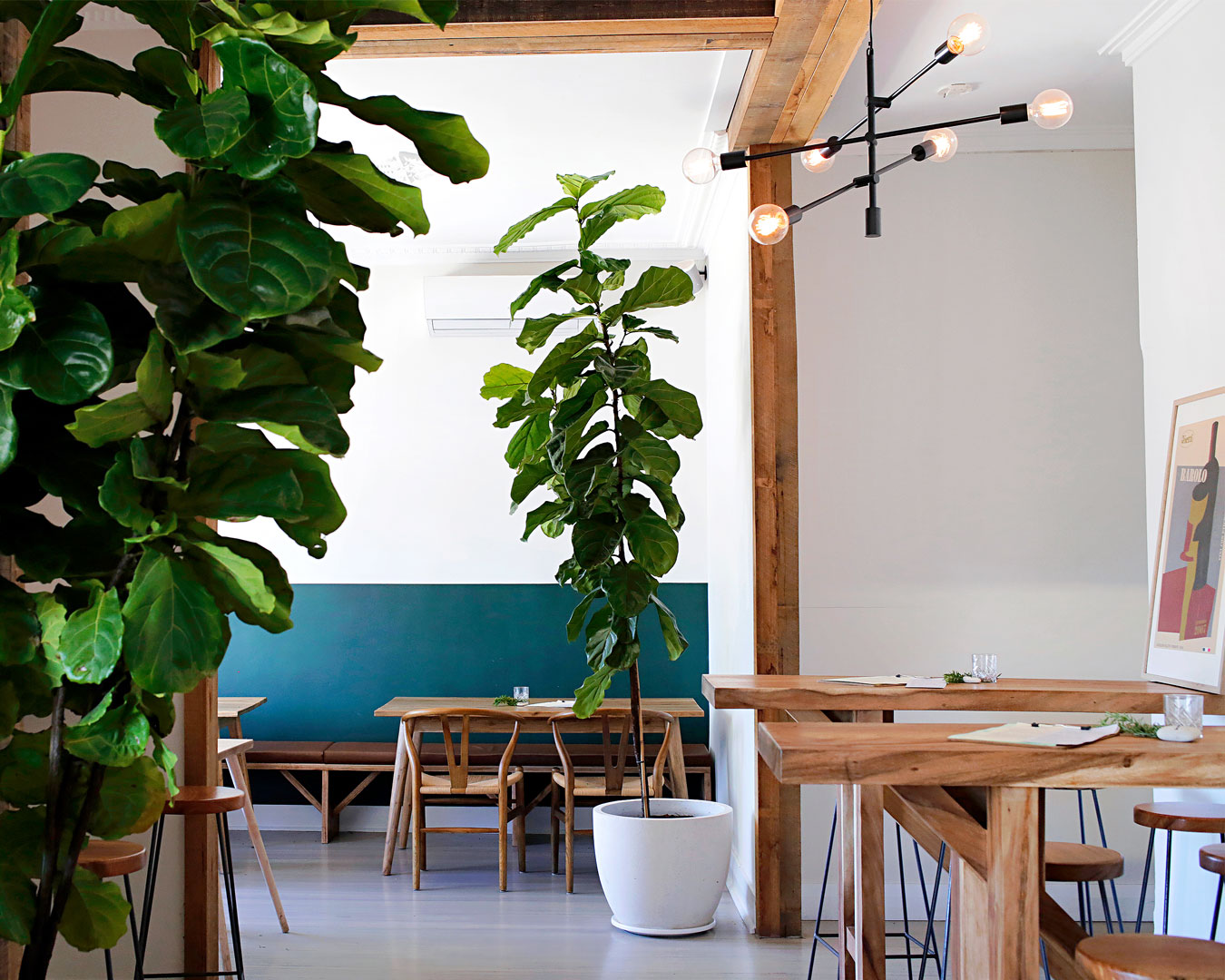 Cafe by day, natural wine bar by night, SKØL in Scarborough is a minimalist dream, channeling serene Scandi vibes complete with some popping green Fiddle-leaf figs. It looks how lazy Sunday afternoons should feel, warm timbers, oozing natural light, and a sunny porch to sip pet nat or craft beer and snack on charcuterie as the weekend melts away.
Brisbane
Maya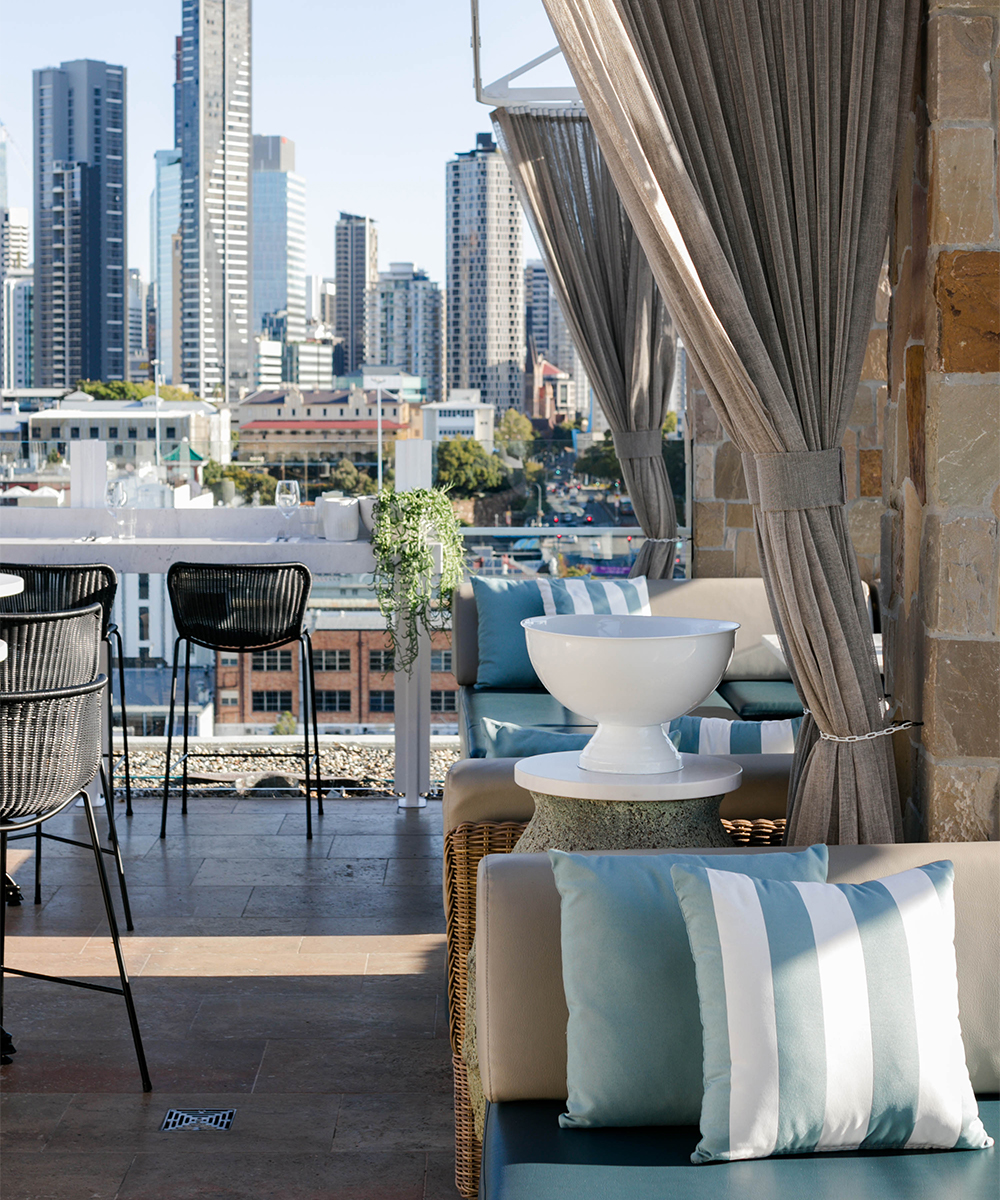 Forget Tex Mex, authentic Mexican is having a moment on the East Coast. MAYA is a rooftop spot inspired by Mexico's Riviera Maya, the stretch of Caribbean coastline that includes Tulum and Playa Del Carmen. Along with its pretty view of the Brisbane city skyline, and the extra-fresh watermelon margaritas, MAYA's cool whites, stony blues, desert cacti, and hanging plants will have you feeling like you're on the Mexican holiday that 2020 stole.
Will & Flow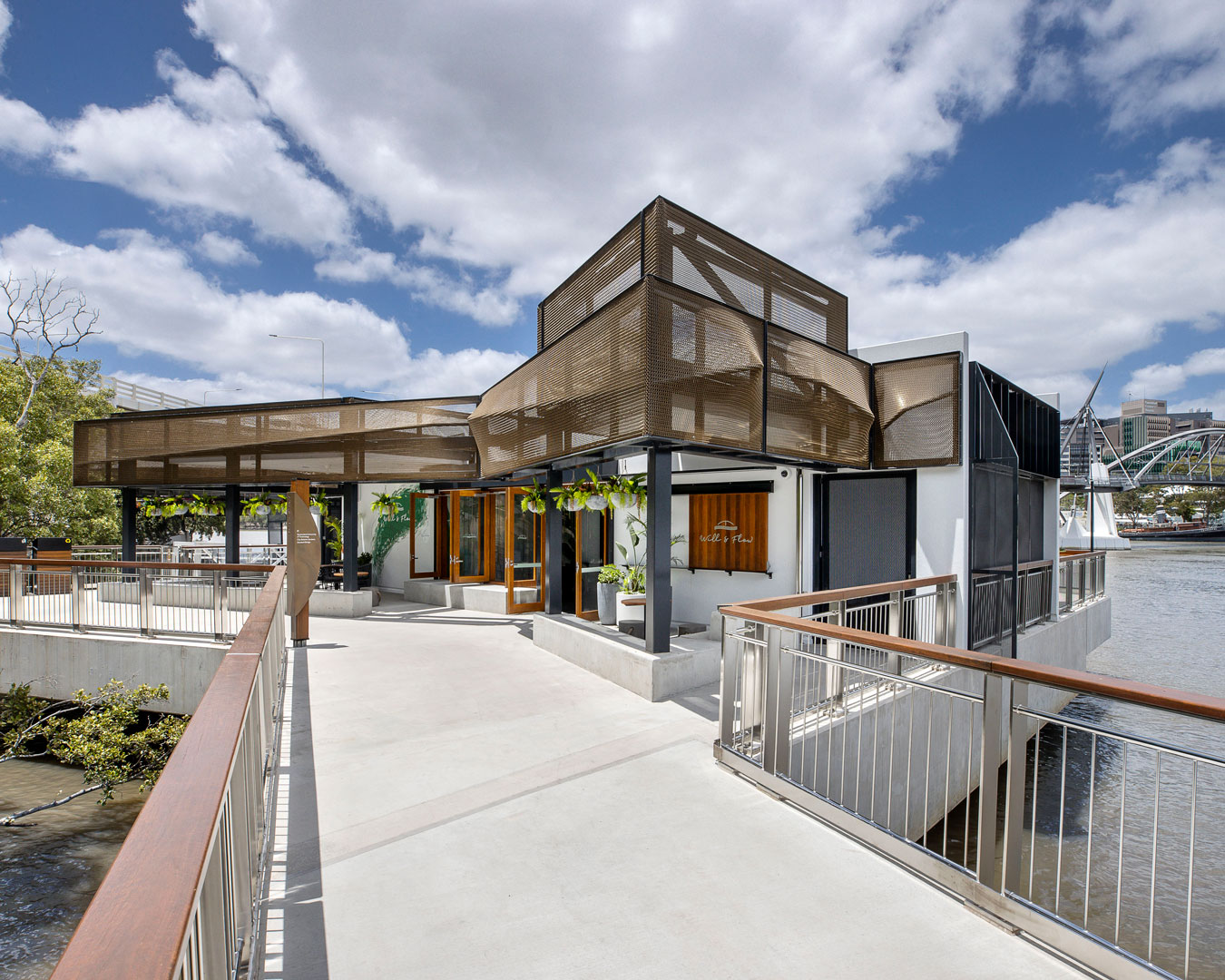 Al fresco dining might be a mood all around the world right now—but it's a way of life in Australia. We love a breezy outdoor drinking spot that's near the water, and the closer the water, the better. Enter: Will & Flow. This new "overwater" bar hovers over the Brisbane or Maiwar River, taking up residence on the north bank just a little downstream of the QUT Gardens Point ferry terminal and opposite South Bank (so the views are epic). It's part of the Queen's Wharf project's riverfront revitalisation project and was designed by BSPN Architecture.
Sydney
Bar 83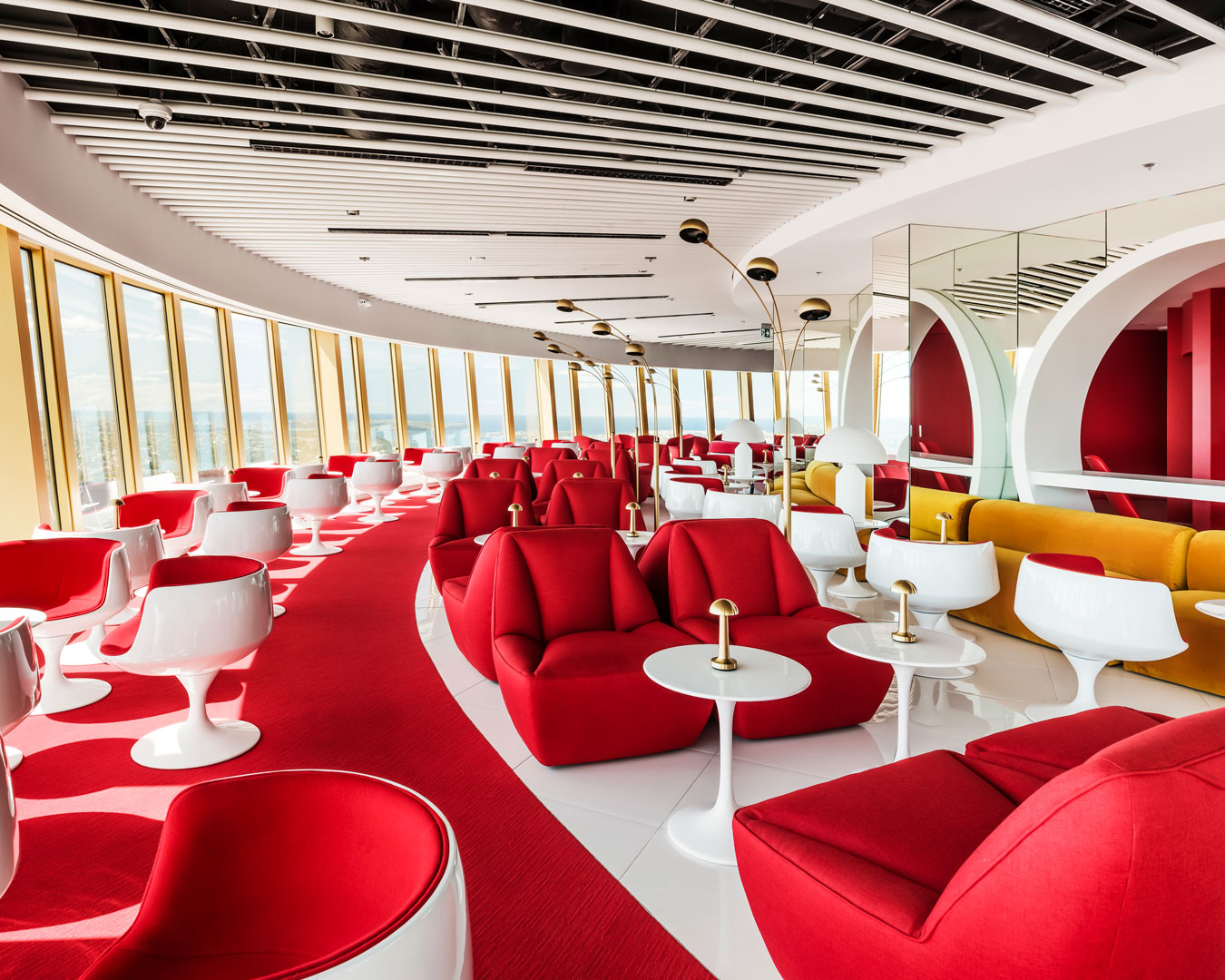 What happens when you let architects play with retro buildings? Well, in the case of Sydney Tower, the brassy centrepoint of Sydney's skyline, you get Bar 83. This Jetsons-inspired cocktail lounge feels a lot like a lavish space ship, hovering 245 metres and 83 levels above the street below. And even though that sounds kinda kitsch, it's still polished and refined—and a far cry from the outdated tourist trap it had formerly been. With award-winning bartender Jenna Hemsworth behind the bar, the cocktails are sky high too.
Atomic Beer Project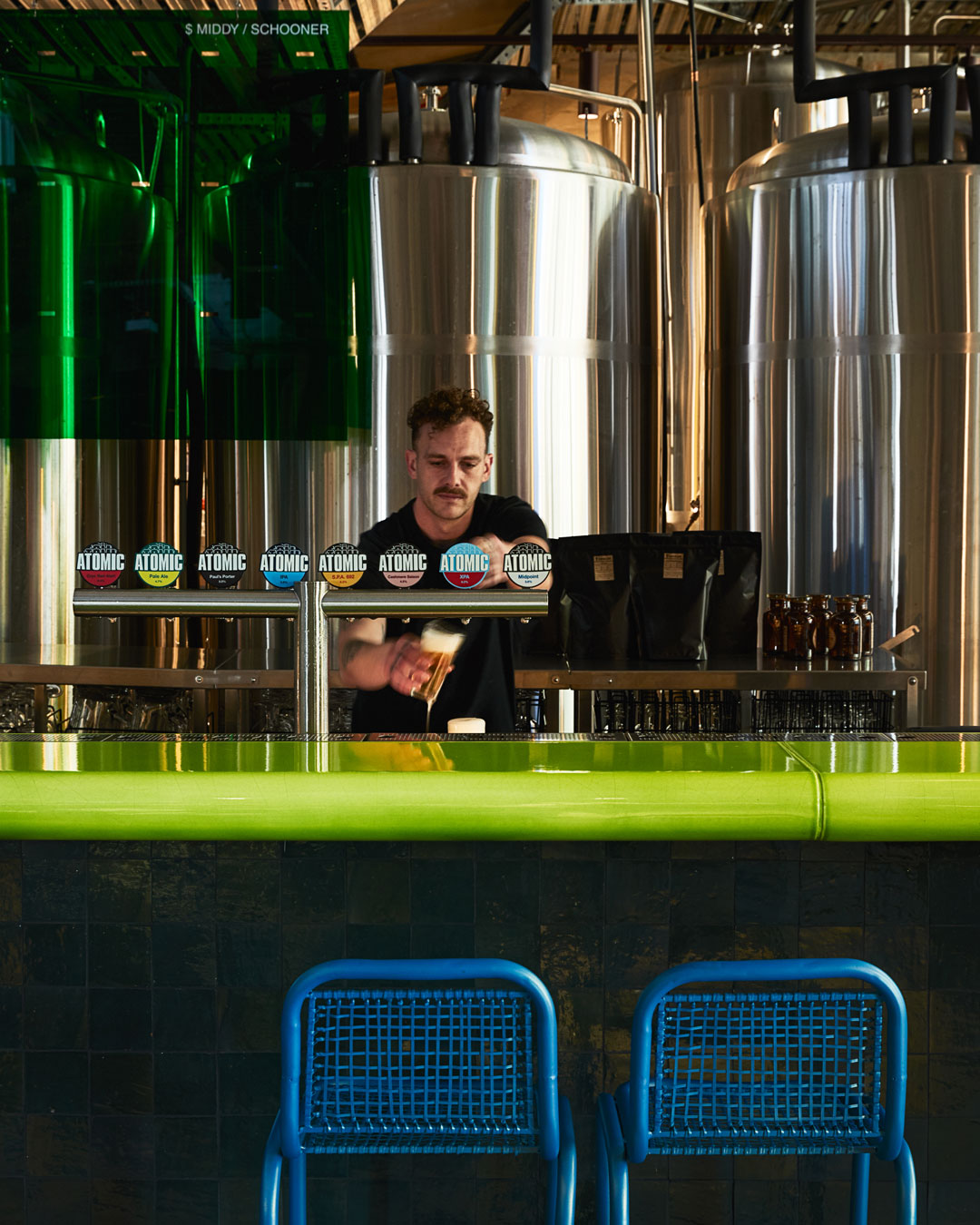 This might be a bit of a bi-coastal inclusion, but when Western Australia craft beer legends Gage Roads set up shop in Sydney's Redfern, they did not skimp on the look of their new East Coast microbrewery. Atomic Beer Project features pops of colour and a custom-built 12-metre-long bar in glowing lime green (a reference to the colour of hops, of course). Gage Roads worked with Sydney-based design studio YSG to dream up the space.
Gold Coast
Ms Margot's Bar & Eats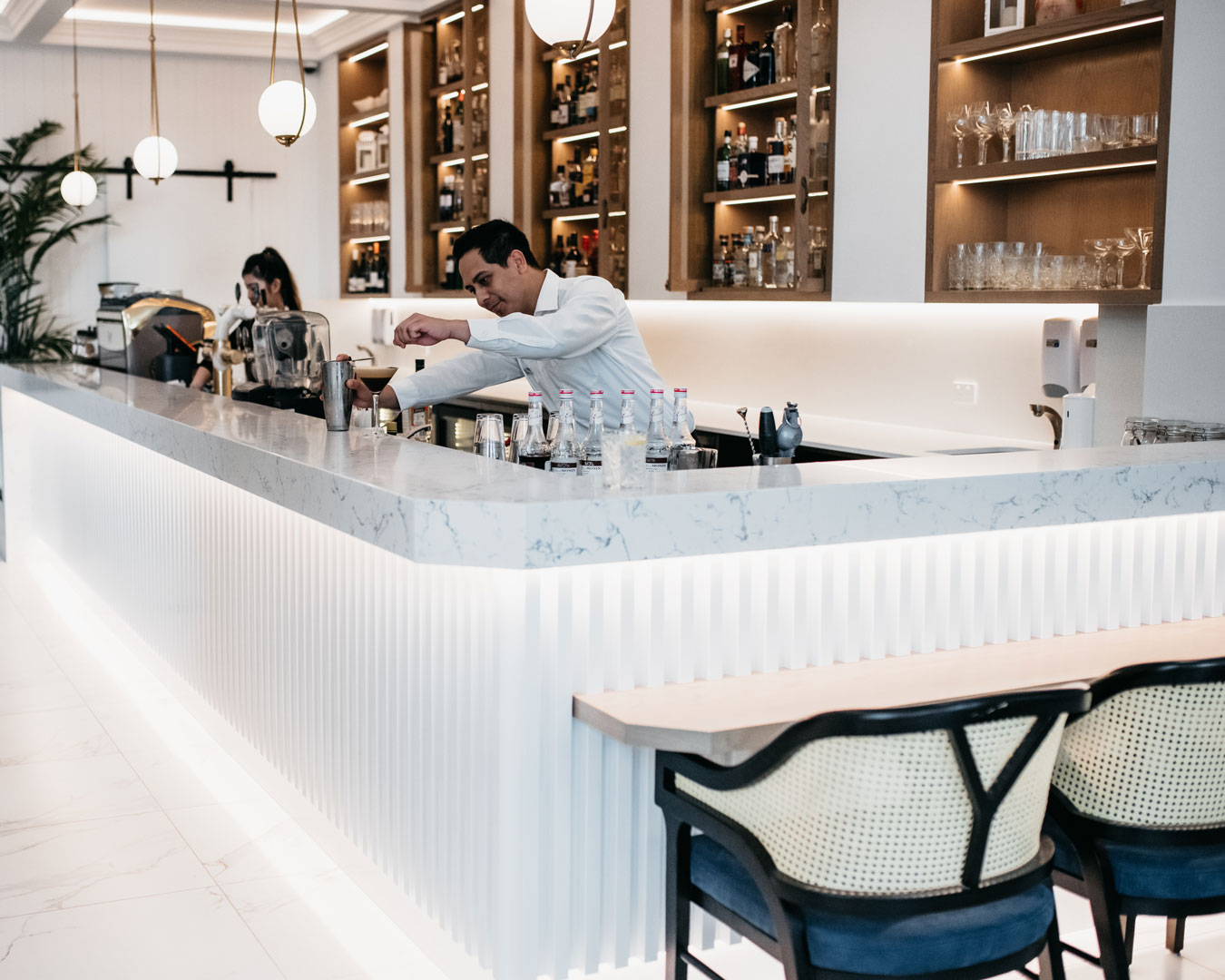 Ms Margot's is the shining jewel in the Surfers Paradise Hilton's recent $9M facelift. And, as far as lobby bars go, she is a light, bright breath of fresh air. Apparently, it's named after a Gold Coast local who's been visiting the Hilton lobby bar every day since 2011 (ahem, what a vibe). It's sleek and polished with a massive marble counter and high ceilings—but the GC still rings through with signature cocktails like a "Bikini Bellini" and a peach-coloured "Margot-Rita" slushie margarita with ruby grapefruit juice.
New Zealand
Rosanna's Garden Bar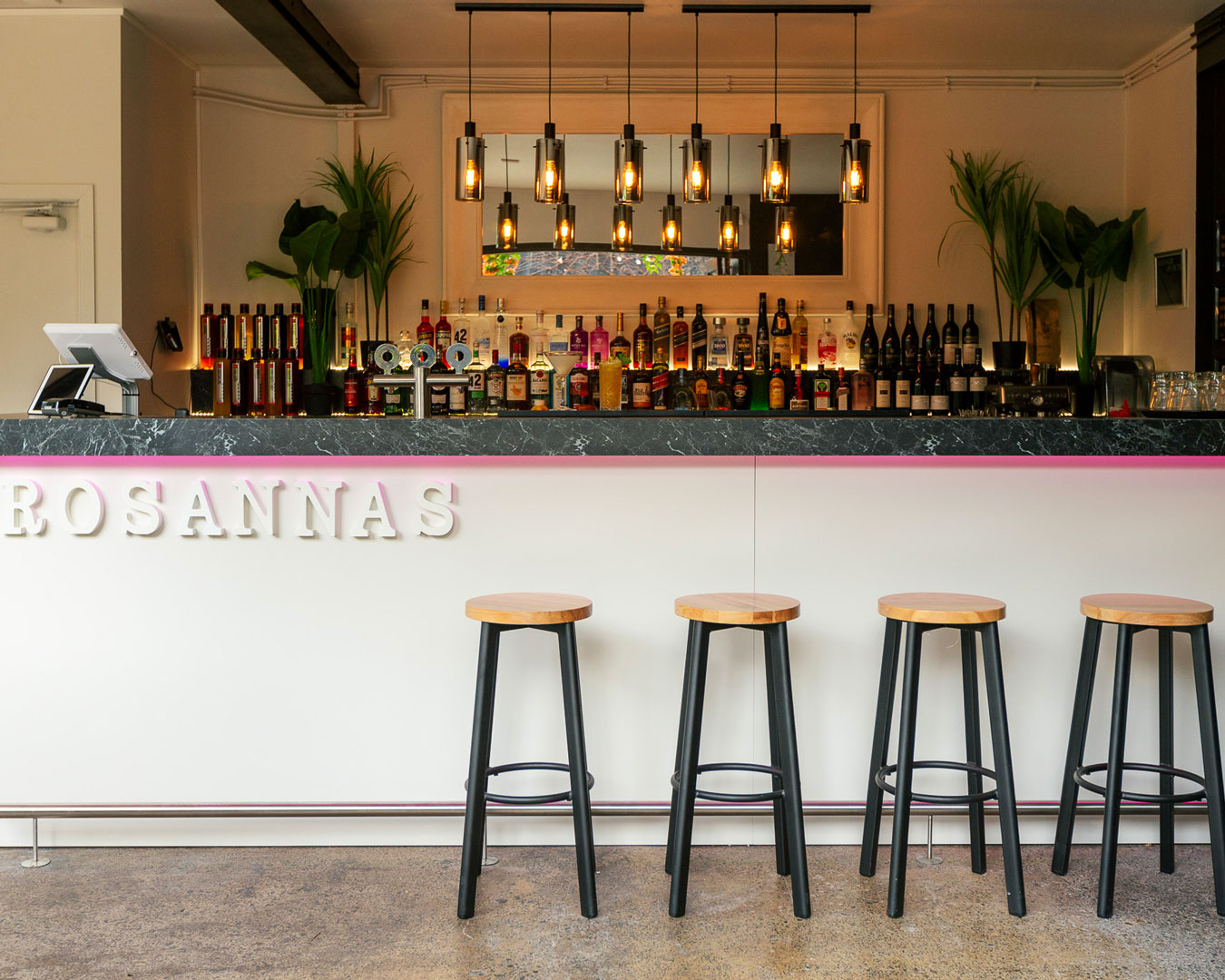 This brand new Bali-inspired spot in Kingsland in Auckland is tucked down a driveaway for a sort of secret backyard feel. Featuring a fun flamingo mural from artist Erika Pearce, a cosy undercover courtyard decked out with fairy lights, and swathes of greenery—it's a little urban sanctuary complete with tropical-inspired cocktails and an upstairs yoga studio.
Image credit: Bar 83, Baller's Clubhouse, Gum, Poodle, Neon Palms, SKØL , MAYA, Will & Flow, Bar 83, Atomic Beer Project, Ms Margot's, Rosanna's Garden Bar