Best Of The Web This Week: A clickable smorgasbord of celebrity trash talk, food porn, good-to-knows, generally interesting chat-starters, and anything else we think you should know about from around the Internet. It's your watercooler cheat sheet for the week.
This week Kim K became a living testament to the fact that not every skin tone can pull off peroxide blonde, sacrificing herself for the rest of us, in what was probably her first charitable act ever, albeit unintentional.
And here's Kanye doing the robot, really badly.
Zoolander announced its second instalment by crashing the Valentino runway show. We'll cheers to that with orange mocha frappachinos.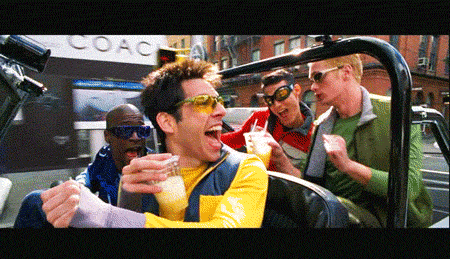 This week's app to DWLD: Drake up your comms with the Drizzy App, complete with Drake keyboard and five categories of Drake-emotion, guaranteed to translate your chat into bite sized Drakian-lyric nuggets. What will they think of next?
Pizza-flavoured salad dressing. That's what.
List we're loving this week: British slang words that were cool ten years ago and should be reintroduced to the vernacular.
More things we do not need or understand, but want anyway, the Apple Watch is comminnnnggggggg, and it sounds sexy.
Getting hitched? Pop Sugar decodes the 15 types of engagement ring selfies.
In bad news for the Appletini, these are the worst drinks to order, according to bartenders.
Image credit: The Zoe Report