There's a certain charm to the sprawling expanse of a sand dune, and they also give you plenty of cred on the 'Gram. Sure, you'll find a few sandy mounds at the entrance to your closest beach, but the ones you want are oft a drive and a hike away.
Here are seven of the best across the great southern land:
The Big Drift
Wilsons Promontory, Victoria
Head into to Wilsons Prom and you'll see an inconspicuous road just to the right of the toll gate. Down that road is the track that leads to The Big Drift, an (almost) endless succession of dunes that lead into the horizon. It's great at any time of the year, though if you can get there on the days following a heavy downpour, you'll be treated to swimming pools in between the slow-moving mountains. Given the sheer size, wanderers will also relish in the isolation—just make sure you select a few landmarks in the distance so that you can find the trail back.
Pro tip: check out Little Drift on a hot day, and take a walk to the shallow inlet and sheltered beach from there.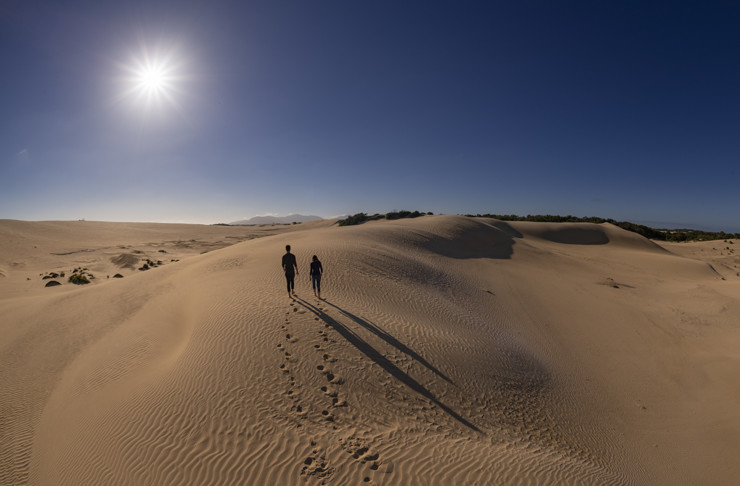 Perry Sandhills
Near Wentworth, New South Wales
You'll have to go deep off the beaten track for this one, but the 822 acres of uninterrupted moving dunes are well worth it. There's plenty to see and do at Perry Sandhills provided you have the time; try your luck at some casual archaeology and look for remains of age-old mega-fauna, clamber up an ancient gum which is partially submerged in the sand—or, for some unhinged, unadulterated fun—hire a sandboard for the day and hit the slopes.
Stockton Sand Dunes
WORIMI, NEW SOUTH WALES
That's not a dune, this is a dune. Stockton Sand Dunes hold the accolade for the largest coastal dunes in the southern hemisphere, which sounds big, but their size isn't truly recognised until you're there in the flesh, standing at the base of these moving monoliths that reach up to 30m high. As a place of cultural significance to the Worimi Aboriginal people, there are plenty of ways to enjoy the dunes respectfully. Find out more here.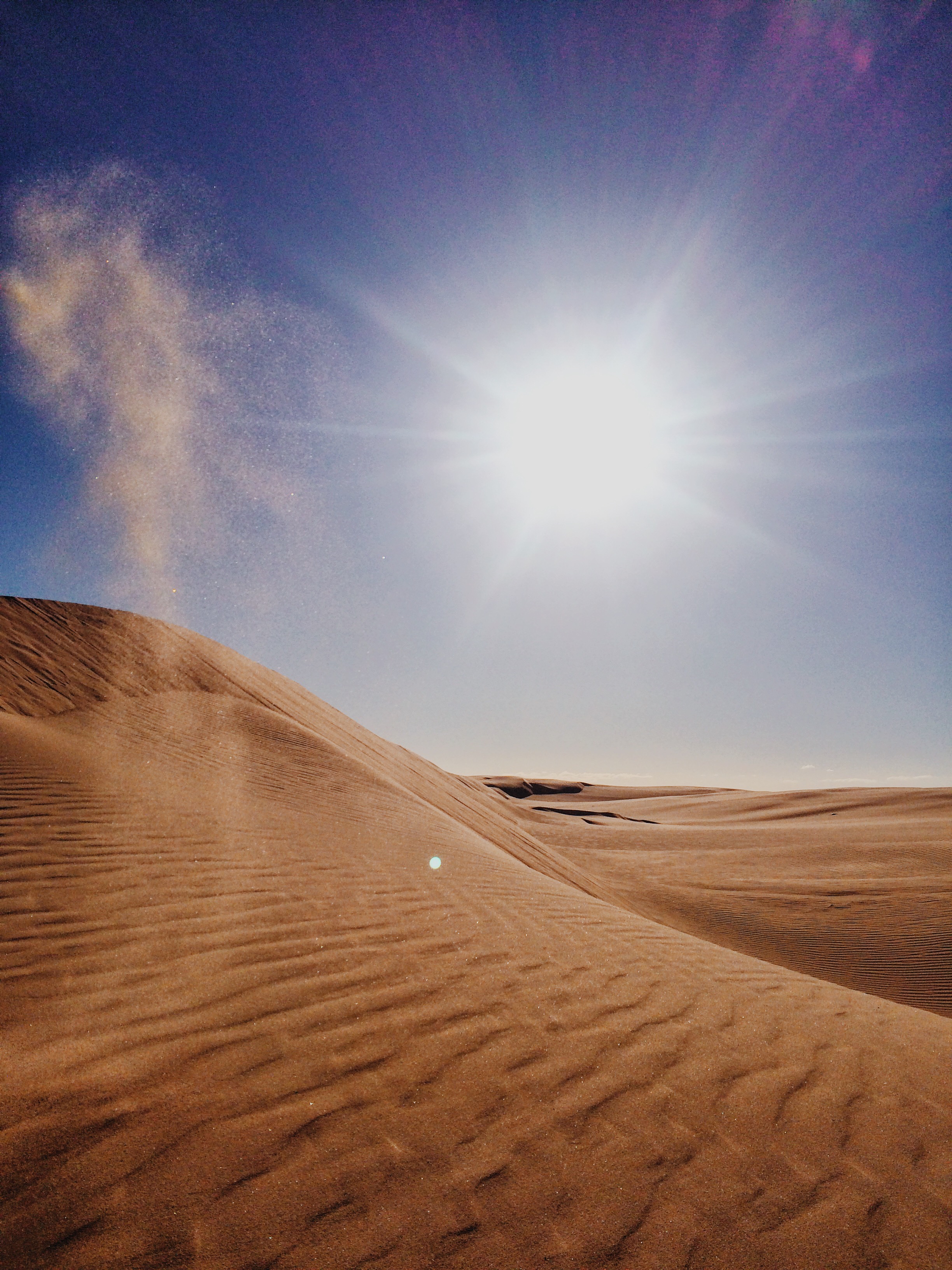 Carlo Sand Blow
Rainbow Beach, Queensland
By no means the biggest dunes around Australia, though their otherworldly appearance deems them worthy of a feature on the list. At Carlo Sand Blow, you'll find around 15 hectares of moon-like dunes—it's easily accessed via the surrounding township, however, those in a 4WD can reach the area via a drive along the beach.
For the surfers, there's a ridiculously smooth break at the adjoining Rainbow Beach.
Big Red
Near Birdsville, Queensland
Another set of dunes very much off the beaten track, so much so that you'll need a 4WD to access the Big Red. The stunning red sand mountains are the first of over 1000 dunes in the Simpson Desert and are usually pretty baron unless you happen to be visiting for the Birdsville Races or the Big Red Bash, a music festival which has seen the likes of Paul Kelly and John Williamson on its stage.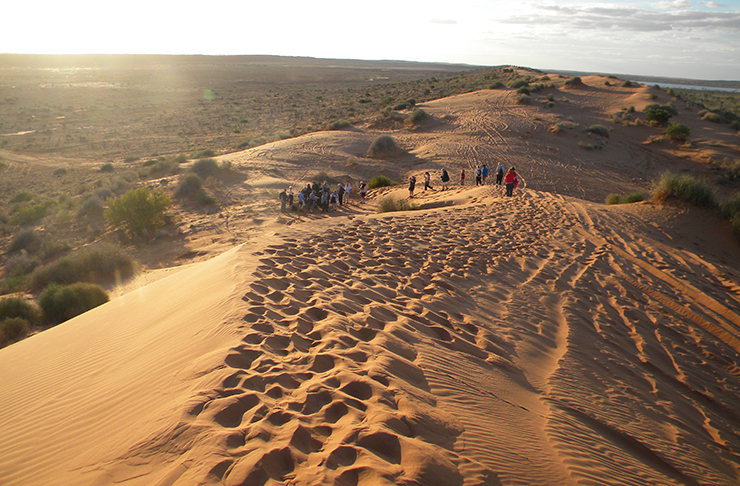 Yeagarup Dunes
Near Pemberton, Western Australia
Okay, Western Australia has plenty of dunes, and many of those are worth your time. Yeagarup Dunes aren't necessarily the easiest to access, but the delicate white sand is truly something to behold. There are several ways to get there, a guided 4WD tour, a DIY 4WD tour, or a big ol' walk.
Regardless of how you get there, you'll be treated to over 12km of stunning, slow-moving dunes. Find out more here.
Lancelin Sand Dunes
Lancelin, Western Australia
For those in Western Australia looking for dunes that are more family-friendly, head 1.5 hours north from Perth and you'll arrive at the gorgeous Lancelin Sand Dunes. You don't need a 4WD to have a good time here, instead, just grab yourself a sandboard or take yourself on a stroll across the sprawling white sands.
For anyone who prefers to get a little more extreme, there are 4WD and quadbike tours which take off on the regular. Find out more here.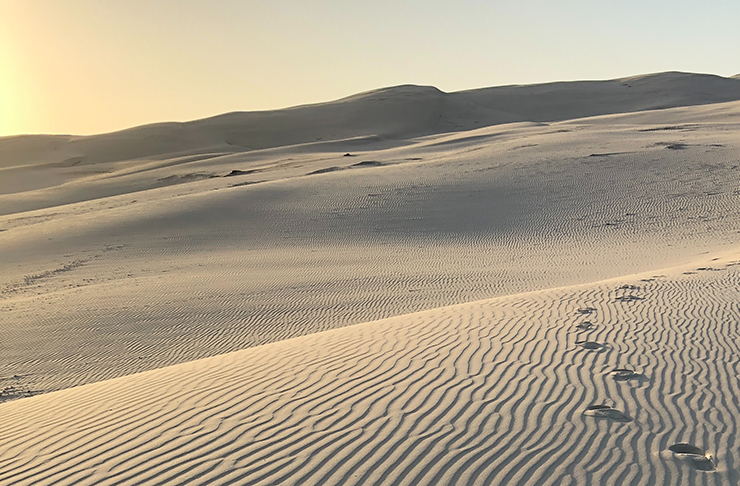 Australia is also scattered with natural pools. Check them out here.
Image credit: Parks Victoria, Wikimedia Commons, Mandy Galmes