Holidays are meant to be about unwinding and relaxing, but these days they can be more about getting that perfect shot for Instagram, ticking off a new place without really experiencing it and drinking your body weight in cocktails every single night.
If you've ever said, or even thought, something along the lines of "I need a holiday to recover from my holiday" it's time for you to discover the art of slow travel. Slow travel is about—you guessed it—slowing down and really living like a local; not just trying to jam-pack your itinerary with every single bar, cafe, restaurant and sight recommended by a local. You can still drink your body weight in booze if you want, but maybe you'll do it with a local winemaker instead of in a bar with hundreds of other tourists. You can slow down in any destination you're planning to travel to—yes, even in New York—but some destinations just make it easier to live the slow life.
Here are eight slow holidays to help ease the burnout.
Walk The Lycian Way
Turkey
If you want to slow down in the literal sense, it doesn't get slower than walking between the villages you want to visit.
The Lycian Way is Turkey's longest walking route and it's conveniently located on the magical Mediterranean Coast. You'll walk between small villages, staying at family-owned 'pansiyons' (guesthouses) and eat delicious home-cooked meals along the way. The locals are quite possibly the friendliest people on earth and will send you on your way with whatever they're growing or making, from grapes and pomegranates to bread and cheese. If walking's not your thing, you can go by boat which is also pretty damn relaxing.
Swap New York City For Atlanta
USA
If you love the city life, but you feel like you need to slow down a bit, head to Atlanta; America's most underrated city in our opinion. Find yourself an Airbnb around the Poncey-Highland neighbourhood and spend your days walking (or rollerblading) the Beltline, discovering cute cafes and wine bars, wandering through the markets (we like Krogg Street Market and Ponce City Market), discovering the amazing street art around the city and lazing about with a good book in one of the many parks around the city. If you have it in you to do one touristy activity in Atlanta, make it the National Center for Civil and Human Rights; you won't regret it.
Road Trip Around Tasmania
Australia
Apparently Tasmania has some of the cleanest air in the world, so you can afford to take it easy and spend a bit of time on this little island. Depending on how much time you have, you might want to go bush in Honeymoon Bay, do a spot of hiking around Cradle Mountain, check out Montezuma Falls or wander through the markets in Hobart; just remember not to pack too much in, you don't want to be rushing between all of them. If you really want to get down with nature, you'll be pleased to know that free camping is totally legal in Tasmania, so pack your tent and check out this handy list of spots you can set up.
Watch Life Go By In Cuba
Cuba
If you're the kind of person who needs a firm hand to help you switch off, Cuba is your best bet. Stepping off the plane in Havana is almost like stepping back into the 1950s, and the (extremely) limited WIFI makes it almost impossible not to go slow. You'll stay in casa particulars with hosts—just like staying in a private room on Airbnb—who will be just as happy to give you some local insights as they will be to sit on a rocking chair with you and watch the world go by. Head to Vińales and hire a bike to explore the tobacco farms, or go further south to Playa Giron for the clearest water you'll ever swim in.
Live Like The Locals In Granada
Spain
If you really can't stand the idea of not eating every amazing morsel you see in a new city, but you still want to take it easy, head to Granada and bar hop your way around town. Granada is the home of free tapas—yes, a free tapa with every single drink you order—but keep in mind, the more drinks you have at one spot, the more substantial your tapas get. For that reason, we recommend wandering the narrow streets, finding a spot that's buzzing with locals (most of the bars in the neighbourhood Realejo will fit the criteria), and settling in for a few instead of jumping from one to the other. While we definitely recommend making time during your trip to see the Alhambra—it's a crazy impressive example of Moorish architecture and there are some beautiful gardens to hang out in—the rest of your time can be spent climbing the hilly streets of the city, drinking sangria and revelling in our favourite Spanish pastime; the siesta.
Explore El Salvador's Ruta De Las Flores
El Salvador
Once you leave behind the big cities of El Salvador, it's hard to do anything but go slow. Largely untouched by tourists, El Salvador's Ruta de las Flores—32kms of colonial towns, waterfalls, coffee plantations and more—is the perfect place to take it easy while still stretching your legs a bit. While the wildflowers are only in bloom from November to February, there's plenty to see (and eat) year-round. You can either start at one end and slowly work your way to the other, or base yourself in one town—we'd recommend Juayua, not least for the weekly food festival—and explore the surrounding towns day by day; or by chicken bus for those of you who really want to live like the locals. For a day to remember, check out the seven waterfalls hike from Juayua, and if you have some spare time up your sleeve, head to El Zonte on the coast for surf, yoga and slow living at its finest.
Sleep Under The Stars In The Sahara
Morocco
The frenetic souks of Marrakech don't exactly scream 'relax', but just a few hours away you can forget all about the hustle and bustle of the big cities. If you're planning on visiting both Marrakech and Fes, instead of doing the direct journey, why not go via the Sahara Desert and get off the grid for a couple of nights. The trip will take you through the Atlas Mountains to the Sahara and you'll get to visit Berber villages, beautiful gorges and valleys and stay in a traditional kasbah one night and under the stars in the Sahara the next. While you might be on the move a lot of the time (there's a lot of ground to cover), there's nothing quite like the slow pace of the desert to help you unwind.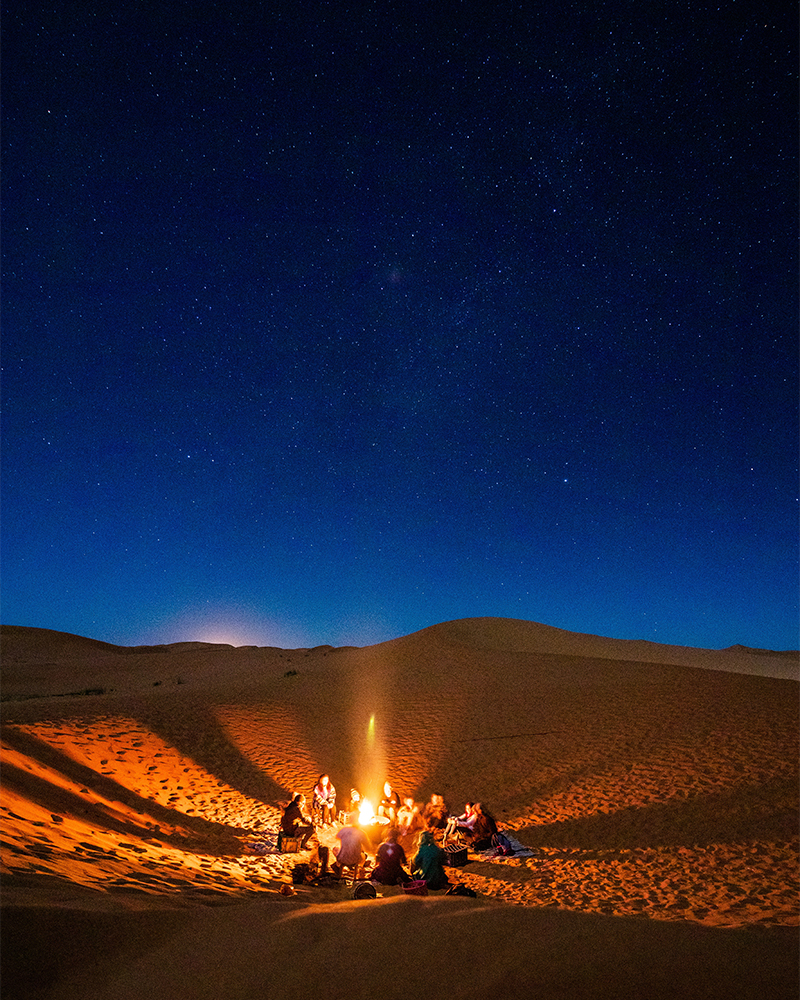 Live The Island Life On The Outer Hebrides
Scotland
Scotland might not come to mind when you hear the words 'island life', but the Outer Hebrides might surprise you. Don't go expecting coconuts, hammocks and mojitos though, it's more like rugged coastlines, castles and untouched countryside. Made up of 15 inhabited islands (and plenty more uninhabited ones), you can visit a different one each day by ferry, or you could hire a bike and cycle the Hebridean Way which crosses 10 of the islands. There are coastal walks, ghost towns and whiskey distilleries to discover, and if you time your visit right (read: in summer), you'll be able to make the most of their stunning white-sand beaches; and you'll probably have the entire place to yourself.
Want more chill time? Check out Australia's best wellness retreats.
Image Credit: Tomáš Malík, Petr Slováček, Augustin de Montesquiou, Manuel Meurisse, Kyle Sudu, Jane Palash