While we don't like to play favourites, Vietnam is one of the most incredible countries to visit. And while it's tempting to visit the more popular spots, we reckon checking out under the radar towns is what the beauty of travelling is all about.
The central Vietnamese city of Da Nang is home to unique cultural sites, a gorgeous coastline, and a burgeoning restaurant and bar scene. The harbourside is abuzz with nightlife—its centrepiece a 250m long golden dragon bridge that breathes fire and spits water on Friday and Saturday nights.
Not convinced yet? Here are five more reasons to add Da Nang to your holiday hit list.
#1 It Boasts Stunning Tropical beaches
In the summer months from June until August, Da Nang's My Khe Beach puts on some of the most spectacular sunrises imaginable. The early morning crowds also offer a somewhat comical sight, with thousands of people dancing from the waters edge to the boardwalk, questionable techno music providing the soundtrack to their workout routines. My Khe Beach offers an expansive crest of golden sand to play volleyball, soccer, or relax on deck chairs with allday drinks service. In the summer months, the water is clear and warm, the ocean resembling more of a lake than beach. Remarkably, Da Nang's wet season, which runs from late September until December, provides giant swells and perfect surfing conditions with four to eight foot waves attracting dozens of surfers to the water. For your own slice of paradise, ride your motorbike 15 minutes north of Da Nang city to the beautiful Son Tra Peninsula. Private bay-side gazebos just metres from the shimmering blue water can be rented for about $10 AUD per day. If you're lucky, you will spot a few rare monkeys swinging vine-to-vine.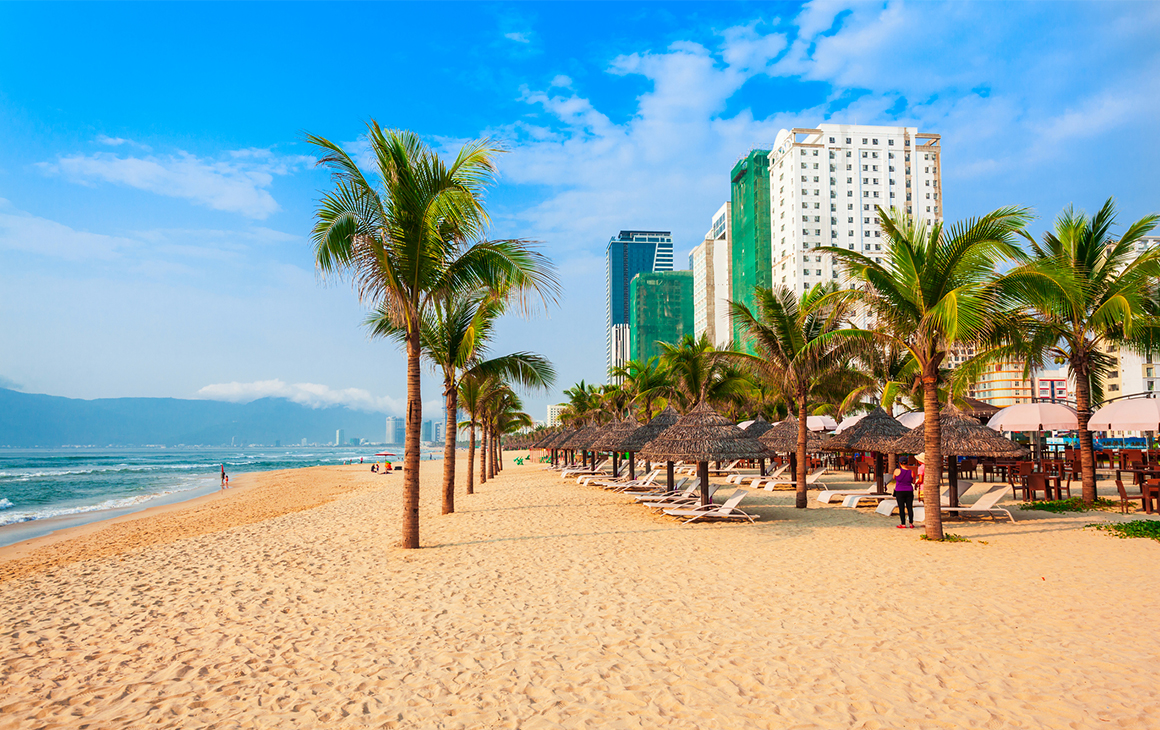 #2 Nightlife Worth Staying Up For...
Da Nang's proximity to the ocean means fresher than fresh seafood can be found in most restaurants. The best option to sample an array of cuisine, from traditional Vietnamese pho to hot plates sizzling with giant lobsters, prawns, and snails is the Son Tra Night Market. The market operates nightly from 6pm to12 pm on Ly Nam De Street, just a five minute walk from the famous Dragon Bridge. The atmosphere along the 300m stretch of stalls near the harbour is electric. Besides offering food to cater to any taste, the markets also provide a great late night shopping destination with everything from handbags to handcrafted board games on offer.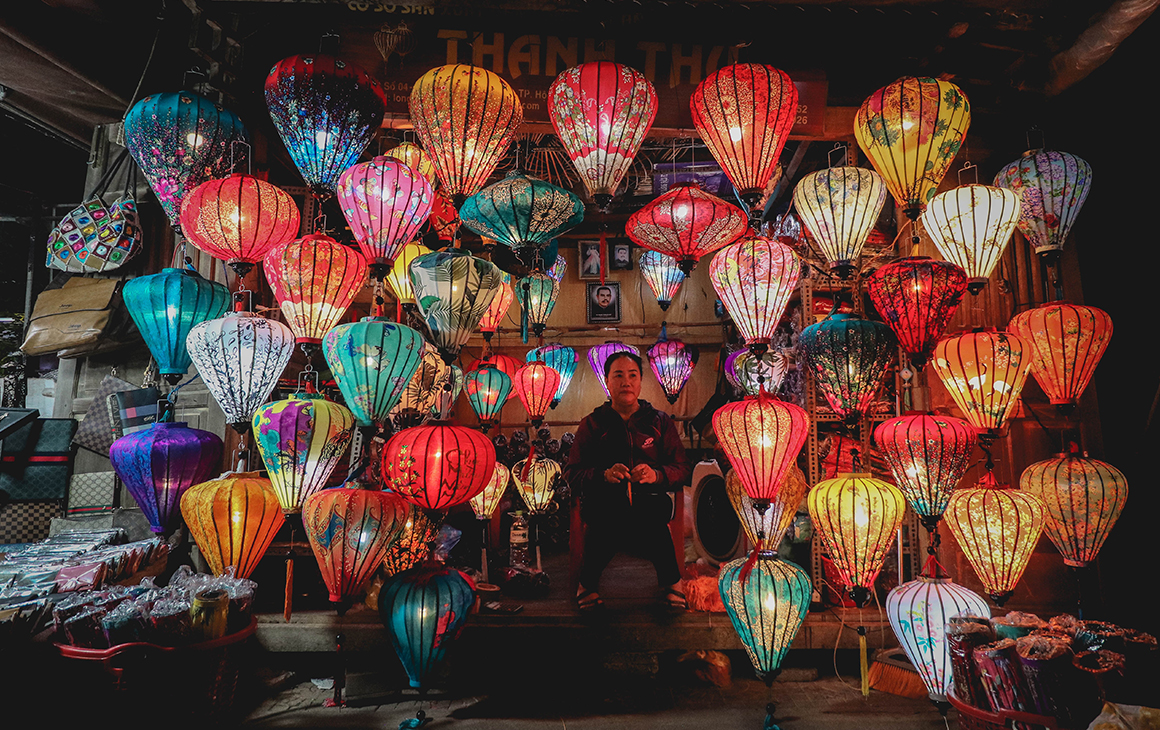 #3 Pho-nominal Cuisine
At Madame Lan, the gorgeous French architecture a nod to Vietnam's colonial past, guests can dine in the open courtyard or in one of the river-facing dining rooms. The menu at this palatial restaurant offers what you could label 'fancy' Vietnamese cuisine for very affordable prices. Highlights include the sweet and sour tasting Bun Cha Cua, a crab sausage noodle soup, and the moreish Banh Xeo, a savoury Vietnamese pancake stuffed with pork, prawns, diced green onion, and bean sprouts.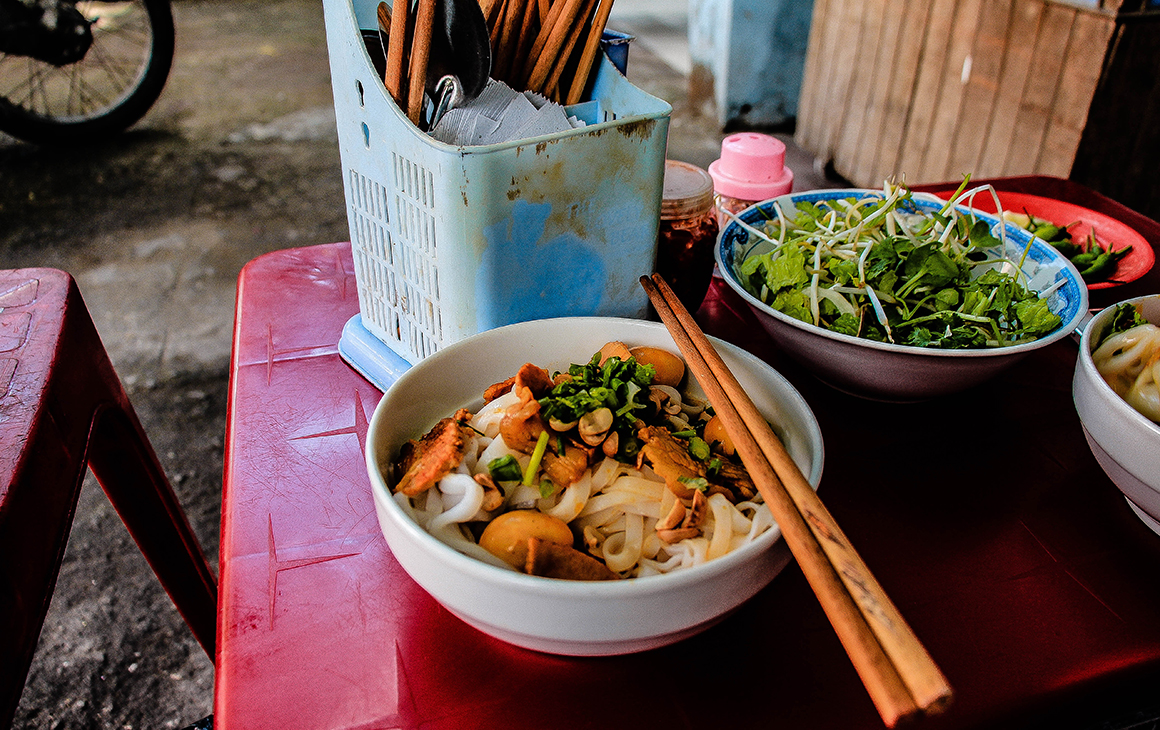 #4 The Bar Scene Is Jumpin'
This is a big call, but the best gin and tonic in Vietnam can be found at The Craftsman, a speakeasy style bar just 100m from My Khe Beach. The Craftsman has quickly become the culture and arts epicentre of Da Nang, its enigmatic owner Hồ Anh Tuấn fostering a community of artists, writers, and musicians, the latter performing high-energy jam sessions every Wednesday night. You will find Tuấn and his crew behind the bar crafting classic cocktails with 'a local ingredient twist', or mixing up their own unique inventions. Be sure to get head bartender Tri Nguyen to whip you up his new cocktail named Lá Dứa for the Vietnamese festival of Tet. It features tequila, homemade pandan syrup, pink grapefruit liqueur, lime juice and soda water.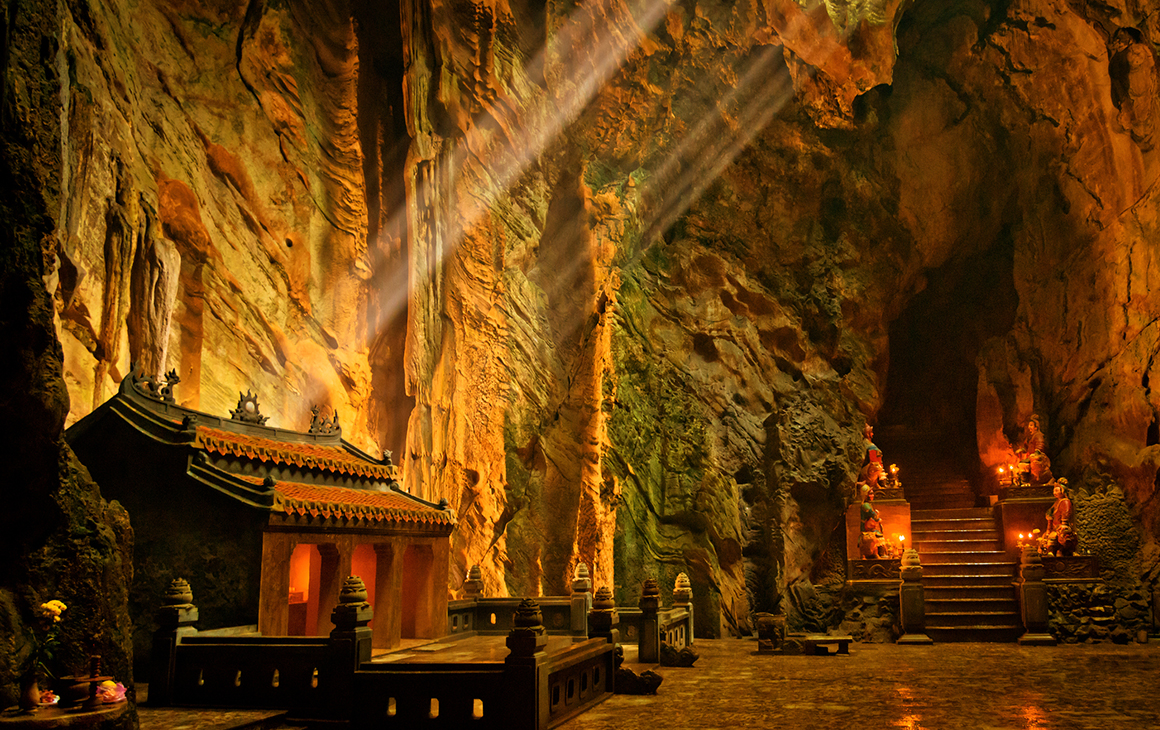 #5 The Cultural Sites Are Other-Worldly
Drive just ten minutes south of Da Nang on your motorbike and you will find an enchanting cluster of five limestone and marble hills huddled a few hundred metres back from the coast. Welcome to Marble Mountain. Each rock formation of Marble Mountain is named after an element of metal, water, fire, wood, and earth. The main 'mountain' is Thuy Son (water), where visitors are welcome to scale the giant marble staircase to explore enormous caves. Inside the great caverns, gigantic statues of Buddha are carved into the walls, leaving you with the lingering thought of "how?". Ornate wooden pagodas, places of worship for the Buddhist monks, have also been built on and into the mountain. To beat the crowds and heat, start your ascent of Marble Mountain no later than 8:30 am. It only takes around 15 minutes to reach the summit if you are wearing sensible footwear. As this is a place of worship, dress appropriately.
Next, it's time to discover what else Vietnam has to offer...spoiler, it's all amazing. Head here for a local's guide.

Image Credit: Saiko3p, Nikada, Ethan Hu, Rene Denada