Maybe, just maybe, we'll all one day be living beneath the surface of the ocean in futuristic clam hubs where we can watch marine life swim by all day long (Netflix and krill, anyone?).
Until then, the world has some pretty sweet underwater hotels that will quite literally make your jaw drop to the floor. Yes, for now, let's just dabble in some serious wanderlust and dream about the day we can kick it back, high-roller style, in a king-size bed (robe on, obviously) and just literally watch turtles and stingrays play in the sea before our very eyes.
Check out the best underwater hotels in the world.
Atlantis The Palm
Dubai
Two words: underwater suite. Oh yes, here at the Atlantis, fully submerged accommodation stays are totally a thing for the high rollers (like Kimmy K) with some serious cash money to spend. Think camping out in an aquarium but fifty billion times more fancy, because a three-storey suite, floor-to-ceiling windows, gold-laced bath amenities and 24-hour butler service is where it's at.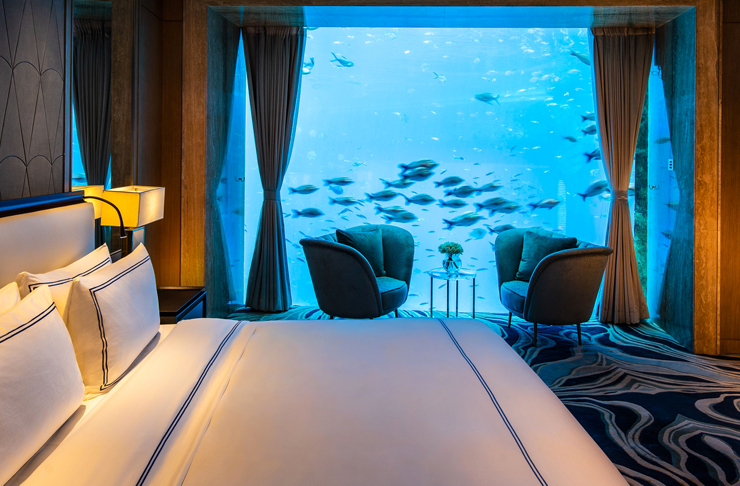 Resort World Sentosa
Singapore
The ocean suites at Resort World Sentosa in Singapore will score you one of the sickest underwater views in the whole entire world (because who wouldn't want to scope out 40,000 species of fish when they wake up). There are about 11 suites which span over two storeys and offer the best of both the land and sea. The upper level consists of an open living area leading onto an outdoor patio and plunge jacuzzi while the lower level is where your big underwater views are. And yes, you'll be able to relax back in a bubble bath while you watch all the fish swim through the water.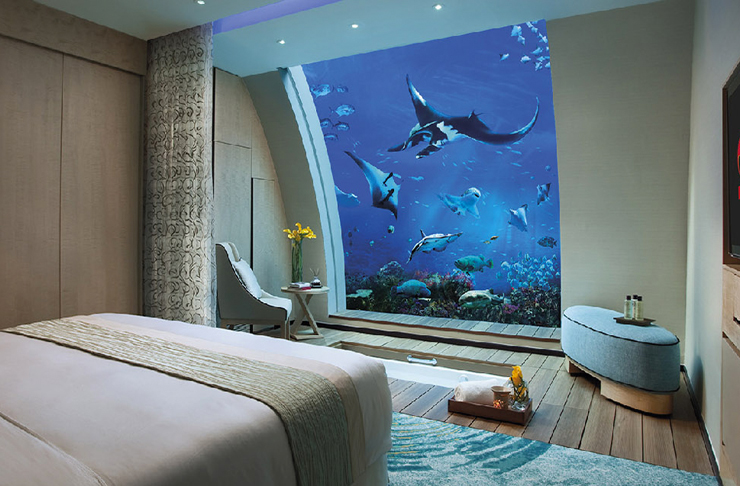 Manta Resort Zanzibar
Tanzania
For the ultimate off-the-beaten-track holiday, The Manta Resort has all your wildest turquoise dreams covered. Located on the edge of primitive forest and clearest waters, this remote island hideaway is an absolute jaw-dropper. The aptly named "Underwater Room" is basically your own private floating villa with a bedroom submerged beneath the surface of the Indian ocean and a whole lot of window space to scope out the marine life.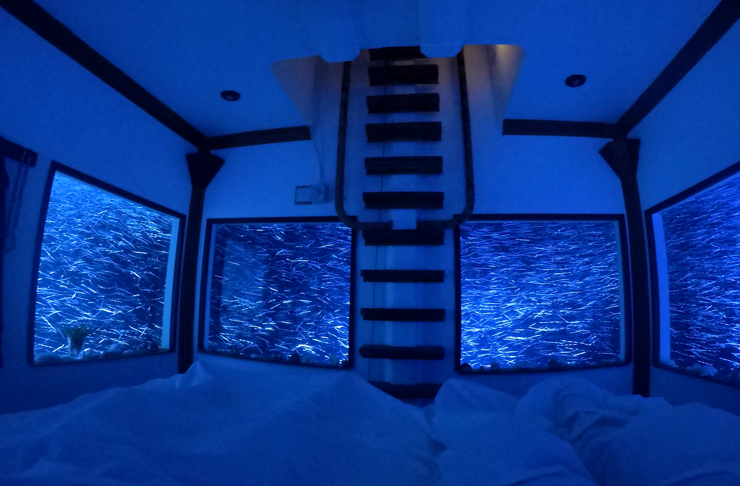 Reefworld
Australia
Australia's first underwater hotel is probably one of the most anticipated new hotels in the world right now. Moored offshore at Hardy Reef (Queensland), about 40 nautical miles from Airlie Beach, Reefworld is a revamped pontoon which hosts day-trippers and those that want to stay for a few nights on the water. The pontoon itself cruises through the Whitsunday Islands all through the day and if you're one of the lucky punters who are intent on living their best life—you'll get to stay on the reef all night long too. The underwater Reefsuites contain mammoth beds, situated in front of a cinema-like floor to ceiling window which puts you in a prime spot for all the turtle viewing you could imagine.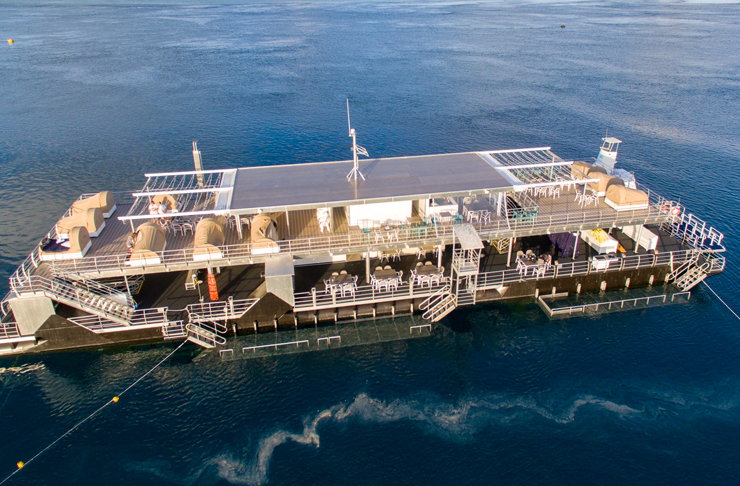 Poseidon Underwater Resort | Under Construction
Fiji
This paradise playground should be a bucket list experience for anyone who well, wants to live their best life (of course you do). Poseidon Underwater Resort is surrounded by a 5000-acre lagoon which boasts waters then stretch almost 30 metres deep). The luxe submarine vibes are very real here and on top of this, there's also a heavy line-up of marine-focused spa treatments and meditation sessions you can come under the moon stars, you know, to really get back to your mermaid or merman roots.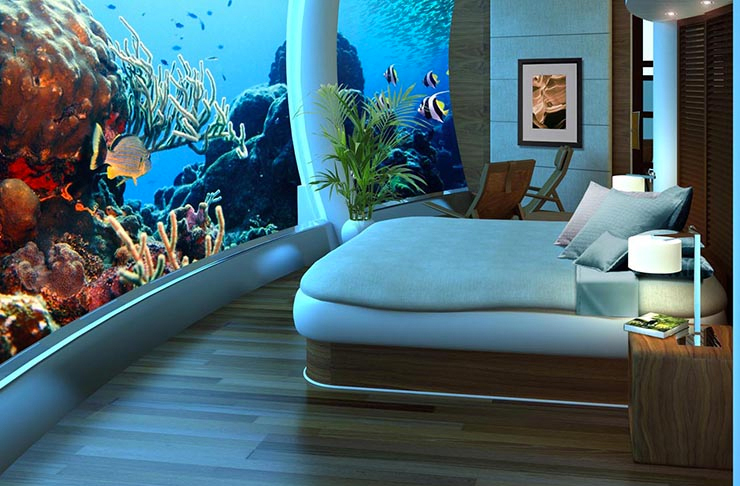 And for good measure, here are the best alpaca farm stays in Australia.
Image credit: Atlantis, Resort World Sentosa, Manta Resort Zanzibar, Cruise Whitsundays, Poseidon Underwater Resort