New Zealand's cool capital is known for its huge food scene. We may be a teeeeny bit biased, but we reckon it's got some of the best spots in the country.
Whether you're after cheap eats or something a little fancier, we have you covered with the 15 best Wellington restaurants.
La Boca Loca
Miramar
Like any sane person, we love Mexican food. So it's only right that we begin this list with Mirimar's Mexican hotspot. La Boca Loca is bright, welcoming, cosy and it's the perfect place to chow down on copious amounts of totopos (corn chips) and guac. La Boca Loca places emphasis on using fair trade, organic produce, as well as sustainably raised and sourced meats. Basically, they really care about their environmental impact. Which makes us love them even more. For dinner, try their house-made tacos with a side of their papas fritas—spicy fried potatoes with chipotle mayo for dipping. Pair that with a margarita (when in Mexico right?) and you're set for a fiesta in your tummy.
Little Penang
Wellington Central
You can tell that Little Penang is a good spot just by peering through the window. Why? Because it's ALWAYS buzzing. Serving up authentic Malaysian cuisine, Little Penang is a hot spot for locals and visitors alike. The perfect place to hit if you're on a budget, grab a curry or some noodles and you won't be paying more than $20. Either eat there, or take away, and enjoy the deliciousness of Little Penang from the comfort of your couch.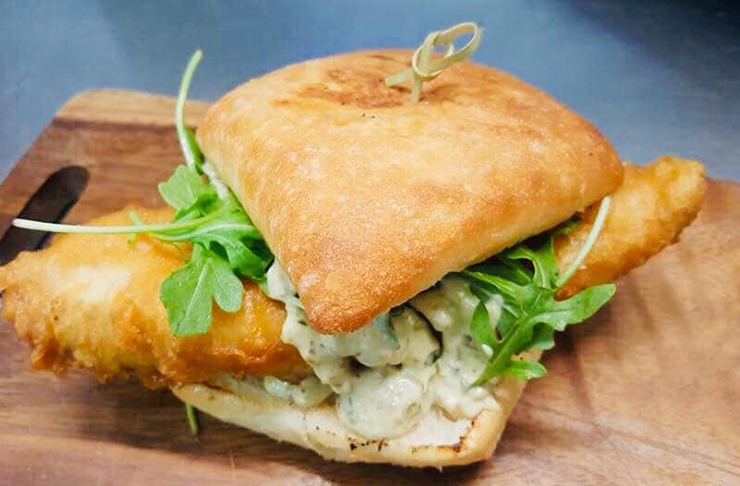 The Mt Vic Chippery
Mount Victoria
For a bit of a fancy take on a Kiwi classic, head to the Mt Vic Chippery. They serve up your old favourites: fish, chips, pineapple fritters and spring rolls. They also put new twists on the classics: the humble battered hotdog is upgraded to a battered Barvarian-style sausage, straight from Island Bay. Best of all, their menu includes things that may not be commonplace in other NZ chip shops, but are definitely instant classics. Try their tiger prawns grilled with garlic butter, or a mussel fritter burger with smoked bacon, habanero and corn salsa, and lime mayo. Fish and chips never looked so good.
Olive
Wellington Central
Olive truly masters the art of a chic, stylish interior, while providing relaxed and comfortable vibes. If you get the chance, make sure you sit outside. We're going to go ahead and make the call, Olive is home to Wellington's best courtyard. Plants, candles, and a chandelier decorate the outside space, and it's pretty bloody magical. Olive really is the perfect little escape from the hustle and bustle of busy Cuba Street, and man, do they do a good dinner. Everything is made using fresh, locally-sourced produce, and their seasonal menu always caters super well for the vegetarians and vegans among us. Good food, a beautiful courtyard, and did we mention they serve dessert cocktails? What more could you want?
Mr Go's
Wellington Central
It's hard not to feel instantly excited as you walk into Mr Go's. The pink and green walls, the fluorescent lights, the unflappable staff and the delicious smells of their modern Asian hawker food combine perfectly to create a cool, comfortable atmosphere. Best for sharing, the menu at Mr Go's is made up of lots of smaller meals. We recommend getting yourself a Gua-Boa (a house-made Taiwanese style bun), filled with your choice of meat (or tofu), then grab a couple of their smaller dishes to share with your pals. You can't go wrong with their kung pao cauliflower, and for a Kiwi take on a classic, try their mince and cheese dumplings—trust us, sounds kinda weird, but tastes all kinds of delicious.
Aunty Mena's
Wellington Central
CALLING ALL PLANT-BASED BUDDIES. If you haven't already, you need to head to Aunty Mena's. Like, right now. Serving up Malaysian-style dishes (and bottomless jasmine tea), Aunty Mena's is the perfect spot to hit when you're in need of a big feed. Their menu includes deep fried mushrooms, dumpling laksa, wonton soup, and so many more delicious animal-friendly options—you'll honestly be spoilt for choice. We can guarantee that once you try their food, you'll see why Mena is everyone's favourite Aunty.
Pizza Pomodoro
Wellington Central
At the end of Eva Street sits Pizza Pomodoro, who serve up some of the best pizza in Wellington. Their pizza is Neapolitan style, made fresh every day, and wood-fired to perfection. Menu highlights include the Margherita, the Inferno, and the Cinque Fromaggi – this one includes four types of cheese. Enough said. Pro tip: if you're after a drink with your pizza, head to Golding's, just across the lane. From there, you can order Pomodoro pizzas and enjoy a bevvy. It's the perfect way to spend a Friday evening after work. Or a Thursday. Or a Monday…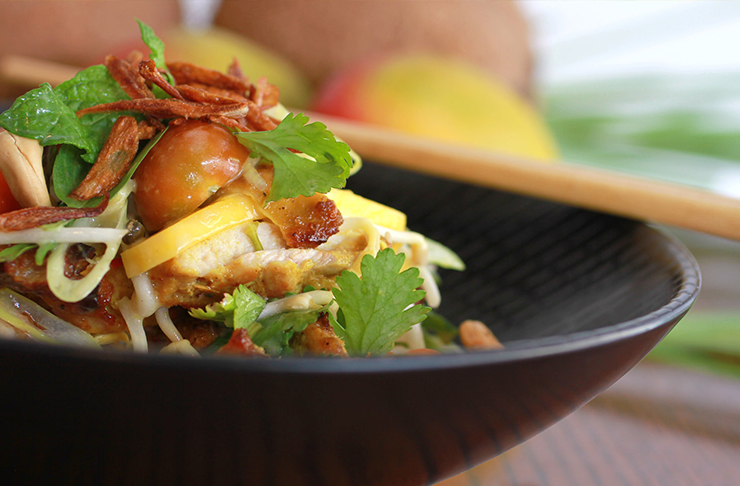 Apache
Wellington Central
Vietnam meets France at this Asian fusion hotspot. The interiors are simple. High ceilings, white walls, vintage tiled floors and dark timber—with a few pops of greenery to make the space just that much more aesthetically pleasing. The food? Insane. With all their dishes designed with the intention of being shared, make the most of the variety and try a little bit of everything. We recommend their popcorn chicken with sriracha mayo and the green papaya salad. But in all honesty, you could close your eyes, point at any dish on the menu, and you'll be in for a treat. Seriously, Apache is just that good.
Sweet Mother's Kitchen
Wellington Central
For the ultimate comfort food destination, look no further than Sweet Mother's Kitchen. Specialising in hearty, home-style meals, the Sweet Mother's menu is inspired by New Orleans dishes and Mexican snack food. Yum. Their eclectic space is full of rainbow lights, diner-style booths, and a sense of cosiness that is second to none. Menu standouts include their traditional South Louisiana Gumbo, Mad Dog ribs—slow cooked and served with Bourbon mash—and their fried chicken with curly fries and slaw. Remember to save room for dessert—their homemade pies are not to be missed. Top that off with one of their milkshakes and you'll probably have to unbutton your pants. It's definitely worth it though.
Taste of Home
Wellington Central
Since opening in mid-2017, Chinese restaurant Taste of Home has earned itself a legion of loyal customers, and rightly so. The small space provides Welly with some pretty big flavours, and we can't even express how amazing the menu is. Hand-pulled noodles, fried tofu with garlic and chilli, crispy squid tentacles and soy glazed pork belly are just a handful of the gems they're serving up. We recommend going with friends—mostly so you can try a bite of everyone else's meal, to be honest. For those with a sweet tooth, the fried mini milk buns (covered in condensed milk) are the perfect post-meal treat. When it comes to Taste of Home, you can trust us, the hype is definitely worth it.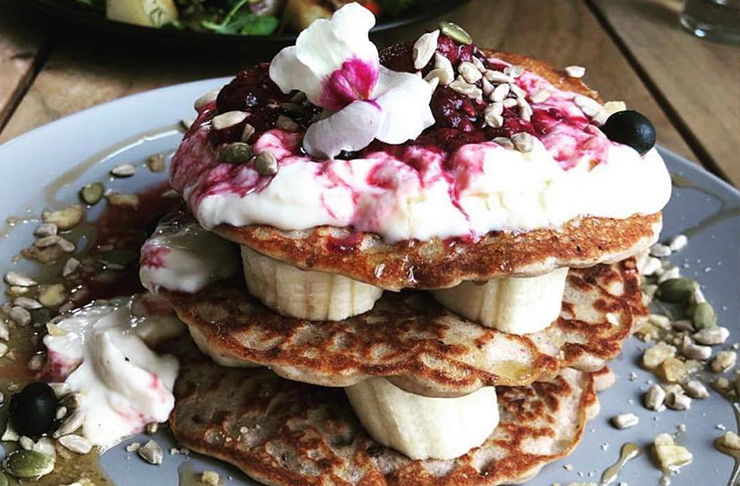 The Botanist
Lyall Bay
For vegetarian eats that even the biggest meat lover will enjoy, The Botanist is the perfect spot. Plants hang from the high ceilings and exposed brick features on the walls. It's laid back, it's funky, and most importantly, it's delicious. For a starter, get yourself some jalapeno poppers. Stuffed with cashew nut ricotta, deep fried, and served up with smoky mango BBQ sauce, these bad boys are pretty damn moreish. Then, you're going to want to chow down on a burger. Our personal fave? The BFC—Botanist Fried Cheese. When "fried" and "cheese" is next to each other on a menu, you already know it's going to be delicious. Pair your meal with a tipple from their solid wine and beer menu (or a kombucha), and you're good to go.
Lucky
Wellington Central
Okay, so technically it's not a restaurant. But we couldn't write a list of Wellington eats without mentioning Lucky. Situated in a hole-in-the-wall type spot smack bang in the middle of Courtenay Place, Lucky boasts a small but oh-so-perfectly-formed menu. For meat lovers, their fried chicken burger goes perfectly with their crinkle cut fries and homemade gravy. But Lucky also cater for the vegetarians among us, and thank god they do, because their halloumi burger is the best in Wellington. We're serious. Best of all? They're open until 1am on Fridays and Saturdays. What better way to end a night in town (or start it) than with a bit of fried chicken or a slab of crumbed halloumi?
Egmont Street Eatery
Wellington Central
Egmont Street Eatery specialises in modern takes on classic dishes. Nestled part-way down the Egmont Street laneway, the eatery is elegant, sleek, and the perfect place to visit for dinner and a drink. We love their burnt eggplant agnolotti (house-made, of course) with pinenut and capsicum caponata. Their wine selection is vast, meaning that there's always a perfect wine to compliment your meal. If you're overwhelmed with choice, the friendly waitstaff is always more than happy to help with recommendations. Head to Egmont for a beautiful space and beautiful food, every time.
Burger Liquor
Wellington Central
Burger lovers—listen up, we've found your new mecca. When a food joint has a basketball hoop on the outside of its building, you just kind of know it's going to be cool. Once you step inside Buger Liqour, it does not disappoint. The vibe is diner meets industrial, and it's the perfect place to stuff your face with some of Wellington's best burgers. It's hard to go past a classic: 'The Standard' features a beef patty, house-made pickles, cheese, and mayo/ketchup/mustard. If you're willing to stray from the norm, try the 'Mariah Curry': tikka marinaded chicken, cucumber, red onion, lettuce, tahini yoghurt and red salsa (and honestly how could you pass up anything named after queen Mariah). Grab a side of cheese fries and a hard shake (milkshakes with spirits—yes please) and you're in for a good night of burgers and liquor.
1154 Pastaria
Wellington Central
New kid on the block 1154 (Eleven fifty four) has quickly become a go-to spot for Wellington locals and visitors alike. The cooler-than-cool interior is effortless, clean, and homely, with duck egg blue tiling and long wooden communal table down the middle of the space. The menu is simple, which unfortunately doesn't make ordering any easier, because everything sounds too damn good. We love the Fusilli Pesto and the Linguine Al Vongole, but honestly, when all the pasta is house-made and garnished with fresh, locally sourced ingredients, anything you pick is going to be tasty. For a drink? Organic wines are on the menu. Mmmmm. Wine and carbs. Is there a better combination? We think not.
Image Credit: La Boca Loca, Little Penang, The Mt. Vic Chippery, Olive, Mr. Go's, Pizza Pomodoro, Apache, The Botanist, Egmont Street Eatery, Burger Liqour, 1154 Pastaria, Taste Of Home