Hot tip—if you're able to work remotely, you need to be planning your next "workation" stat. Think relocating yourself for a week or two and amping your nine to five WIPs, deadlines, and creative brainstorming sessions, just with some new surroundings.
We've searched high and low for some of the best places to shack up for a week with great phone connection, Wi-Fi, power, desk space and charging points so you can have a change of work scenery with minimal hassle.
Here are the best workations in Australia.
The Shed
NSW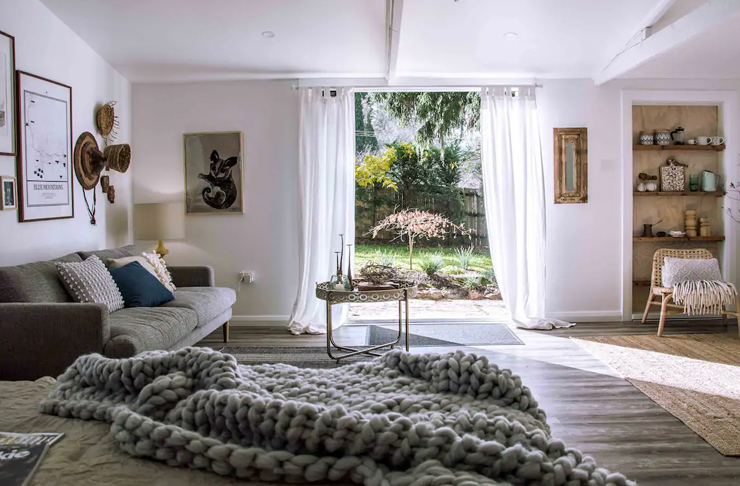 It's pretty handy having the Blue Mountains just a short drive away from Sydney (if you're around here). It's even handier that you can reconvene your workstation to this beautiful and enchanting converted shed. The Shed spans 36 square-metres of studio space and packs a king bed, a lounge suite with great natural light for your Zoom calls, a ripper dining table to work from, an espresso machine (like we need to explain), and, when you clock off after 5pm, a bar fridge.
You'll find some solid Wi-Fi here and USB charging stations at your bedside too. The outdoor seating game is also pretty next level, so you'll want to make the most of the sandstone terrace and rock garden when you do some pre-work cardio sessions at sunrise.
The Pool House
Queensland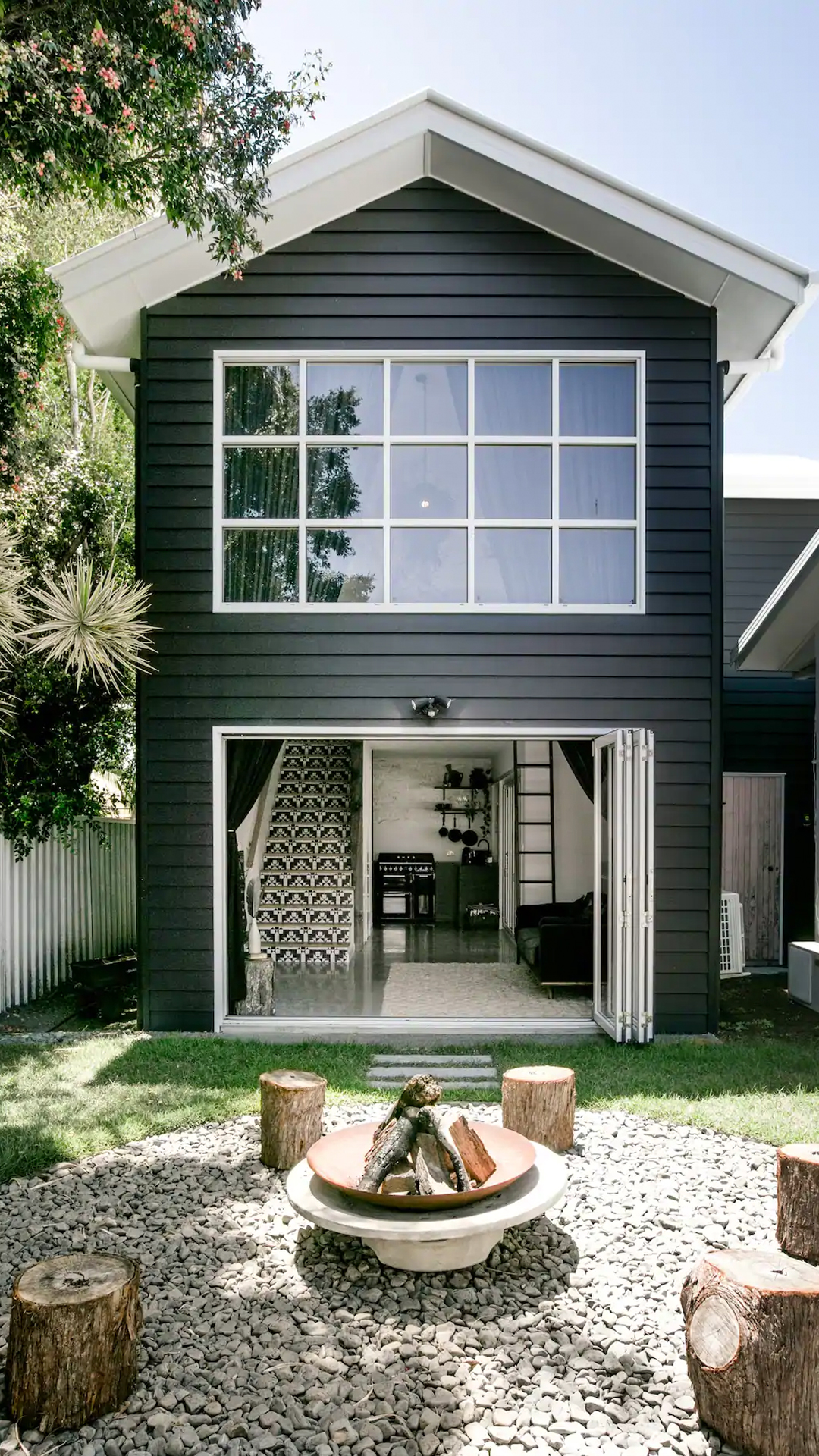 We mean… if you've never worked remotely in a stunning, modern pool house, what have you really been doing with your life? If you want a workation with all the trimmings—dine out al fresco, a pool, a fire-pit to wind down around at night time and a space that oozes the elegance and warehouse vibes of a New York-style loft, this freakishly stunning joint has your name on it. Set up your workspace on the wooden dining table overlooking the pool, take a dip at lunchtime, take your Zoom calls in the cabana (sorry colleagues) and kickstart your creative brainstorming session with the in-house coffee maker.
Mooloolaba Beach is obviously a must on your post-work adventures, as is Point Cartwright and hitting up The Velo Project which churns out a fruit loaf which comes complete with raspberry compote, whipped lime and coconut cream cheese, fresh local berries and chocolate soil. You can scope out more top breakfast spots close by here.
Eucalypt Studio
Western Australia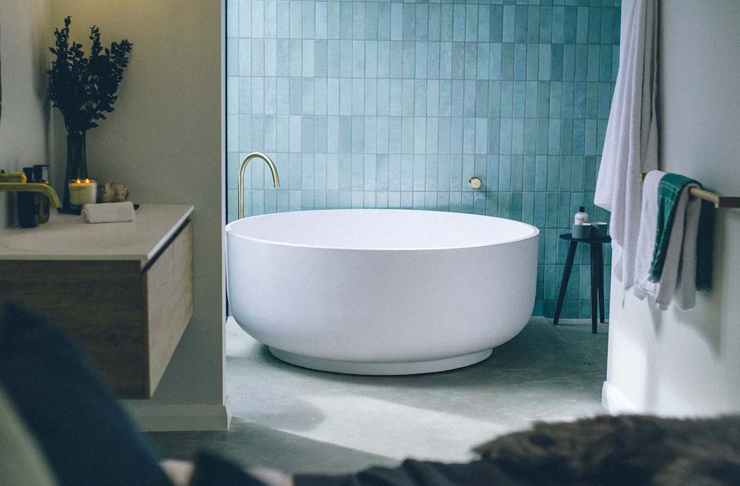 It's all about simplicity here and when you're kicking on a workation on your lonesome, sometimes that's all you need. You'll find this stay a short stroll from Dunsborough's town centre (fit with a tonne of cafes for your midday lunch break) and the picturesque Dunn Bay. There's a courtyard area which takes in a whole lot of space so whatever your fitness choice of poison—yoga, pilates, skipping, you name it really, you'll have a dedicated zone to get those endorphins up. Along with this, when you really want to relax to the max, float your deadlines away in Eucalupt's deep tub (which opens up into your own private garden) equipped with locally-made lush truffle bath bombs and oil-infused body care.
Not that you need more convincing but you can also set up a super delicious breakfast hamper and coffee to get delivered to your door which is packed with fresh baked goods, brie, yoghurt, bread and granola.
The Dairy At Red Hill
Victoria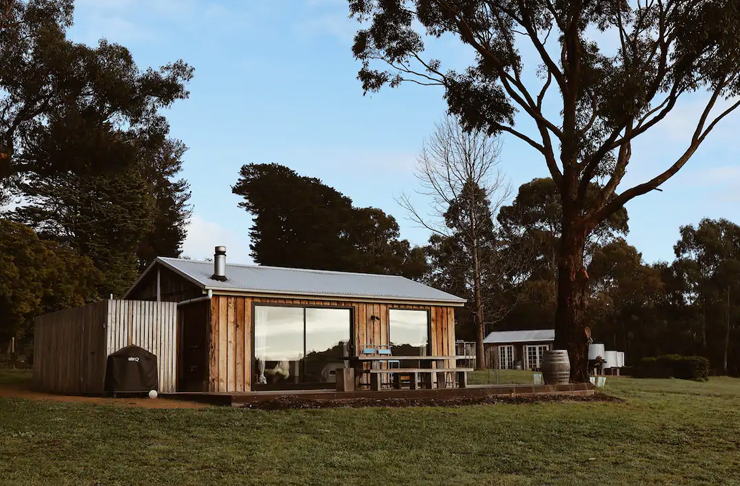 Spoiler alert—this workation oozes mammoth farm vibes. This beauty has been designed to inspire and what sparks creative lightbulb moments more than distressed concrete floors, a private deck overlooking the most breathtaking treescape (perfect for sunrise viewing) and the feeling that you're totally off-grid (don't worry—you have Wi-Fi)? Nothing. Since you'll be down Mornington Peninsula way, you'll also have a tonne of things to explore including Mornington Peninsula Brewery, the Peninsula Hot Springs and Max's at Red Hill Estate.
Bill's Boathouse
South Australia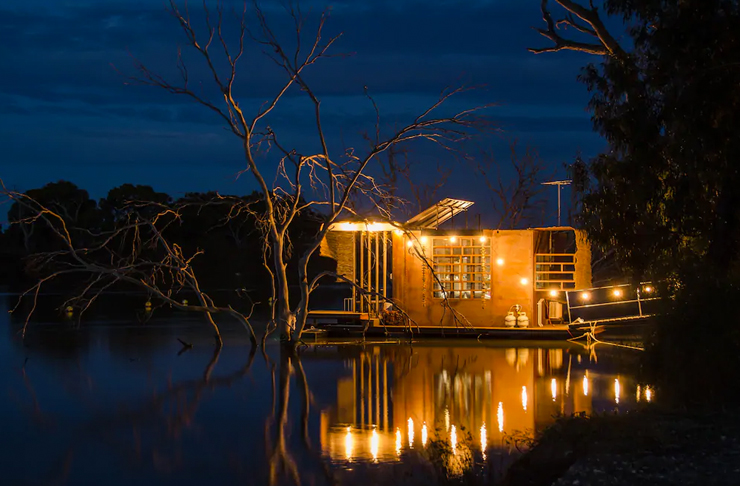 Picture this, you've just clocked off online, the sun has started setting and you're kickstarting the Webber barbeque for dinner. You've decided you'll try your luck at casting a line off the dock and after dinner, you're going to soak your troubles away in the outdoor bath. Life is good. Bill's Boathouse is nothing less than heaven on earth and it's the absolute pinnacle of the best workation you could ever treat yourself to. Not only does it sit right on the Murray River but this sustainable boathouse but it has a dedicated desk space for the workaholics out there.
Keen to plan more? Check out the best farm stays in Australia.
Image credit: The Shed, The Pool House, Eucalypt Studio, The Dairy, Bill's Boathouse