Don't Miss:
Two excellent talks are happening at Can't Do Tomorrow this weekend, Dirty Laundry, and B*tch Better Have My Money.
The Dirty Laundry panel is hosted by UL Sydney editor, Sammy Preston and features Simon Wood of Sneaker Freaker, Nicky Roswell of And Now Creative, Eddie Zammit of T-world, and Saul Kaplan of Redwood Press and Boy Wolf. Book your ticket here.
B*tch Better Have My Money is hosted by UL founder, Susannah George and features Tom Gerrard of Bench Talk, and Toby Benador of Just Another. Book your ticket here.
In December we announced that a new street art festival would be hitting Melbourne in 2020, and now, just over a month later we've got our hands on the epic line-up that Can't Do Tomorrow will be bringing to The Facility in Kensington in February. The festival will showcase so many amazing artists, and also give you the opportunity to purchase original artworks directly from the artists, as well as limited edition prints from a custom-built print store on-site.
Building on from the initial line-up announcement in December, Can't Do Tomorrow has announced that Badiucao, who has been nicknamed "China's Banksy" will bring his controversial show Made in Hong Kong, Banned in China—previously titled Gongle—to Melbourne for its world premiere.
Chinese-Australian artist Badiucao is one of the most popular and prominent political artists in China. His exhibition was initially to be shown in Hong Kong, however, the organisers cancelled the event following what they said were threats made by Chinese authorities.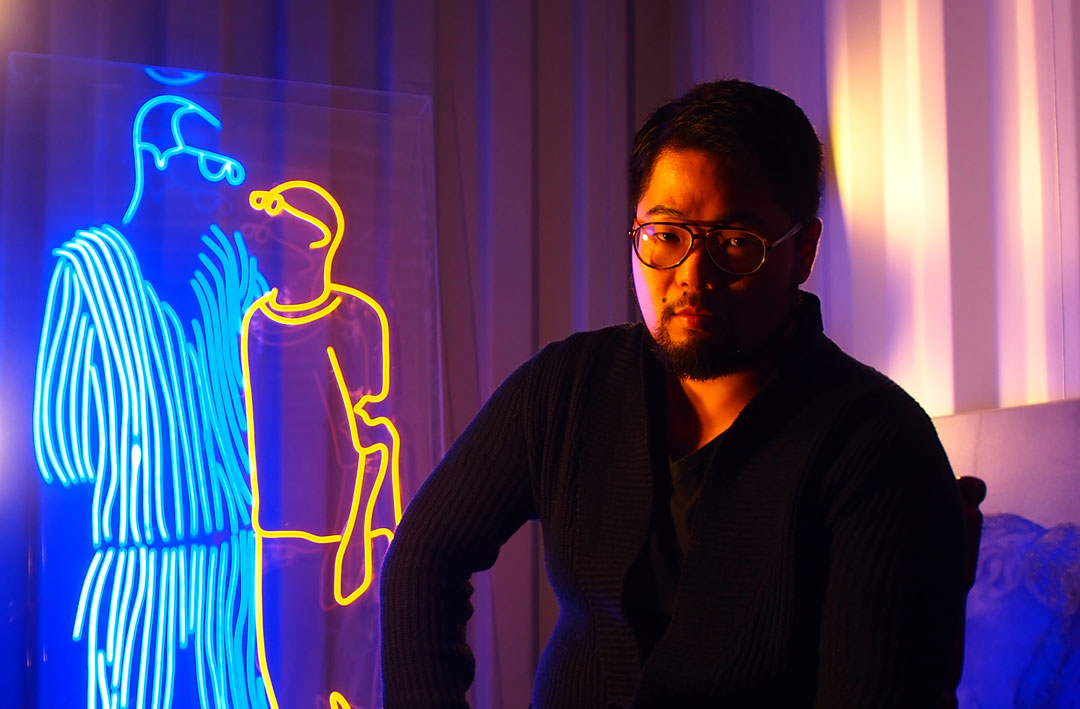 Image: Badiucao
The world-premiere exhibition 'blends together portraits of political leaders, exhibits of torture equipment and iconic Hong Kong neon to reconstruct metaphors anew.'
"In the end of 2018, seven months before the massive Hong Kong democratic movement broke out, three-days before the opening of my first solo exhibition in Hong Kong, two policemen from Shanghai came to my family in China and threatened them in order to stop my show.
The show was cancelled eventually due to the fear of the safety of myself, my family and everyone who helped in the show from Hong Kong. Many efforts have been taken to reopen the show in Hong Kong since but no venue has the courage to host it due to the threat from Beijing and the critical situation in Hong Kong. So, I have decided to bring it back to Australia, my second home, with Can't Do Tomorrow as the first stop of its global tour show."
Another highlight that's just been announced is Can't Do Tomorrow's collaboration with Southern Shorthaul Railroad (SSR) which will see a 22-carriage freight train that rolls up right next to the festival transformed by a group of prolific artists that includes Merda, Sirum 1 and Kab 101, and many more who will transform the train and lay old grudges aside as these two industries finally come together in harmony.
The train will form a massive outdoor gallery as it rolls around Victoria picking up harvested grain before returning to Kensington.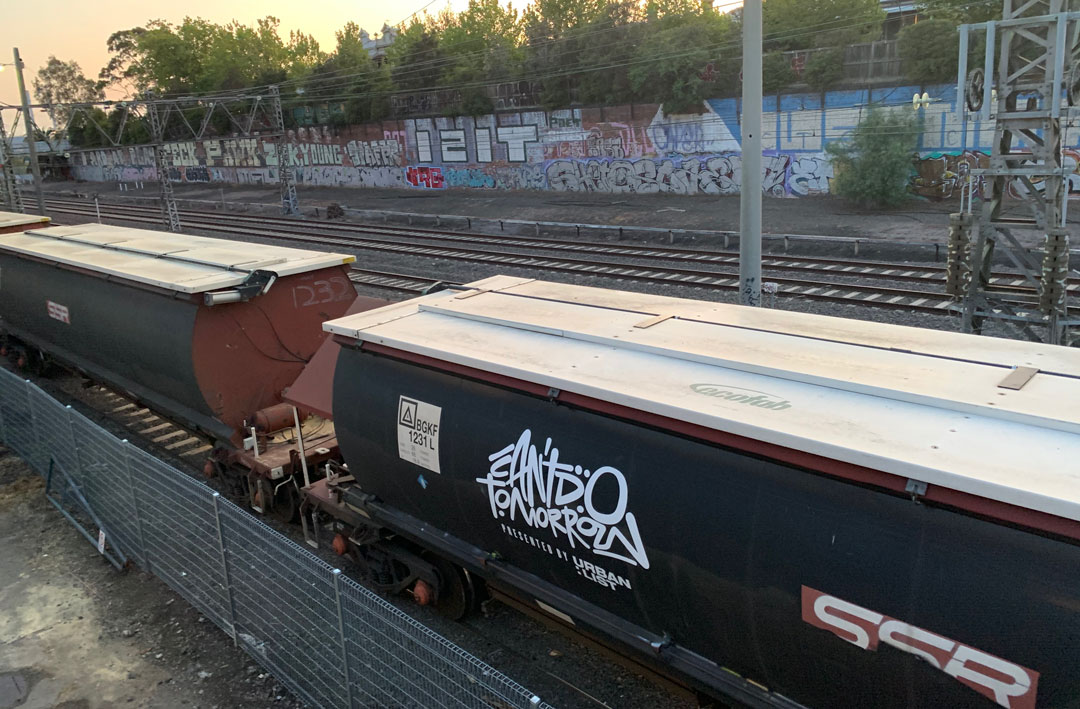 Image: the freight train that will be transformed
"Our partnership with SSR trains has enabled us to begin a new conversation between artists and train companies. This 22-carriage freight train, transformed by our presenting artists, will see the festival expand beyond the warehouse, taking these works on the move for an even bigger audience to enjoy." said festival director, Zoe Paulsen.
Can't Do Tomorrow also has a line-up of trailblazing female artists including George Rose who will transform the talks auditorium from floor to ceiling, Lisa King who will create a new installation driven by the concept "love is to die/love is to dance", Rose Staff will work in collab with projection illusionist Nick Azidis to create digital work which will take over the façade of The Facility, and much, much more.
The festival itself will encourage attendees to contribute and interact with plenty of the installations inside the festival. Of note will be a sailboat floating inside a temporary pool made from an old shipping container that's been put together by 2012 Archibald Prize finalist, Michael Peck.
Callum Preston—following on from his Milk Bar exhibition—will create an interactive installation inspired by 80s movie tropes of the "shady warehouse district", as well as works by Kaff-eine, and Mysterious Al.
The extensive talks program at Can't Do Tomorrow features opening keynote speaker Aaron Rose. Rose is based in LA and previously ran New York's legendary Alleged Gallery. Rose will be in conversation with Lucy Feagins of The Design Files on Friday 21 February.
On Saturday 21 February you can catch Baiucao as he speaks to his motivations and aspirations in 'The Dissident Artist'. Other names on stage throughout the festival include Sandra Powell and Andy King, Christopher Bradley, Scott Marsh, Kaff-eine, and plenty more.
Can't Do Tomorrow has also announced their music line-up which will smash out tunes from various stages throughout the festival space. Acts include Melbourne-based DJ MzRizk, TEYMORI (live), Cool Out Son (live), JNETT, DJ Mikey Goodfellow, Cara Mia, with a heap more on show throughout the ten-day festival.
With all of this happening you're bound to get thirsty, and it's good to know Melbourne beer legends Stomping Ground Brewing Co. will be on hand to pour the froths.
Stomping Ground has teamed up with Melbourne-based muralist Justine McAllister to create a secret bar that's hidden away amongst the winding hallways of The Facility. The team will be creating exclusive artist series cans of Laneway Lager that will be sold exclusively at the event, along with creating Australia's first limited-edition two-metre 100 beer can carton. Get through it and you'll win some massive adoration.
Can't Do Tomorrow happens at The Facility in Kensington from Thursday 20 February.
The Details
What: Can't Do Tomorrow
When: Thursday 20 February to Sunday 29 February
Where: The Facility, 12 Elizabeth Street, Kensington
For tickets, head to cantdotomorrow.com.
Need something to do before Can't Do Tomorrow starts? Check out everything happening around Melbourne right now on our Things To Do section.
Header image: George Rose, photo by Shannyn Higgins