Over the weekend musician slash actor slash creative genius Childish Gambino graced the southern hemisphere with his presence, bringing his highly anticipated PHAROS experience to New Zealand.
While it may have debut in California more than two years ago, Auckland is the only other place on earth to play host to PHAROS—and it's still getting considerable air time given Gambino's influence on the global music scene. After cancelling a string of Australian gigs earlier this month, it made this one-off NZ concert a global phenomenon.
With tickets only available through an exclusive app, all updates were posted exclusively in one place—including the dress code for all attendees to wear 'frequency/wavelength colour,' AKA green. (Naturally, if you're going to follow Childish Gambino into the forest to see a show you have next to no information about, we're damn sure you're gonna wear green when he tells you to.)
Another 'controversy' was the banning of cell phones during the concert, which actually made for a far more intense experience (if only because no one was watching the performance through a screen). It was also a strategic move from team Gambino to remove screens and lights littering the concert, as it would have distracted from the concert's centrepiece: a huge white dome in which concert-goers stood.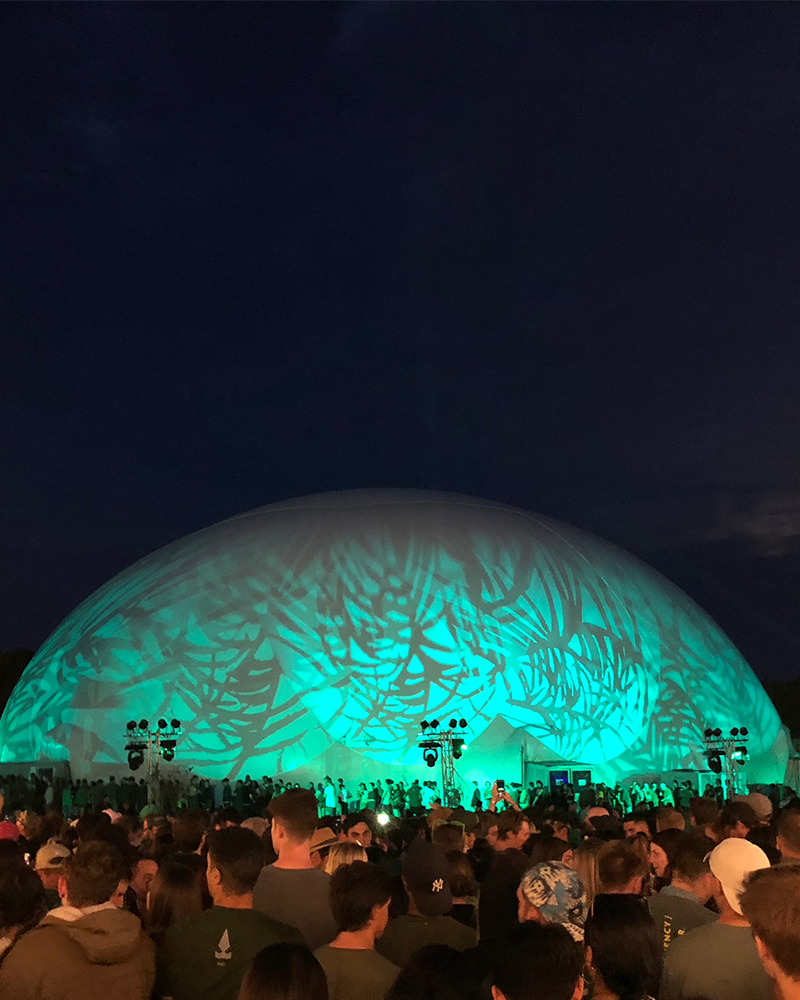 Illuminated with hyper-real crystal cavern projections, flowing lava and gyrating trees (not a typo), everyone in the room was undeniably present in the PHAROS moment.
Understandably, the main hold up to get inside the dome was that all mobile phones had to be locked away in tiny, iPhone-shaped bags but you quickly realised there was no way to capture this magic on your humble smartphone. After waiting in anticipation for—honestly, who knows how long, I didn't have my phone—the ground reverberated and the crowd cheered as things went from zero to 100, real quick.
Gambino's energy was unparalleled, and I'm confident we made eye contact—connecting us on a deep and personal level—but I'm also sure every single other person thought they did too. Even the most unenthusiastic fan would've been moving after the first few minutes. But the stage wasn't really the place to be looking; the dome truly was the (absolutely intended) hero here, and visually quite the masterpiece.
If you'd have told me last week I was going to a gig with no phones and no drinks, I might've made other plans, but the vibes from Gambino, from the venue, and from the crowd, were second to none.
You'll hear all the usual complaints from music festival attendees about queuing and the phone and the whole drinks thing, but Gambino didn't create PHAROS for those people. It was both incredibly simple and complex in its execution, making it possibly the most unique musical experience you'll ever encounter.
Rumoured to be his last tour as he focuses on his (many, many) other pursuits, Gambino definitely went out with a bang. If you've made it this far into 2018 and not figured out that Childish Gambino and actor Donald Glover are in fact the same person, well… surprise! He's a quadruple threat with a penchant to sharpen his award-winning acting chops and game-changing musical ear.
It's worth nothing that Gambino used PHAROS to launch the world premiere trailer for upcoming project, 'Guava Island'; a motion picture project which he's been working on with Rihanna. Director Hiro Murai, whose name you may recognise from Glover's hit series, Atlanta and 'This Is America' music video is also confirmed as director for the upcoming project. Release dates (and official name) are yet to be confirmed, but you can bet this will be one to watch in 2019.
End the year on a high, these are all the albums you should have listened to in 2018.
Image credit: Getty Images