If 2020's taught us anything it's that we all need to tread lighter on our planet—small actions taken individually can really make a difference. Let's start with your waste. Likely you are dutifully separating out your soft plastics, recyclables, paper and card for roadside collection but what about those leftover food scraps? Food waste is a major problem in Australia—costing the economy $20 billion a year and contributing over five percent of our greenhouse gas emissions. It's estimated that we waste around 300 kgs per person each year—that's about one in every five bags of groceries. Yikes.
We've come a long way from those rotting compost piles sitting in the corner of the garden (should you be lucky enough to have one), but even those require constant turning and maintenance to make the most of them. If you're looking for alternatives to traditional composting, we've found four ways to put your kitchen waste to good use.
Start A Bokashi Bin
If you like the idea of composting your food waste but aren't inclined or don't have the room for an outdoor bin, the Japanese Bokashi system could be right for you. Rather than allowing the waste to rot—like with traditional composting—the Bokashi system rather 'ferments' the waste, leaving behind a highly nutritious compost to scatter around your plant pots or outside. The best part is, this can all be done from the comfort of your home so you can recycle your waste without even having to step outside. Winning.
What you can recycle: Food scraps including cooked food, meat, fish and dairy.
What you can't recycle: Bones, liquid (water, milk, fruit juice), paper or plastic.
Nurture A Worm Farm
There's something so appealing about the idea of feeding your food scraps to some hungry little worms as vermicomposting is a great way to recycle your food waste. First you'll need a worm farm, or you could consider making your own. You can even buy your red wrigglers online and they will arrive in the post! These red worms (also known as tiger worms) are the champions of recycling waste and should not be confused with the usual earthworms that you find in the garden. Setting up a worm farm has never been easier and there are a wealth of resources online that you can use to make sure your worms are happy eaters. Once it's up and running your farm should smell earthy and after three to six months you can harvest the worm castings from the bottom of your farm to fertilise your potted plants and also use the diluted worm tea as liquid fertilizer.
What worms like: Most fruit and veggies, crushed egg shells, old coffee grounds and tea leaves, newspapers and shredded paper towels, hair clippings, vacuum dust!
What worms don't like: Citrus, tomatoes, onions, dairy products, greasy foods, bread and pasta, meat and fish, garden waste.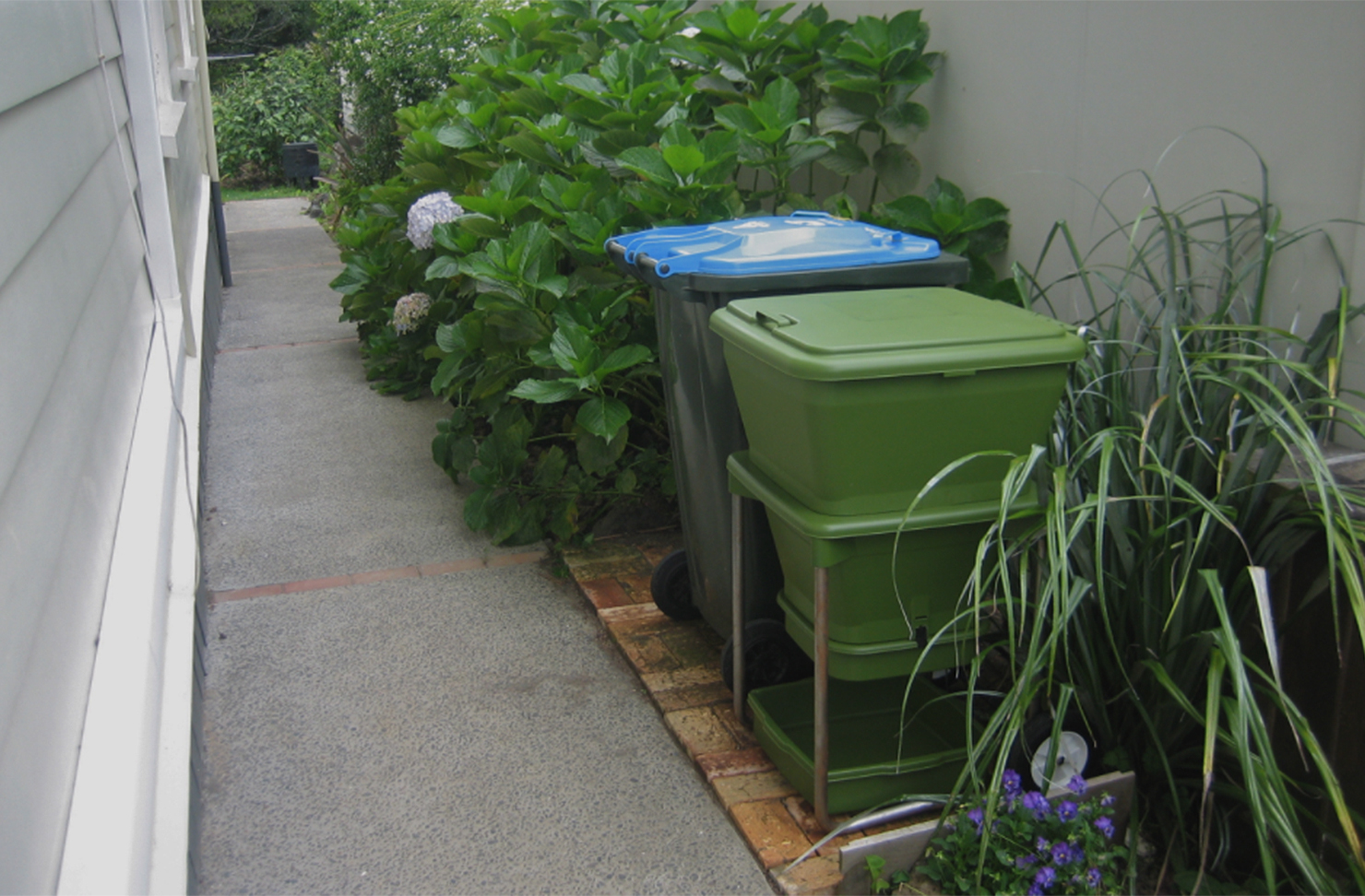 Invest In A Food Recycler
If you'd rather not have too much to do with your waste at all, a new innovation has come on the market that you need to know about. An electric composter like this food recycler will actually dehydrate up to 1kg of scraps in around three hours leaving you with a highly nutritious flake at just 10% of the original volume. The dried and ground flakes can be used to fertilise your plants in or outside, or simply reduce the amount you need to throw away. This can sit in your home on the counter or under the sink, you'll just need a power socket. It's not the cheapest option on the list but it's well worth considering if it appeals.
What you can recycle: Almost anything including meat, dairy and bones.
Research Your Local Food Recycling Programmes
Lastly, why not give your scraps to your neighbours to pop in their compost? If you're in Sydney, this initiative connects you to the people who live by you to help you recycle your food waste if you don't have your own composting unit. If not, you can find a recycler near you.
Keen for more ideas? Here's 16 simple swaps to improve your foodprint immediately.
Image credit: Supplied
Editor's note: Urban List editors independently select and write about stuff we love and think you'll like too. Urban List has affiliate partnerships, so we get revenue from your purchase.