Unless you've been living under some kind of well-ventilated rock you'll know all about a little film called Crazy Rich Asians.
Starring Constance Wu, Awkwafina, Ken Jeong, Gemma Chan and Michelle Yeoh, Crazy Rich Asians became an instant classic rom-com that has brought praise aplenty for its representation of westernised Asians across the globe and well-deserved admiration for the beauty of Singapore, where the film is set.
From incredible restaurants and bars to jaw-dropping installations, if you haven't yet visited this beautiful place, now is the time.
So, without further ado, here's how to have a Crazy Rich Asians movie experience all on your own.
Changi Airport
We all heard Rachel Chu land at Changi Airport in Singapore and rave about a 'butterfly garden' and she was right.
Changi Airport has legitimately raised the standard of airports—nay, public spaces—everywhere. Along with things like an indoor pool, entertainment area, movie theatre and complimentary city tours, Changi boasts the world's only 100 per cent legit, airport-based butterfly garden with 1,000 butterflies.
If you're visiting we also recommend popping up to the rooftop pool for just $17SGD. The cost will get you use of the showers, a towel and complimentary non-alcoholic drink. Still not relaxed and pampered enough for the airport? Let The Kitchen by Wolfgang Puck treat you to well-crafted local and international dishes before a stay at the Crown Plaza Changi Airport. The World's Best Airport Hotel (that's not hyperbole, they actually won that title) has day rooms for stopovers under 8 hours as well as a 24-hour fitness room, spa treatments, restaurants and lounges.
Finally, if you're in need of a fancy, but totally affordable airport transfer, you'll want to check this out.
Newton Food Centre
There's not a single thing we like more than the term 'Food Centre' and Newton takes the cake.
A hot minute from Changi Airport, the Newton Food Centre is perfect for those who find themselves peckish the second their feet hit the tarmac. Local dishes like Hokkien mee noodles, chilli crab, BBQ chicken wings, popiah and satay skewers (just like the movie) are sure to hit the spot.
Our personal faves are the fried oyster omelette from Hup Kee and chilli crab from Alliance Seafood, you just can't go wrong with either. Top it off with carrot cake (very different from our version) and beer with your friends and it will be like you've stepped inside the movie.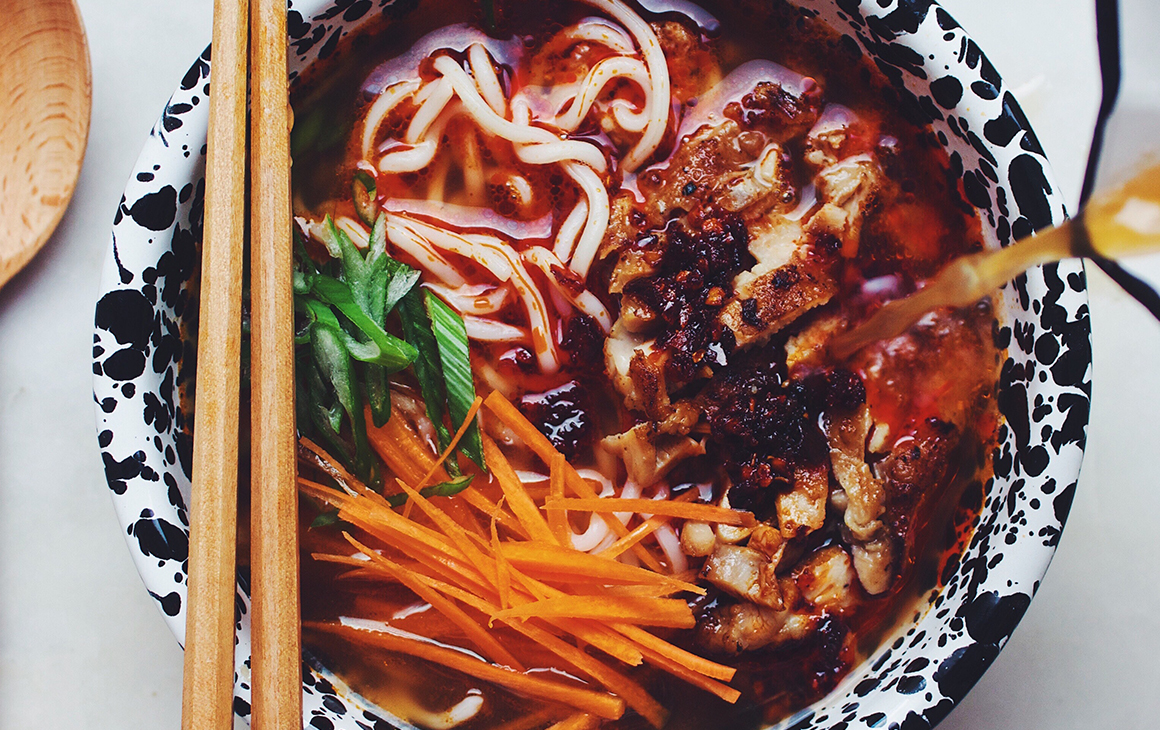 Raffles Hotel
Yes, it's that scene. You know the one, Nick and Rachel wake up in the hotel and you're thinking, 'Damn those sheets look comfy'.
What's important to know about Raffles—aside from it being a tiptop 103-room hotel—is that it has a famous gin-based cocktail called the Singapore Sling. Invented by former Raffles bartender Ngiam Tong Boon, the cocktail started off simple but grew to become a mix of gin, cherry brandy, Bénédictine, bitters, Cointreau, pineapple, lime juice and grenadine aka heaven.
Raffles is currently closed for remodelling but don't worry, they'll be back in business this coming August. Until then you can keep up to date with their sure to be stunning renos here.
Bukit Pasoh Road
We've jumped forward a wee bit in the film, but don't worry because we've reached a reference that includes the illustrious Awkwafina.
Bukit Pasoh Road, known for its bars and restaurants, is featured in the scene where Rachel reaches out to her college roommate Goh Peik Lin (Awkwafina) for advice on how to deal with the Young family.
If you're visiting the area, there's a smorgasbord of bars to choose from but we have an affinity for Humpback for its top notch seafood and a much-loved gin and tonic hybrid, the g'vine floraison & elderflower tonic. Failing that, a dip into The Flagship (home of the Old Fashioned) or Gibson whose signature cocktail, 'The Gibson' is a must try thanks to its meld of umami and fruity flavours.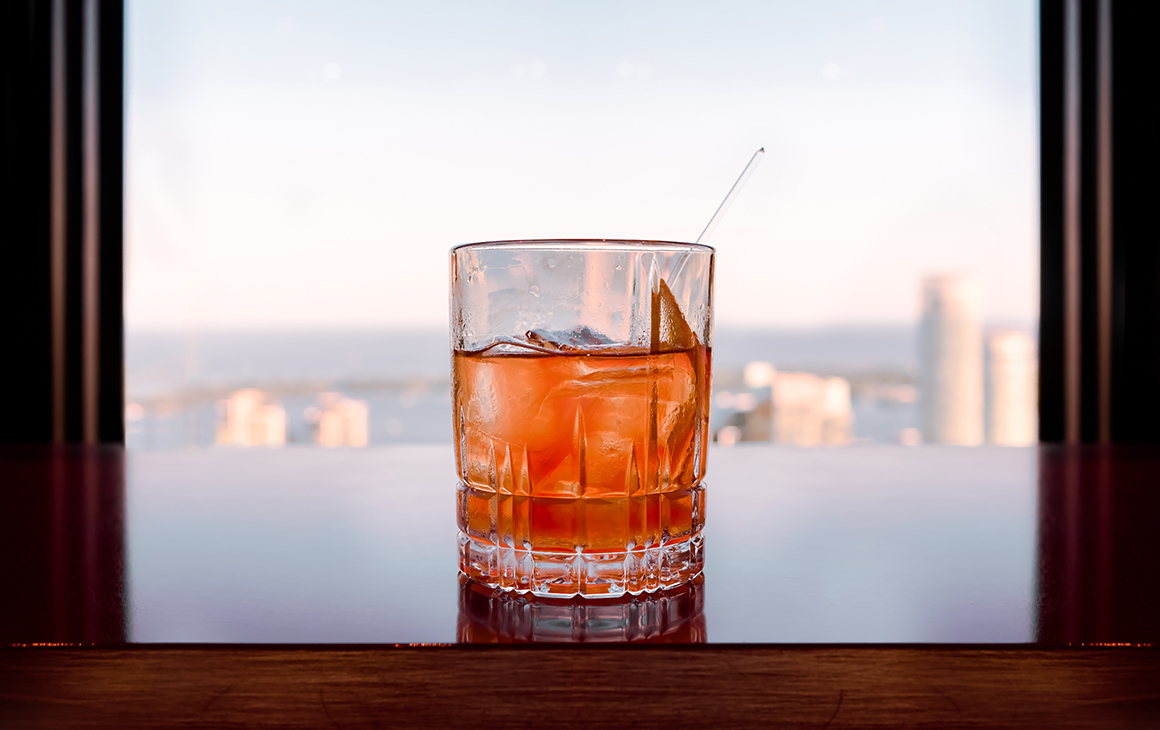 CHIJMES Hall.
"Bok, bok, bitch".
That's right. You'll recognise CHJMES (pronounced "chimes") from that infamous CRA scene when Rachel decides to play chicken with Nick's mother.
We'll all recognise the Gothic-style church as it is in the film, decked out in the most OTT tropical jungle theme of all time, but CHJMES normally sings a different tune design-wise with high-ceilings, pristinely white columns and stained-glass windows.
While it's a brilliant place to visit at any time, we recommend popping by for an evening/night visit for a touch of romance only twinkle lights can provide. There are a number of great bars and restaurants too, so why not make a night of it?
Supertree Grove At Gardens By The Bay
We'll forgive you if you thought the fantastical Supertree Grove from that infamous CRA wedding reception was computer generated. But no, those tall, futuristic 'trees' are real and located in Singapore's Gardens by the Bay. Measuring between 25 and 50 metres tall, the vertical gardens come alive at night with light displays and best of all, are totally free to visit.
The site is open between 5am and 2am for you to re-enact Rachel's dramatic runaway scene at will but if you like to see life from all possible angles the Grove is also viewable from the 22-metre-high OCBC Skyway (not quite so free at $38 AUD for adults), taking visitors on an aerial walkway through the 'trees' at set times. Grab your tickets here.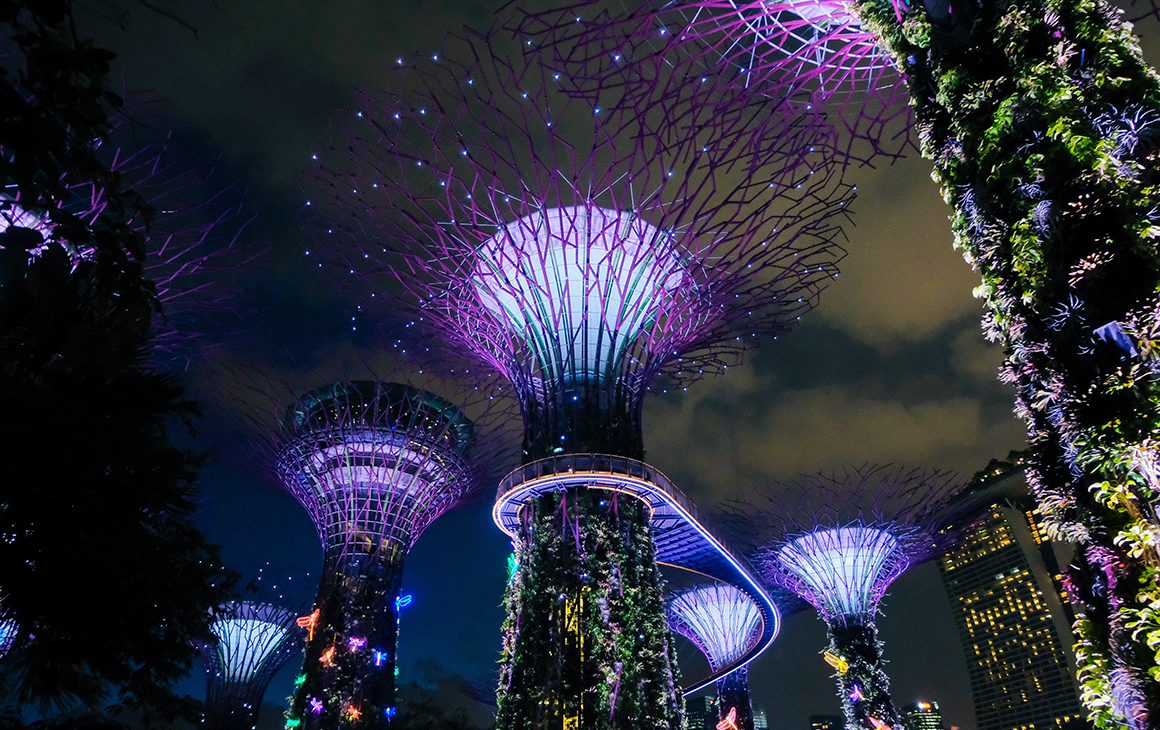 CÉ LA VI On Top Of Marina Bay Sands
Consisting of a restaurant, SkyBar and club lounge, CÉ LA VI is as every bit glamorous in real life as it is in the CRA final scenes. On the 57th floor and perched on top of the Marina Bay Sands Skypark it boasts 360-degree views to boot.
Start your Saturday with a sky-high lazy lunch (from 12pm to 3pm) before cocktails and champagne bring you through to a night of dancing. Every night is a little different too so make sure to book in your fave.
Finally, why not zip around on this dedicated Crazy Rich Asians limo tour?
Want more? Head this way for maximum travel inspo.
Editor's note: Urban List editors independently select and write about stuff we love and think you'll like too. Urban List has affiliate partnerships, so we get revenue from your purchase.
Image credit: Nicolas Lannuzel, Miguel Sousa, Mathew MacQuarrie/Unsplash