Welcome to Culture Curve—your go-to guide to what's on the rise and slide in culture in October 2020.
This month, we take a look at the sun-filled future of city restaurant culture as local governments and councils drop plans for a season of outdoor dining. We chart the verve for astrology in 2020, and check-in on deadstock—a sustainable fashion concept that's been gathering speed throughout the year.
We're also welcoming a fresh new spin on body positivity, opening our eyes and ears to the hidden limits of our understanding of diversity, and examining what university life might look like in the not too distant future.
Here's what's on the rise, and on the slide this month.
Al Fresco Cities
Social Justice Astrology
The Deadstock Economy
Body Positivity
Hidden Biases
The Campus Life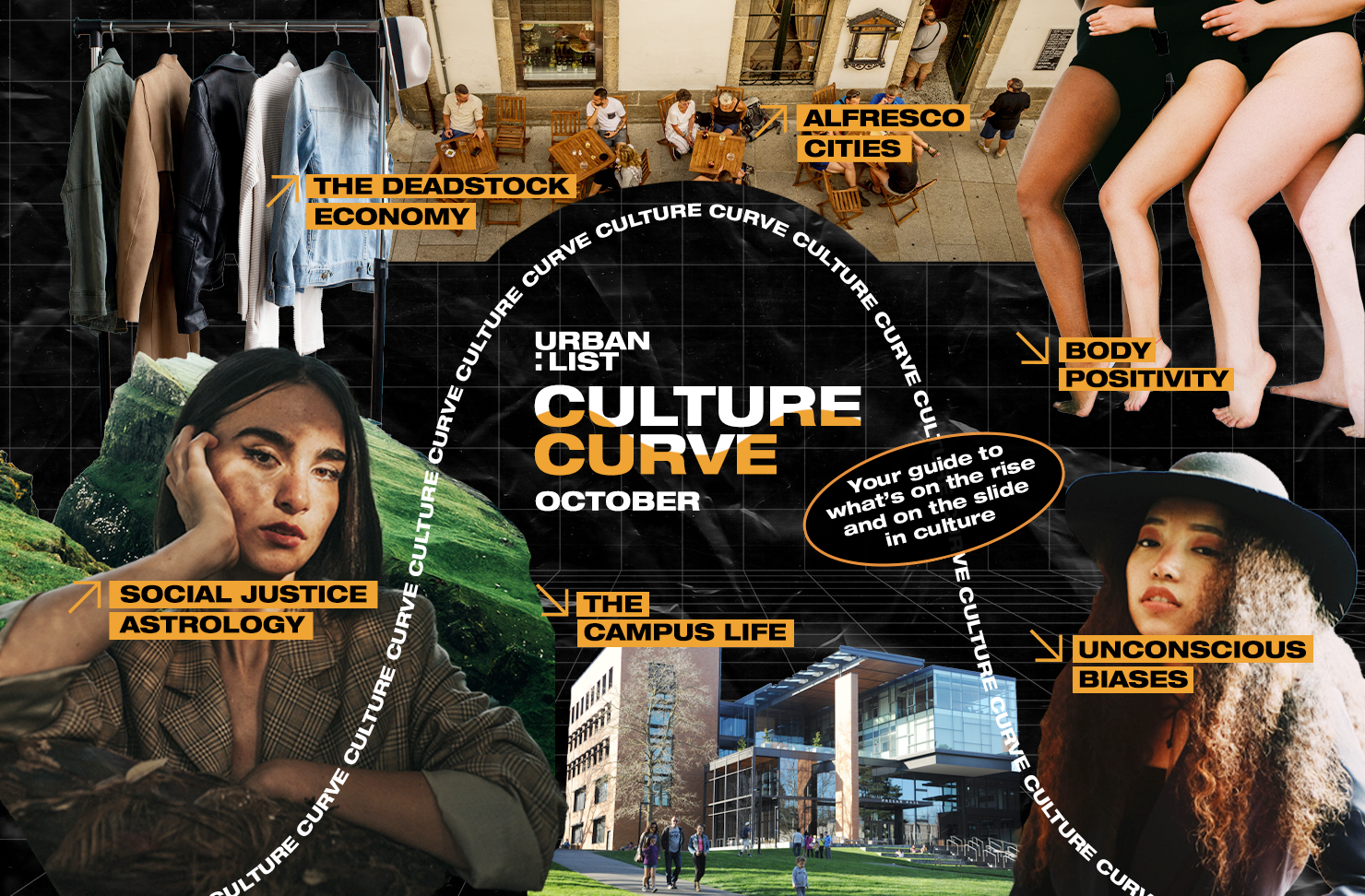 ON THE RISE
Let's Go Outside: Al Fresco Cities For The Future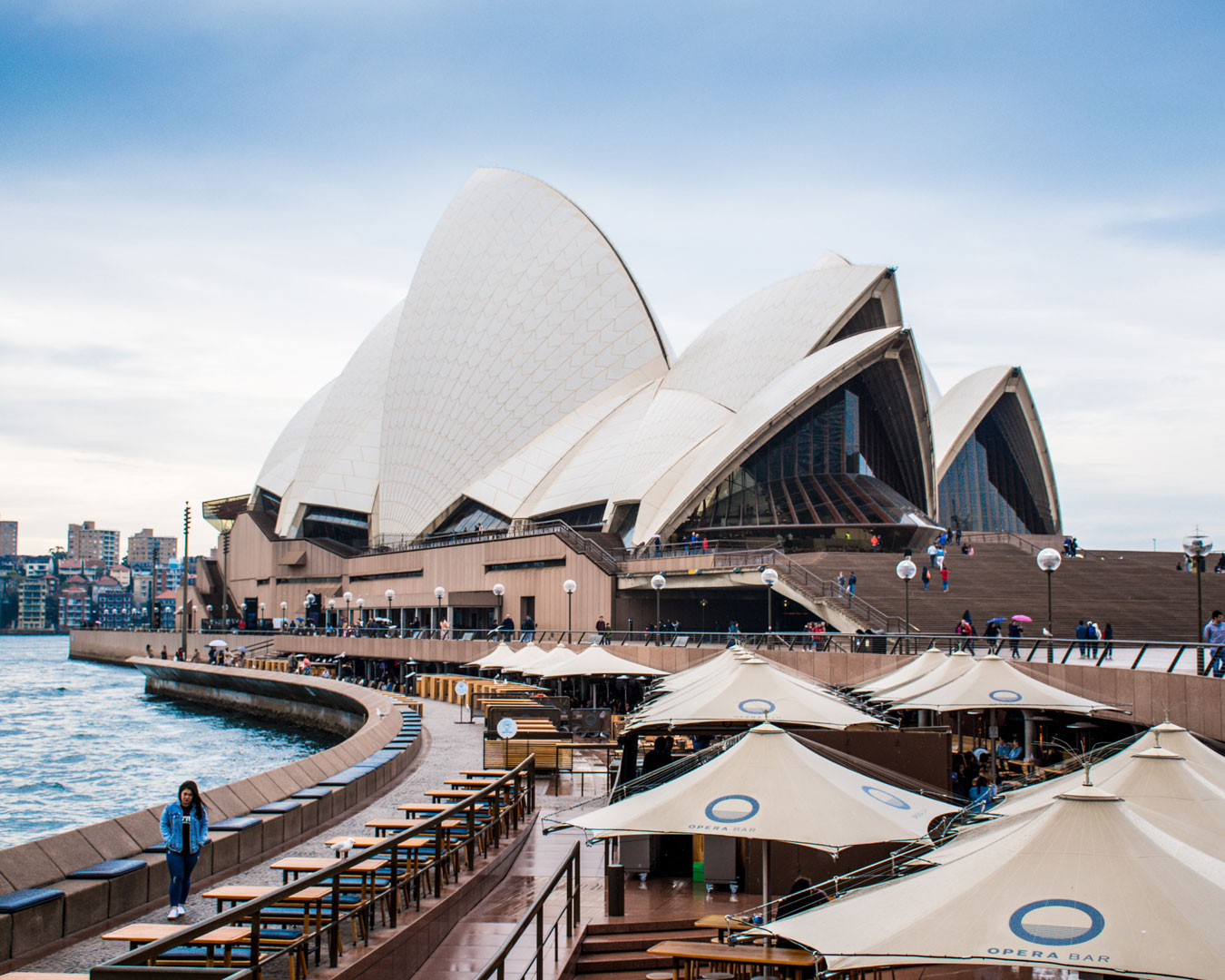 If there's one thing we know at Urban List, it's that living your best city life is largely defined by great eats—the restaurants, bars, cafes, pubs, speakeasies, and holes-in-the-wall where we eat, drink, hang, and live the waking hours outside of work. Food culture is a huge part of our city identity, and it's especially a part of the fabric of cities like New York City and, on home turf, Melbourne and Sydney. It's no secret that 2020 has dealt a colossal blow to this element of city life and to the industry that underpins it—but local city councils are fighting back with culture-boosting al fresco plans.
New York's temporary COVID-induced outdoor dining has become a permanent feature this month, with streets closed off to cars, sidewalk seating, permission to set up extra tables in front of neighbouring businesses, and fully-fledged marquees during winter and snow. Back home, in September Daniel Andrews revealed a multi-million dollar support package to help Melbourne restaurants create outdoor dining space, with free applications for extended outdoor dining permits, and access to car parks and a set of 15 inner-city pop-up dining hubs for restaurants with no outdoor footprint. Extra tables in the sunshine may not revive the one-in-a-million food culture that cities like Melbourne and New York have lost to COVID, but we're hoping it might pave the way to something new.
In Sydney, where COVID cases have been less rife, a blueprint for a new al fresco city feels more like a welcome refresh, as opposed to a pandemic fix. The NSW Government has revealed a plan to establish the city as a bustling 24-hour economy, with footpaths and parking spots turned into al fresco dining areas, mini-parks, and roving art installations. Areas that were once filled with international tourists are also being transformed into outdoor dining hubs, and in early October the City of Sydney council announced $20 million in joint funding for a summer of outdoor dining that would include outdoor stages and live music. For a city whose reputation for red tape around noise complaints, live music, lockouts, and liquor licenses is nothing short of notorious—this is a pretty major move.
A Sign Of The Times: In 2020 Astrology Is Getting "Woke"
Millennials and Gen Z have tended to be demi-believers when it comes to astrology. Hardly fanatics but totally invested as a pitstop of introspection, it's likely that they can rattle off their star, moon, and rising signs; they're probably following an astrologer or two on Instagram, and they enjoy citing cosmic tidbits about themselves or monthly mantras dedicated to their sign. The astronomical (pun intended) popularity of Co—Star in 2019—an app that wields an algorithm to dish out outlandish, bizarre daily horoscopes via push notifications—is a perfect example and a part of a generational mood that's given rise to a booming $2.1 billion "mystical services" industry in the last year.
You might think the events of 2020 would have inspired both generational cohorts to seek out more factual, scientific, even certain information on their future—but COVID-19, social disruption, climate change, and political disorder have only served to catapult astrology into new celestial heights of relevance—it's a source of comfort, an outlet for self-care—maybe even a moral compass. Urban List's brand new horoscopes hub, led by Australian astrologer Emma Vidgen and released just last month, has already amassed thousands of page views and shares.
And while, yes, the search phrase "will Trump win in 2020 astrology" has increased by 3,000 percent in recent months, alongside a quest for answers in one of the shakiest and unpredictable years in recent history, a new band of astrologers under a banner of social justice have begun to emerge. Rising astrologer and New York Times bestseller, Chani Nichols weaves protest messaging into her seasonal predictions, like, "Self-promotion was for Leo season, we have a world to save!" and, more blatantly, "Welcome to Libra Season! Refuse fascism at every turn!".
Famously, Nichols used last November's Mercury retrograde to push her followers to vote on net neutrality, and she's currently doing the same for the upcoming presidential election. Interestingly enough, Nichols' new socially-conscious reading of the stars has been at odds with Co—Star in 2020. The app has been in hot water both for tone-deaf content during the height of the Black Lives Matter protests in the States, and for daily horoscopes that have disregarded quarantine stay-home advice.
How COVID-19 And Depop Helped Advance The Deadstock Economy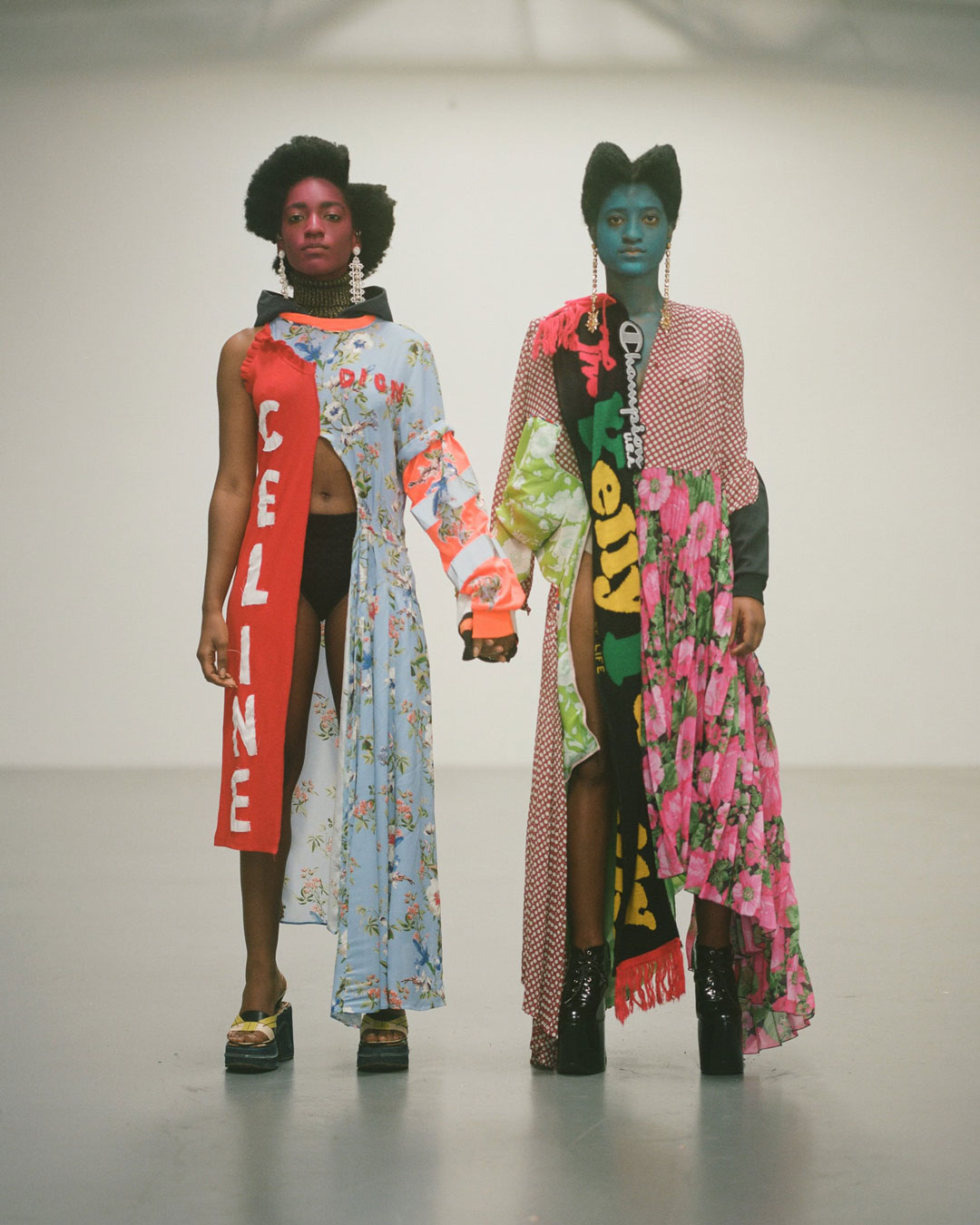 Once upon a time, fashion deadstock used to be a problem—swathes of excess fabric and leftover inventory that didn't sell—left to plug-up land fill. Back then, Depop and circular fashion didn't exist and the fashion industry was on a quick path to worldwide waste domination. As the buzz for change in the style sector has grown, sustainability has become less of an abstract concept and more of a business model, some forward-thinking fashion designers started to use or reuse, rather than throw away (or even burn) deadstock. Fast forward to 2020—fashion deadstock is still a serious waste issue, but it's finally getting the level of creativity and attention it deserves. The pandemic has slowed and shuttered supply chains and potentially provided a welcome shift to fashion's "more is more" mindset, making way for a waste-less solution that's recently been coined "the deadstock economy".
Up and coming and socially conscious fashion labels have led the charge—from Melbourne, HoMie's REBORN capsule has earned major attention since launching in March, including a collab with iconic American sportswear label, Champion. In the States, Reformation is a major player in the deadstock game, repurposing vintage clothing and fabric into coveted keepsake dresses, while influencers like Miniswoosh have inspired a new wave of repurposed style. Dutch designer Duran Lantink has been making waves in the luxury world repurposing Off White, Prada, Richard Quinn and Valentino deadstock for the likes of Billie Eilish and Janelle Monáe (he's the guy behind Monáe's infamous "vagina pants").
Through a COVID lens, the stage is set for fashion to embrace deadstock. Gen Z's lockdown-inspired love of DIY fashion has seen brands like Dickies and A-Cold-Wall sell and giveaway deadstock fabric for fans hoping to recreate their own clothes at home. And it's not just brands digging into piles of deadstock either, with Depop as their shopfront, Gen Zers like Daniel Walters are reconstructing second-hand clothing and making good money in the process.
ON THE SLIDE
Body Neutrality Is The New Body Positivity
The term "body positivity" was never meant to mean anything other than something well—positive. While the phrase has a long history dating all the way back to the 60s, it was brought to life again back in 2012, two years after Instagram launched. These first two years saw a whole lot of warped feminine beauty standards, where "thigh gaps" and dangerous detox teas were placed on a pedestal. Instagram played a pivotal role in spreading "body positivity" at this time—a movement that sought to reject these unrealistic expectations. From young girls petitioning Teen Vogue to stop airbrushing photos, to Kendrick Lamar's lyrics "show me something natural..." from his award-winning track HUMBLE, the movement aimed to readdress the ways in which the media portrays bodies, calling out the negative influences associated with depression and eating disorders.
Now, with Instagram hitting the 10-year mark, it seems we all have body positivity fatigue. This next phase of recognising natural beauty is pushing to just accept our bodies as they come, a message that has been widely pushed by the likes of actress Jameela Jamil. The actress explained in an interview with Trevor Noah that the reality is, an individual cannot always actively be positive about their bodies. Body neutrality is a state of being where we can respect our bodies as they are, and not give too much positive or negative thought to how they appear or function.
Beyond Race And Gender, Can You See Your Hidden Biases?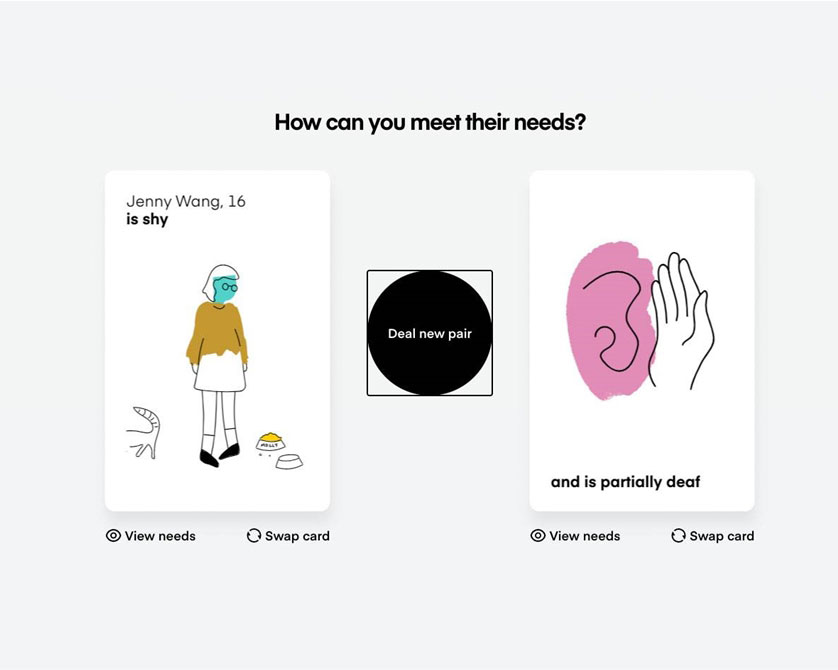 Some of the loudest social justice movements of the last decade have championed a new level of diversity, and for historically silenced voices to be heard, represented, and understood. Black Lives Matter and #MeToo have made the world think twice about long-held biases on race and gender—and indeed, 2020 has been heated with a new urgency to uncover and dismantle unconscious, tired stereotypes and prejudiced ways of thinking in order to better understand the vulnerability of the many millions of people in the world around us.
With this in mind, global design studio Idean recently launched "Cards For Humanity". Inspired by "Cards Against Humanity", it's a virtual card game to help designers understand their hidden biases at various stages of their creative process; to challenge the inclusivity of the product being designed, as well as any presumptions or subconscious choices designers might make based on their own experience. Beyond the mega issues of race and gender, Cards For Humanity advocates for the staggering 15% of the world living with a disability, and the millions with sight loss, dyslexia, or anxiety. It even goes as granular to include characteristics like a short attention span, laziness, shyness, and impatience.
As businesses around the world begin to develop diversity policies—like Brother Model's new diversity board, and Conde Nast's new Global Diversity Officer, we think it's important that terms like diversity and inclusivity don't lose their ultimate openness and understanding for differences. Speaking to It's Nice That, Director of Inclusivity at Idean Charlotte Fereday said, "Without inclusive design, we risk excluding people from an increasingly digital world—which means excluding them from society at large".
From Virtual Classrooms To Funding Cuts, What Does Uni Life Look Like In The Future?
This is true of a few things in 2020—but university life as we know it in Australia is in a state of flux. As well as the more obvious COVID-emptied lecture halls, the big billion-dollar business of universities and international students, problematic campus college culture, and the dwindling usefulness of some bachelor's degrees—new Federal Government university funding reform, which has this month been passed in the Senate and is currently awaiting the final green light—will also dramatically shift the future of campus life in years to come.
With the loss of international students, Australian universities are looking to new markets and products like shorter courses and lifelong learning, research will need to rely on business partnerships for support, and the campus building boom—which has included award-winning architectural buildings—will draw to a halt. Some universities are also considering merging with others or downsizing completely to be sustainable.
Speaking to The Guardian, Universities Australia Chair and Curtin University Vice-Chancellor Professor Deborah Terry said, "...Teaching and learning and the nature of work is changing. People are going to have to up-skill and re-skill much more than previous generations. In the next few years, we will need to think through what does an international education look like in the future. How does Australia continue to play its leading role in that area?"
Want to read more? Delve into Urban List's 2020 reader survey insights right here. Read last month's edition of Culture Curve here.
Design credit: Dominique Lonsdale
Image credits: Susan Kuriakose, Duran Lantink, Idean