Welcome to Culture Curve—your go-to guide to what's on the rise and slide in July 2020.
It's safe to say we have entered a new era of culpability, and we're wielding a new set of tools to get us there. Gen Z has found political clout to rival Facebook bots, "data healing" aims to harness the manipulative power of ad tech for good and, after iso, introverts are holding court in our extrovert-dominated culture.
Elsewhere, media and millennials are under scrutiny, and brands are beginning to show off imperfections in place of purpose washing.
Here's what's on the rise, and on the slide, this month.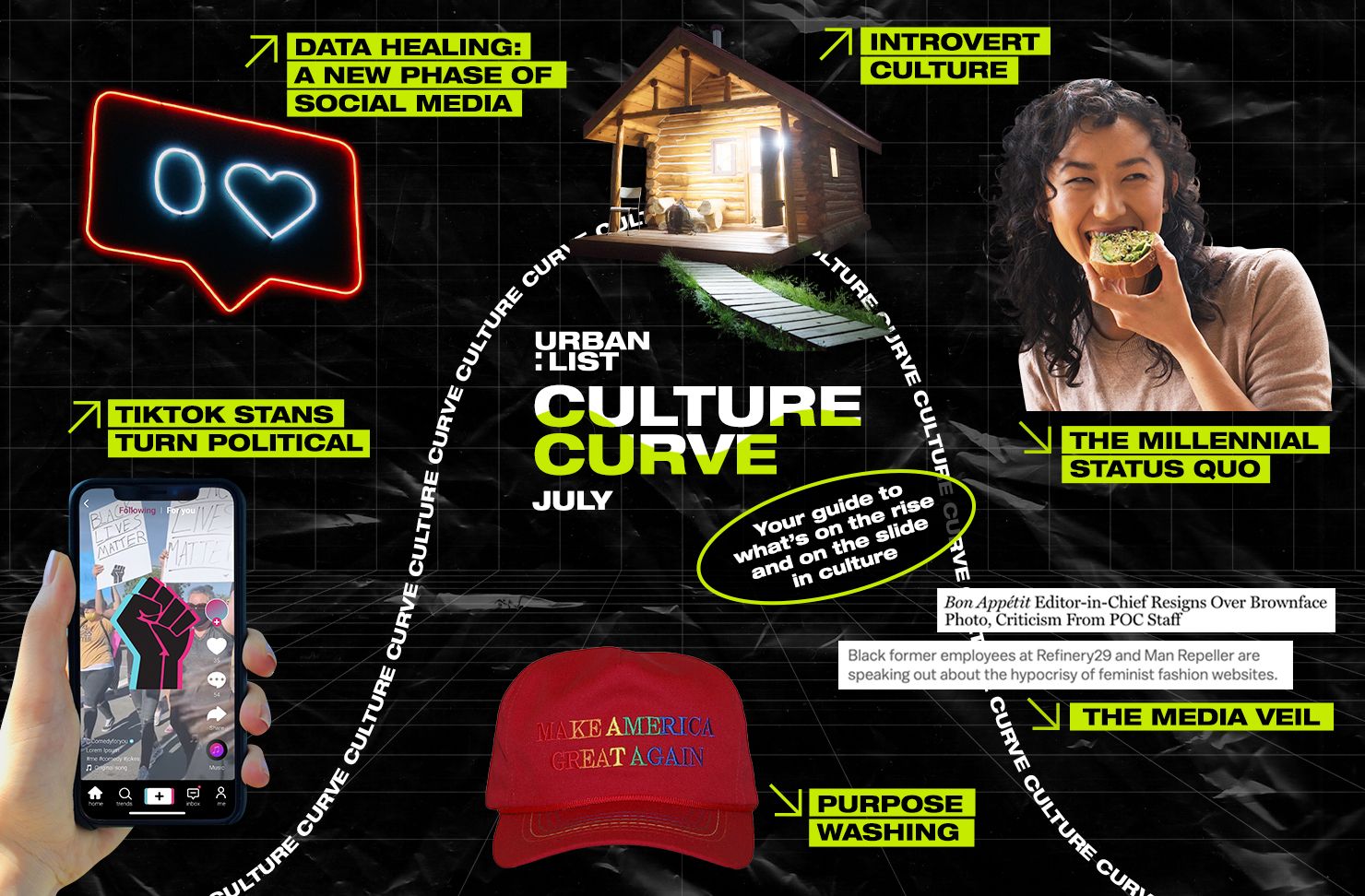 RISE
TikTok Stans Have Major Political Clout And Here's How
If there's one thing that has caught our attention over the course of the last few weeks—it's TikTok users' new political clout. Since the pandemic, the current Black Lives Matter movement and more locally, the focus around Indigenous incarceration, there has been an overwhelming online uprising of voices that have emerged from these social issues online.
But how did TikTok—a Chinese video-sharing social network, centred on short dance, lip-sync and comedy videos—get political? It should come as no surprise that TikTok's user base grew massively throughout lockdown (it saw 315 million downloads in the first quarter of this year) and that most of the "political content" on the app expresses itself in the way of fandom culture. The thing is, TikTok has found itself at the intersection of pop culture and activism. Why? Because its major demographic usage is that of people aged 18-24 (say hello to Gen Z). If we take a quick dive into what this generation is typically characterised by—it's a collective of people who are way more racially and ethnically diverse than older generations and more educated.
These complex attributes are then echoed through Gen Z's obvious attraction to TikTok. In the words of Amplify's CEO Keiran Matthews, the social platform, since its launch back in 2016, has "democratised virality" and made "users feel as though they have a tangible chance of going viral and becoming an influencer," which resonates in a big way with younger consumers.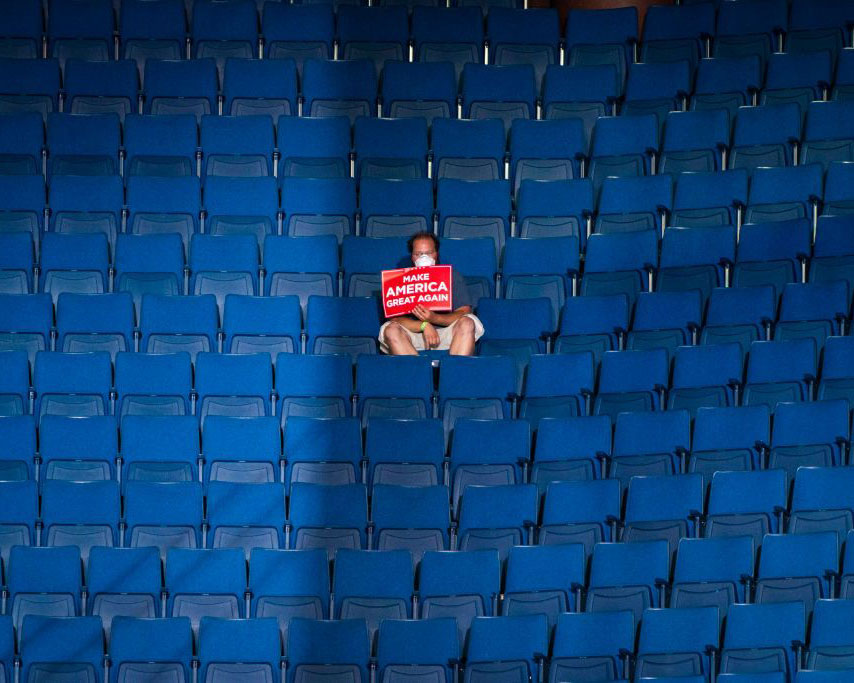 Empty seats at Trump's first election rally, which was linked to a mass TikTok troll.
From potentially sabotaging President Trump's first campaign rally since coronavirus and galvanising people to rally for the climate crisis, to the press conference turned meme-generator of Scott Morrison's tense exchange with political reporter Andrew Probyn and the comedic lip-syncing of famous political speeches on the anniversary of former Prime Minister Julia Gillard's 2012 "Sexism and Misogyny" speech—TikTok users are stoking new political sway. As for whether it can win the war against Facebook's election bots, only time will tell.
Data Healing—Welcome To A New Phase Of Social Media
Data collation is an intrinsic part of our everyday lives. From the minute we wake up, our smartphones are counting steps, they're tracking our phone-usage and who we contact. Predictive keyboards monitor our most-used phrases, ads get served to you based off previous web searches and emojis can be used to monitor your emotional state over a period of time. Our digital lives have become extensions of our reality—that's a no brainer.
We recently took a deep dive into the impact our virtual presence has on us (see "dopamine fasting" and "the quest for likes"), especially since the world was forced into a pandemic—induced standstill. Our virtual-worlds are slowly letting go of the old metrics of success (likes and views) that have previously shaped the way we navigate digital infrastructures—systems created by large corporations to "exploit, categorise and discard personhood". This very idea has been coined as "data trauma", leading to the internet's next movement: "data healing".
Data healing has been famed by YouTube star Jenna Marbles (who clocks over 20 million subscribers on the video platform). Marbles has been making comedic videos since 2011 but has since filmed an apology admitting the faults to a handful of controversial content which viewers have deemed racists and sexist. Throughout the video, she states that she's committed to not cultivating a channel, and essentially YouTube data, around any negative, offensive and sometimes traumatic content.
"I just want to make sure the things I'm putting in the world aren't hurting anyone so I need to be done with this channel, for now, or for forever," she said.
After Iso, Introvert Culture Is Not So Fringe
Social distancing and self-isolation in the age of COVID-19 offered a rare, unhindered opp to connect with our inner introvert. Some of us, it seems, have gone more willingly than others and aren't quite ready to return to the noise, the crowds and the loaded social schedules of life pre-COVID. While introvert culture has been on the fringe, even labelled toxic, in our past extrovert-dominated culture—in a world as wild as the present one, living your best life at home, even when it's not mandated by pandemic regulations, has developed appeal for a new class of people ready to adopt a slower, more introspective pace.
New introvert-friendly practices picked up during lockdown have become habit: cook-at-home packs from high-end restaurants, novel take-home cocktail packs and same day booze delivery, or experiencing cinemas, theatres, museums, classes and courses from the comfort of your lounge room with on-demand digital programming and virtual snack carts. When we re-enter the world, we're looking for anti-social escapes too—super secluded cabins built for two have surged in popularity on U:L; as have state-specific scenic drives and quiet local escapes like farm stays, camping, glamping and bushwalks.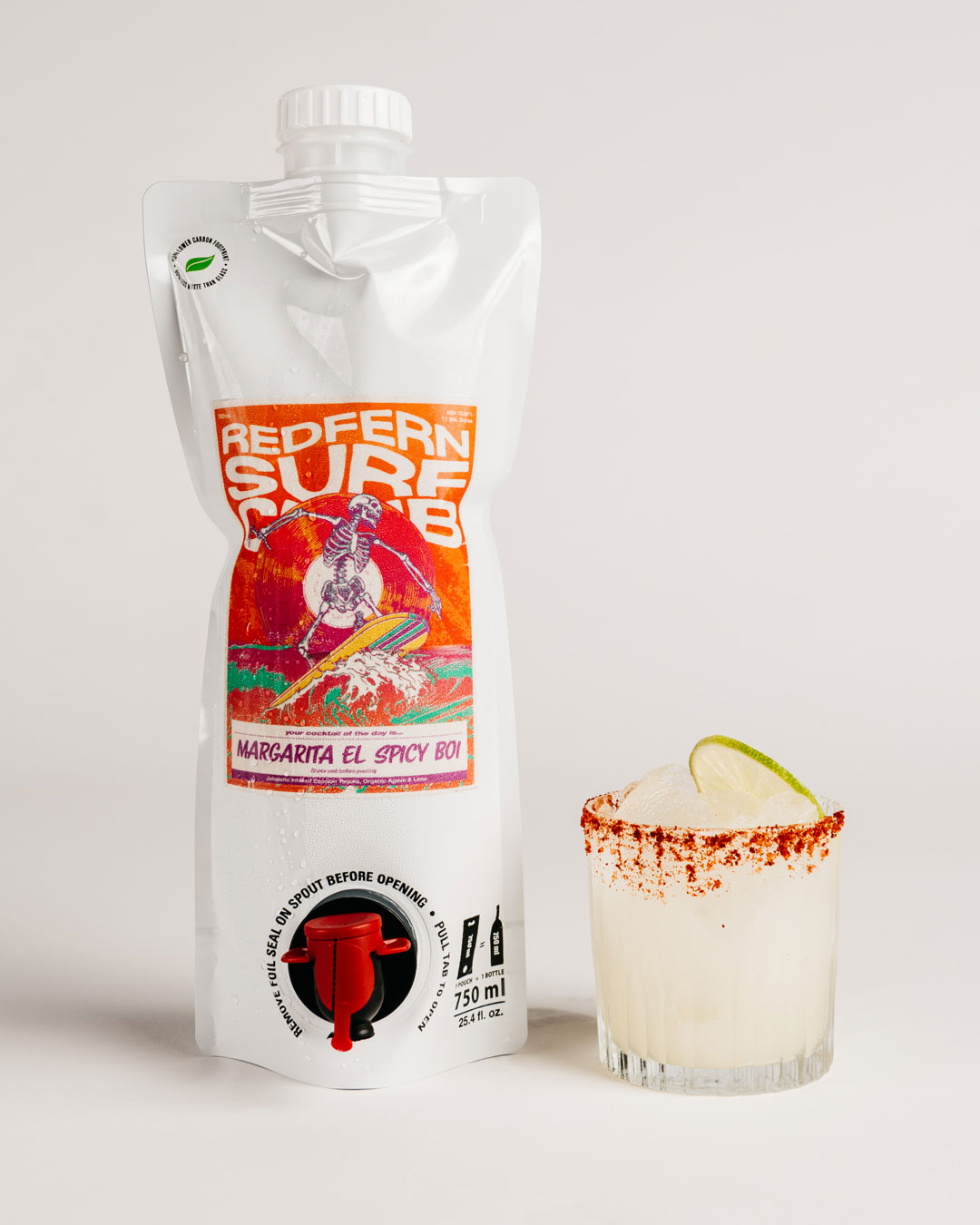 Sydney's Redfern Surf Club has created take-home sustainable cocktail packs, ideal for those who are still enjoying staying in.
Rather than pivoting back to pre-COVID business, brands choosing to serve this new semi-reclusive mindset are achieving cut through. Sydney-based restaurant and pub giant Merivale continues to expand its fine diner "at-home" offering, hinting the be-your-own-chef concept has had success in the city. Pubs have developed take-home party packs. And in a workplace context, at Amazon Jeff Bezos has restructured brainstorms and done away with PowerPoint in order to hand power back to introverted thinkers.
SLIDE
What Happens When We Lift The Media Veil?
Welcome to an age of reckoning for publishers. Across the past month, lifestyle publications have been under intense scrutiny in the States—and not just for tone-deaf editorial. The Black Lives Matter movement has inspired a wave of culpability for systemic racism past, present, editorial and operational too.
Among the publications put under the spotlight, Bon Appetit's toxic office culture painted a completely different picture of the test kitchen its audience adores. Leandra Medine of Man Repeller was called out for creating a "mean girl" office culture, mistreating BIPOC staff and not going far enough in her promise to commit to diversity. Former employees at Refinery 29 said co-workers of colour are "being tone-policed, seeing others take credit for their work, being mixed up with another [woman of colour] who looks nothing like them."
Medine has offered to take a step back, Bon Appetit editor in chief Adam Rapoport has resigned and Refinery 29 editor in chief Christene Barberich also exited. Under the veil, the inner workings and unspoken truths of each publication are so contrary to their inclusive and diverse editorial façade, it's hard to see how each brand will recover.
Scrutiny in Australia hasn't reached the same fever pitch and maybe it won't—but not because the same issues don't exist (Sky News commentator Peta Credlin's baseless race-based accusations concerning Melbourne's recent COVID spike have not been met with the same culpability as media in the States, for example). White editors wielding their words as allies for progress is good, continuing to do so beyond the hype and the headlines is better. Handing the mic over to minority voices—permanently and systematically and operationally—is the change media needs.
Gen Z Versus Millennials
Millennials might be the most critiqued generational group. Their misdemeanours include choosing expensive brunch, never buying a home, being endlessly entitled, overuse of pale pink, BuzzFeed personality quizzes and the term "adulting". And while it's pretty standard for older generations to take aim at the laziness of the youth—younger generations are starting to fight upwards.
After "Ok Boomer" waged a meme war on Baby Boomers, millennials are the new target of intergenerational spite. It's a movement being headlined by Gen Z who are at pains to separate themselves from the millennial status quo. At current, the hashtag "#bullymillennials" has been viewed almost a million times on TikTok.
Amid the climate crisis, a global pandemic and truly important social change, there's never been a better time for action and this young group of natural progressives lead a legacy as digital natives thoroughly engaged in activism and pragmatism. Which, ends up a stark contrast to millennials, who grew up pre-social media, enjoying 90s-era soft activism and suffering the crippling knock-on effects of the GFC. Millennials are maybe ill-equipped to deal with 2020—and Gen Z isn't letting them forget it. Indecisiveness and self-serving slacktivism, traits often attributed to this cohort, are clearly the enemy of 2020.
Imperfections Are Better Than Purpose Washing
The term "purpose washing" has been kicking around a bit across the last two years—like "greenwashing", it's marketing spin aimed at exploiting consumers' conscience. By attaching a brand or a product to a purpose, we're supposed to feel less guilty engaging with or buying it. It's troublesome bandwagoning like the now-infamous Gilette commercial that tried to tack onto #MeToo and toxic masculinity. It's fast fashion using sustainability as the strapline, brands using plus size models when they don't make plus-size clothes, and it's "rainbow washing" during Pride and Mardi Gras. Basically, it's cashing in on a movement without doing the work.
No matter how you look at it, all variants of woke-washing have reached a point of saturation—and consumers can spot the hypocrisy. So how do you re-establish trust? Without wanting to step away from the real causes beyond the spin, some brands are exposing their flaws and focusing on improvement in an effort to evolve into purpose-driven powerhouses.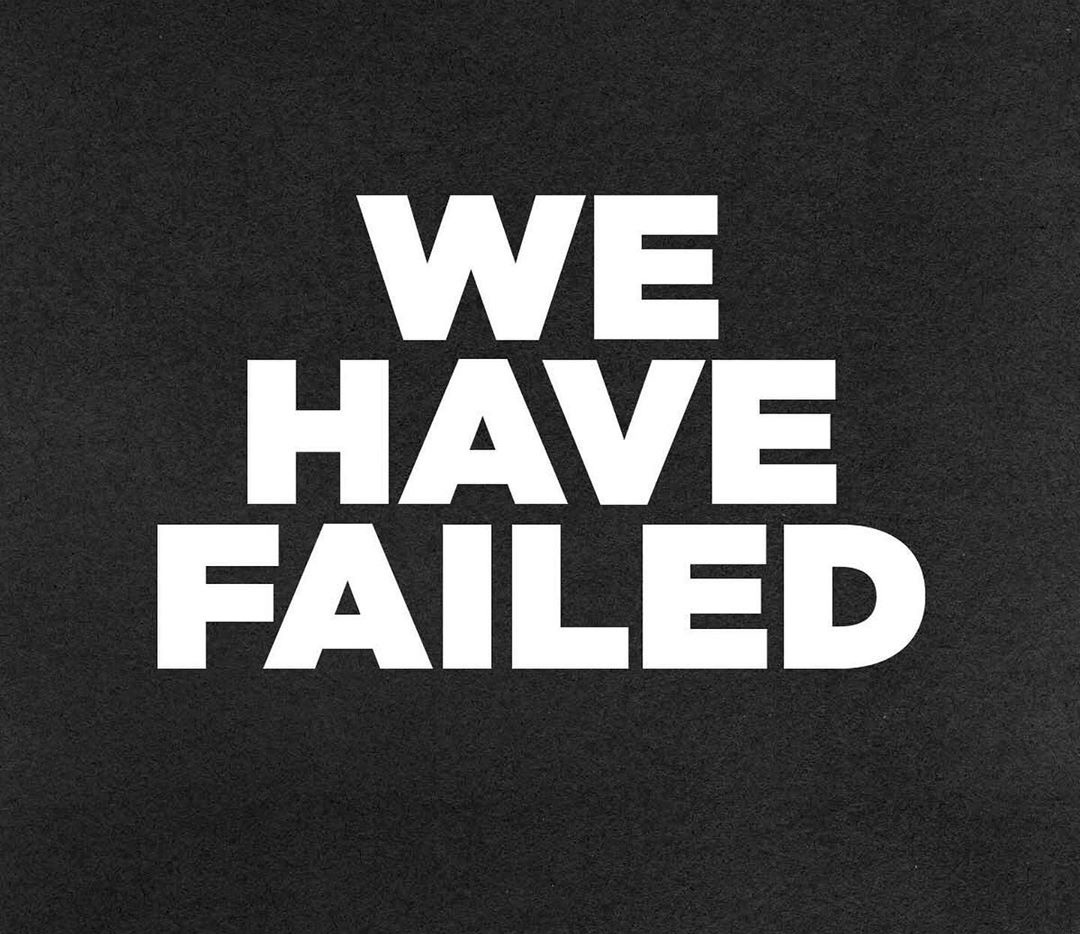 Noah's Instagram post detailing the ways in which the company has failed in supporting the BIPOC community.
American label Noah came right out and said: "We are not a sustainable brand". In an Instagram post, the brand wrote, "Noah, despite our ongoing efforts to explore and use more recycled, renewable and eco-friendly materials in our products and packaging, is still not a sustainable brand. We're not even close." The label listed all the ways they were trying to change, adding "the long-term goal is to create a culture of respect that spreads beyond our walls." At Urban List, the launch of our sustainability vertical earlier this year was a sign of commitment to the planet and its people, an open-letter to actively improve, learn and listen to all the ways that we can.
Catch up on previous editions of Culture Curve
Stay up to date and in the know of all things culture, right here.
Design credit: Kate Mason
Image credit: Getty, Redfern Surf Club, Noah