Dharavi gives the term Slumdog Millionaire a different, and more literal, meaning. India's largest slum in the centre of humming Mumbai churns out an annual turnover of over $650 million US Dollars. Dharavi exists in a parallel economy and its revenue is hard to accurately quantify; some estimates are well over a billion. The slum's identity is equally hard to define. It's a recycling powerhouse, home to a biennial arts festival and boasts its own brand of leather bags, all while only one percent of the land has access to proper hygiene. It's a place of contrast and perhaps we shouldn't be trying to define it at all. After a three-hour tour of the labyrinthine shanty kingdom, it's undeniable that young Dharavi people are making a concerted effort to be able to define and empower themselves.
For myriad reasons, Dharavi isn't your traditional tourism activity. To enter the slum, you have to be on an organized tour and personal photography is prohibited. Tour companies are mostly internal and structured to support the communities' infrastructure, especially their educational efforts for young people. We took a tour of the most legendary slum in the world and this is what we learned.
Dharavi breathes. It's population swells and wanes at different times of the year, but most estimates hover around one million people. That's more than half the population of Perth living in an area half the size of Kings Park. Needless to say, on entering the slum there's a feeling of chaos that fills the air the same way a gentle pungency does.
Dharavi is the Russian Doll of tourism. There are tiny cities in this city in a city. The area is divided into industrial and residential districts all connected by a main artery. You'll most likely enter Dharavi through the main street, and while you're there be sure to try the street food. Don't fall into line with the rest of your tour that will most likely politely decline slum street food; you'll be giving up one of the best samosas of your life.
The slums highly organized workforce is subdivided into thousands of micro-industries but dominated by recycling, pottery, welding and textiles. Each area has its own personality, with some folk being more welcoming to outsiders than others. Women chat and crouch around a sandpit of tiny plastic shards, sorting out different colours and sizes, in the abounding recycling region. Everything in the welding zone is covered in soot, as men work bare-chested in protective masks. They work in shifts while some lay napping atop strata of detritus. Elderly men sit crossed legged and mesmerisingly spin uniform terracotta pots with the speed and precision you would expect from a machine. Children run throughout the lanes laughing and instinctively dodging open wires and sharp bricks.
Residential areas are split up into different religious zones. Each one has its own respective schools and places of worship. Homes are made wherever there's room, often with curtains for doors. Walking through the damp and poorly lit alleys can begin to look like a page out of an 'I Spy' book. Scanning to spot the many homes hiding in any tiny space available.
Keep your eye out for the comical neighbourhood goats that roam the alleys, being fed by children and adult alike as they merrily stroll by. Resource sharing and preservation is a necessity here and is what makes the slum so prolific. Not only do the residents share with one another, but they also support the whole of Mumbai. 80 percent of Mumbai's plastic waste gets processed in Dharavi. Many experts agree that Mumbai would be buried in its own plastic if Dharavi was no longer.
At one stage our tour departed vertically, as our soft yet bubbly tour guide directed us up a crumbling staircase. We climbed cautiously past shoebox homes stacked like, well, shoeboxes, to one of the many rooftops in the slum. From this height, we could see where the edges of Dharavi met Mumbai. After walking the tight alleys for two hours it was hard to believe that we had only seen one jigsaw piece of the view below us. The space seems, and is, so small for the million lives that exist within it. Paradoxically, from a bird's eye view, you can see the eternal complexities of the jumbled structure and it feels like you would need a million lives to fully explore Dharavi.
For many reasons, the Indian government has had conflict with its largest slum. Businesses aren't held accountable to the same economic rules as non-slum businesses. This 'parallel economy' is a controversial loophole of the slums success and has been used against its residents as ammunition for government redevelopment. This is all complicated by the fact that Dharavi sits on a goldmine. Mumbai has radiated exponentially in the past 20 years and the slum is now surrounded by some of the highest land prices in India. It's clear, from what was expressed on the tour, that Dharavi's people are proud of their community and don't want to be relocated.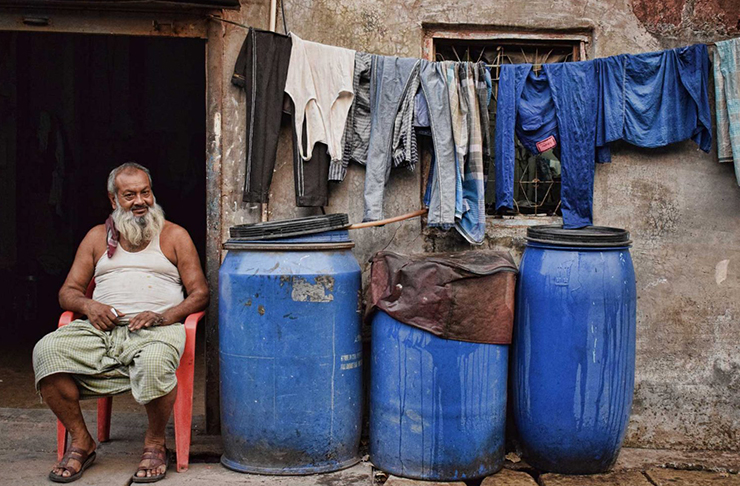 How Can We Support?
While Dharavi shares the same complex problems that most slums worldwide face, it's unique in its level of organisation and culture. It's because of this organisation and culture that the Dharavi people are fighting for their right to stay put and challenging the stereotypes of slum life. In order for them to maintain the home and community that they created, they are funnelling surplus resources into their education programs.
Dharavi's future is bright, with local young minds pushing for quality education to solve their evident hardships of overpopulation, pollution, and lack of sewage and drainage. They are hardworking and self-empowered people and the Shantaram-esque notion of westerners swooping in as saviours won't fly here.
If you want to support the empowerment of Dharavi, take one of the many tours on offer when you next find yourself in Mumbai. We went through Reality Tours and their positive effects on the Dharavi community is patent. At the end of the tour, you'll be led through a school that the company has set up. Young smiling children wander the neat school grounds into their classes that focus on applicable contemporary knowledge. Our tour guide was a born and bred Dharavi local studying computer science at a Mumbai university. We highly recommend supporting any of the internal tour companies fueling the liberation and progression of the slum. In the words of Indian Slumdog Millionaire author Vikas Swarup: "The slums are not a place of despair. Its inhabitants are all working towards a better life."
Image credit: Kanishk Saini and Reality Tours